Thick, creamy, and completely irresistible. This salted caramel sauce is absolutely everything. Perfect for ice cream, brownies, or even just eating by the spoonful.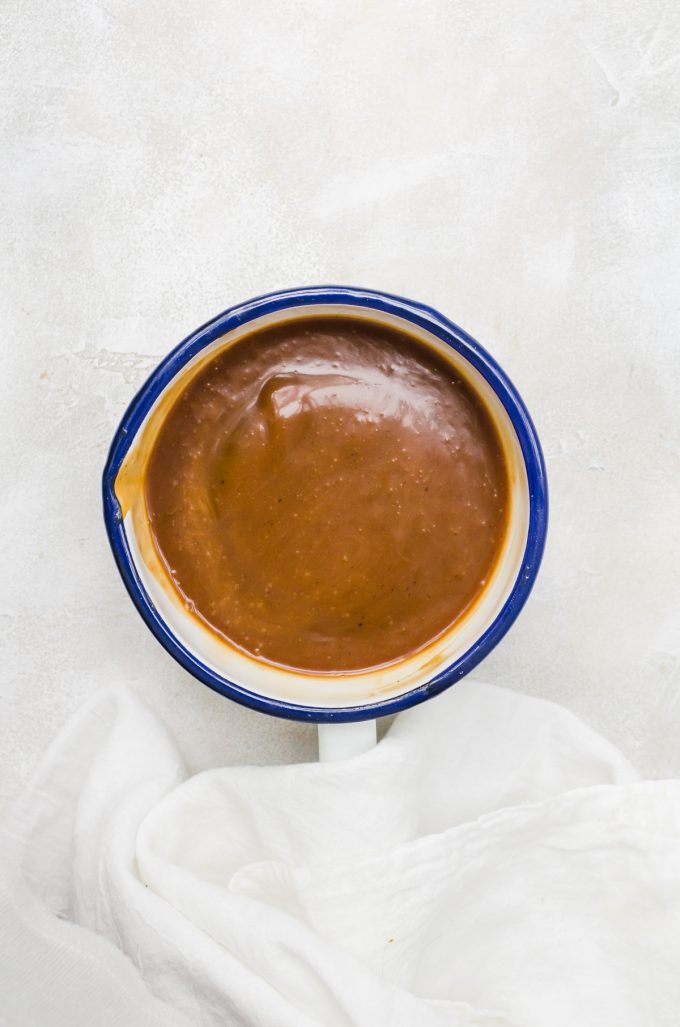 You want to hear something crazy?
My daughter doesn't like caramel.
That's right. My daughter. As in the child I have known since long before she was born and have raised single handed for seven years does not like caramel. I just can't even.
I make caramel pretty often in my house. It's about as common in the pantry as peanut butter and jelly (the bourbon caramel sauce is a personal favorite) and yet, she would never touch the stuff with a 10-foot pole for as long as I've known her.
It just doesn't make sense. Caramel sauce…. salted caramel sauce… is everything. It's creamy, sweet, slightly salty, and wonderfully complex when brought to just the perfect amber color. In a word: bliss.
Getting the perfect caramel sauce is easier than you may think. All it takes is a bit of patience.
There are two main methods of making salted caramel sauce. Dry and wet.
The dry method starts with sugar cooked down until it melts down and begins to caramelize. It works well, but can be testy. The sugar burns and crystallizes more easily than the wet method.
With the wet method, you add sugar to your saucepan along with the sugar which helps the sugar reach temperatures more stably minimizing the risks of burning and crystallization.
Another tip is to make sure you don't swirl the pan once the sugar begins bubbling. It increases the chances of sugar crystals forming or the final caramel becoming grainy. I also highly recommend using a pastry brush dipped in water to brush the sides of the saucepan. This helps remelt and sugar crystals that cling to the sides of the pan which also helps reduce the chance of crystals.
You also want to use a thick-bottomed saucepan that is metal or generally light enough in color so that you can see the color of the sugar. If it's too light, it won't have the depth of flavor you want. If the caramel is too dark or burnt, it will be too bitter to enjoy.
You also want to be sure you are using the right size saucepan. It should be big enough to handle the caramel bubbling, but not too wide that the caramel starts to caramelize too fast. It should be about 2 – 4 quarts big.
When adding the cream, make sure the cream is at least room temperature, preferably steaming. This helps prevent the sugar from seizing. Seizing isn't the worst thing that can happen, but anything helps. If it does seize, just keep whisking until everything mixes into a smooth consistency again.
How to Make Your Salted Caramel Sauce Thinner or Thicker
Sometimes the end product is not the exact consistency you need for a particular baking project. Fortunately, it's pretty easy to change it up as needed.
The first thing you need to do is wait until your salted caramel sauce is fully cooled. The sauce thickens as it cools, so you won't know the final thickness of the sauce until then.
To thin your salted caramel sauce, I recommend adding more heavy cream one or two tablespoons at a time. Go slow because if it becomes too thin it will end up becoming an annoying task to go back, thicken the sauce, and see if it needs to be thinned out some more (again). If your salted caramel is a great consistency when it is warm or room temperature, but is too thick when refrigerated, you can just reheat the caramel sauce in the microwave for 30 second intervals, stirring between each interval until it is warmed through.
My trick for a really thick, creamy salted caramel sauce is to cook it a bit longer after you've added the butter and cream. Cooking it for another 5 – 10 minutes thickens the sauce until it is the most velvet consistency ever. Trust me on this one. The longer it cooks, the thicker it will become, up to the point where you can easy use it to fill macarons or use as a filling between layers of cake.
How to Use Salted Caramel Sauce
The uses for salted caramel sauce are pretty endless. As mentioned before, you can use it as a filling to macarons, cakes, or other cookies. Swirl into ice cream or milkshakes. Make caramel apples, or just stir it into your apples for a salted caramel apple pie. You can try an apple pie pavlova or drizzle it over your banana bread or pumpkin bread. Or, you know, you can eat it by the spoonful. If you store it in a mason or jam jar, they also make great gifts for the holidays. With a good salted caramel sauce recipe under your belt, there is very little you can't do.
Yield: 2 cups
Salted Caramel Sauce
A creamy salted caramel sauce you will want to use on everything.
Ingredients
1 3/4 cups granulated sugar
1/2 cup water
1/2 cup unsalted butter
1 cup heavy cream
1 teaspoon vanilla extract
1 - 1 1/2 teaspoons kosher salt
Instructions
In a heavy-bottomed saucepan, add the sugar in a large mound, then add the water. Do not mix.
Heat the sugar on medium until it begins to dissolve in the water and continue to cook undisturbed until the sugar begins to turn to a deep amber color.As the sugar cook, use a wet pastry brush to clean the sides of the saucepan.
Add the butter and heavy cream as soon as the caramel reaches that amber color. Be careful as the mixture will bubble a lot. Stir until well combined.
Continue to cook for an additional 5 - 10 minutes for the sauce to thicken.
Stir in the vanilla extract and salt.
Allow to cool to room temperature before using.
Nutrition Information:
Yield:
16
Serving Size:
2 tablespoons
Amount Per Serving:
Calories:

186