These apple pie thumbprint cookies are a seriously addictive way to enjoy those autumn flavors This recipe is easy to follow and the cookies are great for parties, or to just eat on your own as you watch the leaves fall.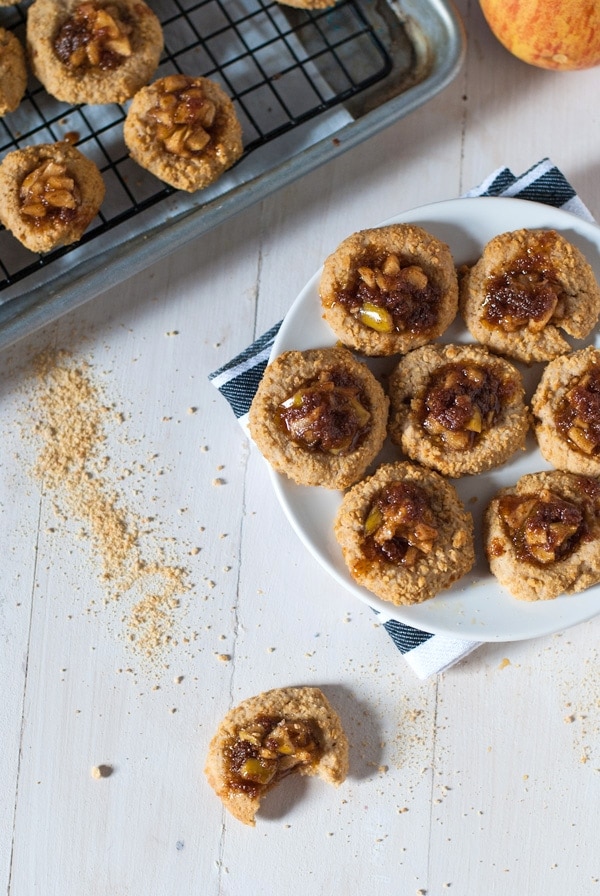 The hardest part of blogging for me is expressing how much I truly love a food I want to share with you. About 99% of the time I want to just say "This is insanely delicious. Eat it now." and be done with it. I just can't even. When I get like that, I feel like my brain kind of goes numb and I run off to snack or hop on Pinterest for a while. This is one of those times.
I made these apple pie thumbprint cookies on a whim after working on a birthday cake for my grandmother because SOMEONE forgot when her birthday was and SOMEONE forgot to prepare for it and had to bake a cake. It was absolute baking chaos. The first cake I made went flat. For no reason. I made this cake a million times and for some reason it did not rise. Sure, it tasted great, but it looked more like an overgrown pancake. So, I had to make another cake which rose beautifully, but since I was using a larger pan than what I was supposed to, I had to make another batter for a second layer..... then I ran out of eggs. Fortunately, my bestie was in town this weekend and ran over with a few for me. Buuuuuut... then when I went to make the frosting the next day, I used up all the butter (this was a large cake, people, it was like 14 inches around) and powdered sugar. And vanilla. I was scrambling around trying to make more powdered sugar and barking at people to get more butter for me. Eventually the cake was made and it was a beauty, but I was frazzled. I swear, I grew like 4 grey outs from making this cake.
Most people would like to unwind by binge-watching some Netflix or sitting down with a glass of wine. Me? I hit the kitchen...again. I had leftover apples from our last apple picking adventure and knew I wanted to make something caramel-y and apple-y for the blog, which is how I came up with these cookies, which are basically just bite-sized pies. I made a dark caramel which has a slightly richer flavor and added a liberal amount of sea salt. For the thumbprint cookie, I used a simple mixture of flour and graham cracker crumbs which is probably the best thing to ever happen to thumbprint cookies. Seriously, it is so addictive, I could eat a whole batch of the cookie base alone. To make it extra graham crackery (that's totally a word),  I rolled the cookie in more graham cracker crumbs before flattening them.
All recipes I've seen for thumbprint cookies tell you to bake the cookies right after making them. I never do that because my cookies end up spreading too much, so I recommend chilling the dough for a few minutes. Usually, I will press out my cookies and stick them in the fridge or freezer and THEN preheat the oven. That is usually enough time for the cookies to chill enough and minimizes spreading. In this recipe, I make the cookies and chill them while I work on the apples. I used two different type of apples for a more complex flavor. In these cookies I used Granny Smith and Fuji. I also leave the skins on for more flavor and texture, plus it has most of the nutrients which justifies me eating about a dozen of the cookies for dinner.
Also, I want to take a quick moment to apologize for the photographs. By the time I finished making the cookies and getting everything set up, my dad came home asking me if I was ready to head over to my grandmother's house. What!! I was expecting to have a whole extra hour before I had to leave, but apparently no. I took 15 photos, so there wasn't much for me to choose from. Fastest photoshoot ever. You know what though... it doesn't even matter because these cookies speak for themselves.
Don't have time to make these amazing fall-fabulous cookies? Pin them for later!
Recipe Card
Apple Pie Thumbprint Cookies with Salted Dark Caramel
These apple pie thumbprint cookies are a seriously addictive way to enjoy fall flavors. This recipe is easy to follow and the cookies are great for parties...or just to eat by yourself because why share?! 😉
Ingredients
For Thumbprint Cookies
¾

cup

173 g unsalted butter, room temperature

½

cup

100 g tightly packed brown sugar

1

egg

room temperature

1

teaspoon

vanilla extract

1

cup

125 g all-purpose flour

1 ¼

cup

106 g graham cracker crumbs, plus more for rolling

pinch

of salt
For the Apple Pie Filling
2

medium apples

finely diced

¼

cup

50 g lightly packed brown sugar

1 ¼

teaspoons

ground cinnamon

½

teaspoon

vanilla extract

1

teaspoon

cornstarch
For Salted Caramel
1

cup

200 g granulated sugar

¼

cup

63 mL water

2

tablespoons

butter

½

cup

120 mL heavy cream

½

teaspoon

coarse sea salt
Instructions
Preheat the oven to 325 degrees F.

Beat the butter and sugar together until light and fluffy. 3-5 minutes. Add the egg and vanilla extract and mix in well.

Mix together the flour, salt and graham cracker crumbs in a separate bowl, then slowly add to the butter mixture.

Line a baking sheet with parchment paper and roll heaping teaspoons (mine are close to 1 ½ teaspoons) into balls. Roll each ball in a bowl filled with graham cracker crumbs. Place the balls on the baking sheet and press down on the center of each cookie with your thumb or back of a spoon. Chill for about 10 minutes.

Mix together the diced apples, sugar, cinnamon, vanilla extract and cornstarch together. Bake in the oven for about 15 minutes. I put them in a cast iron skillet, but an 8x8 baking pan would work, too. The apples should be semi-soft, but not too soft. Set aside.

Bake the cookies for 8 - 10 minutes (the cookies should still be pale with a tiny bit of color on them), then fill with about a ½ teaspoon of apple pie filling. Bake for an additional 4 - 5 minutes, or until the cookies are golden brown.

While the cookies are baking, make the caramel. Heat a saucepan on medium high and add the sugar in one pile and slowly pout the water over it. Do not mix. Allow the sugar to melt and boil, swirling occasionally. Once the melted sugar takes on a medium amber color, take it off the heat and slowly add the butter and heavy cream and mix well. Add the salt. Drizzle the still warm caramel over the apple filling. Top with more sea salt if desired.
Notes
These cookies are best the same day, but you can keep them in an airtight container for up to 3 days.
Tried this recipe?
Tag me on Instagram! @acookienameddesire #acookienameddesire