Perfectly moist brown butter banana bread with chocolate chips. Fluffy, with a beautiful nutty flavor from the brown butter, you won't be able to stop at just one slice of this easy quick bread recipe.
When I first started really baking, I became addicted to baking banana bread. I'd make a couple of loaves every week and I would give out loaves to family members.
At the time, my great-grandmother was still alive and living in a nursing home. Going to visit her and bring her a loaf once a week was the highlight of her week since I often couldn't go visit during the week with my mother and daughter.
It became a way we ended up dealing with her loss. Loaves and loaves of banana bread and sitting around talking about her life.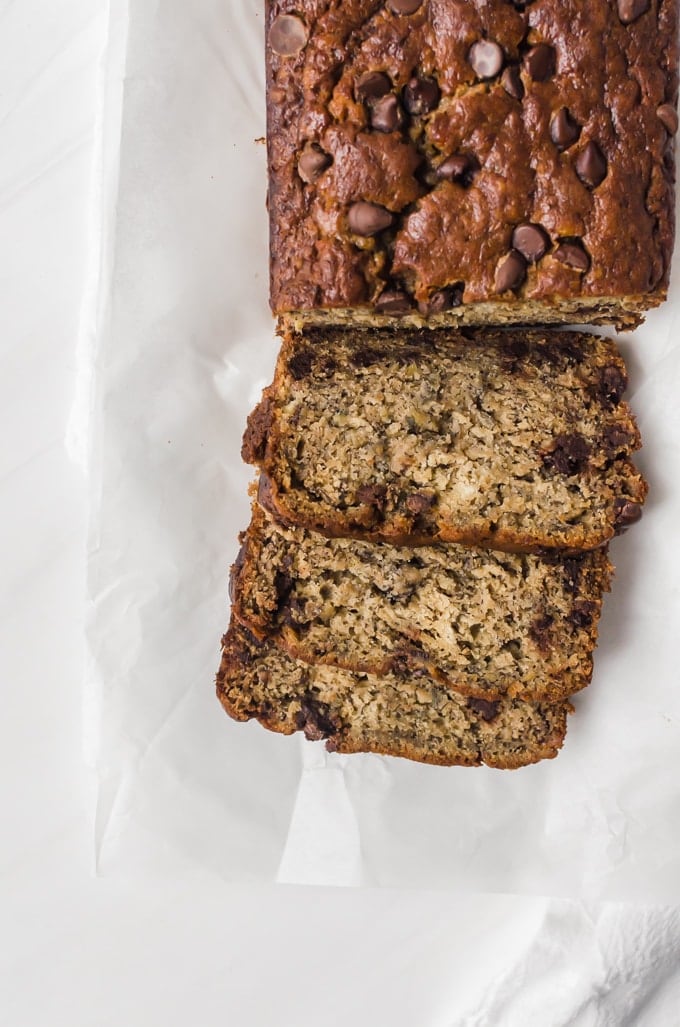 It's still such a part of my everyday life that I am truly not sure why I don't have more recipes on the blog for you. I do share other similar recipes like this cinnamon banana bread, banana coffee cake, banana bread waffles, and this brown butter banana cake which actually inspired me to make a loaf version.
Why is it that brown butter makes everything taste so much better? Seriously, sweet or savory, brown butter makes everything taste about a million times better. I can't think of one thing it doesn't improve.
You can freeze this brown butter banana bread if you want to store it for a long period of time or extend its life. I recommend wrapping it tightly in plastic wrap before putting into an airtight container.
You can do this as soon as the bread is completely cooled to room temperature. I recommend not freezing the banana bread for longer than a month. Otherwise, you can store it in an airtight container at room temperature for up to a week.
If you find your banana bread is dry, it may be that you've overbaked the bread. I recommend using a toothpick test. Stick a toothpick in the middle of the loaf (carefully) and remove.
The toothpick should have a few crumbs clinging to it. If it comes out completely clean, it is over baked. If it comes out too moist or some batter or comes out, it is not finished yet. Taking the bread out too soon will result in dense banana bread that sinks in the middle.
Fun fact: National Banana Bread Day is Feb 23rd. We just missed it, but let's be honest, every day is banana bread day.
Brown Butter Banana Bread
Inactive Time:
10 minutes
Total Time:
1 hour
25 minutes
An irresistible brown butter banana bread studded with chocolate chips
Ingredients
12 tablespoons (170 grams) unsalted butter
4 large bananas
2 large eggs, room temperature
⅓ cup (81.7 grams) plain yogurt
1 cup (200 grams) brown sugar
1 teaspoon (5 grams) salt
1 ½ cups (187 grams) all-purpose flour, plus more for chocolate chips
1 ¼ (6 grams) teaspoon baking soda
½ cup (88 grams) chocolate chips
Instructions
Preheat the oven to 350 degres F. Grease and flour a 9 x 5 baking pan, line the bottom of the pan with parchment paper. Set aside.
Add the butter to a saucepan and heat on medium. Allow the butter to melt, then stir frequently until the butter begins to brown and smell nutty.
Cool the butter until it is at room temperature.
Add the bananas to the butter and mash the banana and incorporate into the butter until it is well combined.
Add the eggs and beat well until it is completely incorporated. Beat in the yogurt, brown sugar, and salt until completely combined.
Stir in the flour and baking soda until it is just combined, with a few lumps left in the batter.
Lightly coat the chocolate with a sprinkling of flour. Fold in ¾ of the chocolate chips into the batter.
Pour the batter into the prepared baking pan. Top with the remaining chocolate chips.
Bake for 50 - 60 minutes, or until a toothpick comes out clean. If the bread begins to brown too much, cover with aluminum foil.
Once the bread is finished, remove from the oven and allow to cool for 20 minutes before removing from the pan and cooling completely on a wire rack.