Irresistibly moist and flavorful banana coffee cake with the crunchiest graham cracker streusel made with honey-roasted almonds. You won't be able to stop at just one slice of this coffee cake!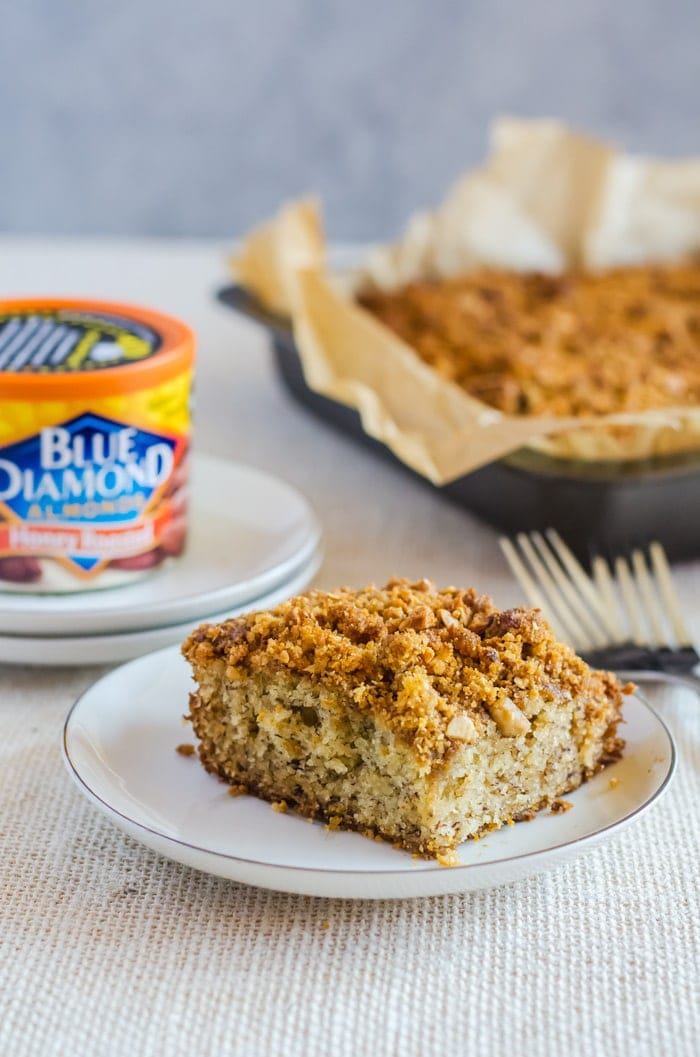 I love brunch. I wish we did brunch every day. Instead of having breakfast in the morning, the country as a whole stops what it's doing to sit down for brunch. Kind of like siestas in Spain, except with food. Whoever the next president is, I hope you take this suggestion into consideration! Seriously though, brunch is the best.
The best part of brunch is near the end when you sit down after a meal with a cup of coffee and a bit of something sweet. This banana coffee cake with graham cracker streusel is that perfect "something sweet." It isn't overbearingly sweet, but has an intoxicating banana aroma. The graham cracker streusel adds a wonderful flavor and crunch while the roasted honey almonds adds nuttiness and texture. Don't skip out on the roasted honey almonds.
Waiting for this to cool is torture because the banana and graham cracker streusel smells so amazing out of the oven. But it will be worth it. This banana coffee cake actually tastes better once it's cool enough to touch, but still slightly warm. If you want to have it for dessert, you can top it with a small scoop of vanilla ice cream.
If you don't have overripe bananas, you can also roast your bananas in a preheated oven for about 14 minutes, turning halfway through. You can also freeze your bananas completely, then let them thaw completely. This only works if you plan this out ahead of time. Personally, roasting bananas is my favorite method because it gives so much flavor to the banana.
Want More Coffee Cake?
Try this cinnamon roll coffee cake or this raspberry chocolate coffee cake. You may also love this pumpkin coffee cake.
Banana Coffee Cake with Graham Cracker Streusel
Ingredients
For the Graham Cracker Streusel
¾

cups

graham cracker crumbs

⅓

cup

packed light brown sugar

6

oz

Honey Roasted Blue Diamond Almonds

chopped

1

teaspoon

ground cinnamon

⅓

cup

unsalted butter

melted
For the Banana Coffee Cake
1 ½

cups

all-purpose flour

1

teaspoon

baking powder

¾

teaspoon

baking soda

½

teaspoon

salt

½

cup

1 stick unsalted butter, room temperature

¾

cup

granulated sugar

1

large egg

room temperature

3

medium overripe bananas

3

tablespoons

plain yogurt
Instructions
Preheat the oven to 350 degrees F. Line a 9 x 9-inch baking pan with parchment paper, leaving a couple of inches of overhang.

Add all the ingredients for the streusel together. It should form clumps on its own, but press the rest together to encourage more clumps. Set aside.

Mix together the flour, baking powder, baking soda, and salt for the cake together and set aside.

Beat together the butter and sugar until light and fluffy. Add in the egg and beat well for at least another two minutes. Add in the bananas and beat well for an additional 3 to 4 minutes. Add in the yogurt and beat for another minute.

Add the flour into the banana mixture and beat until combined.

Pour the batter into the baking pan and top with the streusel. Lightly press down on the streusel to ensure it adheres.

Bake for about 35 – 40 minutes, or until a toothpick inserted comes out clean.
Tried this recipe?
Tag me on Instagram! @acookienameddesire #acookienameddesire