A light, fragrant cinnamon roll coffee cake that tastes just like your favorite morning roll only better thanks to a cinnamon crumb overload.
There aren't a lot of coffee cakes on this blog. That makes me very sad because I adore coffee cake. I love picking off the crumbly topping and snacking on it, then pretending it wasn't me when someone points out a bald spot on the cake. Monstrous, I know but #sorrynotsorry. I think there are only two coffee cakes on the site. My chai apple coffee cake and my banana coffee cake with graham crumble. There is also the cinnamon raisin coffee cake, but it is a completely different kind of coffee cake. They are all incredibly amazing and recipes I make pretty often, except for the cinnamon raisin one. I swear I can basically live off the banana coffee cake. It is insane. The smell alone is enough to make you swoon.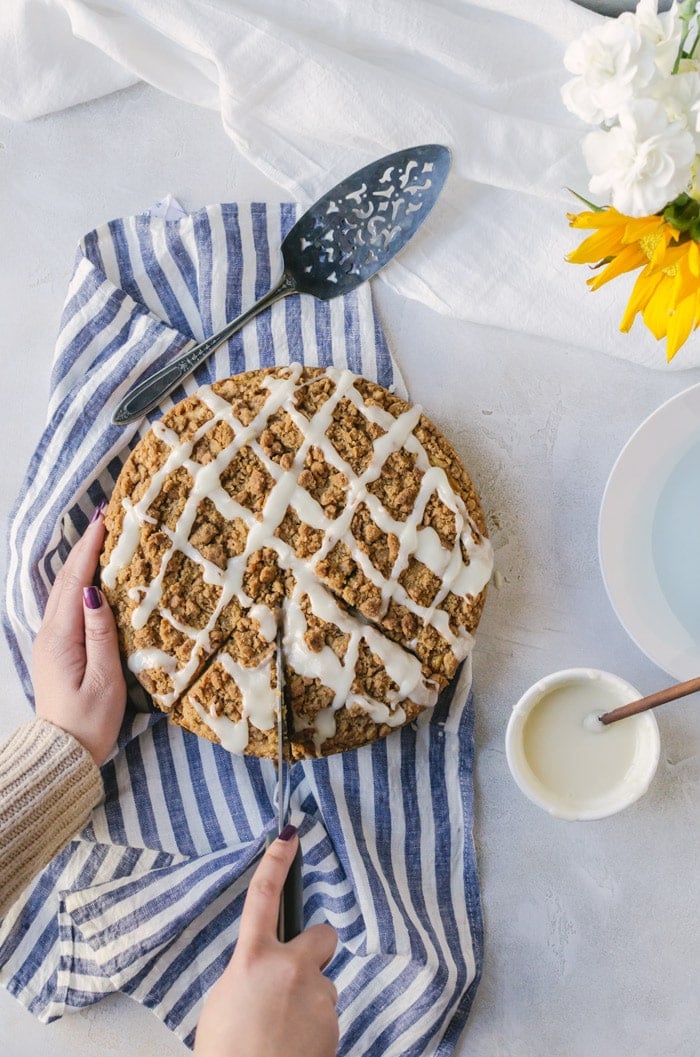 Last week my sister had her wisdom teeth removed and stayed with me during the day since no one was around at her house and my mom was convinced she needed babysitting. I just finished making a few recipes the day before and my other sister - the one with the two babies - was stopping by to try them. I knew more people would end up stopping by and decided to also take advantage of having my sister around to help me take photos. For a few weeks I'd been craving coffee cake and thought this cinnamon roll coffee cake would be just the cure for me and luckily my sister was more than happy to be my hand model in exchange for food.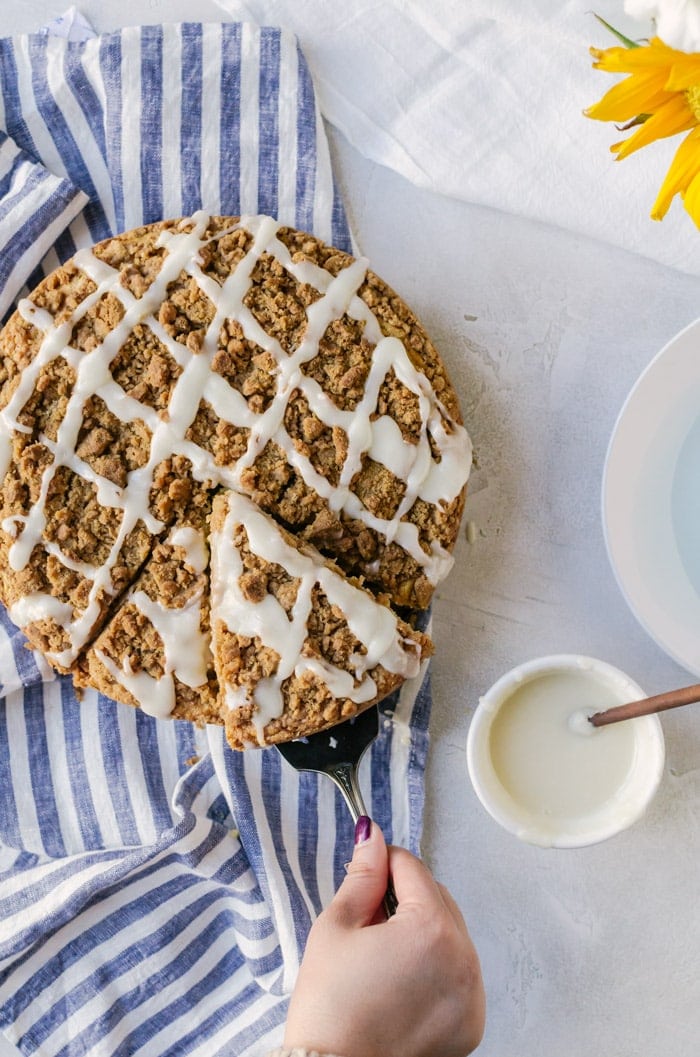 After a bit of planning, I set out to make my cinnamon roll coffee cake and guys, it is so good. Light and fluffy, with all the cinnamon. Now, for the pictures we drizzled on a bit of the cream cheese icing, but when it was all over, we basically slathered the top of the coffee cake with the stuff. After dinner a few of us warmed our thick slices of cinnamon roll coffee cake in the microwave so the cream cheese icing melted into all the crevasses of the crumb topping and into the cake. Be still my heart; it was magical. By the time the day was through, most people had two or three slices and there was only a small slice left which I hid so I could enjoy it for a nice quiet breakfast the next morning.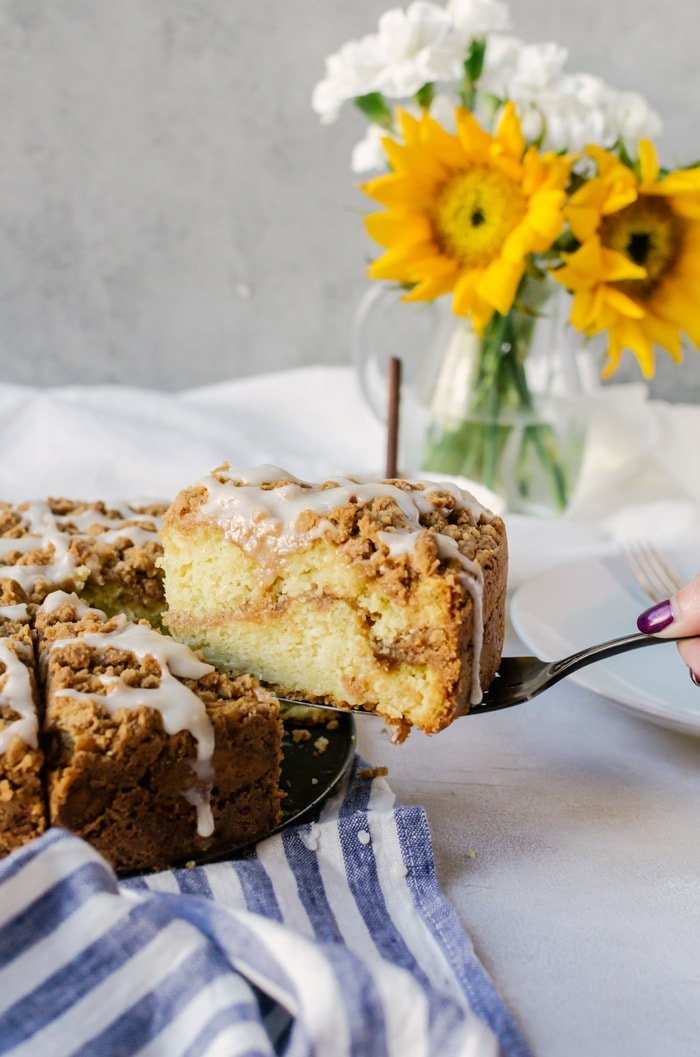 To really get that cinnamon roll flavor I added extra brown sugar and cinnamon to the crumb that went inside the batter. It gives it that really irresistible sweet cinnamon flavor that reminds you so much of a cinnamon roll when you eat it with the cream cheese frosting. Because I am such a fanatic over the crumb topping, I really went at it putting a ton of it on top of the coffee cake. You don't have to go all out like that though. You can save some of the crumb topping in an air tight container in the freezer. Top a few muffins with it for a really tasty treat.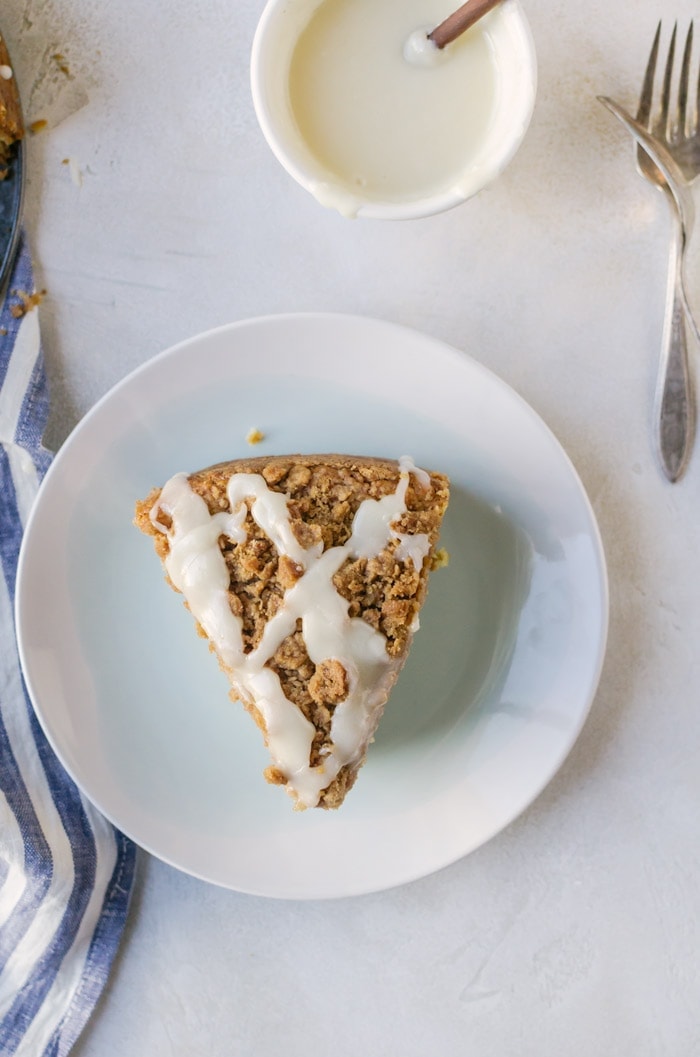 If you loved this, you might also love my new pumpkin coffee cake!
Recipe Card
Cinnamon Roll Coffee Cake
An irresistible cinnamon roll coffee cake that everyone will adore
Ingredients
Crumb Topping
1 ¾

cups

all-purpose flour

1 ¼

cups

brown sugar

divided

5

tablespoons

ground cinnamon

divided

¼

teaspoon

salt

¾

cup

1 ½ sticks unsalted butter, room temperature
Cake Base
4

large eggs

room temperature

1 ½

cups

sour cream

1

tablespoon

vanilla bean paste

I recommend Rodelle

2 ¼

cups

all-purpose flour

1

cup

granulated sugar

1

tablespoon

baking powder

¾

teaspoon

baking soda

1

teaspoon

salt

¾

cup

1 12 sticks unsalted butter, room temperature cut in cubes
Cream Cheese Icing
2

oz

cream cheese

2

tablespoons

milk

1

teaspoon

vanilla extract

2

cups

powdered sugar
Instructions
Make the crumb topping. Mix together the flour, 1 cup of sugar, 3 tablespoons ground cinnamon, and salt together. Mix in the butter with a pastry cutter or your hands until it comes together into large crumbs. Store in the freezer until needed.

Grease and flour an 8-inch springform pan with butter. Preheat the oven to 350 degrees F.

In a smaller bowl, mix together the eggs, sour cream, and vanilla together until well combined.

In a mixing bowl fitted with a paddle attachment, add the flour, sugar, baking powder, baking soda, and salt together.

Add in the butter and beat until the mixture resembles wet sand.

Add in the sour cream mixture and mix until combined, the mixture should be light and fluffy, but with a few lumps.

Pour in half the batter into the pan and add about half the crumble mixture over the batter. Add the remaining brown sugar and cinnamon over the crumble. Top with the remaining batter, then the remaining crumb topping.

Bake for about 55 - 60 minutes, or until a toothpick comes out clean.

Remove from the oven and allow to cool in the pan for about 20 minutes. Run a knife between the cake and the pan, then open the pan.

Remove the cake and allow to cool for another 10 minutes.

While the cake is baking, add the ingredients together for the cream cheese icing and mix until well combined. Drizzle over the cinnamon roll coffee cake.
Nutrition
Serving:
1
slice
Calories:
395
kcal
Tried this recipe?
Tag me on Instagram! @acookienameddesire #acookienameddesire