A moist, flavorful strawberry sheet cake topped with the best strawberry frosting you've ever had. This is a simple cake that will put a smile on everyone's face with its fresh strawberry flavor!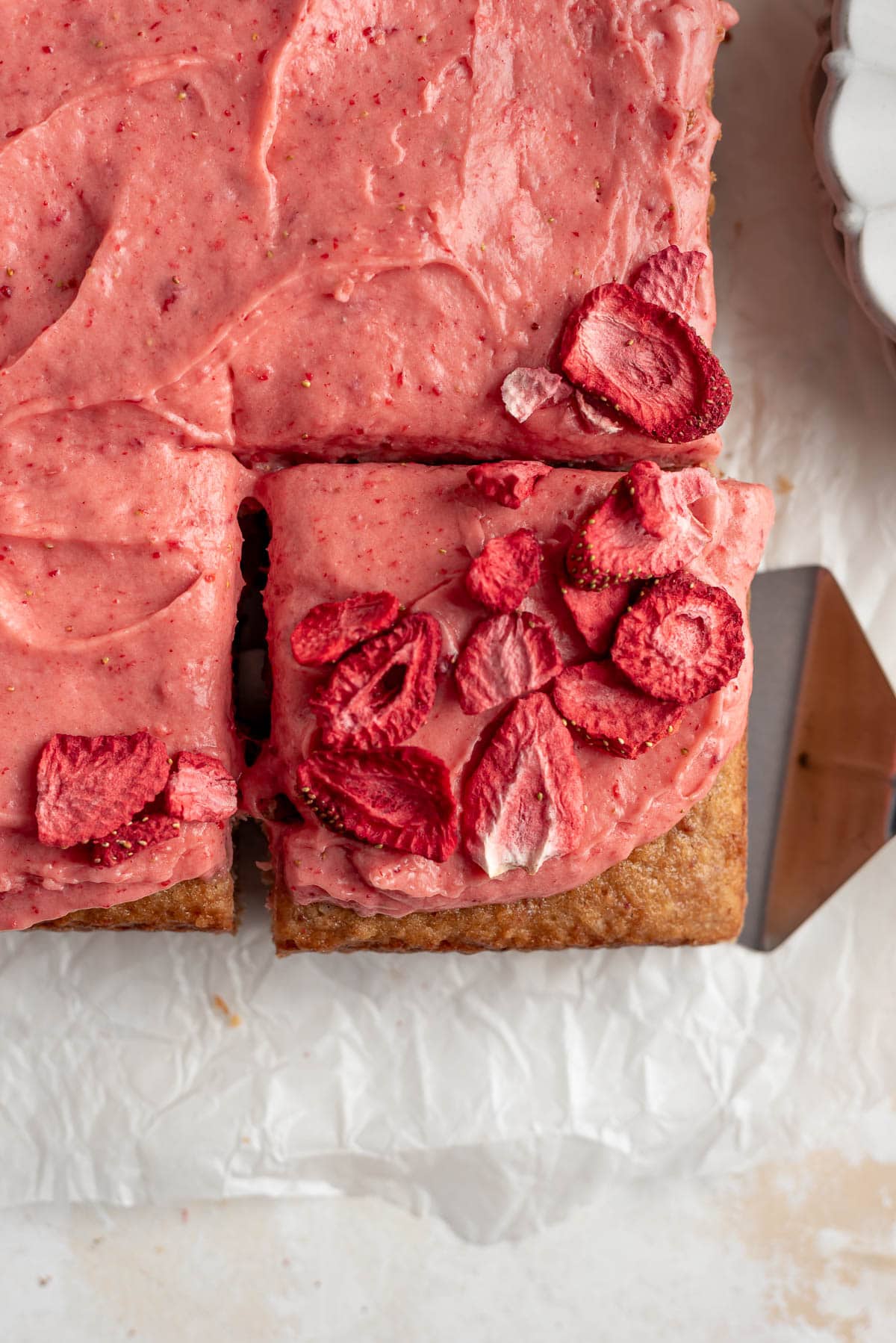 Why you'll love it
Strawberry cakes are always a hit with a crowd. It is fruity, pretty, and straight up delicious. This particular cake is amazing because it is moist, fluffy, and packed with fresh strawberry flavor. This is because we use both fresh strawberries and freeze-dried strawberries to pack in the flavor. What I love about using freeze-dried strawberries is that it is concentrated fresh strawberry flavor in every bite. I use it a lot in recipes like my strawberry chocolate chip cookies and strawberry cupcakes.
We use a mix of butter and oil in this cake. This is to give the cake a rich flavor and keep it delightfully moist. It keeps you coming back for another slice every time.
Key ingredients
There aren't a ton of ingredients needed, which is why you need to make sure you are using the best quality you can afford. Let's review some of the key ingredients you'll need.
Strawberries - For the best fresh strawberry flavor, we use a mixture of both fresh and freeze-dried berries. This combination creates a big impact flavor-wise.
Flour - I like a tender cake, so I use a mix of cake flour and all-purpose flour. Using just cake flour makes the cake too tender, so the mix gives it the perfect texture.
Butter - You need unsalted softened butter. Since we are adding oil, we are using less than we normally would for a sheet cake.
Oil - The oil keeps the cake nice and moist for longer. Using just butter can dry out the cake over time. I recommend a neutral-flavored oil like canola or vegetable oil.
Buttermilk - Buttermilk helps to give the cake a nice tang that pairs well with the strawberries. If you don't have any, homemade buttermilk works great here.
Sour cream - Sour cream further helps to tenderize and add flavor to the cake. You can also also substitute with yogurt.
How to make
I've taken all the guesswork out of creating the best strawberry sheet cake that is packed with flavor.
Puree your strawberries and cook them down to concentrate the flavor. Allow it to cool. Process your freeze-dried strawberries until it forms a powder.
Mix together the dry ingredients, this includes the powdered freeze-dried strawberries, into a bowl and set aside.
Add the butter, oil, cooked down strawberry, and sugar together in your mixer and beat until fluffy and light.
Add the eggs and vanilla and beat well.
Mix together the sour cream and buttermilk in a small bowl.
Alternate between mixing in the flour mixture and buttermilk mixture into the mixing bowl, beginning and ending with the flour.
Pour the batter into your prepared baking pan and bake until only crumbs cling to an inserted toothpick.
Cool and make the frosting.
Top with frosting and enjoy!
Prepping your pan
I've had a lot of discussions with fellow bakers and readers about the best way to prep your pan for a sheet cake. A lot of readers say they prefer to just grease and flour their pans with the intentions of decorating and serving the cake right from the pan. This is a great method if you want some easier.
If you prefer to take your cake out of the pan, my favorite way is to grease and flour the pan, but then line the bottom with parchment paper. This allows you to loosen the edges and then turn the cake out of the pan easily.
Of course, you can also line the baking pan so that the sides are also lined with parchment and it sticks out enough for you to grab onto and lift the cake out when it is cool enough.
All methods work well. It all depends on your personal preferences.
Frosting your cake
I love my strawberry sheet cake to be topped with strawberry frosting. You can of course choose anything you like including:
For this particular cake, I wanted to highlight the contrasting tanginess of the sour cream and buttermilk by adding a little cream cheese to the strawberry frosting. It isn't enough to fully call this a strawberry cream cheese frosting. Instead it rests somewhere between the two.
Recipe FAQs
Can I make this cake gluten-free?
Yes! I recommend using a gluten-free baking mix like Bob's Red Mill 1 to 1 gluten free baking mix. You do need to give the flour a little time to hydrate before baking for the best texture.
Can I turn this sheet cake into a layer cake or cupcakes?
This recipe will make a two-layer 9-inch cake or a three-layer 6-inch cake. You can also turn them into 30 cupcakes, but if you want fewer cupcakes, I recommend using my strawberry cupcake recipe instead.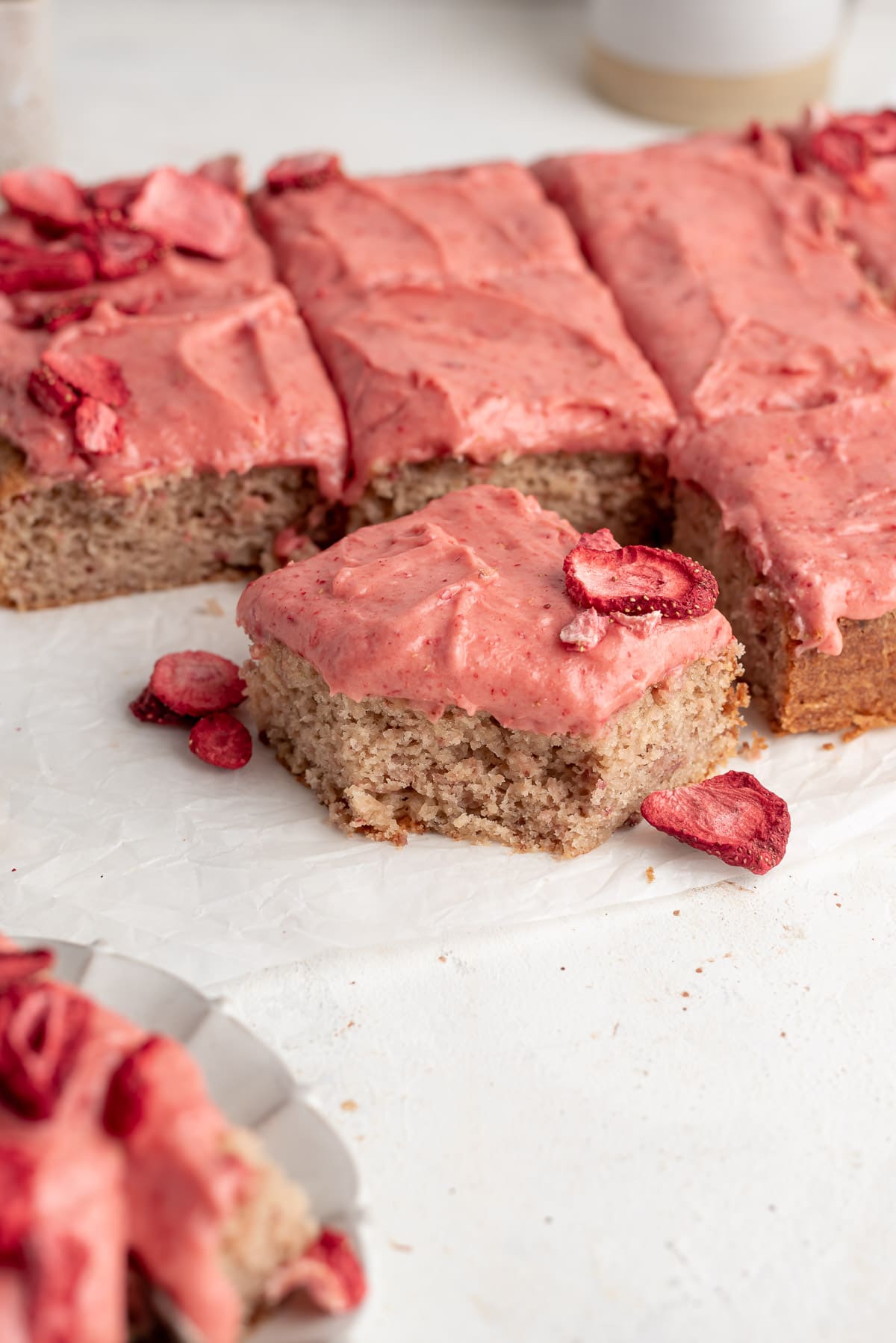 Recipe Card
Strawberry Sheet Cake
The best fluffy and moist strawberry sheet cake you've ever tried!
Ingredients
Sheet Cake
1

lbs

fresh strawberries

½

cup

freeze-dried strawberries

1 ½

cups

all-purpose flour

1

cup

cake flour

2

teaspoons

baking powder

½

teaspoon

baking soda

½

cup

unsalted butter

room temperature

⅓

cup

vegetable oil

1 ⅔

cup

granulated sugar

4

large

eggs

room temperature

⅓

cup

sour cream

room temperature

½

cup

buttermilk

room temperature

2

teaspoons

vanilla extract
Frosting
1 ½

ounces

freeze-dried strawberries

¼

teaspoon

sea salt

½

cup

unsalted butter

room temperature

¼

cup

cream cheese

room temperature

3

cups

powdered sugar

1 - 2

tablespoons

heavy cream

room temperature

1

teaspoon

vanilla extract
Instructions
Sheet Cake
Add the strawberries to a small saucepan. Heat on medium-low and mash the strawberries as you cook. Continue to cook the strawberries until it is cooked down to about ½ cup. Allow to cool completely.

Add the freeze-dried strawberries to a food processor or blender and process until it is a fine powder.

Preheat the oven to 350F. Grease and flour your 9x13 baking pan and line the bottom with parchment paper. Set aside.

Add the flour, baking powder, baking soda salt, and strawberry powder together and stir well. Set aside.

Add the butter, oil, cooled strawberry puree and sugar together. Beat well until well-combined.

Add the eggs and vanilla to the butter mixture and beat well for about 4 minutes.

Mix together the buttermilk and sour cream in a small bowl.

Add ⅓ of the flour mixture to the butter mixture and stir until just combined. Add in half the buttermilk mixture and stir until just combined. Add half the remaining flour, then the remaining buttermilk and stir until just combined. Add the remaining flour and mix until just combined.

Pour the batter into the baking sheet and spread evenly. Bake for 35 - 40 minutes, or until a toothpick comes out with a few crumbs clinging to it.

Allow the cake to cool completely and make the frosting.
Frosting
Put your freeze-dried strawberries and salt in a food processor and pulse until the strawberries become a fine powder.

Place your butter and cream cheese in a mixer and beat until smooth. Add in the powdered freeze-dried strawberries.

Add your powdered sugar one cup at a time, beating well between each addition.

Add in the vanilla extract and beat well.

Mix in the heavy cream one tablespoon at a time until you reach your desired consistency.

Allow the frosting to sit for a couple of minutes before spreading on your cooled cake.
Nutrition
Calories:
479
kcal
Carbohydrates:
70
g
Protein:
5
g
Fat:
20
g
Saturated Fat:
10
g
Polyunsaturated Fat:
4
g
Monounsaturated Fat:
5
g
Trans Fat:
1
g
Cholesterol:
85
mg
Sodium:
165
mg
Potassium:
242
mg
Fiber:
2
g
Sugar:
52
g
Vitamin A:
529
IU
Vitamin C:
140
mg
Calcium:
68
mg
Iron:
3
mg
Tried this recipe?
Tag me on Instagram! @acookienameddesire #acookienameddesire