A creamy and velvety strawberry frosting you will want to put on everything! Learn the tricks to get the most amazing strawberry buttercream that bursts with flavor and a gorgeous natural pink color.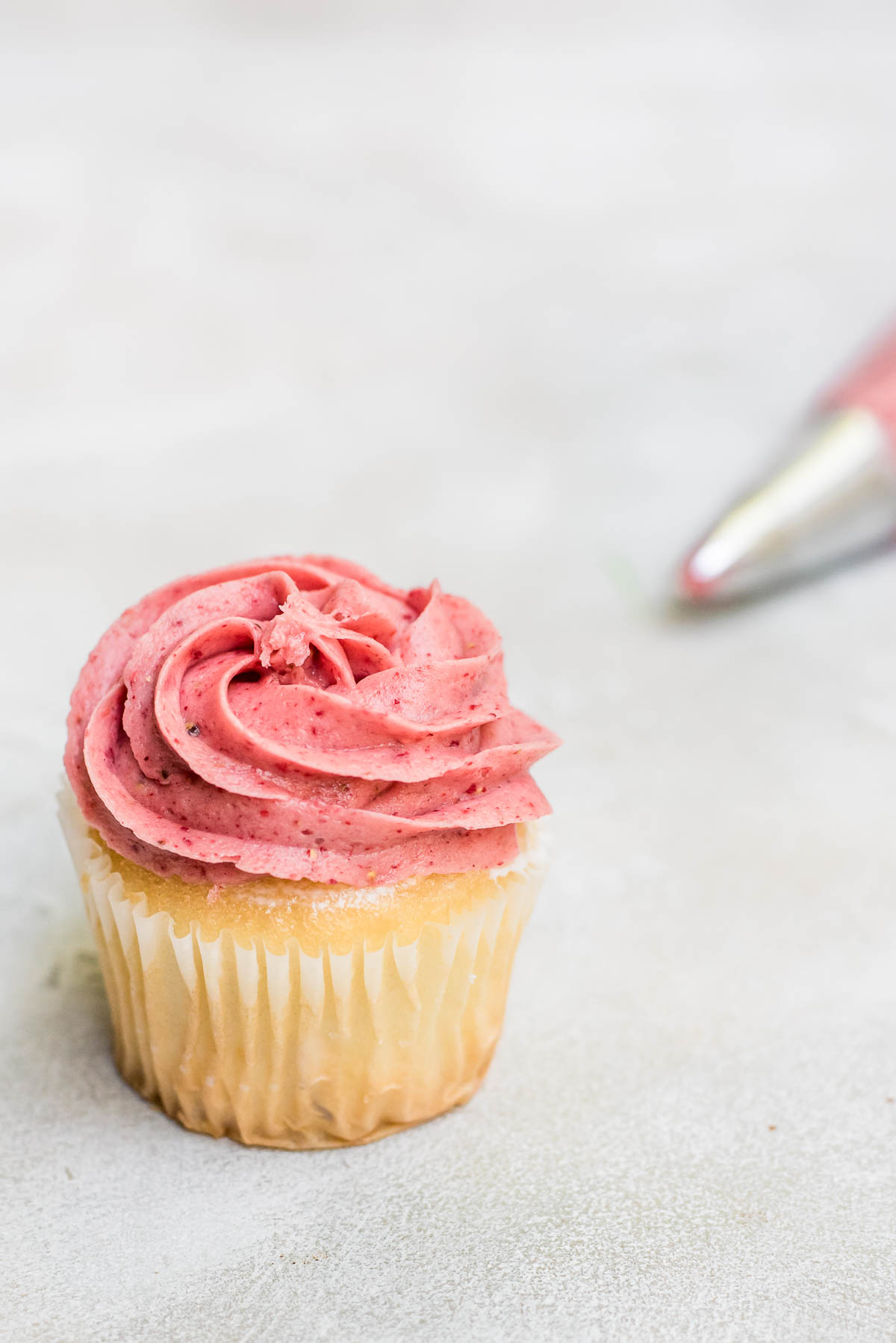 Why you'll love it
Besides vanilla frosting, strawberry frosting is probably the American buttercream flavor that I make the most often. I love the bright , fresh strawberry flavor, and it pairs so well with pretty much every other flavor there is.
I've been adding strawberry in some form to a lot of my cakes at home. It's a tradition for us. One way that I like to do that is by putting strawberry in the frosting like these chocolate chip cupcakes and butter cake with strawberry mint buttercream.
I've made my frosting using a number of methods, and they all have their place in the world. I will and still recommend using each method in different situations, but this particular recipe I am sharing with you today is my absolute favorite recipe. It gives you the best strawberry flavor without having to fuss around too much with the recipe. There is absolutely no artificial flavors in this method which makes it even better!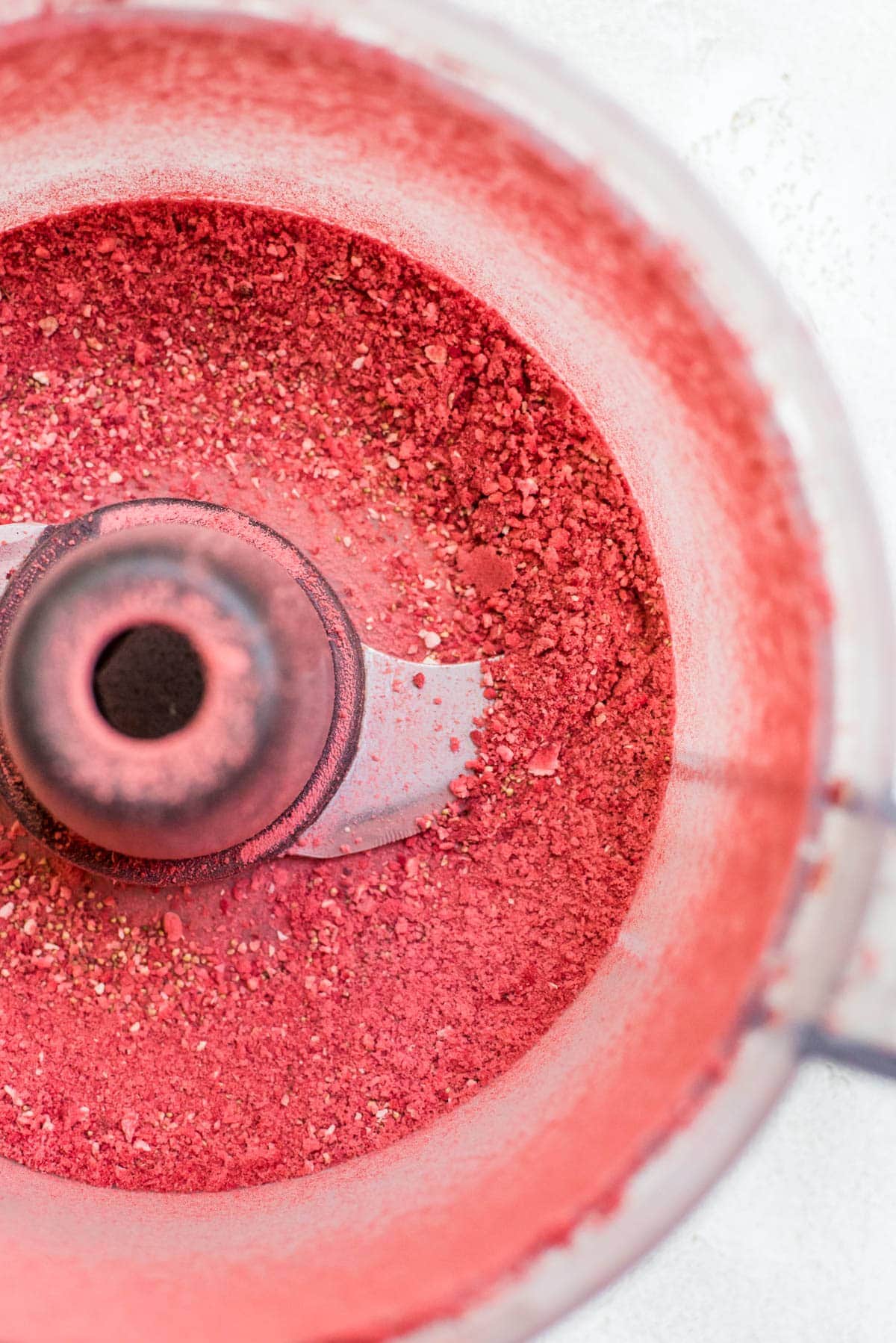 Different Methods for Making Strawberry American Buttercream
There are a few popular ways of making strawberry icing. Here are the top three, plus a few pros and cons of each.
Frosting with Fresh Strawberries - This is the method I've done the most on the site. It has a freshness to the frosting you can't really get with any other method and offers a really nice hue. However, the high liquid content in the strawberries means you have to do more to combat it to get the best consistency. It also means you are limited to making the frosting when strawberries are in season for the best flavors.
Frosting with Strawberry Jam - There is less watery liquid in strawberry jam, so you have more control over the end texture. It also has a more rounded strawberry flavor because the berries are cooked. This option is also available to you year-round. Jam tends to be already very sweet and adding it to sweet frosting means you will have to do more to keep the frosting from becoming cloying.
Frosting with Freeze-Dried Strawberries - Since there is no added liquid, you have complete control over the texture. There is no added sugar, so you do not have to combat that either. It has a concentrated strawberry flavor that gets stronger as the frosting sits. You can also use this method year-round. Unfortunately, freeze-dried strawberries can be a little pricey, and not every grocery store sells it, but many are beginning to. I have found them at Walmart, Target, Aldi, Trader Joe's and a few of my local grocery stores.
How Do You Make Strawberry Icing?
I am a fan of the freeze-dried strawberry method. I love having a lot of control over the end texture to the frosting. I also find the freeze-dried berries pack a lot of punch of flavor that only gets better over time. In my opinion, it also gives the most vibrant color.
First, you need to powder your freeze-dried strawberries. Put it in a food processor and pulse until it becomes a fine powder.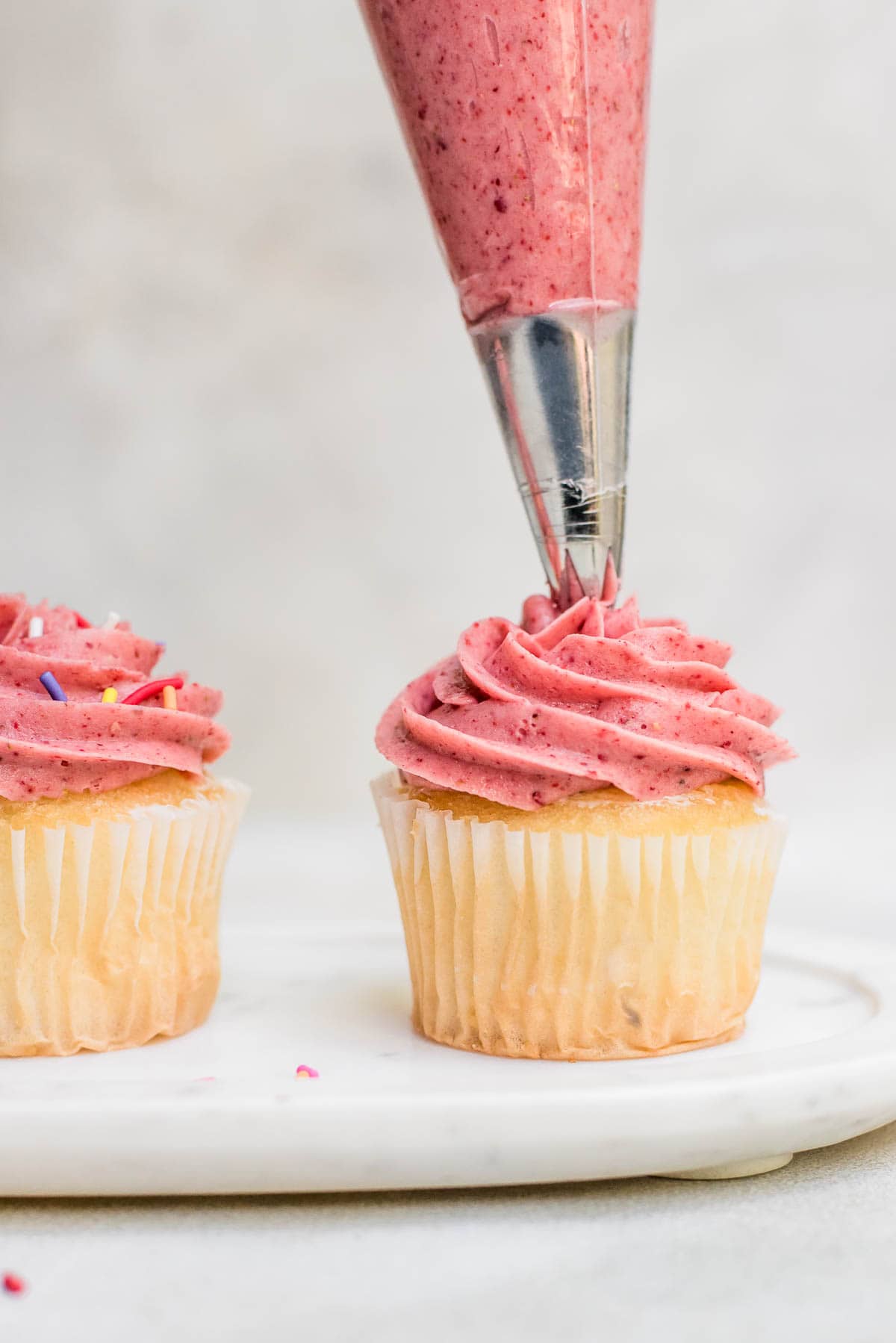 Mix it into the powdered sugar, or you can add it to the butter when you are creaming it, both methods work interchangeably.
Make your frosting as normal, I like to add a bit of lemon zest to brighten the flavor a little.
Add a little heavy cream until you reach a nice, creamy consistency.
Tips and tricks for perfect frosting
Making this frosting is very simple, but if you ever have any issues, these tips can help you troubleshoot and fix them in moment.
Getting the perfect consistency
The most important part of getting the best consistency for spreading on cakes or piping is to use softened butter. It should be soft enough that you can easily use your finger to make a hole in your butter.
Add the powdered sugar slowly. Add in one cup at a time and let it fully incorporate before adding more. Drizzle in heavy cream one tablespoon at a time and let it mix in for at least 30 seconds before deciding whether or not you should add more.
Mix in everything at low speed, this also helps prevent air bubbles from incorporating into the frosting which can make it more difficult to spread smoothly on cakes.
Fixing runny frosting
If you accidentally add too much liquid to your frosting, you can thicken it by adding more powdered sugar. Keep in mind that it will also make the frosting sweeter. You can combat this with a pinch or two of salt - just mix well so the salt has a chance to properly incorporate. Placing the frosting covered in the refrigerator for a few hours may also help with stiffening the frosting.
Storage information
You can leave this particular frosting recipe at room temperature for three days. It does not need refrigeration. If I know I will not be using the frosting for a while or I just have a lot of leftover frosting, I will place it in an airtight container and refrigerate for up to a week, or freeze up to a month.
What Cake Goes with Strawberry Frosting?
Basically every cake. Seriously. I would add this to my coffee-flavored cake, or even my favorite chocolate cake. I usually love adding mine to vanilla cupcakes or vanilla mug cake.
Fun Variations
There are different ways you can change up your frosting too add more flavor and make things even more exciting.
Chocolate covered strawberry frosting - Add a few tablespoons of cocoa powder to the frosting. You may also need to add a touch more heavy cream.
Strawberry champagne frosting - Replace the heavy cream with your favorite champagne. You can also add chamapagne extract.
Strawberry lemonade frosting - Add lemon zest in with the freeze-dried strawberries. You can also replace the heavy cream with fresh lemon juice.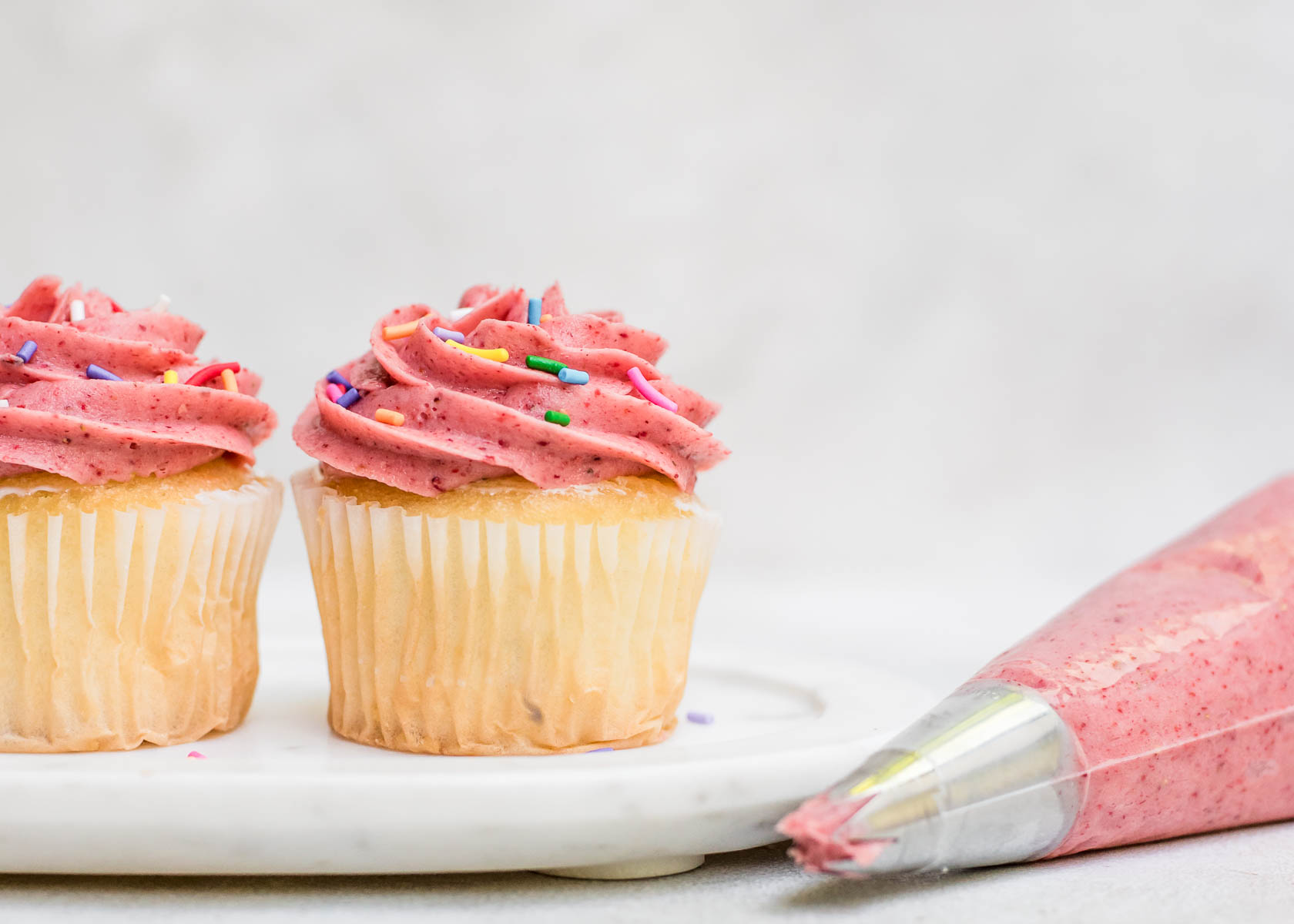 Recipe Card
Strawberry Frosting
Smooth and creamy strawberry frosting that tastes like fresh strawberries
Ingredients
1 ½

ounces

freeze-dried strawberries

½

cup

unsalted butter

room temperature

2 ¼

cups

powdered sugar

¼

teaspoon

sea salt

1 ½

teaspoon

vanilla extract

3

tablespoons

heavy cream

room temperature
Instructions
Put your strawberries to a food processor and pulse until the strawberries become a fine powder.

Add in the strawberries and salt and beat well.

Place your butter to a mixer and beat until smooth.

Add your powdered sugar one cup at a time, beating well between each addition.

Beat in the vanilla extract and beat well.

Mix in the heavy cream one tablespoon at a time until you reach your desired consistency.

Allow the frosting to sit for a couple of minutes before enjoying. 
Notes
The longer the frosting gets to sit, the better it will taste. Best stored in an airtight container
Nutrition
Calories:
92
kcal
Carbohydrates:
13
g
Protein:
0.1
g
Fat:
5
g
Saturated Fat:
3
g
Polyunsaturated Fat:
0.2
g
Monounsaturated Fat:
1
g
Trans Fat:
0.2
g
Cholesterol:
12
mg
Sodium:
25
mg
Potassium:
27
mg
Fiber:
0.2
g
Sugar:
12
g
Vitamin A:
146
IU
Vitamin C:
22
mg
Calcium:
3
mg
Iron:
0.4
mg
Tried this recipe?
Tag me on Instagram! @acookienameddesire #acookienameddesire