The most luscious, velvety, and creamy vanilla buttercream frosting you will ever try. Be prepared to want to eat this buttercream frosting recipe by the spoon!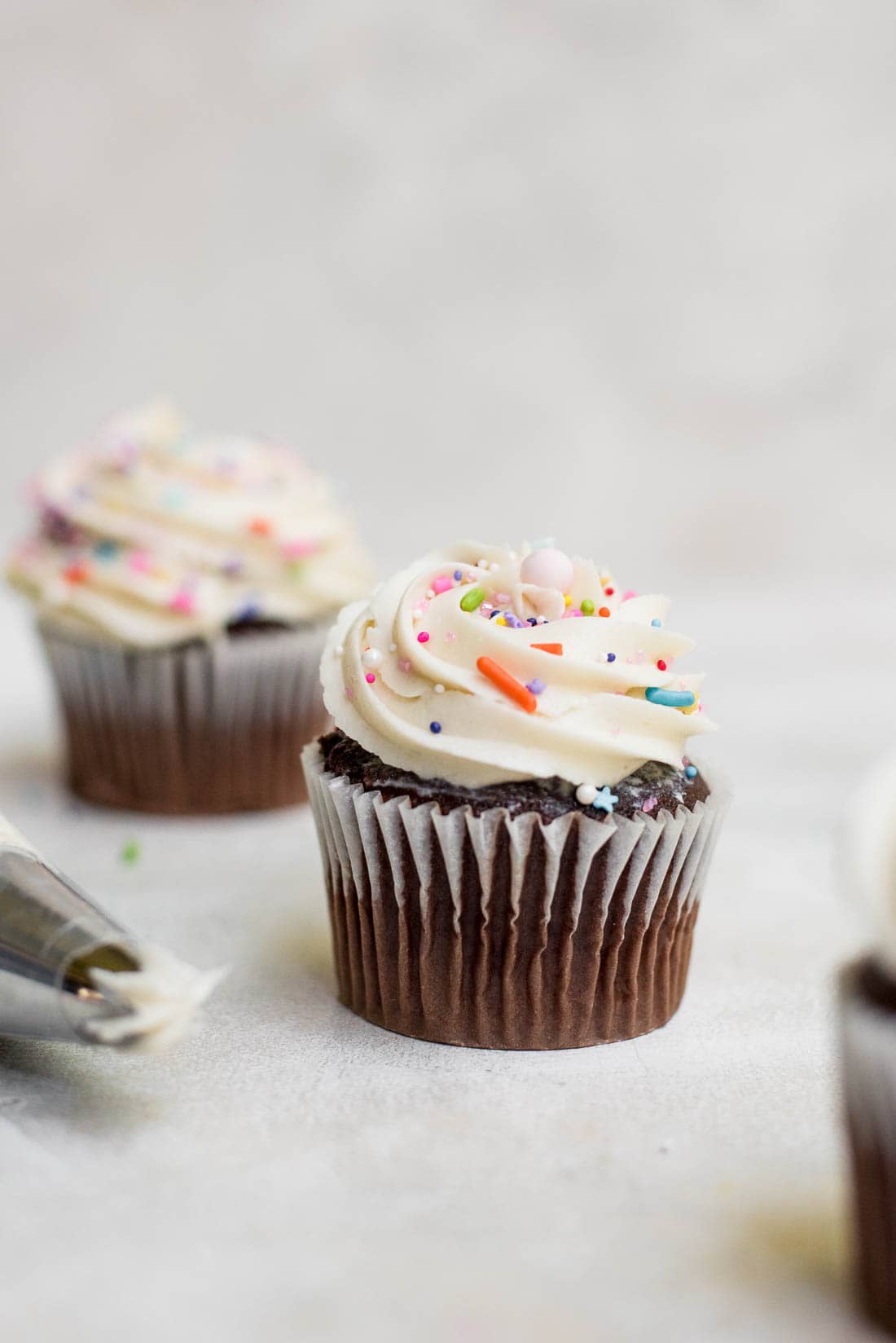 There are two types of people in the world. Those who love frosting, and those who avoid it by any means necessary. This vanilla buttercream frosting is a dream for the people who love frosting, and enough to even get the most adamant frosting hater to eat some!
Why it works
Most frosting recipes are overly sweet, overly buttery, or lacking in flavor. The worst of them have all three going for them.
This recipe is a nice balance of buttery and sweet. It's packed with vanilla flavor and light as a cloud.
We use a tried and true balance of all three ingredients that makes it so good. And we use a secret ingredient: salt.
Salt enhances the flavor of the vanilla while also tempering the sweetness of the powdered sugar. It keeps everything in check and makes it the best frosting you will try.
What it is
Vanilla buttercream is a basic frosting recipe that is perfect on its own or to use as a base to create a flavored buttercream frosting recipe. This is an American buttercream, which means it is primarily made of four main ingredients: butter, powdered sugar, vanilla, and milk.
There are some substitutions you can make for certain ingredients, plus additional ingredients you can add to adjust the vanilla frosting to your liking. We will go over a few of these here, but you will find even more detailed information as you read the post.
Butter - When using butter in baking, you should always use unsalted butter. If you need to substitute the butter, you can use margarine. In some cases, you can also use butter-flavored shortening. It is not my first choice as a substitute as it can leave a waxy mouthfeel and lacks in flavor.
Powdered sugar - When making an American buttercream, there really aren't any substitutions for powdered sugar because other types of sugar will not blend smoothly into the frosting and will make your frosting grainy.
Vanilla - Vanilla frosting requires vanilla. I always recommend real vanilla over imitation. You can use vanilla extract, vanilla bean paste, or even fresh vanilla beans. A combination of at least two of them is always great for nice vanilla flecks and a lovely complex vanilla flavor. At the very least, you should use vanilla extract.
Milk - You can use any unsweetened milk you like. My preference and recommendation is heavy cream. It makes your frosting extra creamy and velvety. If you don't have any milk available, you can use water.
Is Vanilla Icing Gluten-Free?
Yes, it is naturally gluten-free. None of the ingredients in this buttercream recipe inherently contains gluten. It is perfect to top any of your favorite gluten-free desserts.
If you are looking for a frosting recipe that covers any other dietary needs, you may need to make adjustments or continue your search. This recipe is not vegan, nor is it keto or paleo-friendly.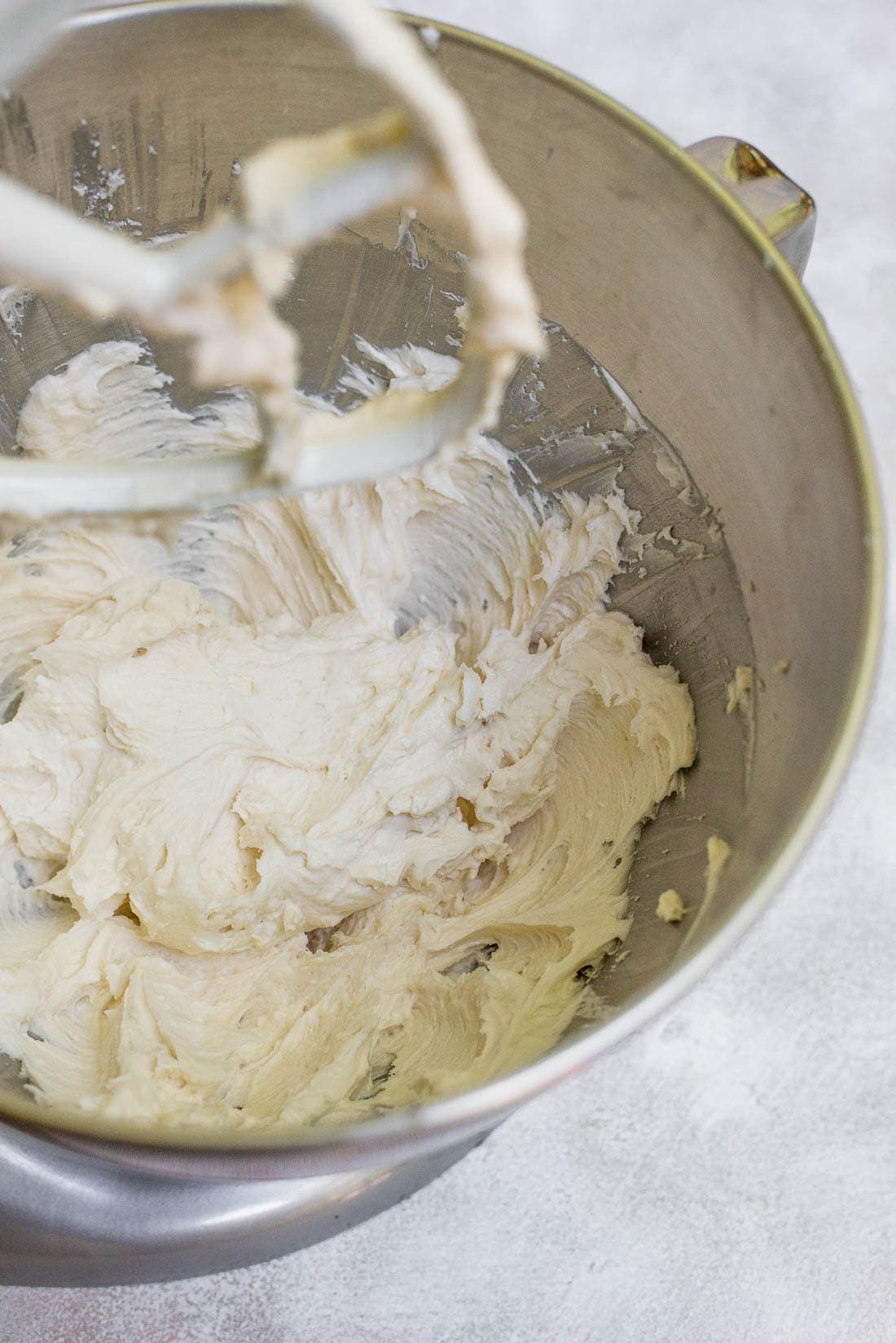 What to do With Vanilla Frosting
The possibilities for vanilla frosting are endless! This recipe makes enough to frost a dozen cupcakes, a 9x13 sheet pan, or a 6 to 8-inch round cake.
Traditionally, you can use it to top any flavor cupcakes (like these vanilla cupcakes) or to frost cakes (like my vanilla mug cake or vanilla butter cake), but that is not the only thing you can do with your frosting! 
You can swirl it in edible sugar cookie dough.
You can dollop it into homemade ice cream.
You can use it to frost brownies.
Make cake pops with it.
Mix it into sweet dips.
Decorate cookies and skillet cookies.
How to Make Vanilla Frosting Without Milk
Most people use milk to loosen their vanilla buttercream to make it easier to spread or pipe. If you do not have any milk, there are alternatives for you!
I prefer using heavy cream, which gives the frosting a more luscious and velvety texture, as well as making it creamier.
You can also use a milk alternative such as cashew milk, almond milk, or even oat milk. Coffee creamers also work and can add a different flavor, if you are interested! 
In a pinch, you can even use water.
Did you know that using [plain] yogurt or sour cream can also work, plus give your frosting a little tang? Give it a try and let me know how you like it. If you decide to use a thick Greek yogurt, you may need to thin it slightly with water. 
How to Make Buttercream Less Sweet
One issue people tend to have with vanilla icing is that it tends to be quite sweet. My best suggestion to help cut sweetness is to add a pinch or two of salt.
The salt does not make the frosting salty, but it does help it taste less sweet. Salt also has the added benefit of bringing out the flavor of the vanilla better.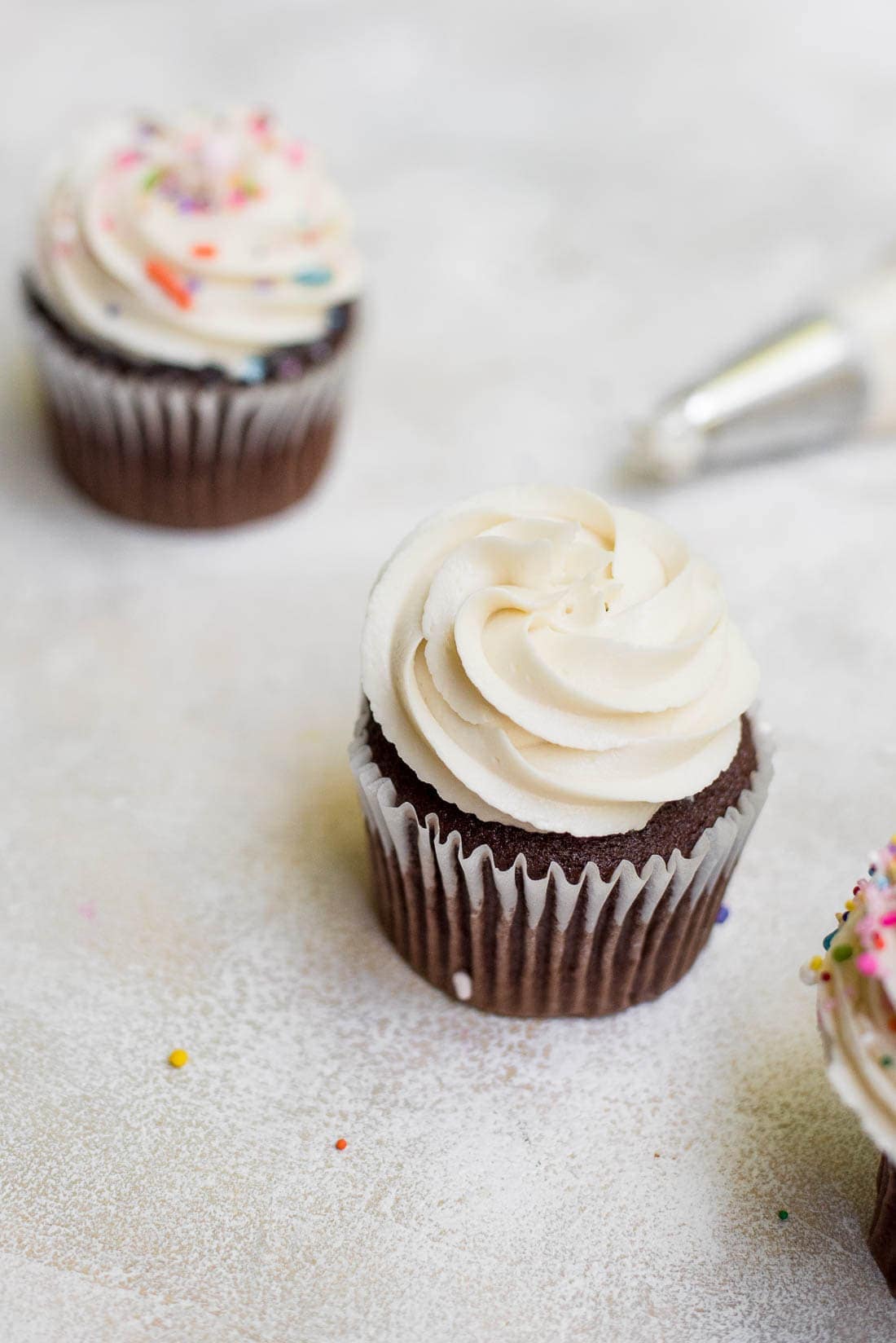 What Kind of Butter Can I Use?
The best American buttercream recipes use unsalted butter. This is because it brings out the best flavor and allows you to control the level of salt you add to the recipe. No one likes salty frosting!
Many people try to use margarine instead, but the results change with every brand and often does not give you the right consistency. Many brands will actually leave you with watery frosting.
Shortening and lard are also sometimes used, especially in bakeries. The issue with this is that it does not have as nice of flavor, and will often leave you with a greasy taste or mouthfeel.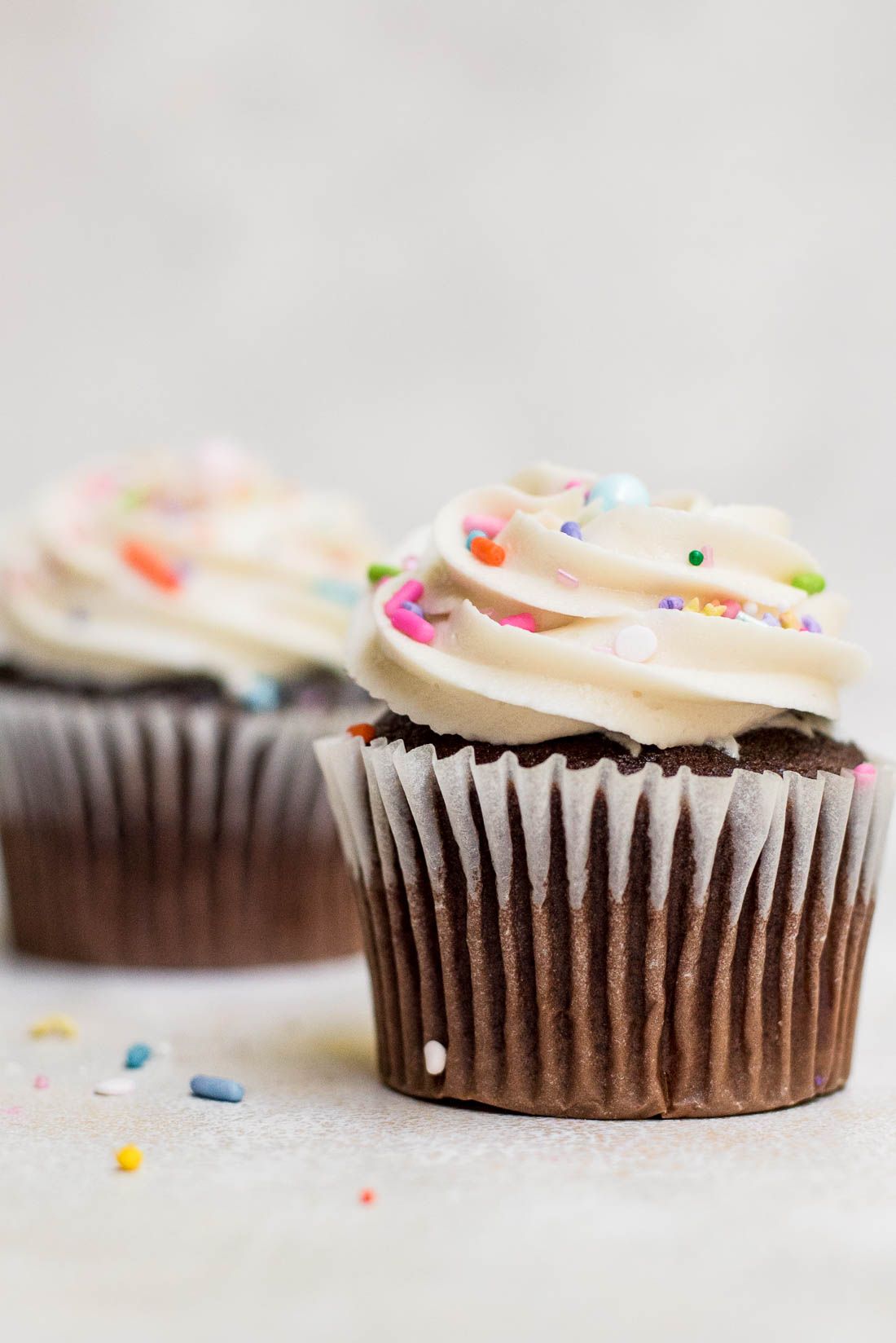 What Type of Vanilla to Use
There are many types of vanilla available, pure and imitation extract, vanilla bean, and vanilla bean paste are popular ones, but you can also use something like vanilla powder, which is sold at some specialty shops.
I am a huge fan of using vanilla beans for the best vanilla flavor, closely followed by vanilla bean paste. Both of these ingredients can sometimes be hard to come by - and expensive! If you cannot get your hands on any, then please do not worry about it.
Most of the time, I recommend and use pure vanilla extract. This gives you the best real vanilla taste and is readily available in most grocery stores. Imitation vanilla extract does not have the same flavor and does taste very artificial. I never recommend it unless you are specifically going for that type of flavor.
As long as you are using pure vanilla extract, it does not matter as much which brand you use - even store brand pure vanilla will work! If you are curious, my go-to brand is Rodelle, but I will also use other brands.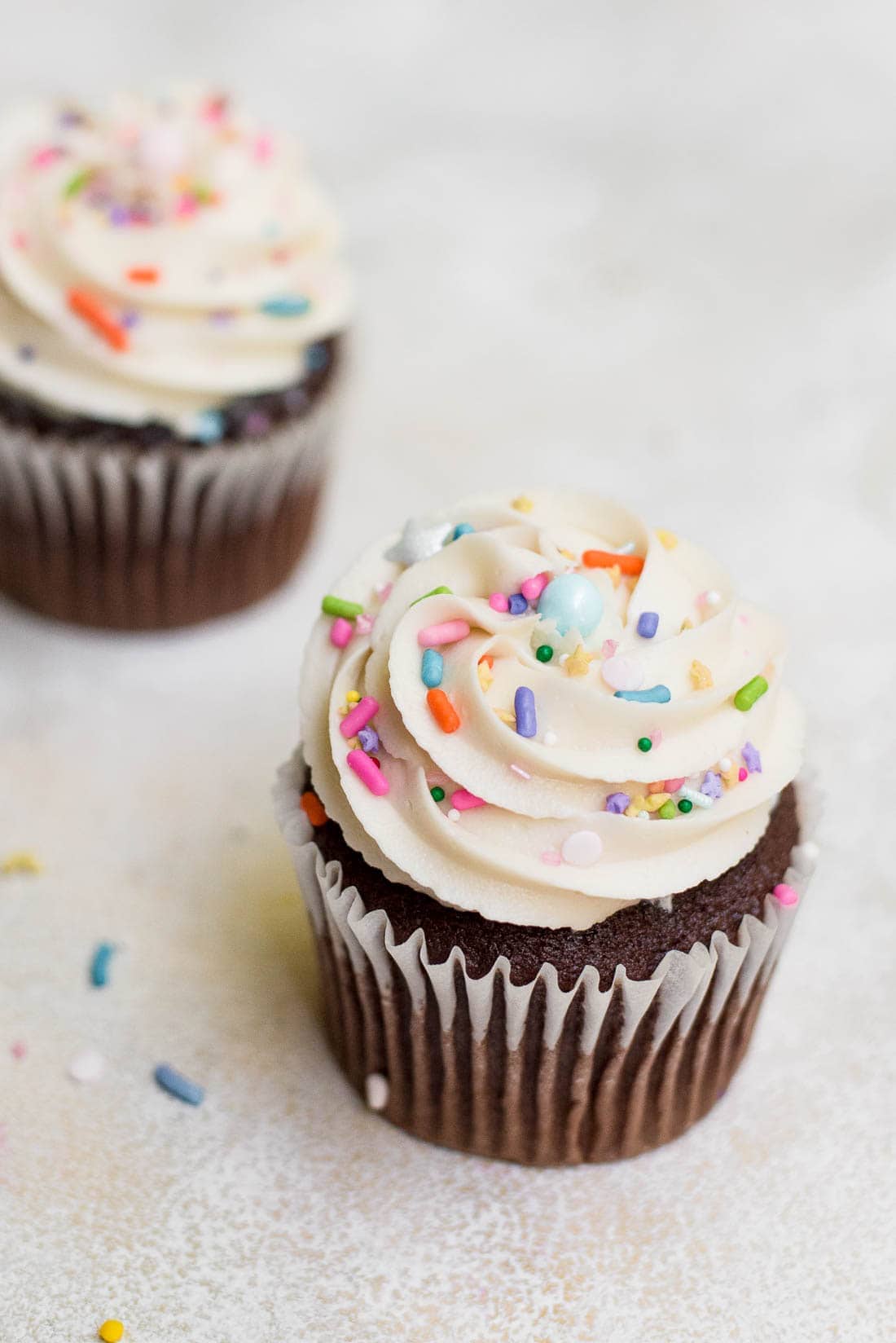 How to Store Your Frosting
You should always store any leftover frosting in an airtight container. It should last overnight at room temperature.
In the refrigerator, it should last about 1 - 2 weeks.
Your frosting will last at least a month in the freezer. Always thaw frozen frosting in the refrigerator overnight before bringing it to room temperature. 
Recipe Card
Vanilla Buttercream Frosting
A velvety smooth vanilla frosting you don't want to skip
Ingredients
¾

cup

unsalted butter

room temperature

3

cups

powdered sugar

1

tablespoon

vanilla extract

⅛

teaspoon

salt

3 - 4

tablespoons

heavy cream

room temperature
Instructions
Beat the butter until smooth and creamy.

Spoon the powdered sugar into your measuring cup and sweep the top with a knife to level. Do not pack in the sugar.

Add in one cup of the powdered sugar and beat until well-combined.

Repeat beating in one cup of powdered sugar at a time until you've used up all the sugar

Add in the vanilla and salt and beat well.

Beat in the heavy cream one tablespoon at a time until you get a smooth, creamy consistency that is easy to pipe.
Notes
Lightly fluff the powdered sugar with a fork or your spoon before measuring.
Store any leftover frosting in an airtight container
Nutrition
Serving:
1
g
Calories:
83
kcal
Carbohydrates:
12
g
Fat:
4
g
Saturated Fat:
3
g
Polyunsaturated Fat:
1
g
Cholesterol:
11
mg
Sodium:
10
mg
Sugar:
12
g
Tried this recipe?
Tag me on Instagram! @acookienameddesire #acookienameddesire