Celebrate Spring with these heavenly vanilla cupcakes filled with a bright lemon curd and topped with a fun sprinkle-filled white chocolate bark!
A lot of my recipes tend to be packed with a lot of strong flavors like rich chocolate, cardamom, and booze. It's not always terribly kid-friendly, so I also spend a lot of time off the blog making something special for my daughter that I know she will enjoy. I didn't think it would be anything worth sharing because they are simpler recipes that are already all over the internet. But then I listened to something Sally said which encouraged bloggers to go ahead and post your simpler recipes because oftentimes, those are our best recipes since we use them so much. So that is what I am doing. I am sharing my favorite vanilla cupcakes recipe with smooth and creamy vanilla buttercream. Plus, a lemon curd I've made many times in the past on the blog that I just can't get enough of.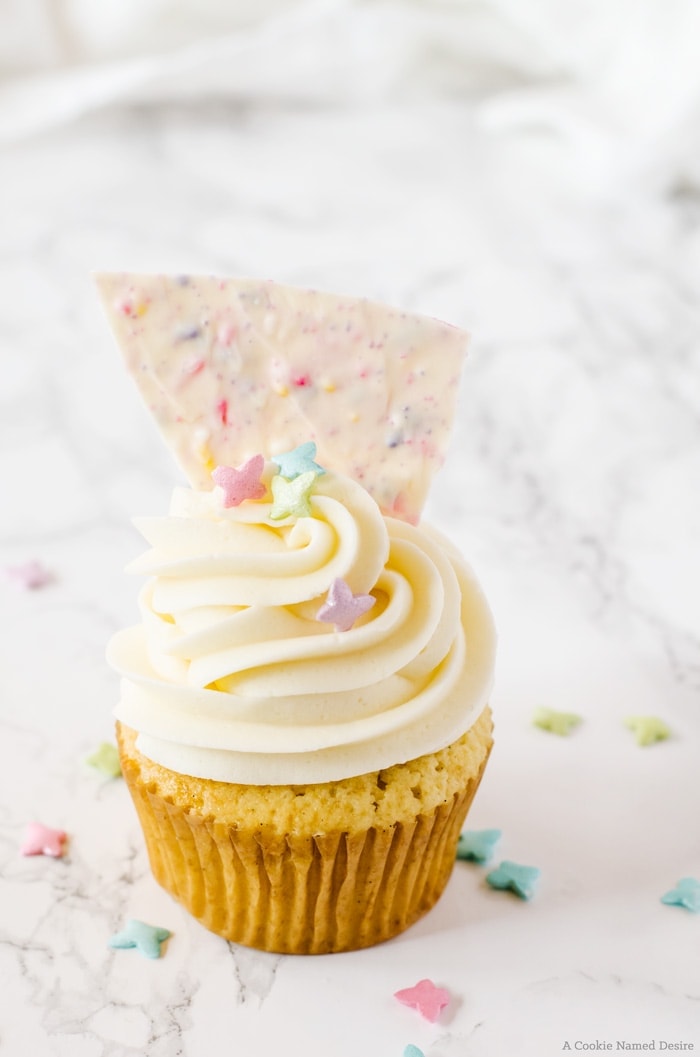 I've used these vanilla cupcakes as a base for almost every non-chocolate cupcake I have on the blog, including my blackberry lime cupcakes and cookies and cream cupcakes. I will change one thing here or there, but it is this cupcake recipe that I am basing it on. It's my workhorse and I know exactly how these cupcakes should turn out. If I am in a new kitchen, these will be the first thing I make to test out the oven. It's one of the very few recipes I have memorized.
I was in the store the other day picking up chocolate and saw a picture of these adorable Easter cupcakes that I knew my daughter would love. They used this custard flavored white chocolate that had colored bits inside it. I decided to make my own version using regular white chocolate and adding her favorite sprinkles inside the bark for the same effect. And instead of the chocolate mini Easter eggs, she chose these really cute butterfly sprinkles. So cute!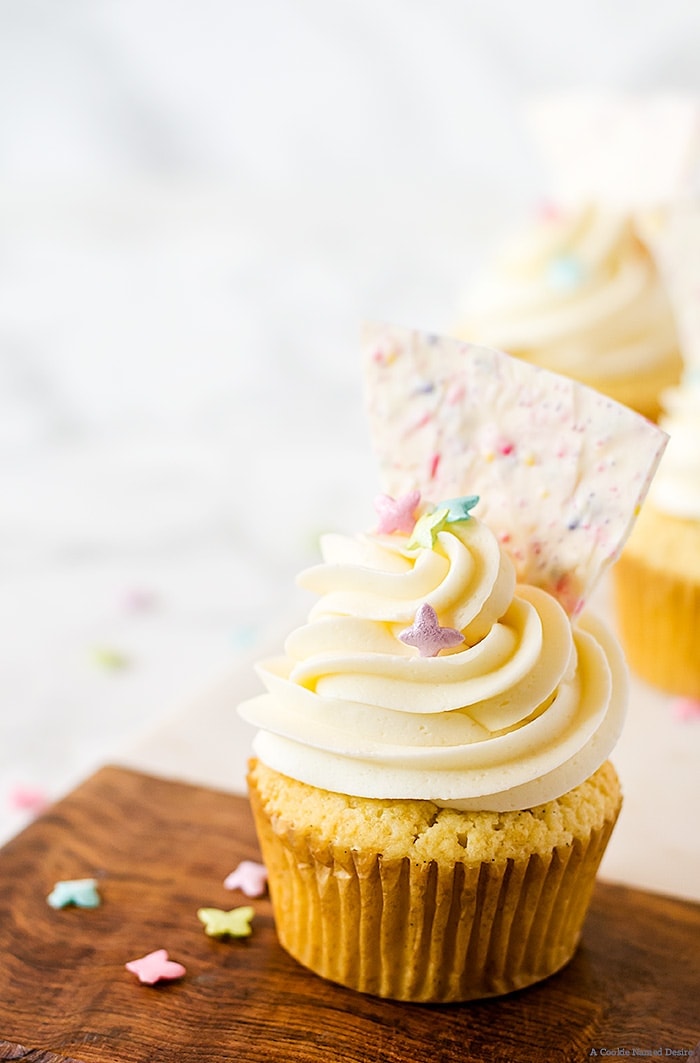 What I love about these vanilla cupcakes is that they are fluffy and buttery and is permeated with the most wonderful balance of vanilla. I use a mix of vanilla extract and a vanilla bean pod to get the right amount of vanilla. The reason I use both is because I can't justify using one vanilla bean for the cake and one for the buttercream. It just gets too expensive so I use a bit of both, Of course, you can also opt to use vanilla bean paste, but I find that to get the right amount of flavor and vanilla bean flecks, you change the color of the batter and frosting more than I would like. If you really don't want to use vanilla beans, you can use a mix of vanilla extract and vanilla bean paste instead, using half a tablespoon in both the batter and frosting (for a total of one tablespoon of vanilla bean paste).
Yield:
Vanilla Cupcakes with Lemon Curd Filling and Sprinkle Bark
Celebrate Spring with these heavenly vanilla cupcakes filled with a bright lemon curd and topped with a fun sprinkle-filled white chocolate bark!
Total Time
1 hour
10 minutes
Ingredients
Lemon Curd
5 egg yolks, room temperature
1 cup granulated sugar
1/3 cup fresh lemon juice (about 4 – 5 lemons)
Zest of 4 lemons
½ cup (1 stick, 8 tablespoons) unsalted butter, cut in cubes
Sprinkle Bark
10 oz white chocolate
3 – 4 tablespoons sprinkles, plus more sprinkles for sprinkling on the cupcakes
Vanilla Cupcakes
1 ½ cups cake flour (can also use unbleached all-purpose flour)
1 ½ teaspoons baking powder
¾ teaspoon salt
½ cup (1 stick, 8 tablespoons) unsalted butter, room temperature
1 cup granulated sugar
½ vanilla bean pod, beans scraped out
2 large eggs, room temperature
1 ½ teaspoons vanilla extract
½ cup buttermilk, room temperature
Vanilla Buttercream Frosting
¾ cups (1 ½ sticks, 12 tablespoons) unsalted butter, room temperature
2 ½ - 3 cups powdered sugar
½ vanilla bean pod, beans scraped out
1 teaspoon vanilla extract
Pinch of salt
2 -3 tablespoons heavy cream
Instructions
Make the curd. In a large metal bowl or saucepan, beat the eggs and sugar together until light in color. Add the lemon juice and zest to the egg mixture and beat well until combined.
Place over a small saucepan filled with one inch of simmering water so that your bowl or saucepan does not directly touch the water.
Continue to beat the egg mixture until it become thick , light yellow, and you can leave a trail on the back of a spoon that's been dipped in the mixture.
Remove from heat and add the butter, stir until the butter is completely combined into the mixture.
Put the curd through a fine mesh strainer to remove any cooked bits and the zest. Store in an airtight jar and refrigerate until completely chilled. Note: if you are making these cupcakes in one day, take about 2/3 cups of the curd and place in a ziplock bag. Spread out the curd in the bag and lay flat to chill. That will speed up the process. To use, simply push the curd into one section of the ziplock bag and cut the corner to create a makeshift piping bag! The curd can be make up to a week in advance.
Make the spinkle bark. Using the same small saucepan with simmering water (you may need to add a bit more water to the pan) and a clean bowl or large saucepan, add your white chocolate. Stir the mixture until the white chocolate is completely melted. Add in the sprinkles and stir to combine.
Pour the white chocolate onto a parchment-lined baking sheet and spread out until roughly ¼ inch thick using an offset spatula. Allow to harden at room temperature as you make the cupcakes.
Make the cupcakes. Preheat the oven to 350 degrees F. Line a muffin tin with cupcake liners. In a medium bowl, add the flour, baking powder, and salt. Whisk to combine and set aside.
Beat the butter, sugar, and beans from the vanilla bean pod until light and fluffy. Add the eggs one at a time and beat well (at least a minute) between each addition. Add in the vanilla extract and beat well.
Alternate between adding the flour and buttermilk to the mixture. Begin and end with the flour. The flour should be added in three additions, while the buttermilk should be added in two additions.
Evenly divide the batter among the cupcake liners and bake for about 12 – 15 minutes, or until a toothpick comes out clean when inserted and the cake springs back when gently pushed. Turn the pan halfway between baking.
Remove the cupcakes from the oven and allow to cool completely on a wire rack as you make the buttercream.
Beat the butter until smooth. Add the powdered sugar ½ cup at a time, beating well between each addition. Add the salt, vanilla beans from the vanilla bean pod, vanilla extract, and heavy cream, Beat until just combined. Note: I like to beat on low, or by hand for a few minutes at the end to remove any air that may have incorporated into the buttercream.
Assemble the cupcakes. Remove the centers of the cupcakes and fill with the lemon curd. Fit a piping bag with your favorite tip and fill with the buttercream. Pipe the frosting onto your cupcakes. Cut up shards of the bark and place on the cupcakes. Top the frosting with more sprinkles, if desired.
Notes
I recommend using Rodellevanilla beans and vanilla extract
Nutrition Information:
Serving Size:
1 cupcake
Amount Per Serving:
Calories:

452