This sweet and bright lemon curd is an easy and irresistible spread that is like tasting a bit of liquid sunshine. Possibly the best lemon curd recipe you will ever try.
I love lemon curd. I love curd in general. Maybe you've noticed that with all the curd recipes on the site (see blood orange curd, citrus curd, and pomegranate curd). Lemon curd is by far my favorite and I've made a few versions on the blog, but this lemon curd recipe….. this is by far my favorite. I loved it so much that I knew it needed its own blog post. My original plan was to put it in a cake that I am sharing with you later, but after trying it I knew I needed to give this luscious spread its very own post.
Generally, I find most curds to be too eggy or too sweet. This has an excellent balance of bright lemon flavor and sweetness. There is still a tartness to the curd that is just enough to almost make you want to pucker your lips. Enough to remind you that this is something that is fresh and not processed. I also think most curds taste best when they've had time to sit for a while but this curd is just as delicious while it is fresh and warm. Warm lemon curd is an incredible treat.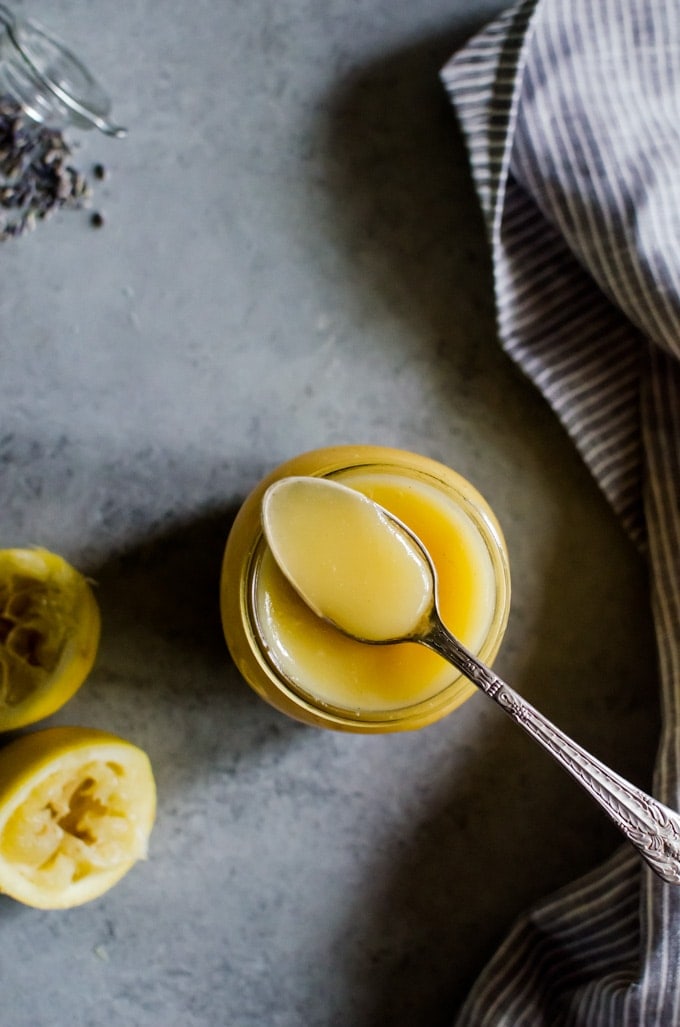 I love to use it as a dip for shortbread or even butter crackers for a nice sweet and salty combination. I swear, I could probably eat a whole jar of this lemon curd recipe in a day. Sure, I might get a stomachache, but it'd be worth it. SO worth it. But you can do so much with this lemon spread. For summer I love swirling it in ice cream to have with pie and also thinning it out for cocktails. Can we say most versatile condiment ever?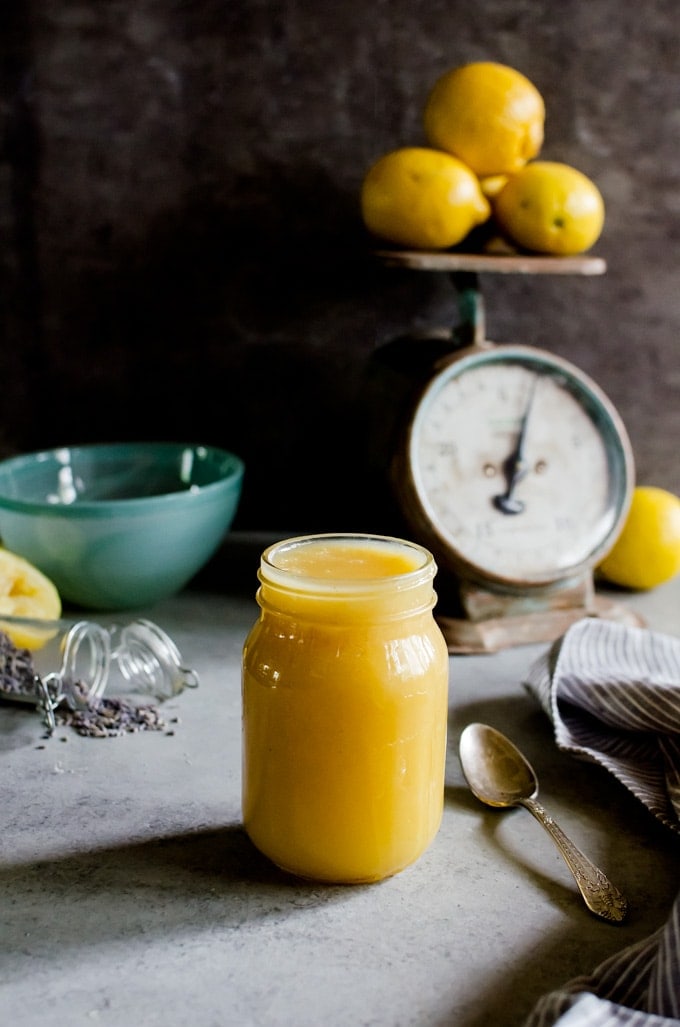 I added a bit of lavender to my curd. It is a very subtle lavender flavor and it completely optional. If you don't like or have dried food grade lavender around, feel free to omit! I get my lavender from World Market. You can add a splash of vanilla extract for even more flavor.
And because I know some people enjoy making food like lemon curd to give as gifts, I've made FREE jar labels for you! Simply use sticker paper to print them on and cut out.
Yield: just over 2 cups
The Best Lemon Curd Recipe
A deliciously creamy lemon curd recipe

Prep Time 15 minutes

Cook Time 15 minutes

Total Time 30 minutes
Ingredients
Zest of two lemons
1 tablespoon dried lavender (optional)
1 1/2 cup granulated sugar
Pinch of salt
1 ¼ cup lemon juice
3 large eggs
8 tablespoons unsalted butter
Instructions
In a saucepan, mix together lemon zest, lavender (if using), and granulated sugar together. Rub the zest and lavender into the sugar to help release the oils.
Add the salt and lemon juice and turn on the heat to medium high. Stir well until the mixture is hot and simmering.
In a separate bowl. Beat the eggs well.
Slowly Add one third of the lemon mixture to the egg, beating the eggs well as you pour. Then transfer the egg mixture to the saucepan, beating the mixture in the saucepan as you pour. Continue to beat continuously until the mixture thickens.
Test doneness by sticking a wooden spoon into the mixture and running your finger down the back of the spoon. When the line stays where you ran your finger, it is ready.
Remove from heat and stir in the butter, mixing until completely combined.
Strain to remove the zest, lavender, and any egg that may have cooked. Allow to cool completely and store in an air tight container in the refrigerator for up to a week.
Nutrition Information:
Yield:
18
Serving Size:
2 tablespoons
Amount Per Serving: Calories: 127 Total Fat: 6g Saturated Fat: 3g Trans Fat: 0g Unsaturated Fat: 2g Cholesterol: 45mg Sodium: 24mg Carbohydrates: 19g Net Carbohydrates: 0g Fiber: 0g Sugar: 17g Sugar Alcohols: 0g Protein: 1g