This sweet and bright lemon curd is an easy and irresistible spread that is like tasting a bit of liquid sunshine. Possibly the best curd you will ever try. Perfect for using in scones, cakes, cheesecakes, and so much more!
Why you'll love it
This lemon curd is the perfect balance of tart and sweet. It's thick, creamy, and a beautiful bright pop of flavor.
The curd is so versatile, you can use it in so many ways (including just eating it by the spoonful!). Here are some ideas for you:
Use it as a dip for shortbread cookies
Swirl it into ice cream
Turn it into lemon meringue pie or bars
Thin it out and use it in cocktails
Slather it between layers of cake
Fill cupcakes
Key ingredients
To make lemon curd at home, you only need a few ingredients. Most of which you probably already have. Here are some of the key ingredients.
Lemon - Lemons are the most important ingredient in this recipe. You can experiment with the types of lemons you use. Meyer lemons add a lovely floral note to the curd. Pink lemons are sweeter and less acidic. You can also try substituting some of the lemon juice and/or lemon zest with another citrus fruit to create something fun and unique.
Sugar - Granulated sugar is typically used for this recipe. Stay away from brown sugar or even turbinado sugar as it will alter the taste and appearance of the curd.
Eggs - This recipe calls for a mix of whole egg and egg yolk to thicken and richen the curd.
Butter - Not only does the butter help to further thicken the curd, it also adds an irresistible butteriness to the curd that helps cut some of the tartness of the lemons. Use unsalted butter.
How to Make
Making homemade lemon curd is a fairly simple process, but does require some patience. There are only a few main steps required in making curd.
Add the sugar, salt and zest to a saucepan off the stove and use your fingers to rub the zest and sugar together to release the oils into the sugar.
Add the lemon juice, mix well, and heat the mixture until the mixture is hot, simmering, but not boiling.
Add the eggs to a separate heatproof bowl and whisk.
Temper the eggs with the hot lemon juice, then transfer the mixture into the saucepan.
Mix the mixture on medium-low heat and stir constantly. Continue to cook until the mixture visibly thickens.
Remove from the heat and stir in the butter.
Strain into an airtight container and cool to room temperature.
Expert Tips
If you find your curd has a metallic taste, the reason is probably because you used a metal saucepan, bowl, or whisk and the lemon and eggs reacted to it.
Making curd for the first time can seem really intimidating, especially if you aren't used to tempering eggs.
What tempering eggs means. Tempering eggs is slowly heating up your eggs so it does not scramble. No one likes scrambled eggs in their curd! You temper the eggs by slowly drizzling hot liquid into the eggs while you stir the eggs. This should slowly raise the temperature of the eggs without cooking them through.
It can be tricky, especially if it is your first time, so if you have someone around, ask them for a hand whipping the eggs or drizzling in the hot lemon mixture.
Once you've heated your eggs, they should be transferred to the saucepan with the remaining lemon mixture. For the best results, I recommend drizzling it in.
Keep stirring the mixture continuously. Run your spoon around the sides and bottom of the saucepan to prevent anything from sticking and/or burning.
Always strain your curd before you store it. There is always a chance some of the egg did cook, and you also don't want bits of zest everywhere in your curd.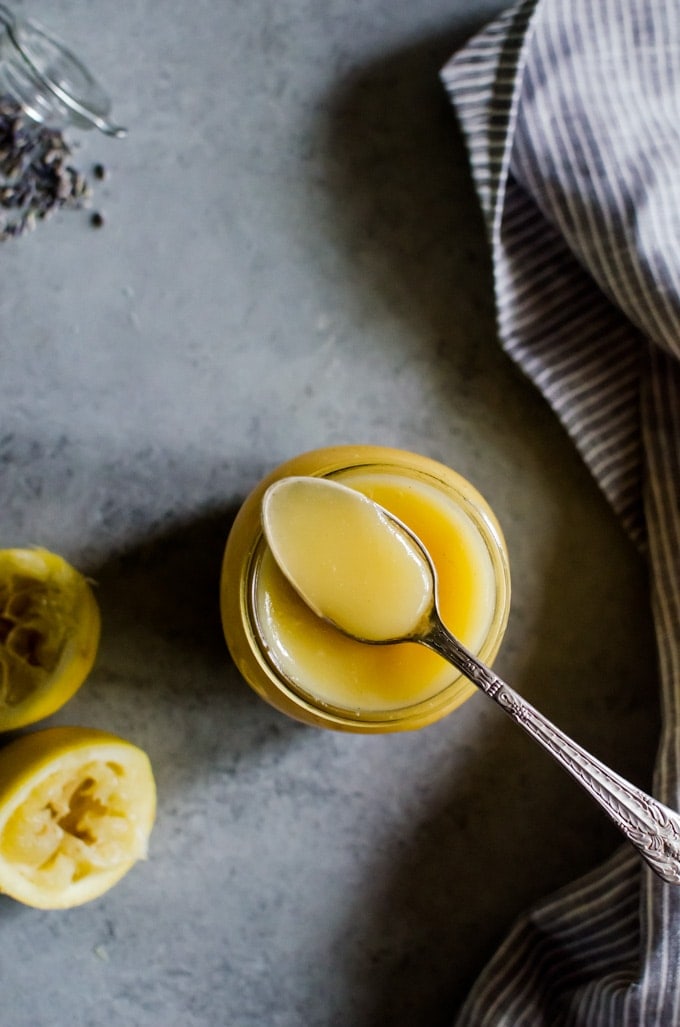 Troubleshooting and Storage
Lemon curd is really simple to make, but sometimes it doesn't come out exactly the way you want.
How to Thicken Lemon Curd
The first thing to remember is that the curd thickens when it cools. While you are cooking your curd, it might seem as though it will be too runny, but once you put it in the refrigerator, it will thicken and be nice and spreadable.
If you are still in the process of making the lemon curd, you can cook it a little longer. It should completely coat a wooden spoon. You should also see a clear, unmoving line when you drag a finger down the back of that coated spoon. Continue cooking until you reach that point.
If it does not thicken, you can whisk in another egg yolk.
You can also use cornstarch to thicken your curd. Add a teaspoon of cornstarch and 2 teaspoons of cold lemon juice or water together. Stir that into your curd and gently heat the curd.
Storage
Keep your curd in an airtight container. I personally recommend using a canning jar. It keeps your curd fresh the longest without you even having to properly seal your jars each time.
You should store your lemon curd in the refrigerator, and it should keep for about 3 - 4 weeks.
If you would like to freeze your lemon curd, remember to leave headspace in your container for your curd to expand as it freezes. It will last for several months. To ensure there is no change to the flavor or texture, thaw the curd in the refrigerator overnight.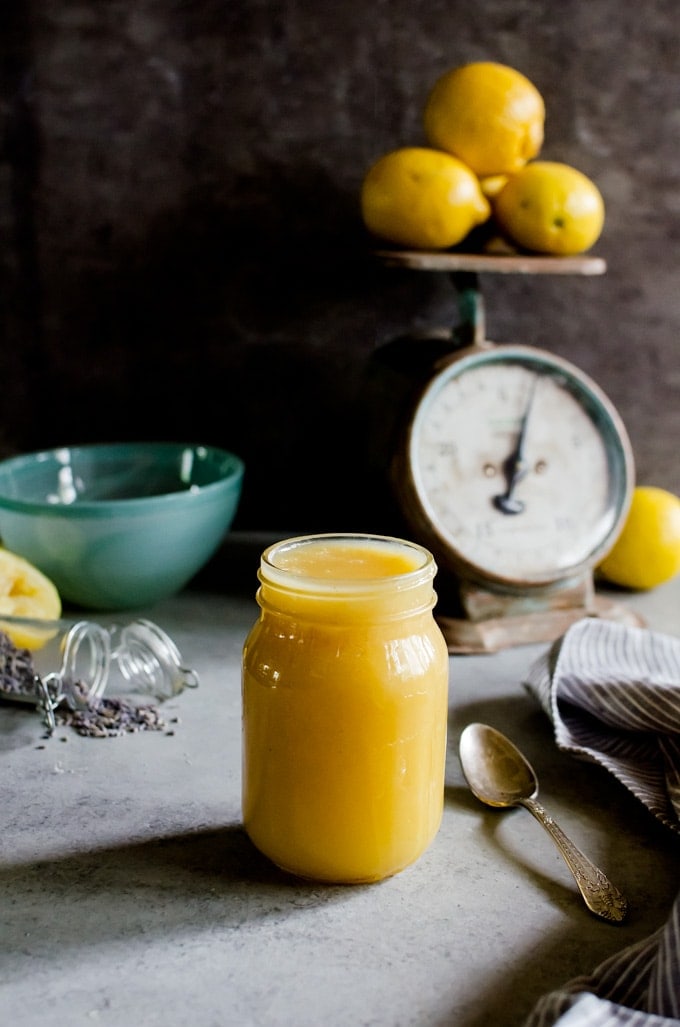 Recipe FAQs
Can I substitute lemon curd for lemon pie filling?
Yes! You can absolutely use lemon curd to fill your pies.
Why did my lemon curd turn green?
This typically happens when you use an aluminum or copper pan. The acidity of the lemons will react with the metal, changing the color green and often leaving behind a metallic taste.
How do I know if I overcooked my curd?
Your lemon curd is overcooked when it starts to become lumpy and is no longer smooth. The eggs can easily overcook and scramble if you do not temper the eggs and you can tell if the curd looks grainy, or you see bits of egg through the mixture.
And because I know some people enjoy making food like lemon curd to give as gifts, I've made jar labels for you! Simply use sticker paper to print them on and cut out.
Related Recipes
Recipe Card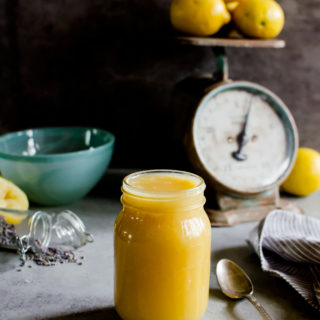 Lemon Curd Recipe
A deliciously creamy lemon curd recipe
Ingredients
Zest of two lemons

1

tablespoon

dried lavender

optional

1 ½

cup

granulated sugar

Pinch

of salt

1 ¼

cup

lemon juice

3

large eggs

1

egg yolk

8

tablespoons

unsalted butter
Instructions
In a saucepan, mix together lemon zest, lavender (if using), and granulated sugar together. Rub the zest and lavender into the sugar to help release the oils.

Add the salt and lemon juice and turn on the heat to medium-high. Stir well until the mixture is hot and simmering.

In a separate bowl, beat the eggs well.

Slowly add one-third of the lemon mixture to the egg, beating the eggs well as you pour.

Transfer the egg mixture to the saucepan, beating the mixture in the saucepan as you pour.

Continue to mix continuously until the mixture thickens.

Test doneness by sticking a wooden spoon into the mixture and running your finger down the back of the spoon. When the line stays where you ran your finger, it is ready.

Remove from heat and add in the butter, stirring until completely combined.

Strain to remove the zest, lavender, and any egg that may have cooked. Allow to cool completely and store in an airtight container in the refrigerator.
Notes
While stirring, scrape the sides and bottom of the saucepan to prevent sticking or burning.
When cooling the curd, place plastic wrap directly on the curd to prevent skin from forming.
Nutrition
Serving:
2
tablespoons
Calories:
127
kcal
Carbohydrates:
19
g
Protein:
1
g
Fat:
6
g
Saturated Fat:
3
g
Polyunsaturated Fat:
2
g
Cholesterol:
45
mg
Sodium:
24
mg
Sugar:
17
g
Tried this recipe?
Tag me on Instagram! @acookienameddesire #acookienameddesire