Bright, lemony, and moist cake ready to eat in just minutes! This easy lemon mug cake recipe is perfect when that cake craving strikes. It's a low-effort, highly tasty treat built to satisfy without over-indulging.
Why it works
First, we need to start off applauding the amazingness that is the mug cake. It is a whole single serving cake made in a mug using your microwave. What could be better?
I mean, a whole cake, but with that comes more dishes, more time waiting, and requires self control which not everyone (like me) has.
In short, they are amazing and there are infinite possibilities with them.
A lemon mug cake in particular is great for that bright lemon flavor that tastes like sunshine. Like my lemon bars, it is perfect for lemon lovers.
And the frosting? It reminds me of frozen lemonade and it is amazing.
Ingredients
This is still a cake, so it requires a lot of the same ingredients you'd expect in cake. The only difference is that we do not use any egg. The amount of cake in the mug is too small to require needing an egg and adding one would make the cake rubbery and taste a lot like the egg.
Flour - You can use all-purpose or cake flour in this recipe. White whole wheat flour works too.
Baking powder - I like using just a tiny bit of baking powder to help with the lift of the cake and make it fluffier.
Salt - You use use just a small pinch of sea salt in the recipe. It will be enough to bring out the flavors, but we don't want to use enough to create a salted cake.
Sugar - You should use granulated sugar in this recipe. I do not recommend brown sugar which can overpower the lemon. You can use sugar alternatives, just remember the ratio is usually half the amount of what you would use for granulated sugar.
Butter - We use melted butter for a really nice flavor, but you can also use a flavorless oil. Do no use salted butter as it will make your cake salty.
Milk - You can use any dairy or dairy alternative you like. If you want to keep it like, opt for unsweetened almond milk. For something more decadent, try heavy cream! If you have leftover buttermilk from another recipe, this is a great way to use some up.
Lemon - We use both lemon zest and juice. About half the juice will end up in the cake, while a lot of the remaining juice will end up in the frosting.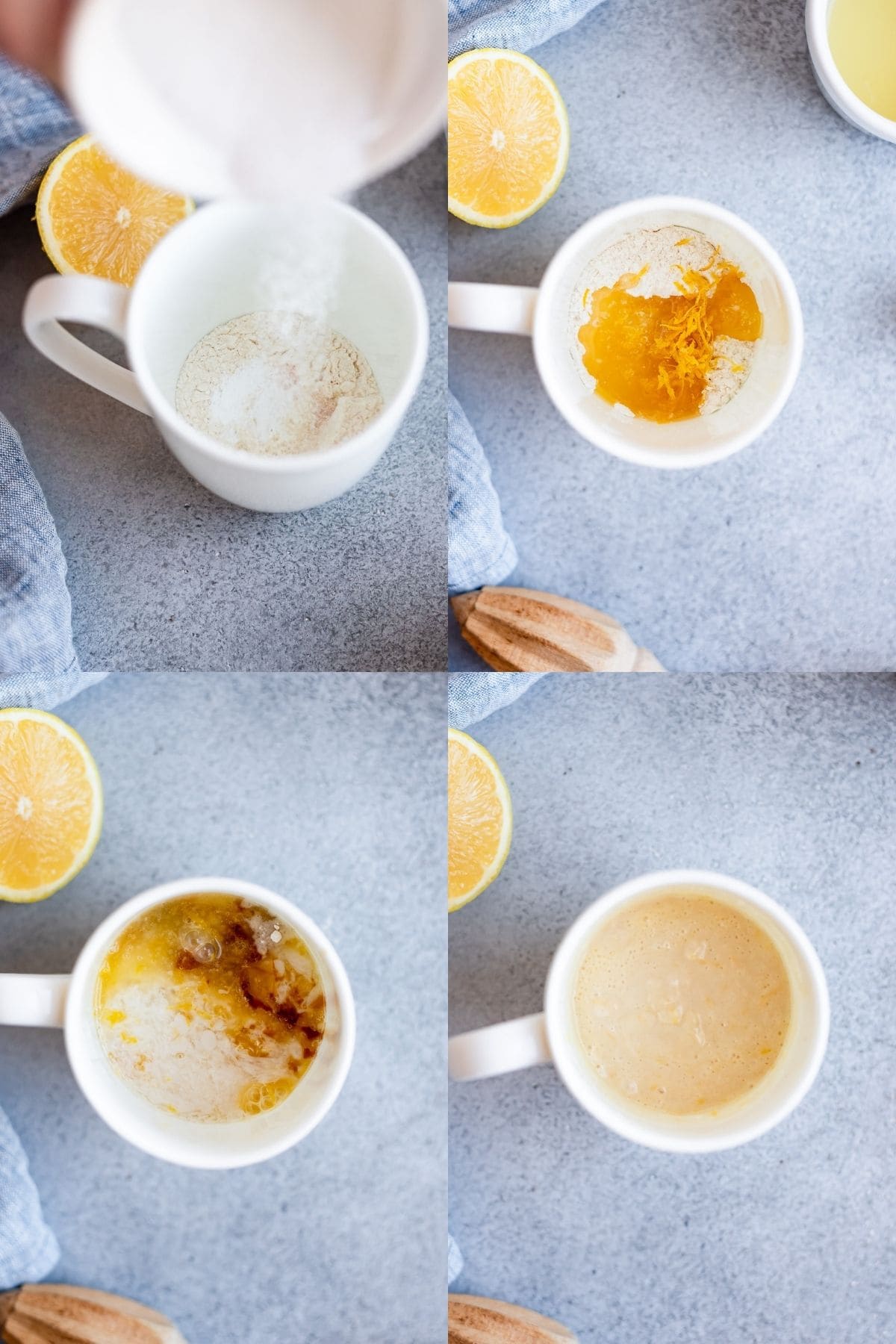 How to make
Mug cakes are incredibly east to make, and this lemon mug cake version is no different.
Mix the dry ingredients together in your mug.
Add the butter, lemon juice, and lemon zest.
Add in the milk and vanilla.
Stir well.
Microwave for about 60 seconds.
Top with frosting or powdered sugar.
Recipe F.A.Q.s
I don't have a mug, what else can I use?
Anything microwaveable will work, just make sure it is big enough. The batter should only be about half of the entire container as it does rise a lot while cooking.
Can I use something else besides the frosting?
I always recommend experimenting! You can top the cake with powdered sugar instead, or a simple glaze. White chocolate chips on the finished cake will melt and make a great topping. You can insert a white chocolate truffle into the batter for a surprise filling! Ice cream is also good.
Related recipes
If you loved this, you must try my vanilla mug cake, peanut butter mug cake, chocolate mug cake, hot chocolate mug cake, and Black Forest mug brownie.
Lemon Mug Cake
Cook Time:
1 minute
45 seconds
Total Time:
6 minutes
45 seconds
Light and moist lemon mug cake
Ingredients
Lemon Cake
1 ½ tablespoons unsalted butter, melted
3 tablespoons milk
1 ½ tablespoons fresh lemon juice
1 teaspoon lemon zest
½ teaspoon vanilla extract
4 tablespoons all-purpose flour
2 ½ tablespoons granulated sugar
¼ teaspoon baking powder
⅛ teaspoon salt
Lemon Frosting
1 ½ tablespoons unsalted butter, room temperature
1 ½ tablespoons cream cheese, room temperature
⅓ cup powdered sugar
1 teaspoon lemon juice
1 - 2 teaspoons heavy cream
Instructions
Add the butter to your mug and melt it.
Add in the milk, lemon juice, zest, and vanilla extract.
Whisk well to combine.
Add in the flour, sugar, baking powder, and salt. Whisk well to combine.
Microwave the cake for 60 seconds. It should be cooked in this time. If the top is still very wet, you can microwave for an additional 15 seconds.
Make the frosting while the mug cake cools.
Mix together the butter, cream cheese, powdered sugar, and lemon juice.
Whisk well.
Add in the heavy cream as needed to get a smooth consistency. Top on the mug cake
Notes
The mug cake will continue to cook for a while before it finally cools, be careful of overcooking the cake as it will dry out. The top should be set and not wet, but it may appear still a little moist.
Wait for the cake to cool before adding the frosting.
Nutrition Information:
Yield:

1
Serving Size:

1
Amount Per Serving:
Calories:

423
Total Fat:

46g
Saturated Fat:

18g
Trans Fat:

0g
Unsaturated Fat:

15g
Cholesterol:

67mg
Sodium:

273mg
Carbohydrates:

48g
Fiber:

1g
Sugar:

39g
Protein:

4g
Calculations are estimations, use your own calculations using the brands you specifically used for more accurate numbers.