Decadent fudgy brownie studded with sweet cherries and topped with a cloud of whipped cream. There is no way to resist making a Black Forest mug brownie! 
I love the idea of brownies and cakes made in a mug. It's such a fun and convenient way to have a treat without spending too much time in the kitchen and have some built-in portion control. My kid gets a real kick out of it and loves when we make them for movie night. This black forest mug brownie is one of our absolute favorites - and not to toot my own horn, but it also won an award with the American Dairy Association (North East) when I went away on a dairy tour with them October 2018.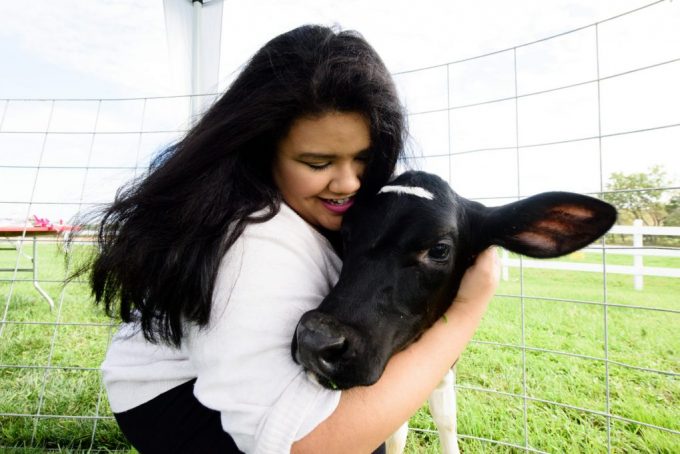 I also got the chance to learn so much about the dairy industry (those of you who follow me on instagram had the opportunity to ask questions live for me to pose to the farmers directly! If you do have any questions, please share with me and I can forward them over). I got to meet the cows who supply the milk to my region and see first hand how they are cared for, what goes into their diets, and even see one being milked. During the trip, I also made a new best friend, called Cheddar. Hugging her was probably one of the best moments of my life.
I will be honest with you.... this black forest mug brownie is not for the faint of heart. It is the epitome of decadent desserts made with a lot of heavy cream (You can substitute some of the heavy cream with whole or 2% milk to cut back on calories a bit). It's part of why you need to eat it in a mug.... and why it is so delicious. So before you get tempted to complain that this dessert is too decadent, remember this is a dessert, and should not be eaten all the time...  Anyway, we should be allowed to have a bit of decadence in our lives. Just limit yourself to one mug and you'll be fine! Consider this your fair warning!
My favorite thing to do is make a bigger batch of batter for these Black Forest mug brownies and freeze them in mugs we don't use often. All they need is an extra minute or two in the microwave!
For your convenience, I've included the measurements for just one mug as well as several mugs at once in case you'd also like to freeze some ahead - or make a bunch for movie night with a few of your family members or friends!
Do you love Black Forest flavored treats as much as I do? Then you'll want to check these out:
Recipe Card
Black Forest Mug Brownie
A richly decadent black forest mug brownie
Ingredients
¼

cup

1 cup flour

¼

cup

1 cup tightly packed brown sugar

2

tablespoons

6 tablespoons Dutch-processed cocoa (natural unsweetened works too)

⅛

teaspoon

½ teaspoon salt

¼

cup

1 cup heavy cream

2

tablespoons

6 tablespoons canola oil

¼

teaspoon

1 teaspoon vanilla extract

2

tablespoons

6 tablespoons chocolate chips

4

16 pitted cherries, divided

2

tablespoons

6 tablespoons cherry jam

¼

cup

1 cup whipped cream

chocolate shavings
Instructions
Add the flour, sugar, cocoa powder, salt, heavy cream, oil, and vanilla to a mug and mix well.

Stir in the chocolate chips, cherries, and jam.

Microwave for 90 - 120 seconds.

Top with whipped cream and chocolate shavings.
Notes
Measurements in parenthesis is for FOUR servings.
Tried this recipe?
Tag me on Instagram! @acookienameddesire #acookienameddesire