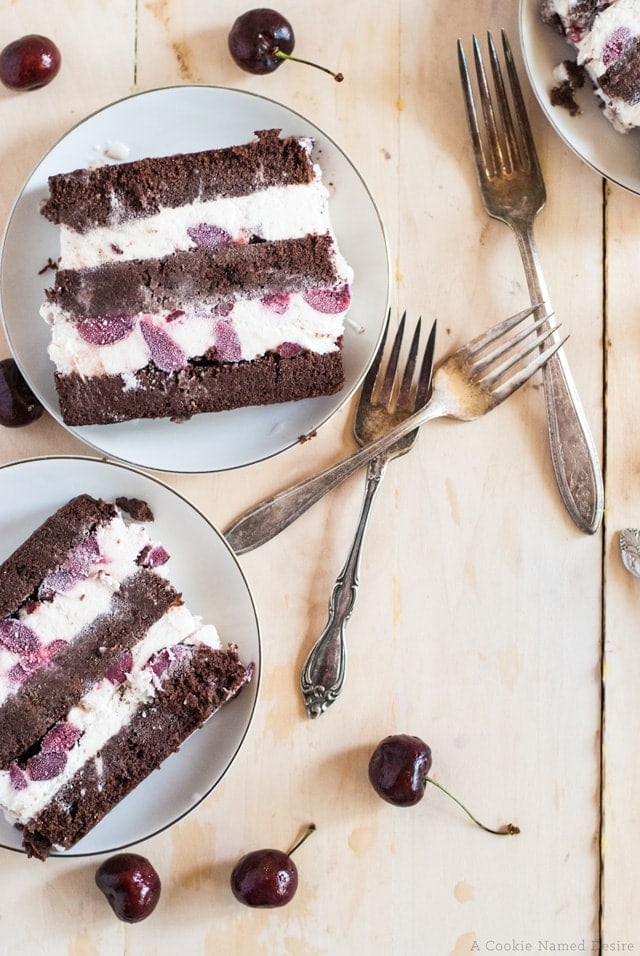 Yes, more ice cream, but I'm also giving you cake, so that's something, right? This isn't just any ice cream or cake though, this is Black Forest ice cream cake. That's right, Black Forest cake made all nice and perfect for a hot summer day by adding ice cream.
I was always a bit of a Black Forest snob. I only liked the traditional Black Forest without all the extra stuff and not very sweet. But then I got on this ice cream kick and realized that it made a great ice cream cake concept and I am all over this cake. I mean, it's almost exactly like a traditional Black Forest cake, except with some cherry kirsch ice cream layered in the middle. It is German-approved, so you know, there's also that added bonus! hehe
If you follow me on instagram (and hello, why wouldn't you? All I do is share delicious food porn!), you know I've been talking about this cake for a while now. It's been my big indulgence this week, what with me getting back on track with my health. (Again, if you follow me on insta, you'll get to see how I'm bringing balance back and what yummy healthy things I am eating when not going to town on some Black Forest ice cream cake) I really can't get enough of this cake. It's been taking so much self control to not eat like two or three slices a day. I'm telling you, I've got some real will power going on!
I made a simple chocolate cake that is almost like a brownie in its chocolaty richness and brushed the top with kirsch, which is a cherry liquor. You might not find anything that says kirsch, but it should at least say brandy cherry liqueur, which is the same thing. I also made a vanilla, cherry, and kirsch ice cream. Feel free to fold in the kirsch and cherries into store-bought ice cream to save you work, but the homemade ice cream has a much nicer texture and flavor with this cake. I also sweetened fresh whipped cream with more kirsch instead of sugar. If you love Black Forest, I just know you are going to love this version.
Don't have an ice cream maker? No problem! Learn how to make ice cream without an ice cream maker here.
Recipe Card
Black Forest Ice Cream Cake
Simple and flavor-packed black forest ice cream cake
Ingredients
For the Cake
1

cup

plus 2 tablespoons all-purpose flour

¾

teaspoon

baking powder

¼

teaspoon

baking soda

¼

teaspoon

salt

⅓

cup

plus 2 tablespoons cocoa powder

¾

cups

sugar

5

tablespoons

unsalted butter

room temperature

3

tablespoons

vegetable oil

½

cup

warm milk

¼

cup

melted chocolate

½

cup

hot coffee

½

teaspoon

vanilla extract

½

teaspoon

chocolate extract

optional, but recommended

2

large eggs

room temperature

¼

cup

kirsch
For the Ice Cream
2

cups

heavy cream

1

cup

whole milk

½

cup

sugar

1

vanilla bean

or 1 tablespoon vanilla extract

3

egg yolks

¼

cup

kirsch

1

cup

pitted and quartered cherries
For the Whipped Cream
½

cup

heavy cream

1

tablespoon

kirsch
Instructions
Line a 9x13 inch baking pan with parchment paper, leaving the sides to hand over the sides. Preheat the oven to 350F

In a stand mixer, add the flour, baking powder, baking soda, salt, cocoa powder, and sugar. Mix with a paddle attachment to combine.

Add the butter and oil and mix until the mixer is almost a sandy texture.

In a separate bowl, mix together the milk, chocolate, coffee, and extracts. Mix until well combined.

Add the milk mixture to the mixer and beat on low until incorporated.

Add the eggs in one at a time, mixing well in between each egg. Scrape the sides and bottom of the bowl and mix for another minute.

Pour the batter into the baking pan and bake for 15 - 20 minutes, or a toothpick comes out clean after being stuck in the middle. Allow to cool for about 20 minutes before transferring to a wire rack to cool completely.
For the Ice Cream
In a large saucepan, mix together the cream, milk, and sugar. Slice the vanilla bean lengthwise and scrape out the seeds and add to the cream mixture. Add the vanilla bean pod to the mixture as well. If you are using vanilla extract, do not add it in yet. Heat the cream until it begins to steam and simmer at the edges. Turn down the heat to low.

Whisk the egg yolks in a container and slowly add about ⅓ of the cream mixture to the yolks, whisking the eggs constantly. Return the mixture back to the saucepan, stirring the saucepan constantly.

Bring the heat back to medium and stir the mixture constantly, occasionally scraping the sides and bottom of the pot for another 5 minutes, or until the mixture thickens. You can test this by running your finger down the back of your spoon or spatula to see if the line remains. Remove from heat and strain through a fine mesh strainer to remove any cooked yoks and the vanilla bean pod.

Transfer the ice cream to another container and cool until it reaches about 40 degrees F. (I place it in a large freezer bag and put in an ice bath for 20 minutes before transferring to the refrigerator).

Place the custard in your ice cream maker and whisk in your vanilla extract if you are using that instead of the beans and the kirsch. Churn the ice cream according to manufacturer instructions. Fold in the cherries and pour into an airtight container and place in the freezer until we need it.
For the Whipped Cream
Beat the heavy cream with a chilled mixing bowl and whisk until it thickens and forms soft peaks. Add in the kirsch and beat on medium for about another minute.
Assembly
Cut the cake into thirds. The first third should be small to fit the bottom of a loaf pan. The second should be slightly larger, and the final third should be the largest (this is to mimic the form of a loaf pan which is wider at the top)

Line your loaf pan with plastic wrap and place the smallest cake slice at the bottom of the pan. Brush with the kirsch. Top with the ice cream, then whipped cream. Place the second cake slice and repeat with the kirsch, ice cream, and whipped cream. Top with the largest cake slice. Wrap everything tightly with plastic wrap and allow to freeze until firm - about 4 hours.
Nutrition
Calories:
486
kcal
Carbohydrates:
31
g
Protein:
4
g
Fat:
36
g
Saturated Fat:
19
g
Polyunsaturated Fat:
4
g
Monounsaturated Fat:
10
g
Trans Fat:
1
g
Cholesterol:
190
mg
Sodium:
185
mg
Potassium:
103
mg
Fiber:
1
g
Sugar:
28
g
Vitamin A:
1217
IU
Vitamin C:
1
mg
Calcium:
105
mg
Iron:
1
mg
Tried this recipe?
Tag me on Instagram! @acookienameddesire #acookienameddesire