There is nothing better than a foolproof no-bake dessert and this peanut butter mug cake is the best of them all. Jam packed full of peanut butter and irresistibly moist, you will want this mug cake recipe every night of the week!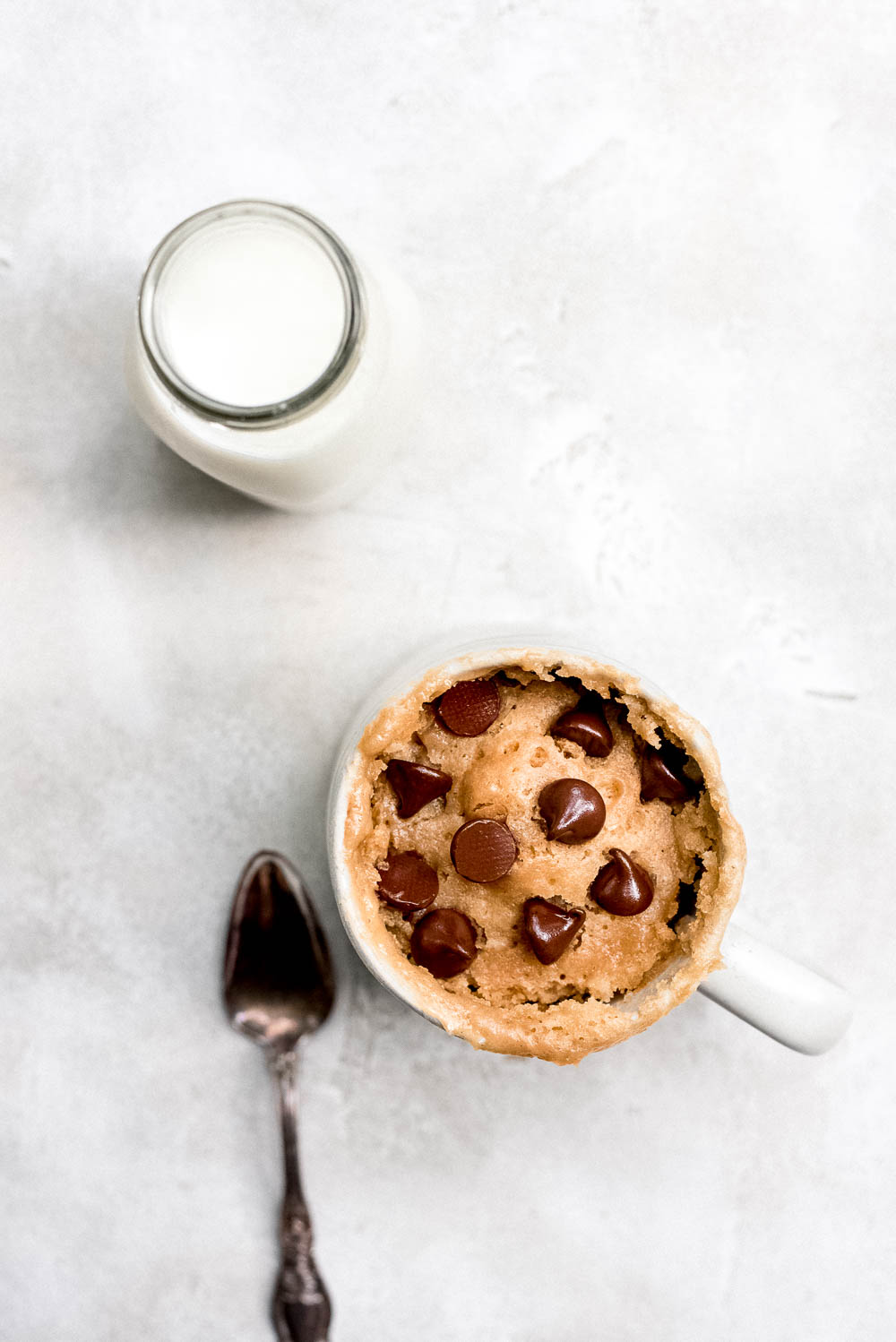 Why it's great
There isn't anything better than being able to hang out and relax with a bit of cake at any time a craving strikes. Mug cake recipes are life savers because you can have a bit of cake in just a few minutes
This peanut butter mug cake is exceptionally good for those particular moments you need a healthy dose of peanut butter.... and maybe some chocolate chips thrown in for good measure. Or even topped with vanilla ice cream.
Ingredient Overview
There are only a few ingredients needed to make this delicious peanut butter mug cake.
Peanut butter - For the best cake, I highly recommend high-quality creamy peanut butter. While natural peanut butter will work, I do not recommend it. Brands like Jif work the best.
Butter - For the best results use unsalted butter so you can control the amount of salt in the cake. This is especially important since this is a single serving of cake and peanut butter also has its own saltiness.
Milk - Any type of milk works. The higher the fat content, the most indulgent the cake will end up. Heavy cream works especially well. You can also use dairy alternatives like cashew milk and almond milk.
Flour - All-purpose flour works the best here for a texture that isn't too tender or dense. White whole wheat flour also works. Some bakers have had success with self-rising flour. If you attempt to use it, skip the baking powder.
Baking powder - A touch of baking powder helps the cake rise and prevents the cake from becoming too dense.
Sugar - The calls for granulated sugar, but it also works very well with brown sugar. A mix of both also works wonderfully in this mug cake.
You can also mix in anything like chocolate chips, peanut butter chips, or even a tablespoon of jam for a pb&j twist.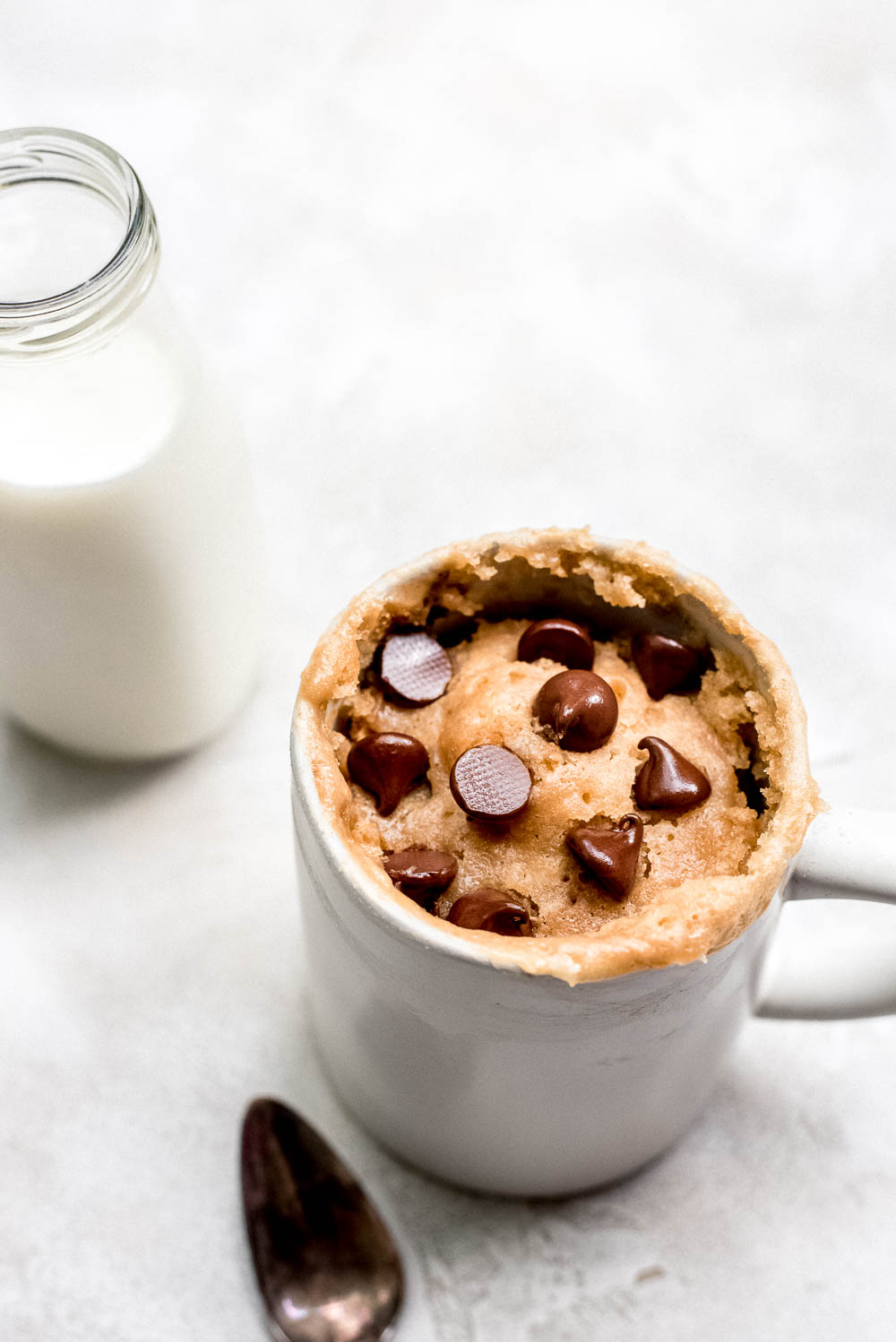 How to make
The best part about making this peanut butter mug cake is how quick and easy it is to put together.
Add the peanut butter, milk, butter, and vanilla to your mug. Stir well.
Mix in the remaining ingredients and stir until just combined.
Heat in the microwave for up to 90 seconds. The center may look slightly underdone, but will continue to cook with the residual heat from the mug.
Allow to cool and enjoy!
Expert tips
You can add the wet ingredients together including the butter before you melt it and heat it until the butter is mostly melted and stir until it fully melts.
The recipe doubles well for large mugs.
Mug cakes typically rise significantly and then slowly deflate as it cools, this is normal.
The centers will look underbaked, but you will know it is finished baking when the cake pulls away from the sides of the mug. The heat will continue to cook the cake.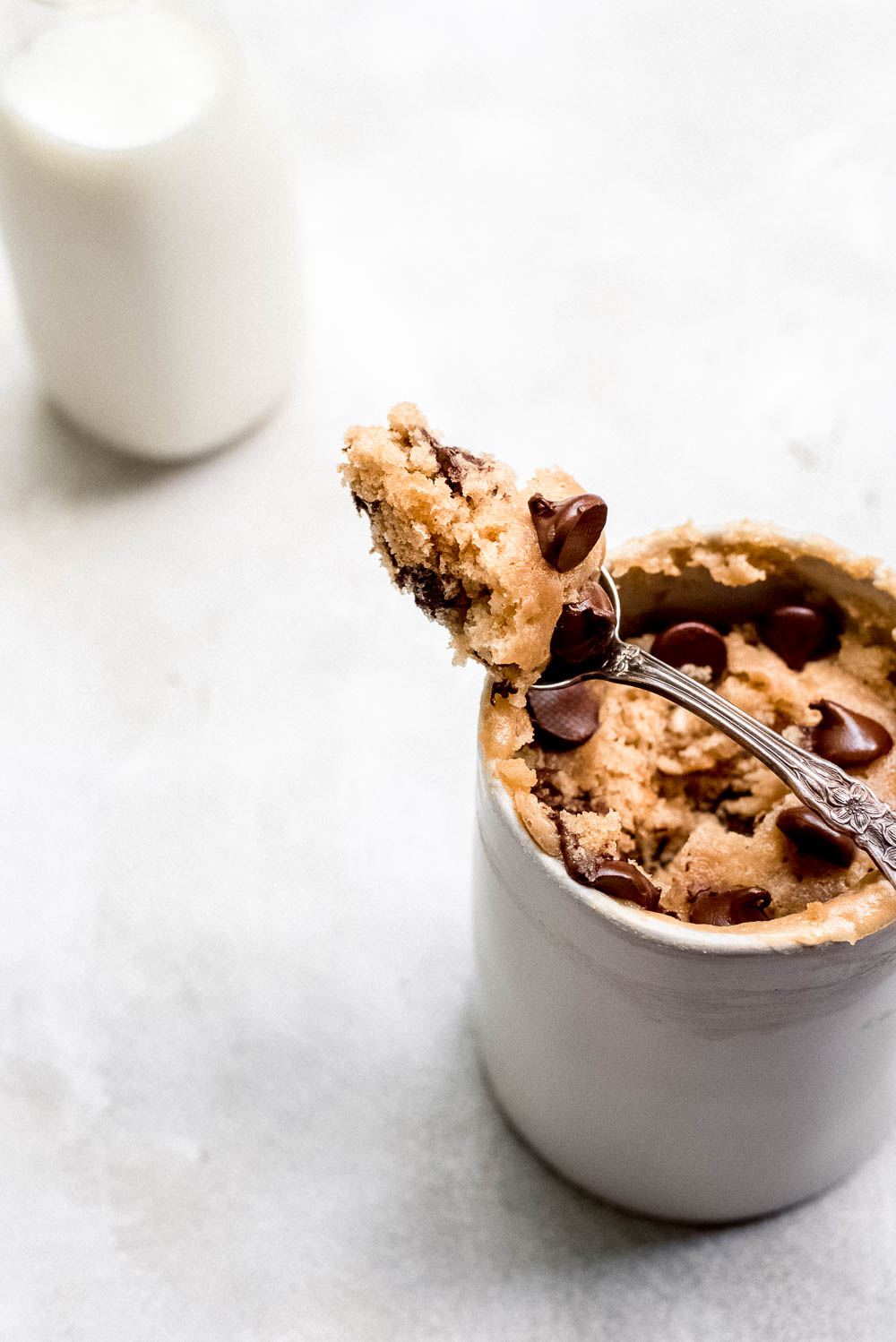 Recipe FAQs
Is Peanut Butter Mug Cake Eggless?
Yes! Since the cake is so small, you don't need much to add to the structure or moisture of the cake. This peanut butter mug cake is naturally eggless. 
Can You Make Mug Cake with Other Nut Butters?
Yes, you can substitute the peanut butter for any type of nut butter you like! Just know that the different nut butters will affect the final flavor of the cake. I have never tried it with anything outside of peanut butter and don't guarantee you will like it. If you have an allergy to peanut butter or nut butters in general, you can try my lemon mug cake, vanilla mug cake, or black forest mug brownie. 

You can also experiment with using things like cookie butter. Please note that you will need to cut down, or even eliminate the sugar in the cake recipe altogether to keep it from being cloyingly sweet.
Can You Make Mug Cake Without Baking Powder?
The baking powder gives the peanut butter mug cake lift and makes it nice and fluffy. Saying that, since the mug cake is so small, you can probably get away with not using the baking powder if you don't have any. Just be aware that your cake might be a little more dense than if you did use it. 
Can You Make Mug Cake in a Bowl?
Yes, if your bowl is microwave-safe and can fit at least 12 ounces, you should be more than fine to use a bowl. In a pinch, you can use pretty much any microwave-safe container that is big enough to keep the batter from overflowing. 
Can You Make Mug Cakes in the Oven?
Yes, you can make your peanut butter mug cake in the oven. If your mug is microwave-safe, it may be oven-safe too. Just double check before you use it! Heat the oven to 350 degrees F and start checking the mug cake after about 10 - 13 minutes. It should be ready when a toothpick comes out with only a couple of crumbs sticking to it.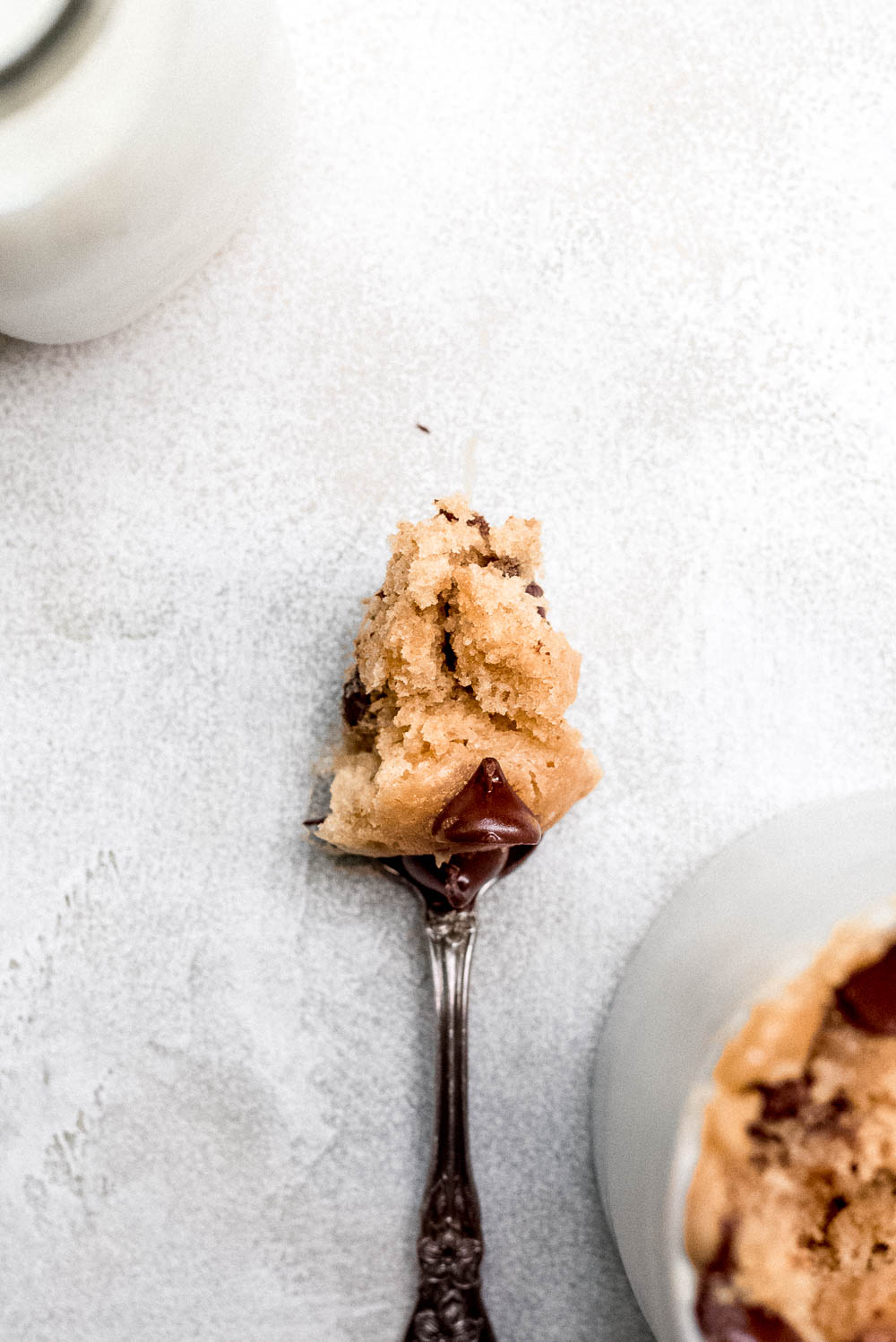 Recipe Card
Peanut Butter Mug Cake
Irresistibly moist peanut butter mug cake - the perfect no-bake cake
Ingredients
2

tablespoons

peanut butter

3

tablespoons

milk

2

tablespoons

unsalted butter

melted

½

teaspoon

vanilla

3 ½

tablespoons

flour

¼

teaspoon

baking powder

pinch

salt

3

tablespoons

granulated sugar

2

tablespoons

chocolate chips

optional
Instructions
Add the peanut butter, milk, butter, and vanilla to a mug. Mix well until completely combined.

Pour in the remaining ingredients and stir until just combined.

Microwave for 45 - 90 seconds, or until the sides begin to slightly pull away and are set. The center may still look a bit moist.

Allow the cake to rest for one minute to finish cooking and cool a bit before eating.
Notes
I used a 16 ounce mug and doubled the recipe with great success - just add roughly 30 seconds to your cook time.
Nutrition
Serving:
1
g
Calories:
628
kcal
Carbohydrates:
68
g
Protein:
16
g
Fat:
45
g
Saturated Fat:
13
g
Polyunsaturated Fat:
16
g
Cholesterol:
65
mg
Sodium:
314
mg
Fiber:
5
g
Sugar:
37
g
Tried this recipe?
Tag me on Instagram! @acookienameddesire #acookienameddesire