Deliciously creamy homemade vanilla ice cream. So easy to make, you will want to make your own ice cream at home all summer long!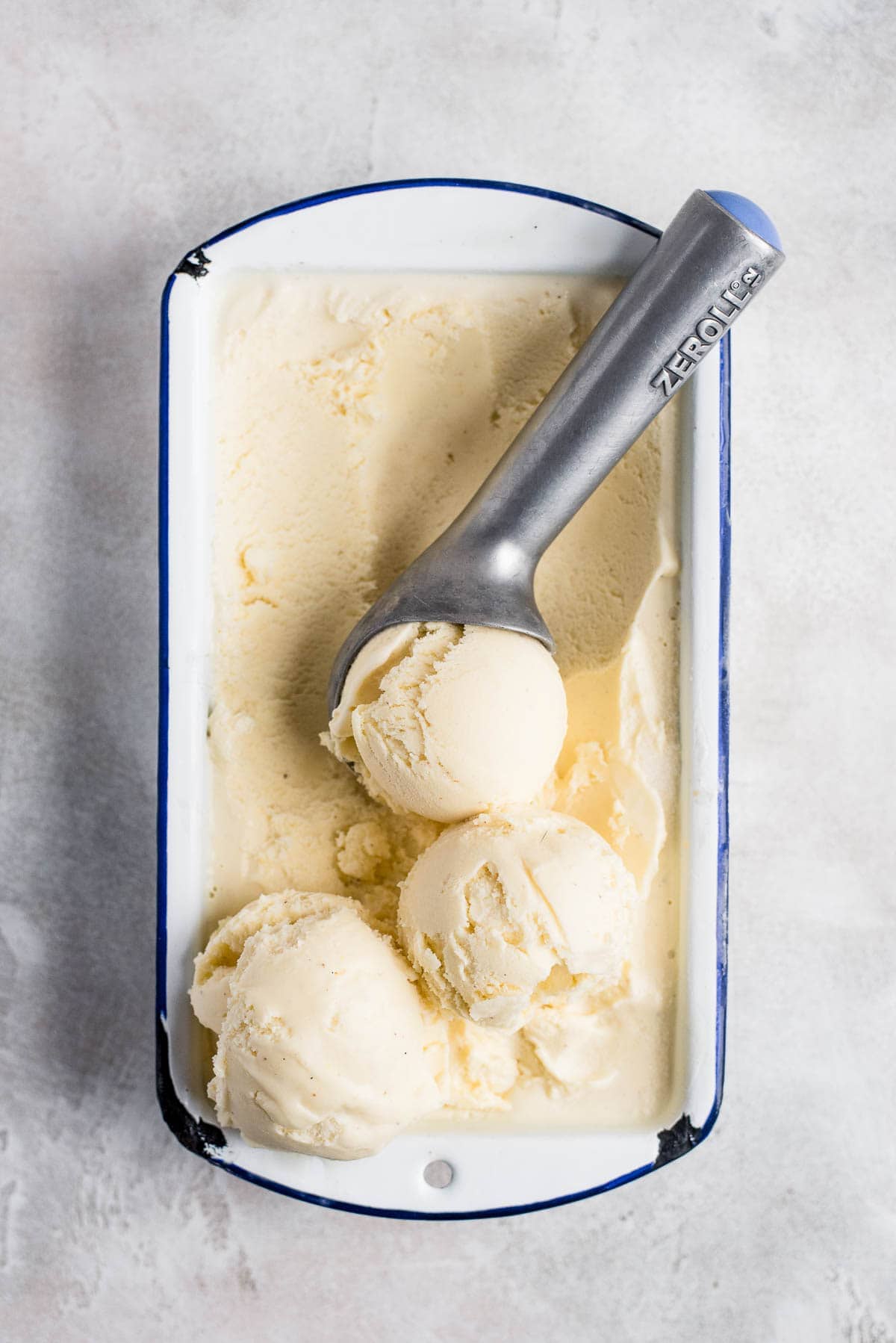 Nothing beats a scoop of ice cream in the middle of summer. Making your own is not only fun, but allows you to customize your ice cream in so many ways!
Jump to: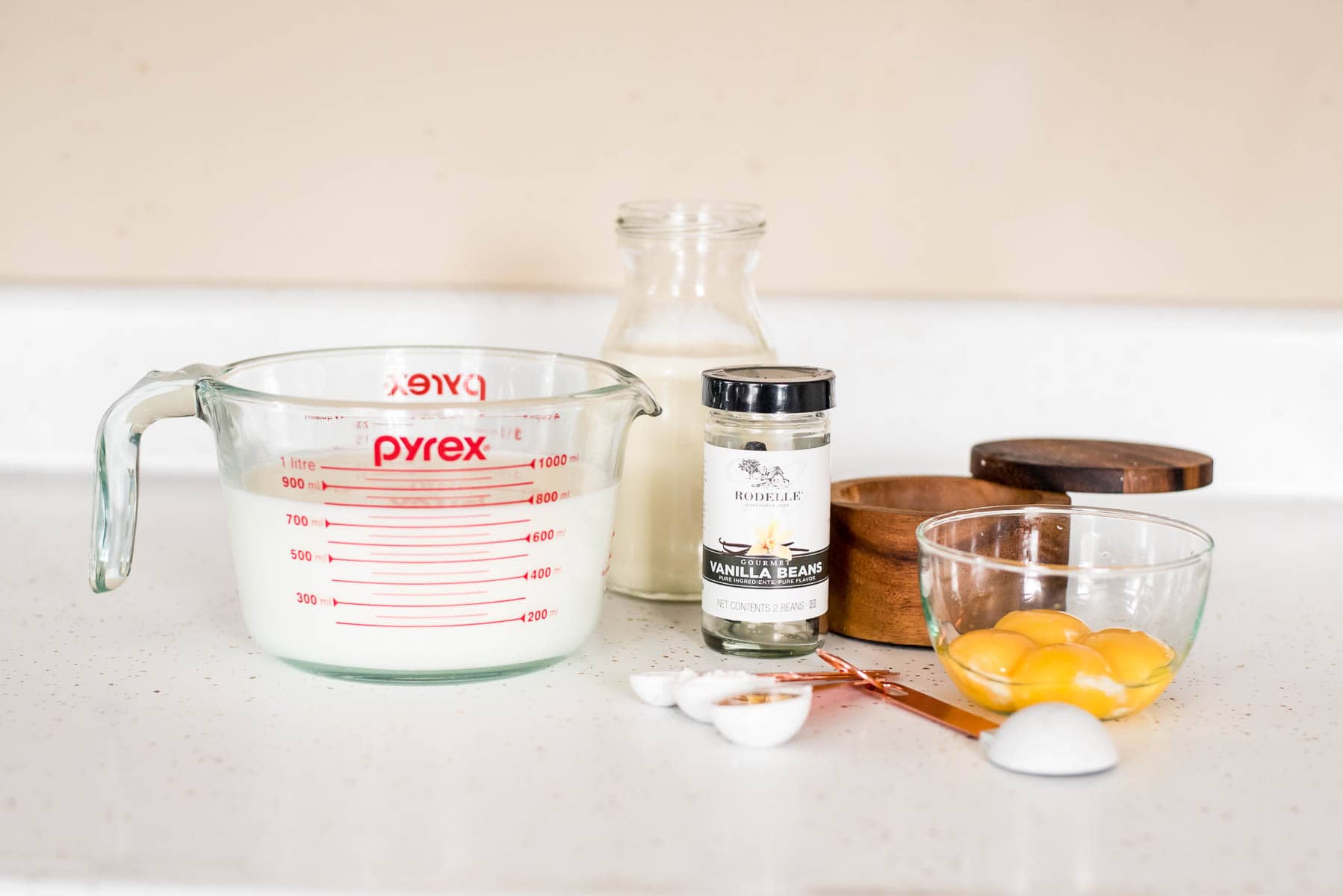 Science of the perfect scoop
If you love ice cream as much as I do, you might wonder what makes one ice cream recipe better than another? I will try not to get too technical with you, but I wanted to share some of the science behind what makes an excellent scoop of ice cream.
Fat content- Let's be honest, fat tastes good. That's why we love butter in almost everything. Fat also melts at a lower temperature and stays softer when frozen. It also holds onto flavor better and allows the flavor to fully coat your mouth with a velvety mouthfeel. In ice cream, fat comes in the form of heavy cream and whole milk. Because of the lower melting point, it plays a part in making ice cream scoopable, but also gives your ice cream "warmer" mouthfeel.
Ice crystals - Ice crystals are important because it keeps your ice cream from melting too fast. It comes mostly from the whole milk - and a little from the cream - in most traditional recipes. We need to work to keep the crystals in check otherwise you will find bits of ice in your ice cream, it makes it harder to scoop, and can make your ice cream feel too icy when you eat it.
Overrun - This is a fancy word for the air we incorporate into the ice cream. This is what gives ice cream an airy and light texture and makes it scoopable. Commercial ice cream usually has more overrun compared to a home ice cream maker (it's cheaper to sell ice cream that has a lot more air than actual ice cream base in it!). That is why homemade ice cream always feels more dense and velvety, perhaps also harder to scoop.
We use these three elements in the right ratios to make irresistible ice cream. A lot of chefs spend a lot of time using different ingredients to help create the right ratios and use other ingredients to mimic the texture we need. Examples of this is using cream cheese or skim milk powder.
As home cooks and bakers, we have less control over the overrun unless you want to invest in a commercial ice cream maker, but it isn't as important as the other two for a great scoop at home.
Ingredients
Milk - This recipe requires that you use whole milk only! 2% or skim milk will make your ice cream too icy and harder to scoop. I also do not recommend using this recipe using milk alternatives like almond milk.
Cream - Heavy cream, whipping cream, and double cream are all about the same in fat ratios for our purposes, so do not worry if you can't find the exact same cream I recommend in the recipe.
Granulated sugar - You may think there is a lot of sugar, but it is actually harder to taste sweetness in frozen treats which is why food like ice cream usually needs an extra boost.
Salt - We aren't trying to make the ice cream salty, but we want the salt to help amplify the flavor of the vanilla.
Corn syrup - I use corn syrup in this recipe because it helps reduce ice crystals. You can substitute it with agave, or leave it out completely!
Cornstarch - We use cornstarch to thicken our ice cream base.
Egg yolks - The yolks thickens the ice cream base, and it also adds richness and decadence.
Vanilla - You can use your favorite type of vanilla here, whether it be extract, paste, or freshly scraped beans. No matter what you choose, make sure it is the highest quality you can afford.
How to make
It is so much easier than you think to make your own vanilla ice cream at home.
We start with making the base which is actually the same as a creme anglaise. It should be thick enough to coat a wooden spoon and leave a streak when you run your finger over that spoon.
Chill the ice cream base in an container inside an ice bath without allowing any of the ice bath to touch the ice cream base.
Chill the ice cream base further in the refrigerator until fully cooled.
Churn in an ice cream maker (please see the f.a.q.s if you do not have an ice cream maker).
Transfer the churned ice cream to your container and freeze until solid.
The steps are quite simple. The hard part is being patient and waiting, but waiting is so important because if the base is too warm, it will make churning harder which can leave you with a not so great texture.
Customizing
There are so many ways to customize your vanilla ice cream, it is the perfect blank canvas. Here are just a few suggestions for you to consider:
F.A.Q.s
Can I use this recipe to make ice cream pops?
Absolutely! After churning the ice cream, place the mixture in your popsicle molds and freeze.
Is vanilla ice cream gluten-free?
Yes! This ice cream is 100% gluten-free and therefore should be safe for anyone with gluten sensitivities to eat.
Can I re-churn my ice cream?
Yes! You can melt and churn your ice cream again and again - in fact, many of the best ice cream shops re-churn their ice cream every night.
Why is my ice cream yellow?
It is from the egg yolks and possibly from the extract. It is perfectly normal! When you churn the ice cream, the yellow color will lighten, but even if it doesn't, the color has no affect on the flavor.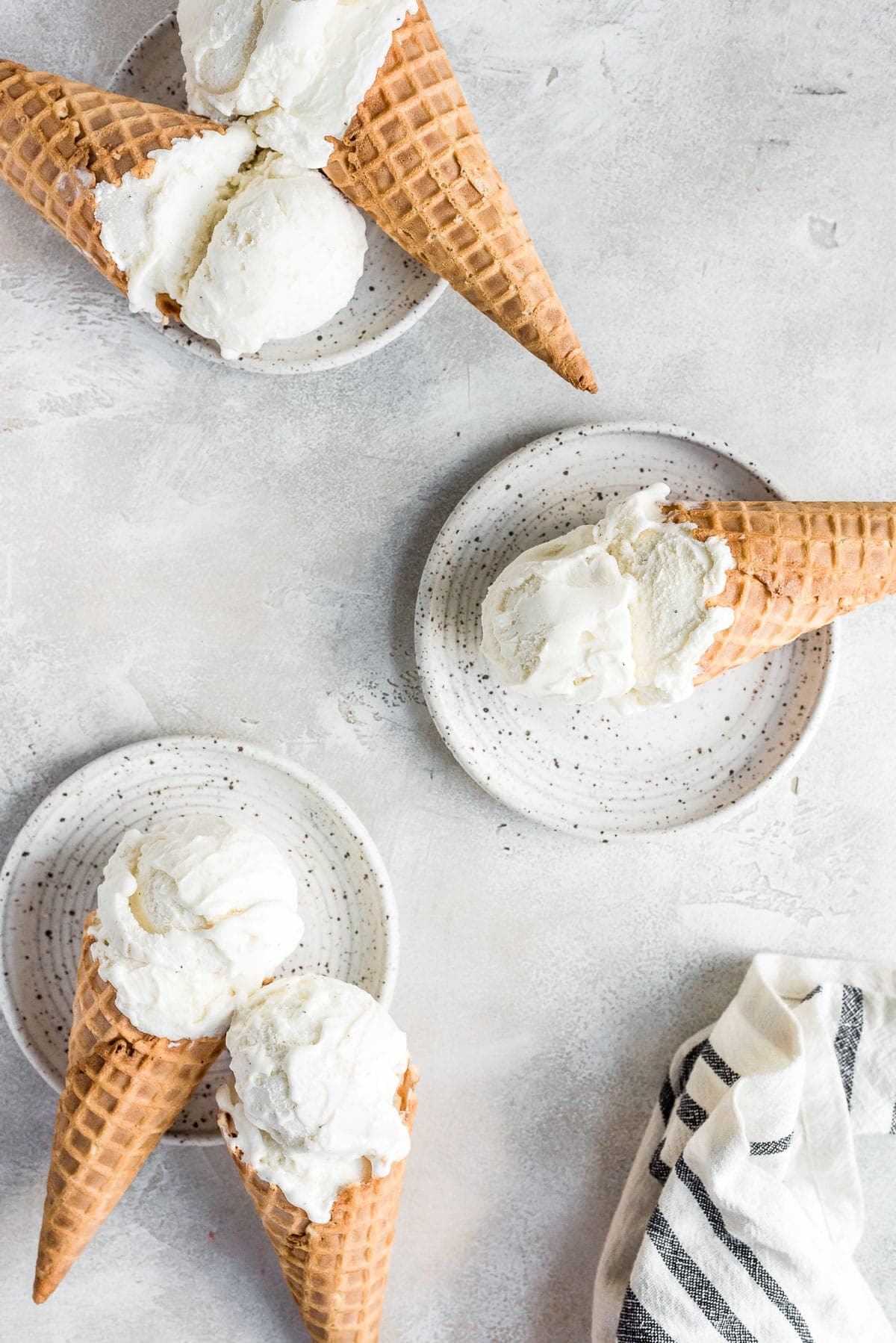 Storage
You need your ice cream to be stored in an airtight container in the freezer. I recommend investing in containers made specifically for ice cream.
I've tried a few different types and I love these containers and these containers.
Recipes you may like
If you love making ice cream as much as I do, you will need to make this birthday cake ice cream, churro ice cream, or this coffee oreo ice cream. This almond mint gelato is amazing! The peach crumble ice cream and rhubarb crumble ice cream flavors are personal favorites. Use this ice cream to make a vanilla milkshake, sugar cookie ice cream sandwiches, and churro ice cream sandwiches.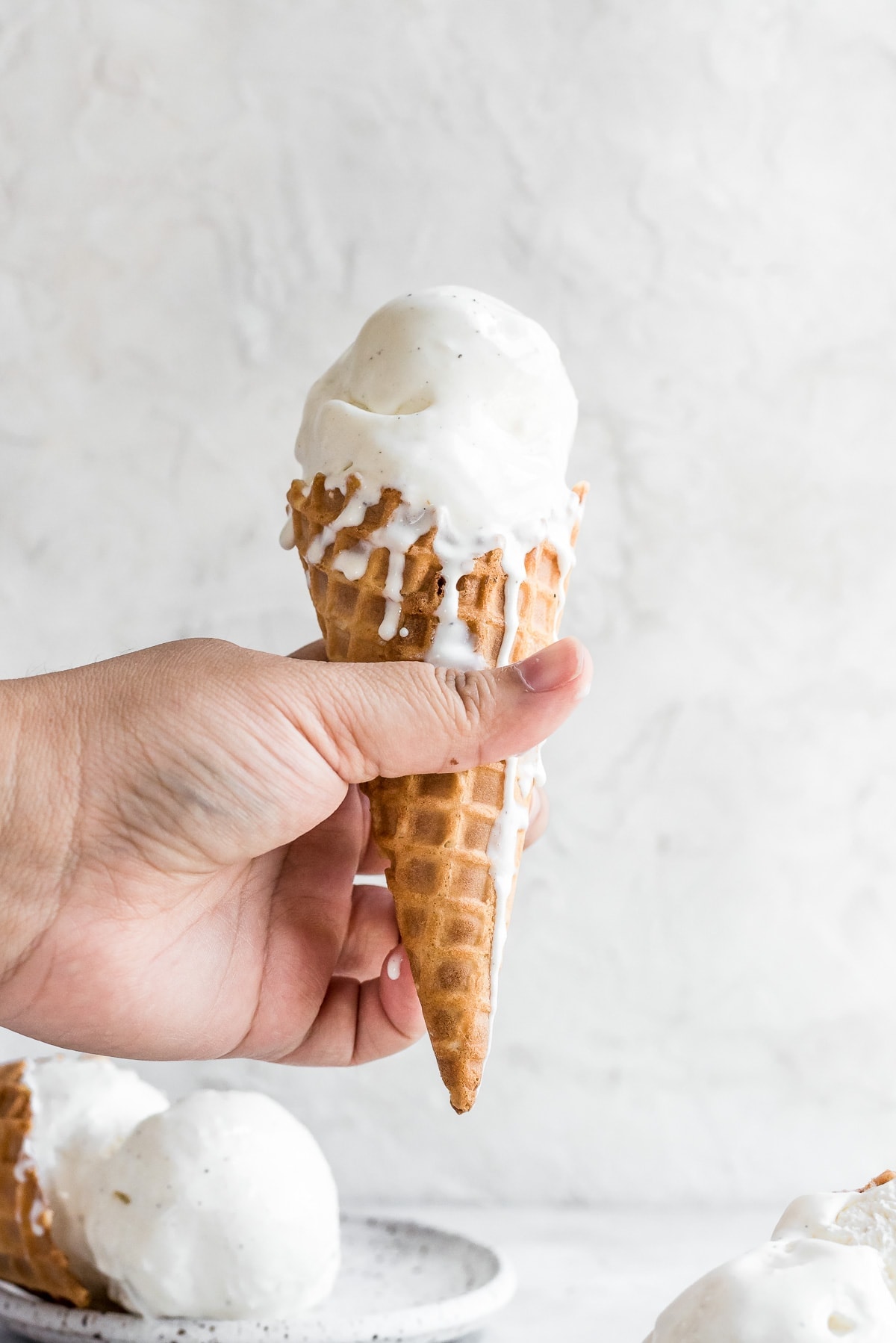 Recipe Card
Homemade Vanilla Ice Cream
Deliciously creamy homemade vanilla ice cream. So easy to make, you will want to make your own ice cream at home all summer long! 
Ingredients
3

cups

750 mL whole milk

1 ½

cups

360 mL heavy cream

1

cup

200 g sugar, divided

1

teaspoon

salt

2

tablespoons

corn syrup or agave syrup

4

egg yolks

1

teaspoon

corn starch

1

tablespoon

vanilla
Instructions
In a large saucepan, mix the milk, cream, ¾ cup of the sugar, salt, and corn syrup together on medium heat.

Bring the saucepan to a boil for about 1 - 2 minutes, then lower to a simmer. Stir and scrape the sides and bottom of the saucepan frequently to prevent burning.

In a small bowl, mix the egg yolks, ¼ cup (50 g) of sugar and the cornstarch until well-combined.

Slowly add 1 cup (250 mL) of the hot milk mixture to the eggs while whisking the yolks. Whisk the eggs back into the saucepan.

Mix the contents of the saucepan constantly until it forms a thick custard.

Test this by dipping a wooden spoon in the mixture, then running your finger down the back of the spoon. If a line where you swipe remains there, the custard is ready. It should take about 5 minutes.

Prepare an ice bath - it should be more ice than water. Fill a large freezer bag with the custard and let it rest in the ice bath for about 30 minutes.

Chill the custard in the refrigerator until completely cool.

Put the cooled custard and the vanilla in your ice cream maker and prepare according to manufacturer instructions.

Transfer the ice cream to an airtight container and free until solid about 4 hours.
Notes
*If you do not have an ice cream maker, place the ice cream in a container and place in the freezer. Every 30 minutes for about 3 - 4 hours, mix the ice cream. Be sure to scrape the sides and bottoms to break up the ice crystals. Use am immersion blender if you have one available.
Nutrition
Serving:
1
g
Calories:
117
kcal
Carbohydrates:
10
g
Protein:
5
g
Fat:
6
g
Saturated Fat:
3
g
Polyunsaturated Fat:
3
g
Cholesterol:
106
mg
Sodium:
321
mg
Sugar:
5
g
Tried this recipe?
Tag me on Instagram! @acookienameddesire #acookienameddesire