Cool down this summer with the ultimate ice cream treat. This churro ice cream is a refreshing fan favorite!
It's no secret that I love making ice cream. I always said that if I could, I would open up an ice cream shop filled with so many fun and adventurous varieties. Experimenting with different methods of making ice cream is a bit of a hobby for me. Using evaporated milk is one method I like to use for super creamy ice cream that doesn't melt too fast and coats your mouth with bursts of flavor.
Good ice cream is based off a few different principles to create the best mouthfeel. It should be creamy and coat your tongue. It shouldn't feel icy or too cold, nor should it feel too warm. It should be able to retain its texture for a considerable amount of time before turning into a melted mess.Without getting too technical, it is mostly a balancing act of fat and water in your base to get that perfect middle ground.
I find that using evaporated milk is a great way to make the ice cream super creamy, but it isn't too fat-heavy like heavy cream, so it still gives you a luscious mouthfeel.
Churro ice cream is the perfect summer treat. The bits of churro and cinnamon-y, caramel-y dulce de leche is such a fun combination that makes me feel like a kid again. Freeze tag, anyone?
I make my own homemade churros because I love how good they are. I think nothing beats a freshly made churro. You don't have to make your churros from scratch. You can find some at the store. Even the churro cereal works well for a churro ice cream.
The dulce de leche I make isn't like the traditional dulce de leche. Instead of using sweetened condensed milk, I like to use evaporated milk and sugar to control the overall flavor, consistency, and sweetness. It also makes it easier to really infuse it with the cinnamon flavor. Not to mention, it is quicker to make.
Making parts of the ice cream ahead of time is easy. You can make the dulce de leche up to five days ahead of time. The ice cream base itself can be made a few days in advance, too, as long as you keep it chilled.
Recipe Card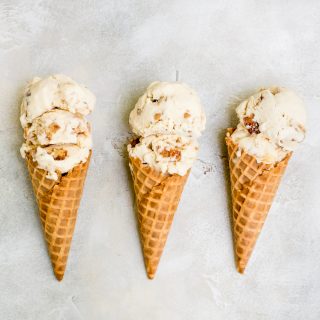 Churro Ice Cream
Creamy luscious churro ice cream studded with churros and swirls of cinnamon dulce de leche
Ingredients
Churro Ice Cream
2

cups

Nestlé® Carnation® Evaporated Milk

1 ½

cups

heavy cream

1

cup

granulated sugar

divided

1

teaspoon

salt

2

tablespoons

corn syrup

4

large egg yolks

1

teaspoon

cornstarch

1

tablespoon

vanilla

7 - 8

churros

chopped (about 1 ½ cups chopped)
Cinnamon Dulce de Leche Swirl
2

cups

Nestlé® Carnation® Evaporated Milk

⅔

cup

granulated sugar

⅓

cup

brown sugar

¼

teaspoon

salt

2

teaspoons

ground cinnamon
Instructions
Prepare your ice cream maker—some manufacturers require you to freeze your insert for at least 24 hours.

In a large saucepan, mix together the evaporated milk, heavy cream, ¾ cup of sugar, salt, and corn syrup. Stir well and bring to a boil while stirring occasionally.

In a bowl, mix together the remaining ¼ cup of sugar, yolks, and cornstarch.

Once the milk mixture reaches a boil, turn the heat down to low.

Slowly drizzle one cup of the hot milk into the egg yolks as you stir the yolk. Drizzle in a second cup of hot milk.

Transfer the yolk mixture to the saucepan and cook until the mixture is thick enough to coat the back of a wooden spoon,

Strain through a fine mesh strainer into a gallon freezer bag. Seal and chill completely—at least a few hours.

While the mixture is cooling, start on the swirl. In a saucepan, add all the ingredients together and heat on medium. Stir constantly, while scraping the bottom and sides of the pan to prevent burning. Keep cooking until the mixture is about halved in volume and is a nice caramel color. Transfer to a bowl and chill.

Once the ice cream base is thoroughly chilled, begin churning according to manufacturer instructions (you may have to churn in two batches). Once the ice cream is almost finished, add in the vanilla, chop the churros, and add them in (if you are doing it in batches, divide the vanilla and chopped churros accordingly).

Begin adding the ice cream to your container, swirling in some of the cinnamon dulce de leche as you go. Freeze until firm.
Nutrition
Serving:
1
/2 cup
Calories:
496
kcal
Carbohydrates:
55
g
Protein:
9
g
Fat:
27
g
Saturated Fat:
12
g
Polyunsaturated Fat:
14
g
Cholesterol:
135
mg
Sodium:
393
mg
Sugar:
50
g
Tried this recipe?
Tag me on Instagram! @acookienameddesire #acookienameddesire