Thick, creamy milkshakes are the best at any time of year. Learn exactly how to make a milkshake and customize it any way that you like without a formal recipe!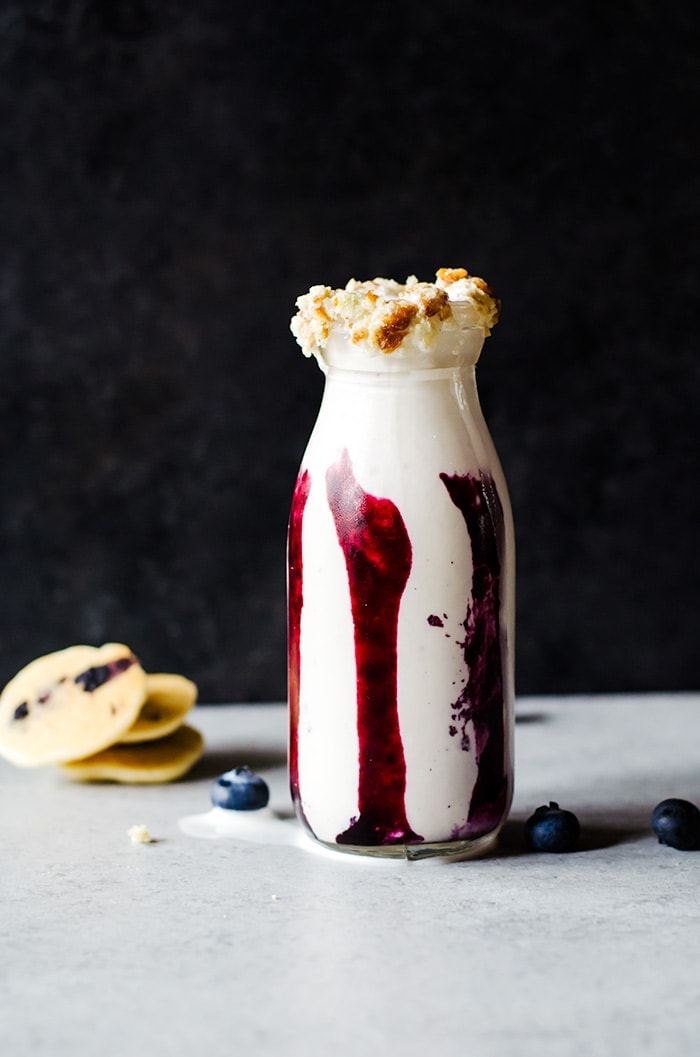 Milkshakes are one of my favorite things to have for dessert. I love the infinite possibilities of flavor combinations. They're also so easy to make, and you don't even need to be any good in the kitchen to whip one up quickly!
The Ice Cream
The base of a milkshake is ice cream. You can use any type of ice cream you like, but I always recommend higher-quality ice cream when possible. It doesn't have to be a $10 pint, but it should definitely be something better than the freezer-burned stuff in the back of the freezer you've had for a year. I like Blue Bunny, Edy's, and Bryers.
Dairy-alternative ice creams also work well, as long as they have a decent fat percentage. I prefer Ben & Jerry's and So Delicious.
Higher fat ice creams will give you a better mouthfeel and overall texture. If you're making milkshakes, calories are not allowed to be tracked.
To make two milkshakes, I usually use one pint (two cups) of ice cream.
The Milk
The best milkshakes are made with ice-cold full-fat milk or cream. I almost always use whole milk because it gives a nice smooth texture that makes it easy to slurp your milkshake with a straw. If you are someone who likes a milkshake so thick it hurts your jaw trying to work the milkshake through your straw, go for some heavy cream.
When using dairy-free milk alternatives, I prefer cashew milk because it is creamier and thicker, however, almond milk works well too.
I use between ⅓ cup to ½ cup of milk for two milkshakes.
Flavoring Your Milkshake
As mentioned, there is a near-infinite number of ways to flavor your milkshakes. A plain vanilla milkshake is just the beginning. You can use any flavor of ice cream you want, but you can also add syrups, fruits, and so much more to your milkshake, too. On top of that, you can flavor whipped cream to top your shake and decorate with any number of toppings. 
The only real limits are your own imagination.
There are no set ratios to use with your flavors because it all depends on the strength and type of add-in you are using. Some common flavors include:
cookies and cream
chocolate
strawberry
peanut butter
banana
caramel

How to Make a Milkshake Without a Blender
Actually, if you want a real deal milkshakes, you should be using a milkshake machine. Saying that, almost no one actually has one or wants to have one taking up space in their house, so most people use a blender. If you don't have a blender, you can still make yourself a top-notch milkshake.
You can use an immersion blender or food processor. If you have a mixer with a whisk attachment, you can whip the softened ice cream and slowly drizzle in your milk and flavorings - just know that any large-piece mix-ins like nuts, candy, or cookies will need to be crushed beforehand.
If you don't have any of those, you can always just soften your ice cream really well, but not to the point where it is completely melted, and use a whisk to whip and mix it up by hand. It requires some elbow grease and time, but it is still delicious.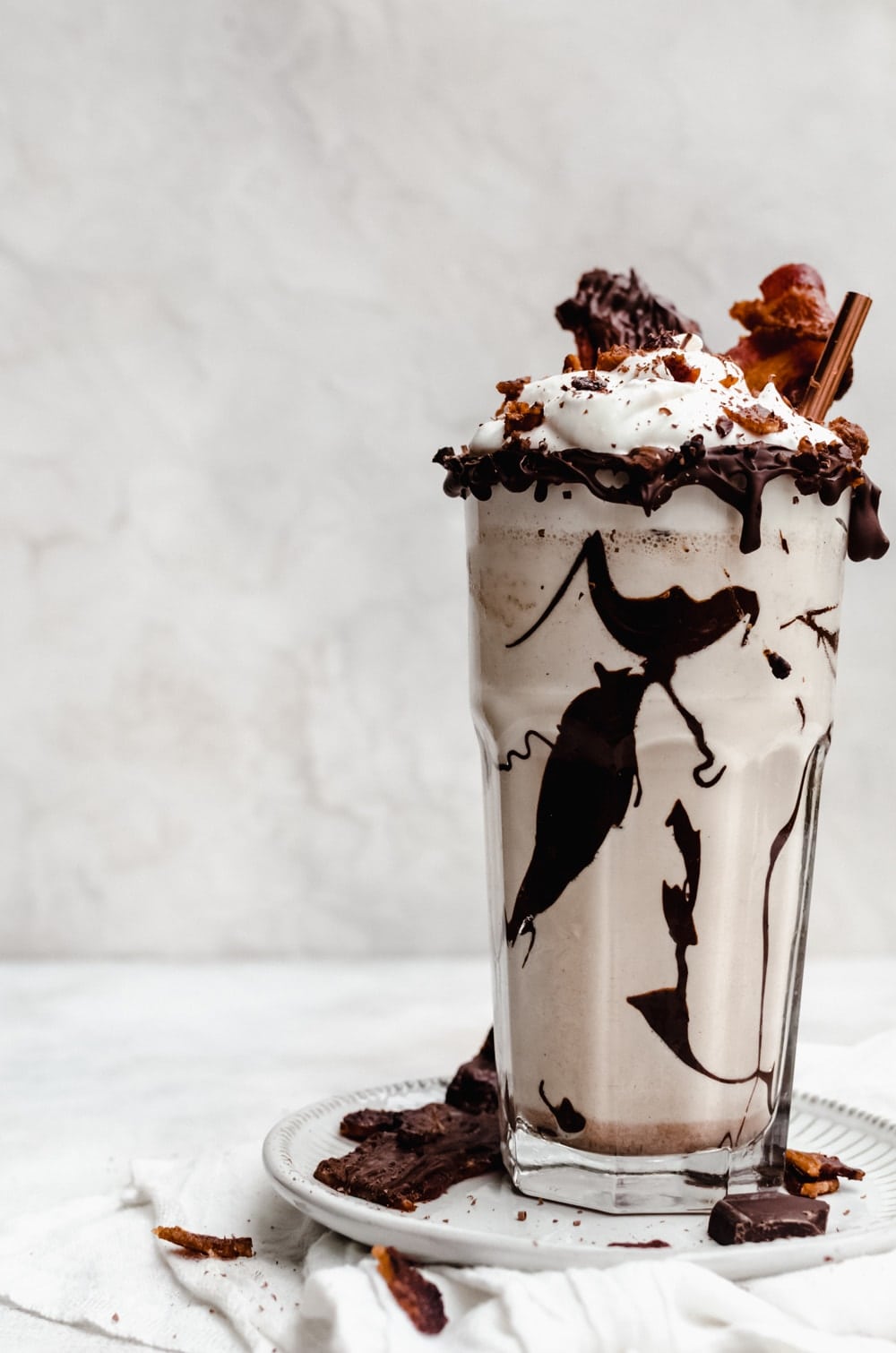 Crazy Delicious Milkshake Recipes
I have a few milkshake recipes on the site that you need to try! My boozy blueberry pancake milkshakes are a personal favorite, but readers go crazy for my boozy s'mores milkshake. The 3-ingredient cake batter milkshake is another popular one with readers. This chocolate cherry milkshake is kind of like Black Forest cake in a glass. It is nearly impossible to resist this salted caramel milkshake. If you love something fruity, my strawberry mango milkshake is incredible. Girl Scout cookie lovers will love this thin mint milkshake, while the adventurous will love trying this bacon milkshake or this matcha milkshake.
Making Milkshake FAQs
Can I make milkshakes ahead of time
Unfortunately, not. If you keep them in the refrigerator, they will melt too much and become too thin. If you store them in the freezer, it will solidify completely.
What other ways can I change the flavor of my milkshake?
Beyond using different ice cream flavors and syrups, you can also use different types of milk like strawberry or chocolate milk. You can use extracts, different toppings (have you seen freakshakes lately?) or even blend in one of your favorite slices of cake or pie in the ice cream!
Recipe Card
How to Make a Milkshake
Thick, creamy milkshakes every time
Ingredients
1

pint

ice cream

⅓

cup

milk

flavor add-ins

optional

whipped cream

optional

toppings

optional
Instructions
Soften the ice cream so it is easily scoopable.

Add the ice cream, milk, and any mix-ins to your blender.

Blend for 1 -2 minutes.

Drizzle the inside of your glass with a sauce, if desired.

Pour the milkshake into your glass.

Top with any whipped cream or toppings as desired.
Notes
Add up to ½ cup milk total into the milkshake to create your desired thickness. Do not add too much milk, or else the milkshake will become too runny over time.
Nutrition
Serving:
1
g
Calories:
294
kcal
Carbohydrates:
33
g
Protein:
6
g
Fat:
15
g
Saturated Fat:
9
g
Polyunsaturated Fat:
5
g
Cholesterol:
61
mg
Sodium:
127
mg
Fiber:
1
g
Sugar:
28
g
Tried this recipe?
Tag me on Instagram! @acookienameddesire #acookienameddesire