Nothing is better than a thick, creamy vanilla milkshake. Now, you can make the best milkshake of your life to keep you cool all summer long!
Milkshakes are one of the greatest ways to end your day. Nothing beats a cold, creamy shake after a long day. I wanted to share this vanilla milkshake because it is the perfect blank canvas for adding in any of your favorite flavor combinations.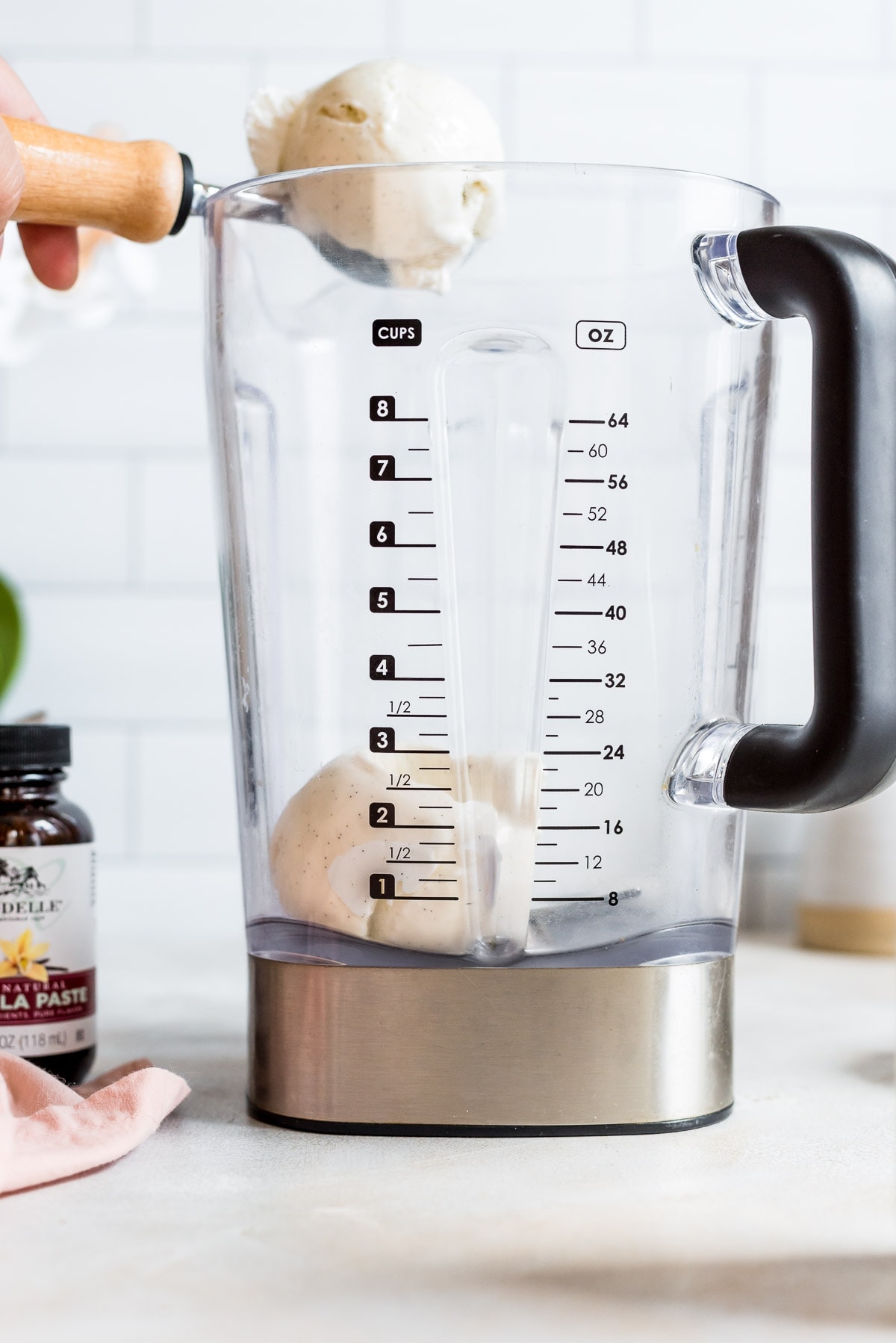 Ingredients
Any good vanilla milkshake has the same basic ingredients.
Vanilla ice cream - Since this is a simple recipe, I highly recommend using premium vanilla ice cream. The better and more nuanced the flavor of the ice cream you use, the better your drink will be!
Milk - You can use any kind of milk you want. Personally, I prefer whole milk or even heavy cream. A high fat milk will add more flavor and keep things nice and creamy.
Vanilla - Even though we use vanilla ice cream to get some vanilla flavor, I like to add a touch more vanilla to ramp up the flavor a bit more. You can use extract, vanilla bean paste, or if you want to be fancy, fresh vanilla beans.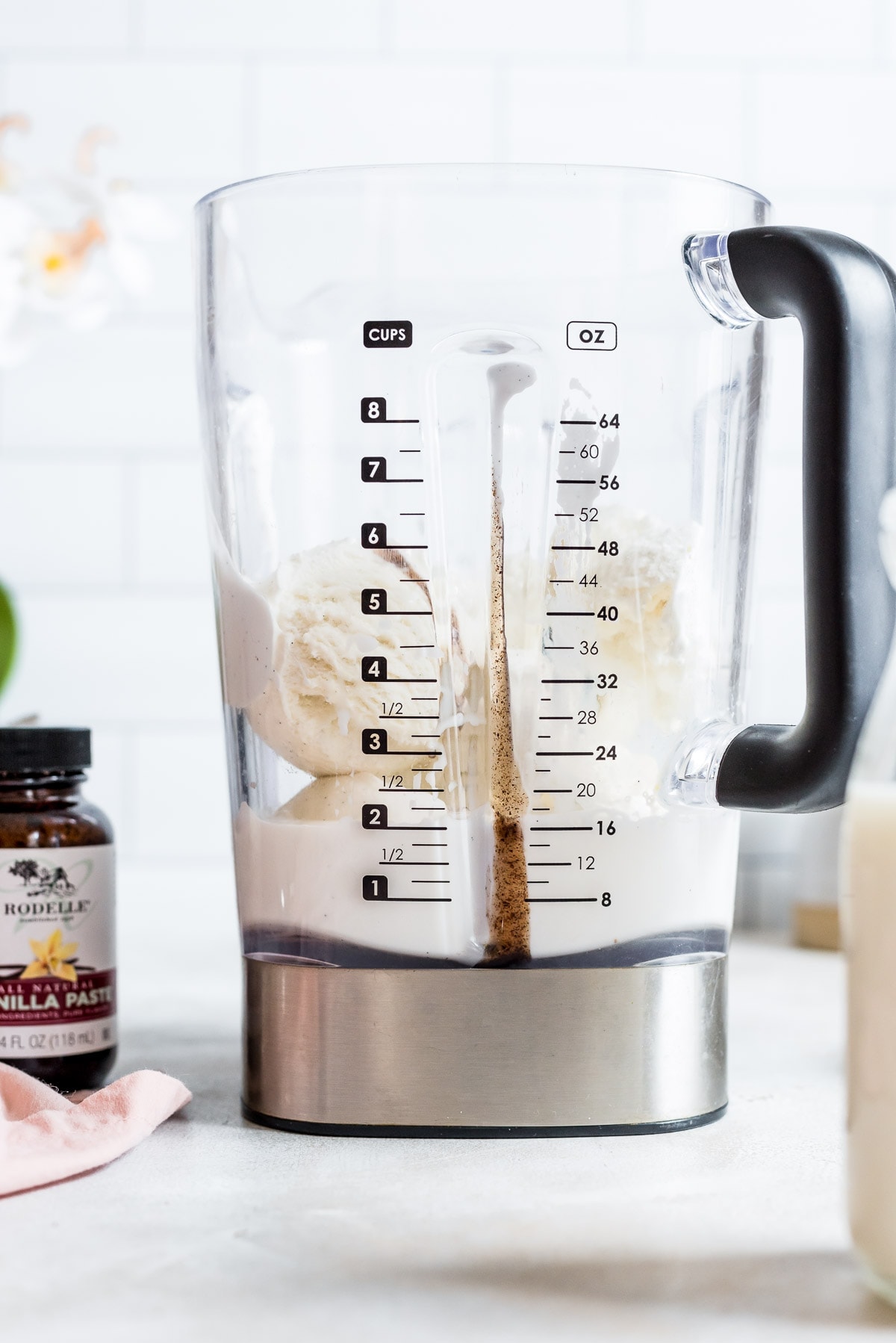 Making Creamy Milkshakes
A good milkshake should be thick and creamy and flavorful. Making one is one of the easiest things in the world to do once you know what to do.
One of the most overlooked aspects of making a great shake is the ratio of ice cream to milk. I prefer to use about ½ cup of milk to a pint (2 cups) of ice cream.
All you need to do is combine the ingredients together and mix them together using a blender or a milkshake machine until the ingredients are combined, thick, and creamy!
If you want to learn more, you can check out my guide on how to make a milkshake.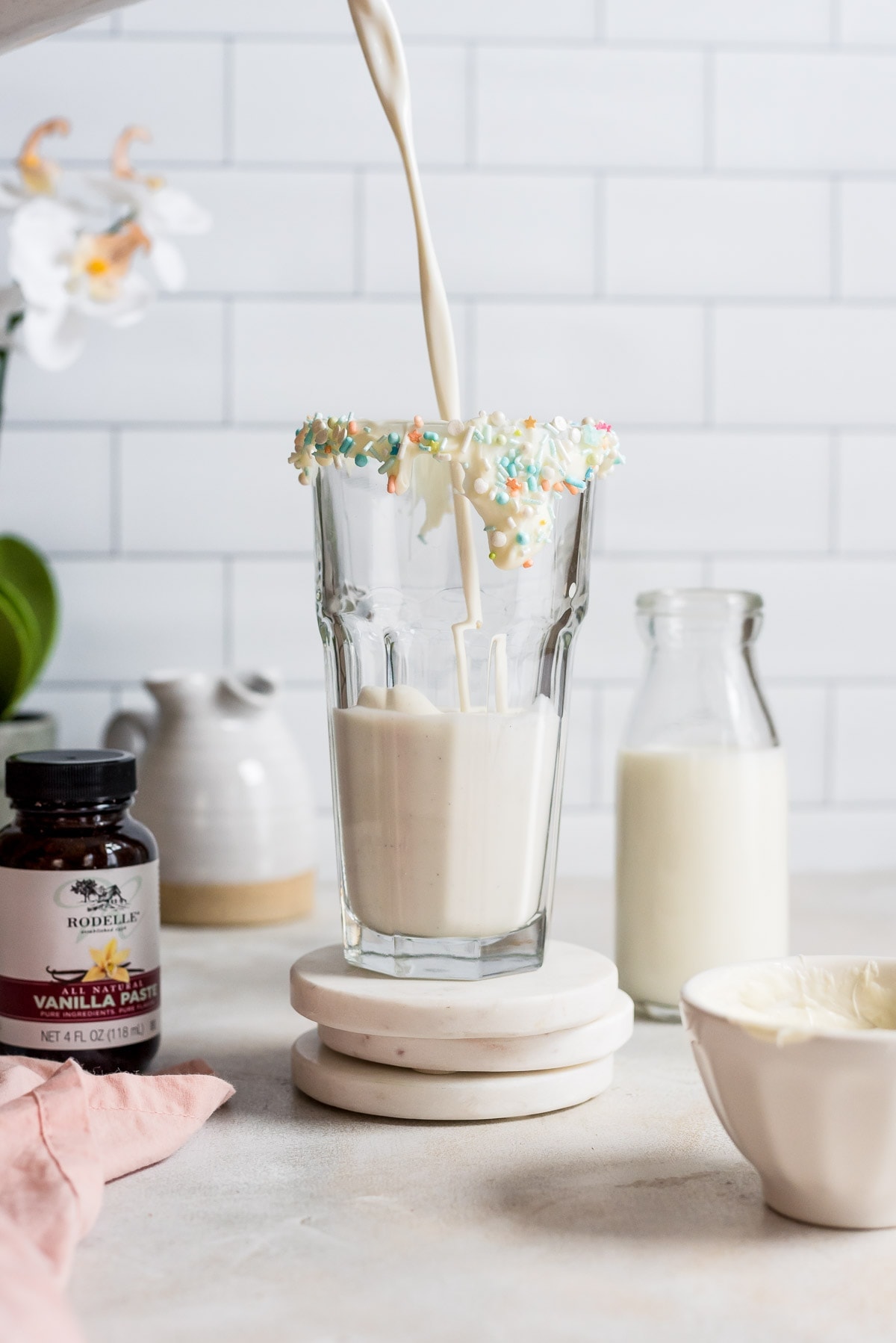 Blender vs milkshake maker
So, if you've ever been to a diner or a nice ice cream shop, you probably noticed they used a funny little machine with a long metal rod that goes into the cup. That is a milkshake maker. It is specifically made to create the perfect milkshake.
Unlike blenders, it keeps the ice cream thick while completely incorporating the milk. It also aerates the mixture to give it a really nice mouthfeel. It also helps to keep the shake nice and cold unlike blenders which tends to just whir the mixture around and can melt the ice cream a bit too much.
Does this mean you need to invest in a milkshake maker? No way! It'd be nice, sure but who wants an appliance that does only one thing? If you have one, that's awesome, but if not (I don't have one!) a blender is just as good to get the job done.
F.A.Q.s
Can you make a vanilla milkshake without ice cream?
Yes! You can use frozen yogurt, or your favorite non-dairy ice cream.
Can I still make a milkshake without a blender or milkshake maker?
Of course! You can use an immersion blender, hand mixer, or even a stand mixer if you allow your ice cream to soften slightly beforehand.
Related recipes
If you want to sip on more milkshakes, you should try these (you can make them regular or boozy!) S'mores milkshake, blueberry pancake milkshake, cake batter milkshake, matcha milkshake, strawberry mango milkshake, salted caramel milkshake, thin mint milkshake, bacon milkshake, and coffee cookies and cream milkshake.
Recipe Card
Vanilla Milkshake
A thick and creamy vanilla milkshake you will never forget
Ingredients
1

pint

vanilla ice cream

½

cup

whole milk

2

teaspoons

vanilla extract
Instructions
Add the ice cream, milk, and vanilla to the blender.

Blend on medium until the milk and ice cream are blended and creamy.

Pour into chilled glasses. Top with your favorite toppings
Notes
Top with whipped cream, cherries, chocolate sauce, strawberry sauce, or anything else you enjoy!
Nutrition
Serving:
1
g
Calories:
323
kcal
Carbohydrates:
35
g
Protein:
7
g
Fat:
17
g
Saturated Fat:
10
g
Polyunsaturated Fat:
5
g
Cholesterol:
64
mg
Sodium:
132
mg
Fiber:
1
g
Sugar:
32
g
Tried this recipe?
Tag me on Instagram! @acookienameddesire #acookienameddesire