The ultimate summer dessert: light, crisp churros sandwiching cool and velvety ice cream. You won't want anything else besides a freshly made churro ice cream sandwich all summer long. 
I am in love with ice cream sandwiches. I love that people are into using fun things to make their sandwiches. My favorite is the churro.
Jump to: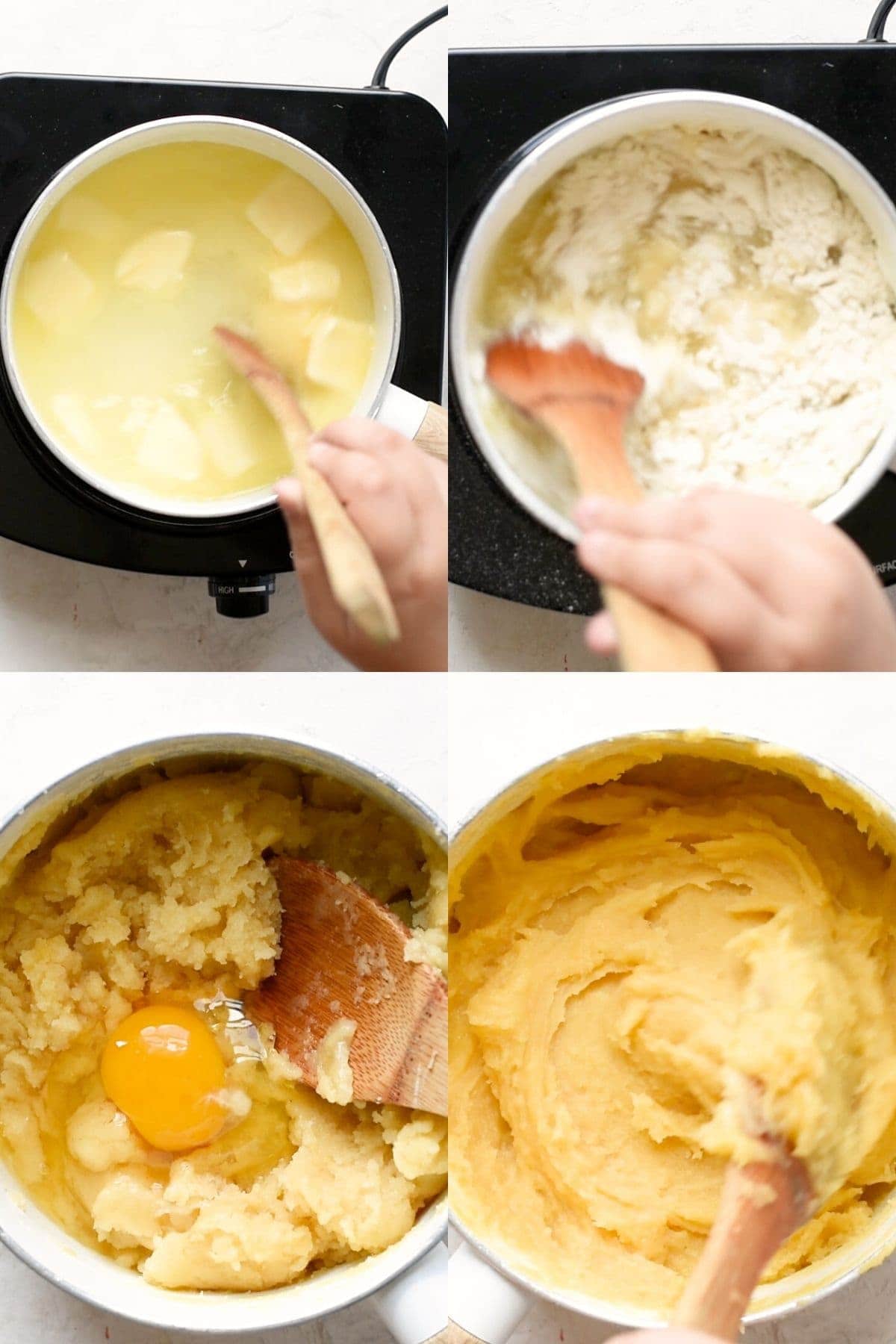 Why it works
There is a very good reason churros are perfect for making ice cream sandwiches. Churros are airy and light with a delicate crisp exterior that is wonderful to bite into.
When you bite into one, then hit cold, velvety ice cream, that contrast is in a word: otherworldly. Nothing can beat that contrast.
Churros also lend themselves to customizing the flavors in so many ways. You can get as creative as you want with your sandwich.
Customizing
You have a few ways in which you can customize your churro ice cream sandwich.
Coat your churros in more than cinnamon sugar. I have been known to add ground hazelnuts, pistachios, or pecans in with my cinnamon sugar mix. You can also add in different spices like ginger.
Swap the ice cream. I love how the cinnamon also coats the vanilla ice cream, but you can use other types of ice cream such as chocolate, strawberry, horchata ice cream, or even go meta with my churro ice cream.
Add sauce. Chocolate sauce, salted caramel sauce, dulce de leche, Bailey's hot fudge sauce, or even peanut butter hot fudge sauce would be amazing drizzled over the ice cream before you sandwich.
Tips
For the best churro ice cream sandwiches, I recommend sticking to these tips.
Make sure you cook the flour. This is so important. You want to cook through the flour for about 5 minutes before you let it cool and add the eggs.
Beat in each egg thoroughly before adding the next egg. It will seem like the eggs don't want to mix in, but if you keep working at it, the eggs will incorporate.
Don't pipe the churro circles too big. Since we make the ice cream sandwiches fresh the ice cream will melt faster than normal, so keeping them small keeps the mess to a minimum.
Keep an eye on the temperature of the oil. Add only 2 - 3 of the churro rounds at a time.
Add the churros upside down with the nicely piped side going into the fryer first. This keeps the circle from puffing into a dome.
Go from the fryer straight to the cinnamon sugar. You can let the oil drip from the churro for a few moments first, but then you need to add the churro into the cinnamon sugar asap otherwise the cinnamon sugar will not stick.
Wait until the churros are room temperature before you add the ice cream to prevent the ice cream from immediately melting.
F.A.Q.s
Why are my churros raw inside?
You probably have the oil too hot. The outside of the churro cooks too fast and browns before the inside actually gets a chance to cook through.
Why are my churros greasy?
Your oil was probably too cool. When your oil is too cool, it takes longer for the outside to cook, allowing the churros to soak up more of the oil.
Do I really need to freeze my churro dough?
Absolutely. Otherwise it will be impossible for the dough to keep its shape as you pick it up to fry. The dough thaws quickly if it isn't frozen through, so you can keep them in the freezer as you fry in batches.
Do I really need to only fry what I want to eat right away?
YES!! Churros do not last well. They get soft and chewy quickly, and the texture if awful if you freeze the fried churros. The unfried churros are fine frozen.
Storage
A churro ice cream sandwich is best fresh. There is no need for storing them. If you only plan on eating a few churros, freeze the remaining churro dough before you fry it. First, freeze them on the baking sheet, then place them in an airtight container with parchment between each layer. Take out what you need whenever the craving hits.
The dough will last up to a month in the freezer.
Required tools
There are a few special tools you may need to make these ice cream sandwiches.
Star piping tip - We use this for that beautiful swirl, but you can experiment with other tip openings if you'd like.
Deep fryer - I like using a deep fryer because it can control the temperature of the oil for you as you work. If you don't want to invest in one, a pot and thermometer will work.
Thermometer - If you do use a thermometer I recommend a digital thermometer for the most accurate reading. I like something that I can keep in the oil while I am frying so I know the oil stays at the right temperature the entire time.
Related recipes
If you loved this recipe, you will want to try my homemade churros, baked churro doughnuts, red velvet churros, and churro cupcakes. You may also want to try my sprinkle sugar cookie ice cream sandwiches and profiteroles with bourbon ice cream.
Recipe Card
Churro Ice Cream Sandwich
There is nothing better than the contrast between airy and crisp churros and velvety ice cream. Bite into a churro ice cream sandwich today
Ingredients
1

cup

water

½

cup

unsalted butter

cut into pieces

¼

cup

granulated sugar

½

teaspoon

salt

1

cup

flour

sifted

4

eggs

large, room temperature

½

cup

cinnamon sugar
Instructions
Heat the water and unsalted butter in a saucepan until the butter is melted and the water is near-boiling.

Add in the sugar, salt, and flour. Stir well.

Continue mixing and cooking the flour for about 3 - 5 minutes.

Allow the flour mixture to cool until you are able to comfortably touch it.

Beat in one egg and mix until well-combined. Beat in each egg one at a time until each egg is well incorporated. It may seem impossible at first, but all you need is a bit of elbow grease.

Fit a piping bag with a star tip and fill with the dough.

Lay parchment paper onto a baking sheet and pipe rounds of dough onto the sheet. Freeze for 30 minutes.

Fill a saucepan or pot with oil that is at least 3-inches deep. Heat the oil until it is 350°F.

Add 2 - 3 of the rounds to the oil and fry until golden brown - about 4 -6 minutes, flipping halfway through.

Remove the rounds from the oil and toss into cinnamon-sugar. Repeat with all the dough.

Wait until the churros are cooled and sandwich ice cream between two round. Enjoy immediately.
Notes
- You can freeze the dough rounds and save them until you are ready to make what you plan on eating. Once the rounds are frozen through, transfer them to an airtight container with parchment between each layer
- Fry only the churros you plan on eating. The churro ice cream sandwiches are only good fresh.
Nutrition
Serving:
1
g
Calories:
131
kcal
Carbohydrates:
15
g
Protein:
2
g
Fat:
7
g
Saturated Fat:
4
g
Polyunsaturated Fat:
3
g
Cholesterol:
58
mg
Sodium:
82
mg
Fiber:
1
g
Sugar:
9
g
Tried this recipe?
Tag me on Instagram! @acookienameddesire #acookienameddesire