Horchata ice cream is the pinnacle of all things cool and refreshing. Perfect for keeping you sane during the dog days of summer. 
We are continuing on with Ice Cream Week with this incredible horchata ice cream with dulce de leche swirl. I've only had proper horchata twice in my life when I was visiting a friend and her family in Mexico. It was the most incredible drink I've had in my life. I wanted to live off the stuff. My friend's grandmother made it from scratch and tried to tell me her recipe, but I couldn't keep up with her fast Spanish and no one remembered to give it to me later.
I spent ages trying to recreate that sweet, cinnamony drink, but I could never get the ratio just right. Nothing matched the original. When I decided to host Ice Cream Week, I knew that I wanted to take that drink and turn it into an ice cream. I did a lot of research trying to figure out the best way to approach it. In the end, I decided to go against traditional horchata and make it dairy-based. I then decided to turn to Nosh On It for the inspiration for the horchata flavor.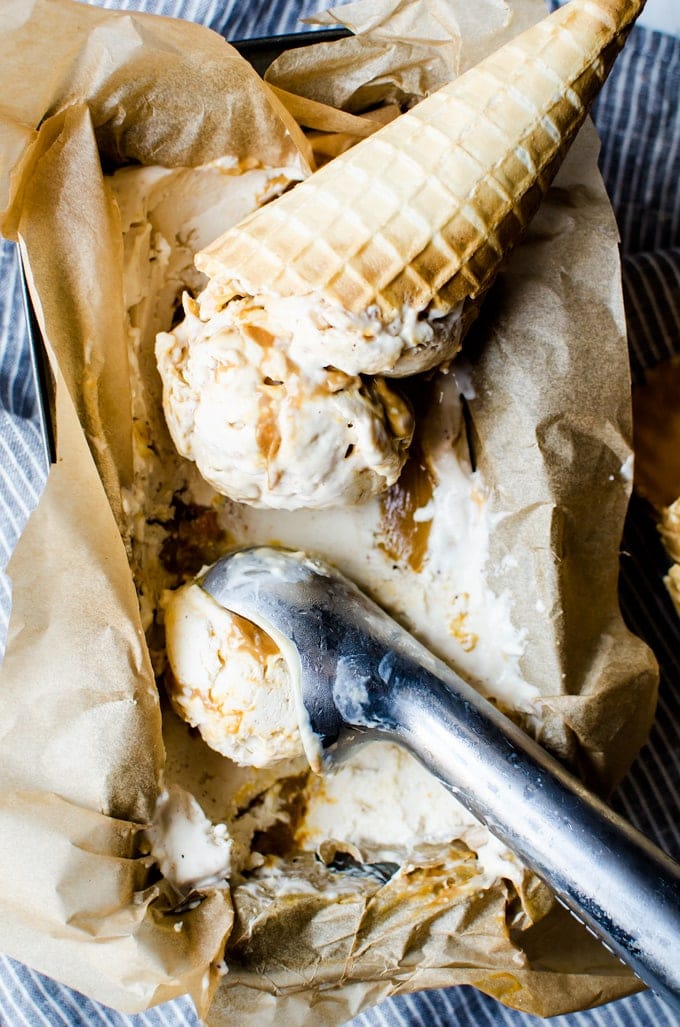 The end result is this out of control creamy, dreamy horchata ice cream that hits all the right spots. It tastes just like horchata, except with a hint of tapioca-ness to it because of the rice infused into the cream. It is cinnamony and absolutely perfect. Since the starches in the rice thickens the base, we don't need to add any other thickeners which means this is an egg-free recipe which is great.
This ice cream also churns like a dream. It finished churning in about 10 - 15 minutes and was already firm enough to eat straight out of the machine. Don't have an ice cream machine? You can always check out my post on how to make ice cream without an ice cream maker.... OR you can enter the giveaway to win your own ice cream maker, plus containers, popsicle molds, and ice cream scoops thanks to my friends at Cuisinart, Tovolo, Zeroll and Rodelle. It's really up to you, but let me just say, I've been using the ice cream maker and other goodies you can win and they are just dreamy. And.... it's pretty easy to enter, too. Just sayin' 😉
Horchata Ice Cream
Recipe Card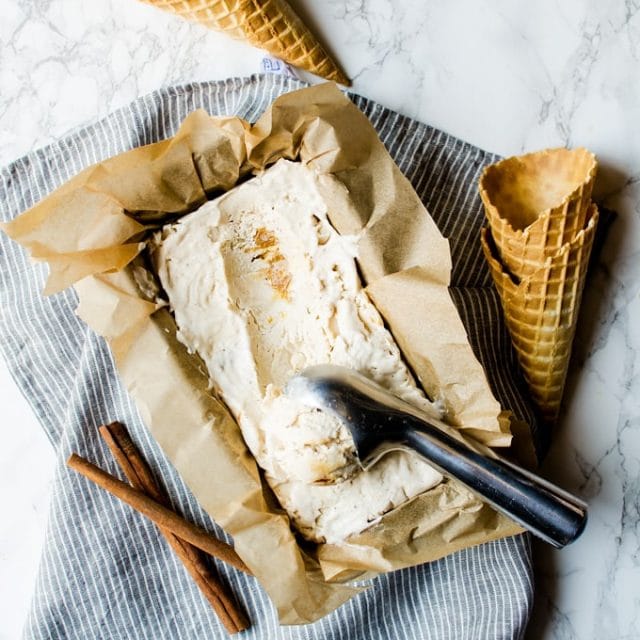 Horchata Ice Cream
A creamy horchata ice cream for those dog days of summer
Ingredients
1

cup

raw almonds

⅓

cup

long grain rice

1 - 2

cinnamon sticks

2 ¼

cups

whole milk

2

cups

heavy cream

⅔

cups

granulated sugar

½

cup

dulce de leche
Instructions
Preheat the oven to 300 degrees F. Bring a saucepan of water to a boil. Add the almonds and boil for about one minute. Drain the water and soak the almonds in cold water for a few seconds to cool. Drain again.

Remove the skins from the almonds - you should be able to pinch the almonds and they will pop out of their skins.

Place the almonds on a baking sheet in a single layer and bake for about 10 minutes until they are dry. Toast on a skillet until browned. Leave to cool.

Put the rice through a blender and blend for about a minute.

Place all the ingredients into a saucepan and heat on medium. Stir constantly until the mixture thickens. You want it to be able to coat the back of your spoon and leave a trail when you run your finger down the spoon. If you keep cooking, the rice will absorb all the liquid. If that happens, add more milk and cream until it thins out. 

Put the ingredients in a blender and blend for about 1 - 2 minutes. Strain the mixture through a fine mesh strainer lined with cheesecloth. Get out as much of the milk and cream as possible. Place in a gallon freezer bag and chill in the refrigerator until very cold - at least 40 degrees F.

Churn in an ice cream maker using manufactuer instructions.

Place one third of the ice cream in a container, then swirl the dulce de leche. Repeat the layers until everything is used up. Store in the freezer. 
Nutrition
Serving:
1
/2 cup
Calories:
310
kcal
Tried this recipe?
Tag me on Instagram! @acookienameddesire #acookienameddesire
Tuesday
Horchata Ice Cream with Dulce de Lecha Swirl via A Cookie Named Desire
Strawberry Peach Ice Cream via The Tip Toe Fairy
Sweet Tea Ice Cream via Cookie Dough and Oven Mitt
Blueberry Lemon Ice Cream via The Bitterside Of Sweet
Strawberry Black Pepper Ice Cream via Tovolo
Monday
S'mores Ice Cream via A Cookie Named Desire
Coffee Chocolate Ripple Ice Cream via An Italian in my Kitchen
Unicorn Ice Cream via The Tip Toe Fairy
Tahini Ice Cream with Chocolate Chip Cookies via The Floating Kitchen
No Churn Honey Nut Ice Cream via Honey and Birch
Vegan Peanut Butter Chocolate Praline Crunch Ice Cream via Heart of a Baker
Peanut Butter Lovers Ice Cream via Cookie Dough and Oven Mitt
Cotton Candy Ice Cream via Homemade Hooplah
Butter Pecan Ice Cream via Zagleft
Bourbon Vanilla Bean Ice Cream via Vanilla and Bean
Mint Mojito Coffee Ice Cream via The Little Epicurean
Strawberry Banana Ice Cream via The Bitter Side of Sweet
Peanut Butter Ice Cream via Pretty Simple Sweet
Vanilla Rainbow Ice Cream via Go Go Go Gourmet
Lychee and Cherry Swirl Ice Cream via My Food Story
Brigadeiro Ice Cream via Olivia's Cuisine
Salted Pretzel Ice Cream with Chocolate and Peanut Butter via Cake Over Steak
Strawberry Black Sesame Ice Cream via Madeline Marie Blog
No Churn Caramel Chip Ice Cream via Fearless Dining