It isn't summer without a sundae and it doesn't get better than a brownie sundae. You won't want to share this delicious dessert, but luckily it's easy like Sundae morning so any one can make it. 😉 
I love ice cream. Actually, I love making ice cream and ice cream related desserts. I don't actually enjoy eating a ton of ice cream because it makes my tummy feel so weighed down for hours on end. But making it for others to enjoy? That is totally my jam. Sometimes I will eat ice cream, but it has to be really good and something I am really in the mood for. I've been craving a brownie sundae for weeks now. I even wrote it down as something I needed to make soon.
Finally, I caved.
I made myself what I consider to be the ultimate brownie sundae. It's filled with my favorite peanut butter hot fudge sauce, a deep dark chocolate sauce, pecans, mountains of whipped cream, and of course, a cherry on top because, duh. It's basically the kind of dessert you gotta savor cause you know you aren't going all out like this a whole ton. Especially if you are like me and will be drowning your sundae in sauce and whipped cream... and maybe an extra cherry or two.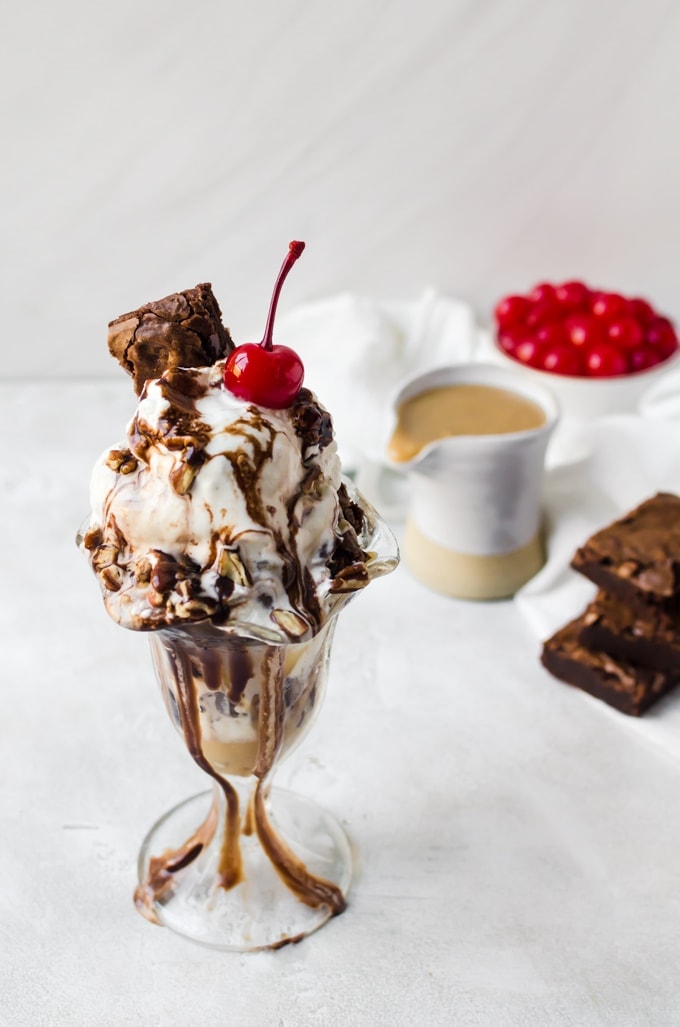 I started off with my favorite chewy brownies. You can bake up a whole batch for a party, or just do a half pan. If you want to halve it, I've cut down the recipe and gave you the instructions under the recipe for the brownie sundae. I like to make sure I have enough brownie to cut into cubes to make a few sundaes. I find it's impossible to make just one if others are nearby. Plus, who wants to eat a sundae by themselves? Sundaes are meant to be enjoyed with others! But trust me, I totally get not wanting to share your brownie sundae. That's why we have extra ingredients on hand, right? 😉
Recipe Card
Brownie Sundae
The ultimate fudgy brownie sundae that is easier than Sunday morning! 
Ingredients
½

cup

cubed brownies

I halved this [brownie recipe] the recipe for a half batch of brownies is below

2

tablespoons

[peanut butter hot fudge sauce]

2

tablespoons

chocolate sauce

2

tablespoons

candied pecans

2 - 3

scoops vanilla ice cream

or any flavor mix+ match

cherry

optional
Instructions
Add a layer of brownies cut in cubes to your dish.

Top with drizzles of peanut butter hot fudge sauce and chocolate sauce.

Sprinkle candied pecans.

Top with a scoop of ice cream.

Continue with the layers until you've filled your container and top with a cherry!
Tried this recipe?
Tag me on Instagram! @acookienameddesire #acookienameddesire
Recipe Card
Half Batch Brownies
A half batch of chewy brownies
Ingredients
½

cup

all-purpose flour

⅛

teaspoon

table salt

1

tablespoons

Dutch processed cocoa powder

1 ½

ounces

unsweetened chocolate

chopped fine

1

ounces

semisweet chocolate

3

tablespoons

unsalted butter

2

tablespoons

vegetable oil

¼

cup

granulated sugar

¼

cup

plus 2 tablespoons brown sugar

1

large eggs

room temperature

1

teaspoons

vanilla extract
Instructions
Preheat the oven to 350 degrees F. Line a 9x5 loaf pan with parchment paper.

In a medium bowl, mix together the flour, salt, and cocoa powder and set to the side.

Add about an inch of water into a small saucepan. Heat until it is begins to boil and turn off the heat, but do not remove the saucepan. Top with a heatproof bowl that is wide enough that it doesn't touch the hot water.

Add the chocolate, butter, oil, and sugars together in the heatproof bowl and mix until the chocolate is completely melted.

Remove from heat and allow to cool for a few minutes. Add in the egg and vanilla and beat well.

Add in the flour mixture and mix well for about 1 -2 minutes.

Pour the batter into the loaf pan and bake for about 20 minutes, or until a toothpick inserted in the middle comes out mostly clean. Allow to cool completely before cutting.
Tried this recipe?
Tag me on Instagram! @acookienameddesire #acookienameddesire