As I write this, it is about 9:30pm Thursday evening. I just had a shower and am drinking a glass of Bordeaux, mentally going over everything I need to do tomorrow. And.... I am feeling pretty awesome.
For the longest time, I've not been feeling myself. I've put on quite a few pounds and have been sluggish and felt as though I had the body of an 80 year old woman. Thinking about it, it's the most unhealthy I've ever been or felt. In the past, the moment I noticed the scales going up, I would strap on my workout gear and get back in the game, but lately, I've been making excuse after excuse not to. If I am really honest with you (and let's face it, I'm more honest with you than I am with myself most of the time), ever since I was in the hospital after that bronchitis/acute asthma attack, I've been too scared to work out again. The night before the attack, I was in that mode, trying to get back to healthy and ever since, I've been afraid that if I overexert myself with a workout, I will have another bad attack.
My health's gotten so bad though, that I knew it was time for me to do something. So I turned to my favorite fitness blogger who I knew had workouts that would get the job done without stressing out my lungs. I'm doing her 28 day beginners program and I am already feeling so much better. My body feels so much better. If you've been looking for a kick on the butt, come join me!
Getting back to the healthier me won't really change the recipes around here much because life is totally about balance and I don't expect you to eat everything you see here. Life is too short to give up the indulgent stuff completely.
Trust me, this cheesecake ice cream with blueberry & red wine swirl is totally worth that indulgence. I've had cheesecake ice creams before and none of them taste the way I feel a cheesecake ice cream should. They were more like regular ice cream with just bits of cheesecake flavor here and there. This... this is all out cheesecake flavor and that blueberry & red wine swirl just tops it off and makes it possibly the best cheesecake ice cream I've ever had in my 27 years.
Don't have an ice cream maker? No problem! Learn how to make ice cream without an ice cream maker here.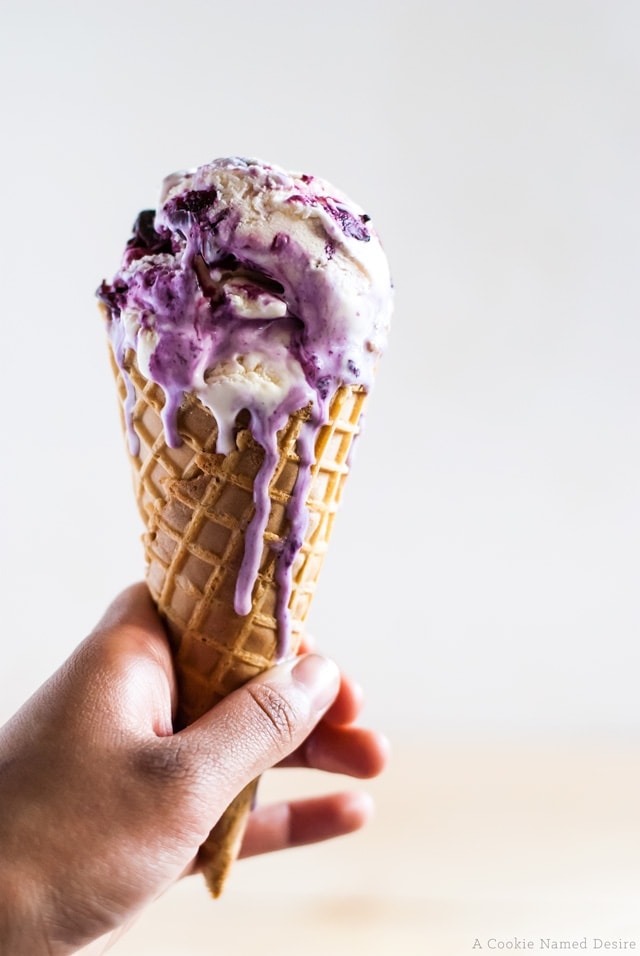 Recipe Card
Cheesecake Ice Cream with Blueberry & Red Wine Swirl
Ingredients
8

ounces

cream cheese

softened at room temperature

1 ½

cups

heavy cream

1 ½

cups

milk

any type will work except skim

¾

cups

plus ½ cups sugar, divided

zest of half a lemon

3

large egg yolks

juice from half a lemon

2

teaspoons

vanilla extract

1

cup

blueberries

⅓

cup

red wine

½

cup

crushed graham crackers

optional
Instructions
Beat the cream cheese in a large bowl, set aside.

In a large saucepan, add the cream, milk, ¾ cups sugar, and lemon zest together. Heat on medium until the cream mixture is steaming and simmering at the edges.

In a medium bowl, briskly whisk the egg yolks, and slowly pour 1 cup of the cream mixture into the egg yolks, ensuring you are whisking the eggs constantly as you pour in the cream. Slowly pour the egg mixture back into the saucepan, while whisking the saucepan constantly as you poured the egg mixture in.

Continue to heat and stir the mixture with a wooden spoon the mixture until it thickens. You can test this by running your finger down your spoon to see if a line remains.

Strain the mixture through a fine mesh strainer into the bowl with the cream cheese. Whisk the mixture until there are no lumps (you can use an immersion blender to speed things up) and chill until the mixture reaches 40 degrees F - at least 2 hours, preferably overnight.

While the ice cream mixture is chilling, heat the remaining ½ cup sugar and blueberries together in a small saucepan until the juices escape the blueberries and begins to resemble syrup. Whisk in the red wine and allow the mixture to chill.

Take out the chilled ice cream mixture and pour in the lemon juice and vanilla extract. Churn in an ice cream machine according to manufacturer instructions.

Begin to pour the ice cream in an air tight container, Drizzling the blueberry sauce (and graham cracker crumbs if using) between layers of the ice cream. Allow the ice cream to freeze for about 3 - 4 hours until firm.
Tried this recipe?
Tag me on Instagram! @acookienameddesire #acookienameddesire