A sweet, utterly luscious rhubarb crumble ice cream with creme fraiche for a truly decadent summer dessert.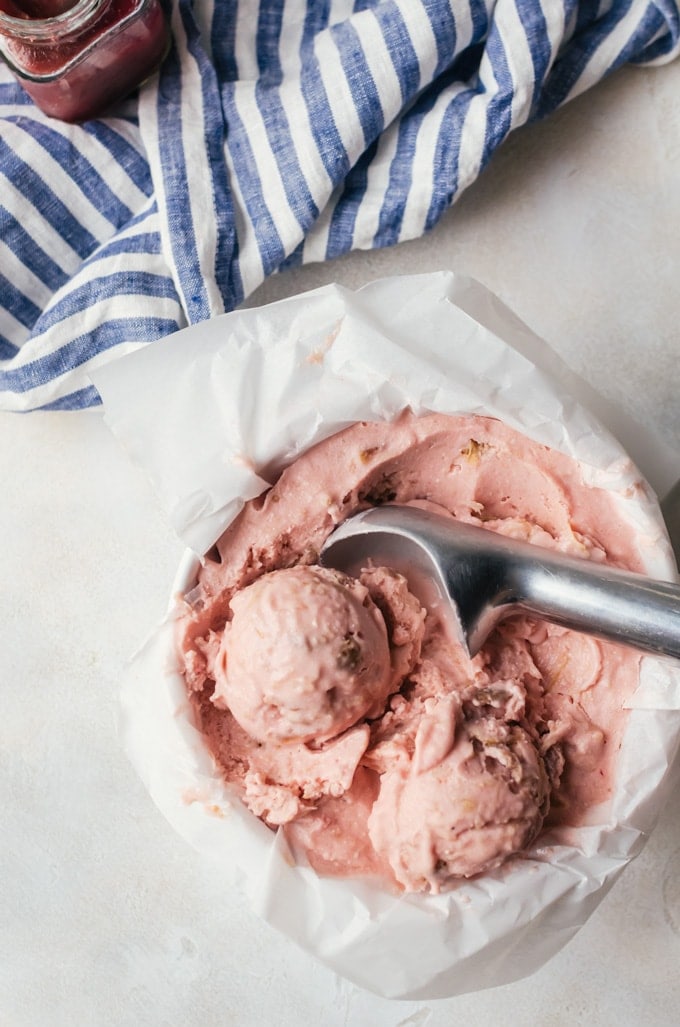 I've been dreaming about making a creme fraiche ice cream ever since I had some while away at cheese camp with Vermont Creamery. It was so smooth and creamy and probably the most amazing thing I've ever tasted. Seriously, you've never had ice cream so luscious and decadent before. I needed to make it at home.
I have two rhubarb plants. One is my baby. I've had it as long as I've had this blog and it's one of the most consistent relationships I have outside of my relationship with my daughter. The second is newer. My first rhubarb is a green variety. It tastes the same as the red variety most people know, but it's green. I wanted a red one to give that classic hue to my dishes. It takes a few years before you can harvest and this was my first year being able to do so. I decided to celebrate with a pretty pink ice cream. Because I love homey flavors, I folded in bits of streusel topping to give it a rhubarb crumble flavor. And because I can't help myself, I added a touch of rose to the rhubarb crumble ice cream which adds a lightness and a bit of fun. It's totally optional though. Don't stress if you can't get your hands on some rosewater.
The rhubarb crumble ice cream is sweet and homey and such a pretty color. I guess it kind of falls into that "millennial pink" category. Which isn't actually a thing, but still, so pretty. I don't know how this term ever became a thing, but I admit that I love the shades of pink that fall into that category. I even bought a purse that perfectly matches the rhubarb crumble ice cream.
If you are dying for ice cream, but don't have an ice cream maker, not to worry, because you can make ice cream without an ice cream maker. To make the recipe, I use my rhubarb jam that I made for my lemon rhubarb macarons.

Recipe Card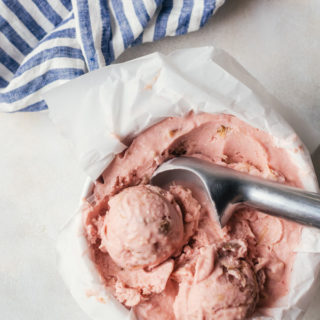 Rhubarb Crumble Ice Cream
A velvety smooth rhubarb crumble ice cream that will make you welcome a hot summer day
Ingredients
Crumble
3

tablespoons

unsalted butter

½

cup

all purpose flour

⅓

cup

old fashioned oats

⅓

cup

brown sugar

pinch

of cinnamon

pinch

of nutmeg

pinch

of salt
Rhubarb Creme Fraiche Ice Cream
4

egg yolks

¾

cup

granulated sugar

divided

1

cup

heavy cream

1

cup

whole milk

¼

teaspoon

salt

2

teaspoons

vanilla extract

1

teaspoon

rosewater

optional

¾

cup

rhubarb jam

1

cup

creme fraiche
Instructions
Preheat the oven to 350 degrees. Line a baking sheet with parchment paper or a silicone baking mat.

Mix together the ingredients for the crumble in a bowl. Rub the butter into the flour and oats to form large crumbles.

Place the crumbles on the baking sheet and bake for 8 - 10 minutes. Allow to cool completely.

Place the yolks and half the sugar into a bowl and whisk together.

Make an ice bath that is heavy on the ice.

Add the remaining sugar, cream, milk, and salt together in a medium saucepan and mix. Heat until the mixture is steaming and gently simmering at the edges. Do not allow to boil.

Whisk the egg yolks vigorously as you slowly drizzle half the milk mixture into it. Begin to whisk the remaining milk mixture in the saucepan and drizzle the egg/milk mixture back into the saucepan.

Stir the mixture in the saucepan until it begins to thicken. It should coat the back of a spoon when dipped into it. Remove from heat. Stir in the vanilla, rosewater, if using, and

rhubarb jam

. Place the saucepan in the ice bath, being careful not to allow any water into the custard mixture.

Once the mixture is cool, transfer the custard into a gallon freezer bag. Place in the refrigerator until it is completely chilled - at least four hours, preferably overnight.

Place the ice cream in your ice cream maker. This recipe makes a lot, so you may have to do it in batches for the best results. Make the ice cream maker according to manufacturer instructions, drizzling in the creme fraiche as it churns. During the last minute of churning, add in the crumble. You may not use up all of it.

Pour the finished ice cream in air tight containers and freeze until solid - at least four hours.
Nutrition
Tried this recipe?
Tag me on Instagram! @acookienameddesire #acookienameddesire