Melt-in-your-mouth banana shortbread with a thick slathering of salted caramel. These tasty cookies will be your new favorite!
So I am probably the most disorganized person on the planet. But if you've been reading this blog for a while, you probably already knew that about me. Long story short, I've got gifts for you. That's all that matters, right? Well, I'm giving away a bunch of different prizes every day and you will get a chance to win one, two, or even all of them, if you are just lucky like that! (I am so not that person).
Today, I partnered with my friends at Fat Toad Farm to give away a set of their goat's milk caramel sauce! Besides having an awesome name, Fat Toad Farm makes this incredible artisan caramel in awesome flavors like cold brew, Irish whiskey, and spicy dark chocolate. I've tried them all, and they are all incredible. I don't think I can pick a favorite, but I used two to make these salted caramel banana shortbread cookies you see here.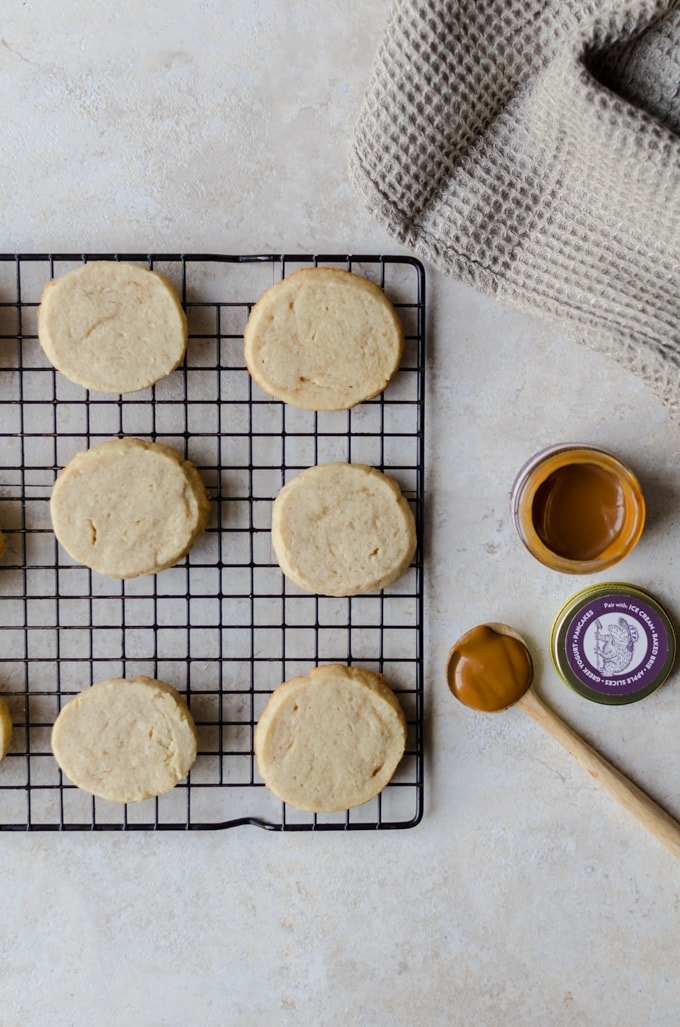 I've wanted to make banana shortbread with caramel for the longest time now. I subscribe to this snack box called graze and they have a banana cookie that you dip in caramel sauce, and it is literally my favorite thing ever. So I knew I needed to make up my own version. While theirs is dry and crisp with lots of oatiness (let's pretend that's a word), mine is buttery, and definitely softer than your normal shortbread cookie. I like that about these cookies. It almost melts in your mouth when you take a bite.
The caramel works so well with the banana, but that is obvious. Banana and caramel are a dream team together when done right. I alternated between using the vanilla bean and the cinnamon caramel. Both work really well, it just depends on if you want that added dimension that the cinnamon brings to the banana shortbread.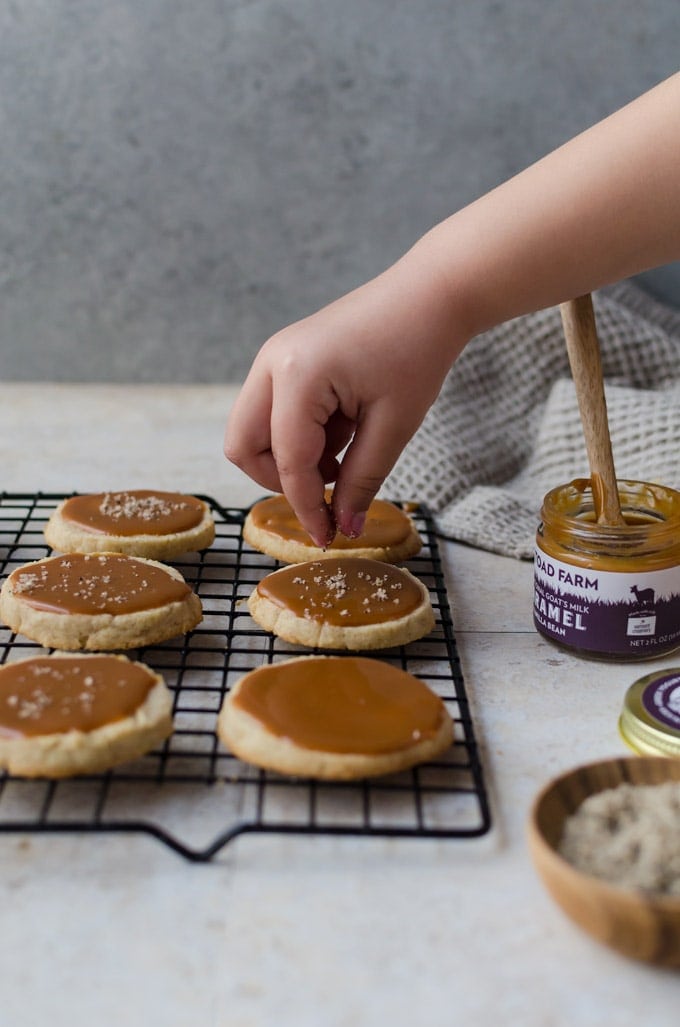 To finish the cookies, I added my favorite vanilla bean fleur de sel because, who doesn't love a bit of salt with their caramel, right? These cookies are perfect for eating with a friend. Or you can give it to them as a wonderful gift. Only, instead of giving them pre-carameled, give them a small jar of caramel and instruct them to dip the cookies for a magical experience.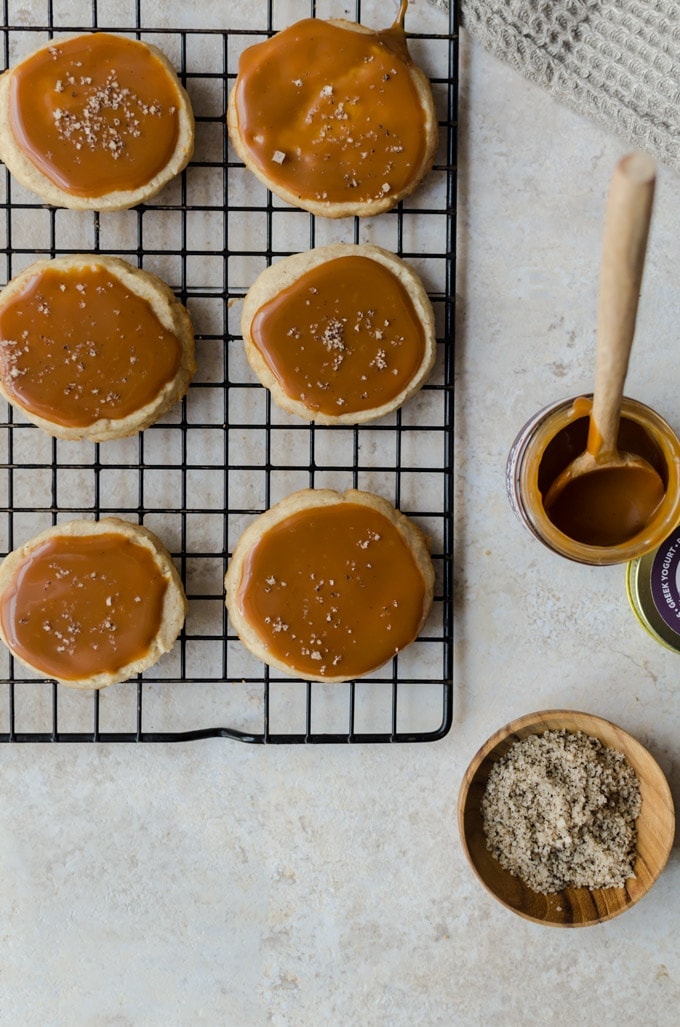 Since the caramel doesn't harden, I don't recommend storing them with the caramel as the cookies would stick to one another and get very, very soft. Instead, store them as-is and add caramel as you eat them, or in small batches.
Recipe Card
Salted Caramel Banana Shortbread
Ingredients
1

cup

2 sticks unsalted butter, room temperature

⅓

cup

mashed ripe banana

about one small

¾

cup

granulated sugar

1

teaspoon

vanilla extract

2 ½

cups

unbleached all-purpose flour

½

cup

almond flour

½

teaspoon

salt

¼

teaspoon

ground cinnamon

Fat Toad Farm caramel

fleur de sel or Maldon salt
Instructions
Preheat the oven to 350 degrees F. Line two baking sheets with parchment paper.

Beat the butter and sugar together until light and fluffy. Add the banana and vanilla and beat until light in color - about a minute longer.

in a small bowl, mix together both types of flour, salt, and cinnamon together.

Add the flour mixture into the butter mixture and beat well.

Form into a large log using plastic wrap and freeze for about an hour.

Cut slices of the cookies just over ¼ inch thick and place cut side down on the baking sheets.

Bake for about 11 minutes on one side, flip, and bake for 1 - 2 minutes longer on the other side.

Leave to cool on a wire rack.

Top with a dollop of caramel and spread. Top with salt.
Tried this recipe?
Tag me on Instagram! @acookienameddesire #acookienameddesire