You are in for the ultimate Oreo experience with these cookies and cream cupcakes with over 3 ½ Oreos inside each little cupcake! In these cupcakes you have an Oreo nestled under a moist vanilla cupcake with crushed Oreos folded into the batter and baked up to perfection. Then a creamy vanilla frosting is coated in more crushed Oroes, topped with fresh whipped cream and finished with another Oreo for garnish. You're welcome!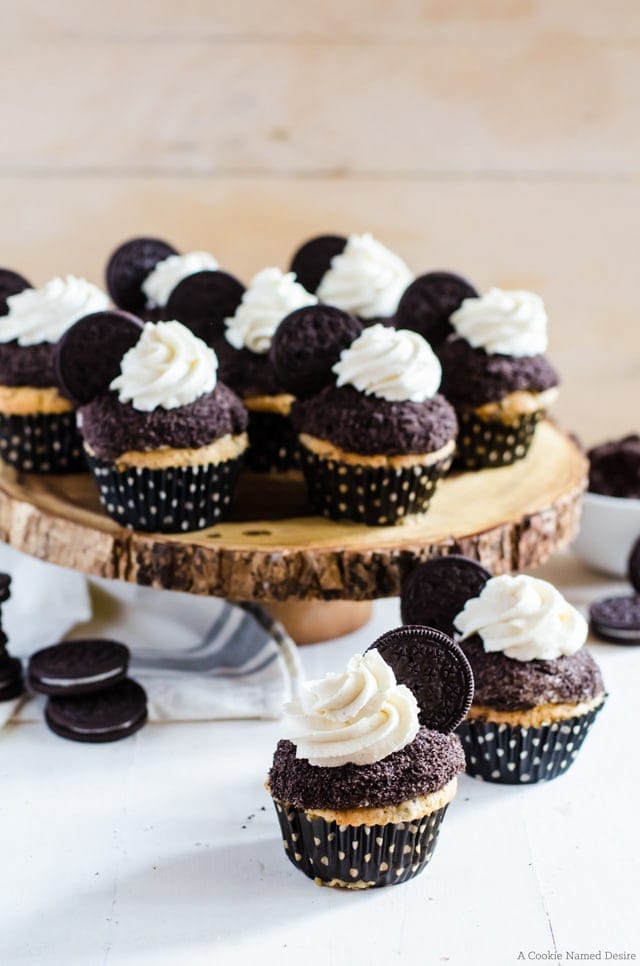 I am a total comfort eater and I am not ashamed to admit it. I think this blog makes it very apparent that I am all about comfort food and sugar-therapy. One thing that I immediately want to go to time and time again, however, is a container of Oreos. I can't get enough of them and will sit down and watch Grease while dunking a whole sleeve of Oreos in a glass off ice cold milk. It just doesn't get better than that. (Except when I combine Oreos and peanut butter!)
If you look at some of my past Oreo recipes, you will see I want to get as much of that Oreo as possible in my dessert. I still dream about that Oreo cake. This cupcake was no exception. A whole Oreo is placed at the bottom of each cupcake. Then I folded in crushed Oreos into the batter of the vanilla cake. If that wasn't enough, I rolled the buttercream in more crushed Oreos and topped with another whole Oreo. There are about 3 ½ Oreos per cupcake. That is some serious Oreo love right there if you ask me.
I've had quite a few cupcakes in my life, but this is probably my favorite. I know I say that about all cupcakes, but threse cookies and cream cupcakes are pretty darn special. I mean, just look at them!
I had someone ask where I got my cake stand for these cookies and cream cupcakes. It was from HomeGoods, but here is a similar one on Amazon.
Recipe Card
Cookies and Cream Cupcakes
Ingredients
1 ⅔

cups

all-purpose flour

½

teaspoon

baking powder

¼

teaspoon

baking soda

½

teaspoon

salt

½

cup

8 tablespoons unsalted butter, room temperature

¾

cups

sugar

1

large egg

room temperature

¼

cup

plain yogurt

room temperature

¾

cups

milk

room temperature

3

teaspoons

vanilla extract

divided

24

whole Oreos

divided

20

crushed Oreos

½

cup

8 tablespoons unsalted butter, room temperature

2 ½

cups

plus 1 tablespoon powdered sugar, divided

½

cup

heavy cream
Instructions
Preheat the oven to 350 degrees F. Line a muffin tin with cupcake liners.

In a bowl, mix together the flour, baking powder, baking soda, and salt together. Set aside.

Beat ½ cup butter and sugar until light and creamy. Add in the egg and beat well. Add in the yogurt and beat well again. Alternate between adding the flour and milk in three additions, beginning and ending with the flour. Fold in 2 teaspoons of vanilla and a little over half of the crushed Oreos..

Place an Oreo at the bottom of each cupcake liner. Evenly divide the batter among the liners over the Oreos. It may seem as thought he liners are over filled, but they will be okay.

Bake for about 18 - 20 minutes, or until the tops spring back when gently touched. Take out and allow to cool completely.

Beat ½ cup butter until smooth and creamy. Slowly add 2 ½ cups of powdered sugar to the butter, one cup at a time until well incorporated. Add in the remaining vanilla.

Top the cooled cupcakes with the frosting. It doesn't have to be very neat. Place the remaining crushed Oreos in a bowl and dip the frosted cupcakes into the bowl carefully so as to coat the frosting.

Beat the heavy cream until soft peaks form. Add in the remaining powdered sugar and beat in. Pipe the heavy cream on top of each frosted cupcake using a star tip. Finish by inserting an Oreo into the top of the cupcakes.
Tried this recipe?
Tag me on Instagram! @acookienameddesire #acookienameddesire