A rich and insanely decadent Oreo cake with a creamy peanut butter frosting. This cake is perfect to pair with your favorite rainy day movie.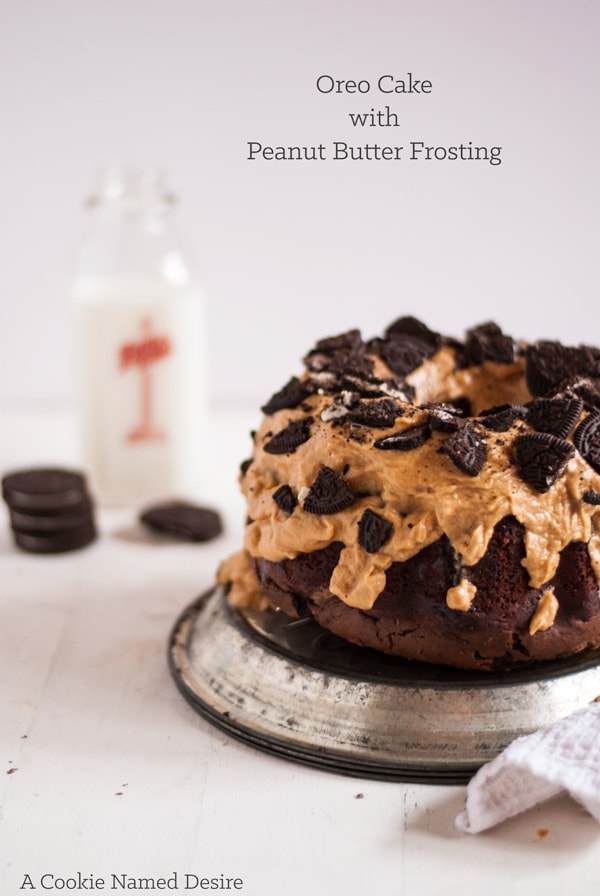 I didn't really want to share any recipes this week because I wanted to take a mini break so we can all enjoy the holidays. Then... last night I edited the photos for this cake and I though "Man, I don't think I can wait to share this cake. I need to give you the recipe now! Besides, who says a ridiculously delicious Oreo cake with peanut butter frosting isn't an acceptable Thanksgiving dessert anyways?" And now here I am sharing the cake with you in hopes that you nix the pies and go for this cake that we fondly refer to ask The Crack Cake at my job. Cause you see, this isn't any ordinary Oreo cake... Nope. I made this cake using homemade Oreo flour. Then I loaded the batter with more Oreos. It is Oreo overload. And that peanut butter frosting? It's amazballs. And I never use terminology like that.
This cake started as am homage to The Parent Trap which remains one of my favorite family movies ever. Oreos + peanut butter have been best friendly forever, but when that movie came out it became synonymous to rainy days and a still young and innocent Lindsay Lohan who actually inspired me to dye my hair red several times in my life. (FYI, I still love you Lindsay). These days I can't even imagine eating an Oreo without a jar of peanut butter and an even bigger jug of milk (cause I drink my milk out of jugs, ya know). It is the perfect way to take me back to those childhood days.
Can you believe how much Oreos have changed the past few years? How many flavors are there now? 25? 30? It feels like they come out with new flavors every week! Personally, I am a traditionalist and the regular cookies win my heart by a mile. Double-stuffed included cause I love me some creme filling. Although that Caramel Apple Oreo was pretty damned good, too! Ohh... and birthday cake. Yum. My name is Amanda, and I am an Oreo fiend.
It must be so obvious when I really love a food and love taking photos of it. I always end up with about a million photos in my post. I just can't help it. This cake calls my name. It's so sexy and knows how much I want it.
Quick funny story: I was taking pictures of some pancakes for you guys (I'll share it soon!) and I was holding up a forkful for the camera and said to the camera "Oh yeah, you want a nice bite of this sexiness, don't you?" Natushka looks over from playing with her dolls, scrunches her nose and goes, "Nope!" and keeps on playing. Burn. To be fair, I put some caramel sauce on the pancakes instead of syrup and she (shockingly) is not a fan of caramel. I mean, she doesn't like syrup either, but she realllllly hates caramel. I am not even sure if she is even my daughter sometimes.
Yum... look at these slices! You know how I said I stuffed the batter with Oreos? Well, they soften, but remain completely intact, so each slice gets an Oreo inside. Eat this cake warm and you will be in pure chocolate & creme bliss, trust me.
Happy Thanksgiving!!
UPDATE: I've started making this with a thick peanut butter glaze which I am liking better than the frosting. I will add this as an options as soon as I can. For now, here is a quick run down of the recipe:
2 cups heavy cream
1 cup chocolate chips
1 cup peanut butter
Heat the heavy cream until it is hot but not boiling. Slowly pour the cream over the white chocolate chips and stir until smooth. Add the peanut butter and stir again until smooth. Slowly drizzle over the cake (I do a layer, let it dry a bit, then add another layer) and add the crushed Oreos as directed.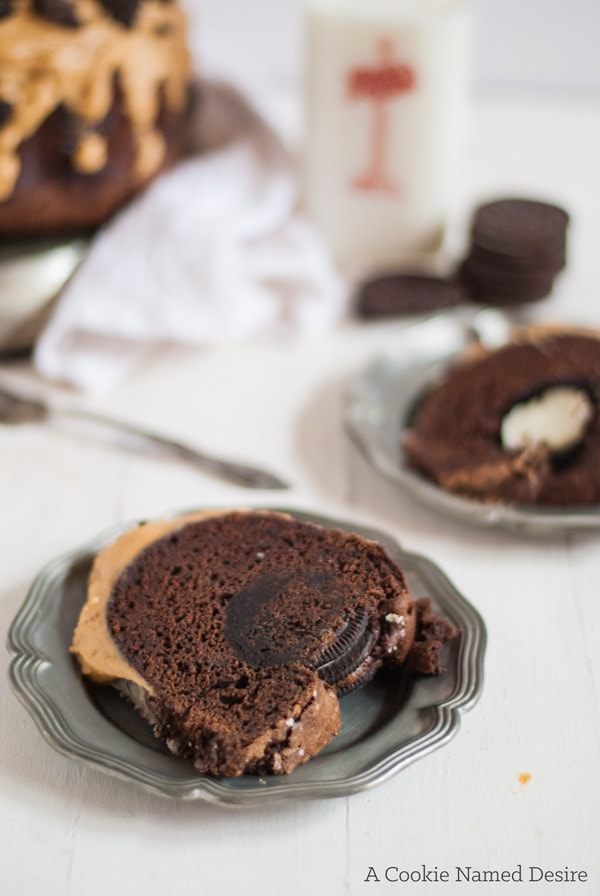 Oreo Cake with Peanut Butter Frosting
Recipe Card
Oreo Cake with Peanut Butter Frosting
Ingredients
1

cup

strong hot coffee or espresso

1

cup

cocoa powder

1

cup

yogurt

2

cups

all purpose flour

1

cup

Oreo flour*

½

teaspoon

sea salt

1

teaspoon

baking powder

1

teaspoon

baking soda

1 ½

cups

unsalted butter

room temperature

2

cups

granulated sugar

4

eggs

large

1

tablespoon

vanilla

18 - 20

Oreos
Peanut Butter Frosting
1

cup

creamy peanut butter

½

cup

powdered sugar

2

tablespoons

milk

2

tablespoons

coconut oil

1

teaspoon

vanilla

1

cup

roughly crushed Oreos
Instructions
Preheat the oven to 325 degrees. Lightly grease and flour** a 12 cup Bundt pan.

Mix together the hot coffee and cocoa powder until smooth and creamy. Fold in the yogurt. Set aside.

In a large bowl, mix together the flours, salt, baking powder, and baking soda together. Set aside.

In a separate large bowl, mix together the butter and sugar together until smooth. Slowly add in the eggs, one at a time. Add in vanilla. Alternate between adding the coffee mixture and flour, beginning and ending with the flour.

Pour the batter into the Bundt pan. Stick Oreo Cookies inside the batter, pushing down until submerged (the Oreos tend to push out when baking in the oven).

Bake for 60 - 65 minutes, or until a toothpick inserted comes out with a few crumbs clinging to it. Take out the cake and allow it to cool in the pan for about 30 minutes, then turn out onto a wire rack to finish cooling.

While the cake is cooling, make the peanut butter frosting. Cream together all the ingredients for the frosting except the Oreos until smooth. Pour the frosting on the cake and top with the crushed Oreos.
Notes
*Make Oreo flour by removing the creme from 13 - 14 Oreos and blending the cookies in a food processor until finely ground - about 45 seconds.
*I use a mix of flour and cocoa powder to flour my Bundt pan for chocolate cakes
Tried this recipe?
Tag me on Instagram! @acookienameddesire #acookienameddesire