Super fun and adorable ice cream cone cupcakes the kids (and adults) will have so much fun eating!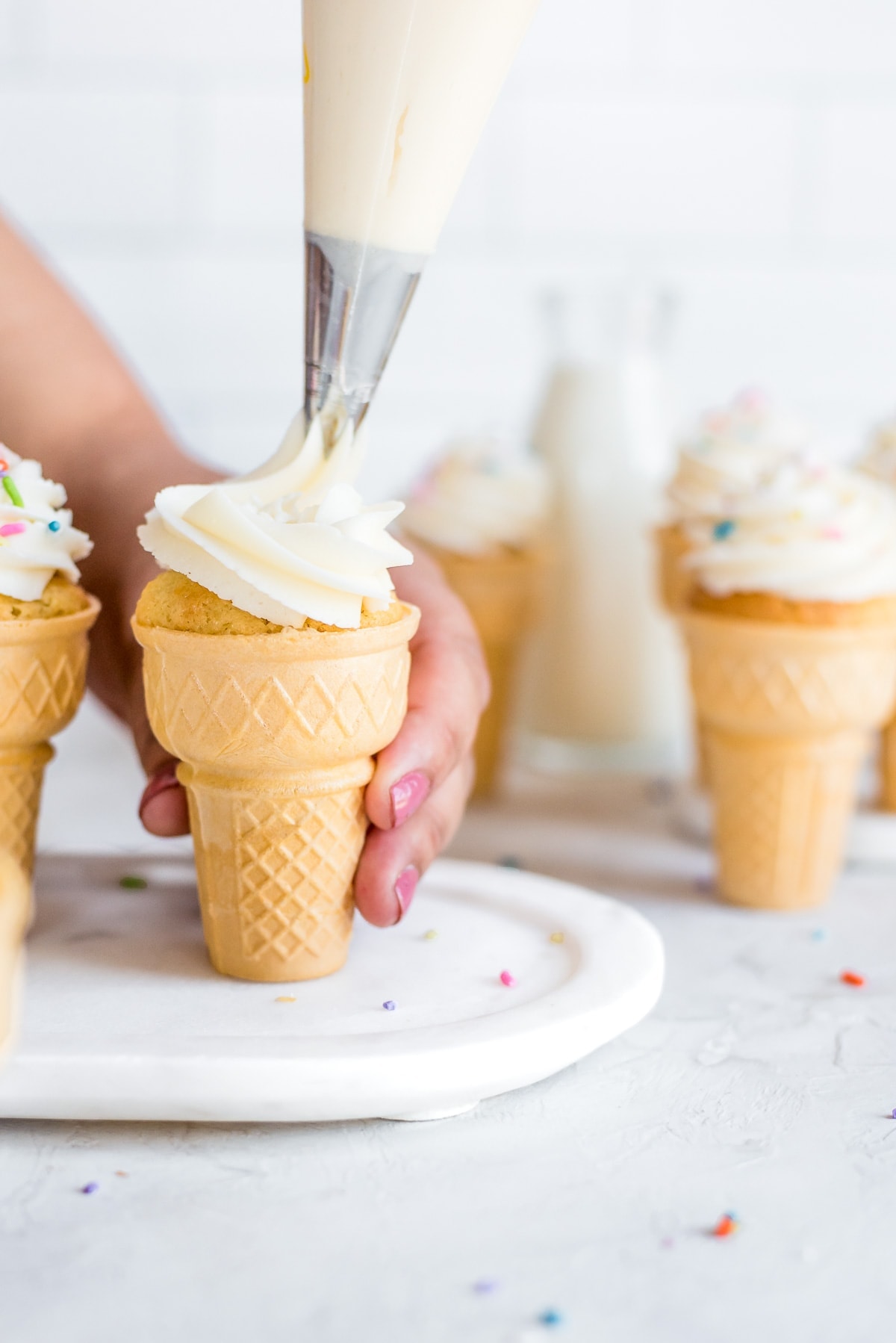 I have a personal history with ice cream cone cupcakes. While I try to keep personal stories off the website, I had a nice discussion about it on my Instagram feed, so if you are interested, I recommend checking it out there!
Jump to:
What are ice cream cone cupcakes?
These are the most fun treats you can make that takes so very little effort. They are simply cupcakes baked in ice cream cones with flat bases. When topped with frosting, they look like the most delicious ice cream cones, but instead you get the benefit of cupcakes that do not drip all over the place.
Ice cream cone cupcakes aren't anything new, in fact, these are something that have been around long before my own childhood. These adorable cupcakes are the perfect treat to inspire and delight every generation.
How to make
It is so easy to make your own ice cream cone cupcakes. They're perfect for baking with children, if you are looking for a baking project together.
Preheat your oven, and prepare your pan by tightly covering it with aluminum foil.
Make your cupcake batter.
Fill your ice cream cones - make sure the batter reaches all the way down the cone!
Bake, cool, and frost!
I provide you with my favorite vanilla cupcake and frosting to make from scratch, but you can also use boxed cake mix and canned frosting to make your cupcakes.
Customizing
This is your chance to get as creative as you want! Here are a few suggestions that I think you may enjoy!
Neapolitan - Use vanilla, chocolate, and strawberry cake mix and layer them to make a delicious Neapolitan ice cream cone cupcake - Please note this is great if you want to make a lot of cupcakes!
Red velvet cake - This is especially good when topped with cream cheese icing!
Double Chocolate - A moist chocolate cake with a deeply chocolaty chocolate frosting, maybe with a surprise edible brownie batter filling.
Strawberry - Use a delicious fresh strawberry cupcake and top it with strawberry frosting or vanilla buttercream.
Cookies and Cream - Oreo-stuffed cupcakes topped with cookies and cream frosting would be incredible.
Lemon - A bright lemon cupcake, topped with either vanilla or cream cheese frosting.
Snickers - These snickers cupcakes would be amazing in an ice cream cone!
The options you have are really all up to you. I don't think there is a cupcake that would not be amazing in a cone!
Decorating
You can decorate your ice cream cone cupcake in any number of ways.
Even when frosting your cupcake you can pipe them the way I have, or you can use a plain piping tip to resemble soft serve ice cream. Or you can even use an ice cream scoop to make your frosting look like a freshly scooped ice cream cone.
Sprinkles are always, always a great addition. If you really want to play up the ice cream look, sauces like chocolate or peanut butter hot fudge sauce would be incredible. Top with a cherry for the perfect scoop of ice cream cone cupcake!
Storage tips
Ice cream cone cupcakes are tough to store because of their size. I like to keep them in a tall plastic container and topped with aluminum foil or plastic wrap.
I do not recommend freezing these cupcakes. The cone will get soggy when thawing.
How to transport
I recommend transporting the cupcakes much like how I recommend storing them. To ensure they are secure, I would also add something to the bottom of the container such as bunched paper towels, plastic wrap, or aluminum foil.
F.A.Qs
How do you keep ice cream cone cupcakes from getting soggy?
This is an easy fix. When the cupcakes are out the oven, give it some time for them to be cool enough to touch. Once cool, poke 3 - 4 small holes in the bottom of the cone.
How long do cupcake cones last?
The cupcake cones last a little less than regular cupcakes. They should be fresh for up to 2 days.
Recipe Card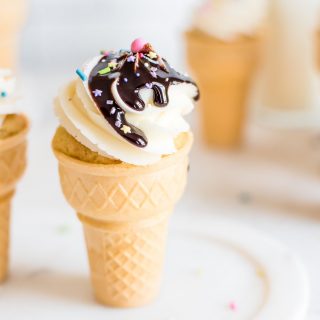 Ice Cream Cone Cupcakes
Fluffy and flavorful vanilla ice cream cone cupcakes
Ingredients
15

ice cream cones

1 ½

cups

all-purpose flour

2

tablespoons

cornstarch

1 ½

teaspoons

baking powder

¼

teaspoon

baking soda

1

teaspoon

salt

½

cup

unsalted butter

room temperature

1

cup

granulated sugar

2

large eggs

room temperature

2

teaspoons

vanilla extract

½

cup

buttermilk

room temperature

¼

cup

sour cream
For the Frosting
½

cup

unsalted butter

room temperature

3

cups

powdered sugar

1

tablespoon

vanilla extract

⅛

teaspoon

salt

3 - 4

tablespoons

heavy cream

room temperature
Instructions
Preheat the oven to 350°F.

Top a 9 x 13 baking pan with heavy-duty aluminum foil. Cut 15 "x" marks on the top where you'd like the cupcakes to be. Make sure they are not too close together. Insert the ice cream cones into the marks you've made.

Mix together the flour, cornstarch, baking powder, baking soda, and salt together in a medium bowl. Set aside.

Beat together the butter and sugar until light and fluffy - about 5 minutes on medium-high speed.

Beat in one of the eggs and mix for about a minute. Add in the second egg and the vanilla, then beat for another minute.

Stir together the

buttermilk

and sour cream in a small bowl.

Add in one-third of the flour into the butter mixture and stir until just combined.

Add in half the buttermilk mixture and stir until just combined.

Add in half of the remaining flour and stir until just combined.

Add in the remaining buttermilk mixture and stir until just combined,

Stir in the remaining flour mixture.

Evenly divide the batter among the ice cream cones. They should be about ⅔ full.*

Bake until the cupcakes leave only small crumbs on a toothpick when inserted in the middle. About 16 - 18 minutes. If the tops of the cupcakes brown too quickly, or they need additional time, lower the temperature to 325°F.

Allow the cupcakes to cool completely.

Make the buttercream while the cupcakes cool.

Beat the butter until smooth. Add in the powdered sugar one cup at a time, mixing well between each addition.

Add in the vanilla, then the salt and mix well.

Add in the heavy cream, starting with two tablespoons, then adding more as needed to get the desired consistency.

Pipe the cupcakes with the frosting and decorate!
Notes
*You may have to remove each cone to give them a good tap so the batter can reach all the way to the bottom of the cone. Alternatively, you can try adding the batter to a piping bag to pip in the batter. If you do this, do not overfill the piping bag otherwise the batter will just ooze out uncontrollably.
Nutrition
Serving:
1
g
Calories:
508
kcal
Carbohydrates:
82
g
Protein:
7
g
Fat:
28
g
Saturated Fat:
17
g
Polyunsaturated Fat:
9
g
Cholesterol:
114
mg
Sodium:
378
mg
Fiber:
1
g
Sugar:
62
g
Tried this recipe?
Tag me on Instagram! @acookienameddesire #acookienameddesire