Rich, fudgy snickers cupcakes that everyone will love. Moist chocolate cupcakes filled with caramel peanuts and topped with salted caramel frosting and topped with chopped snickers candies.
This recipe comes to you out of satisfying a craving I've had for weeks. I've been wanting a chocolate cupcake for the longest time and I finally gave in by making these snickers cupcakes. How can I possibly describe how in love with these cupcakes? Let's just say that when the last cupcake was gone, I may have shed one or two tears. I may have scraped every last crumb from the wrapper. Maybe.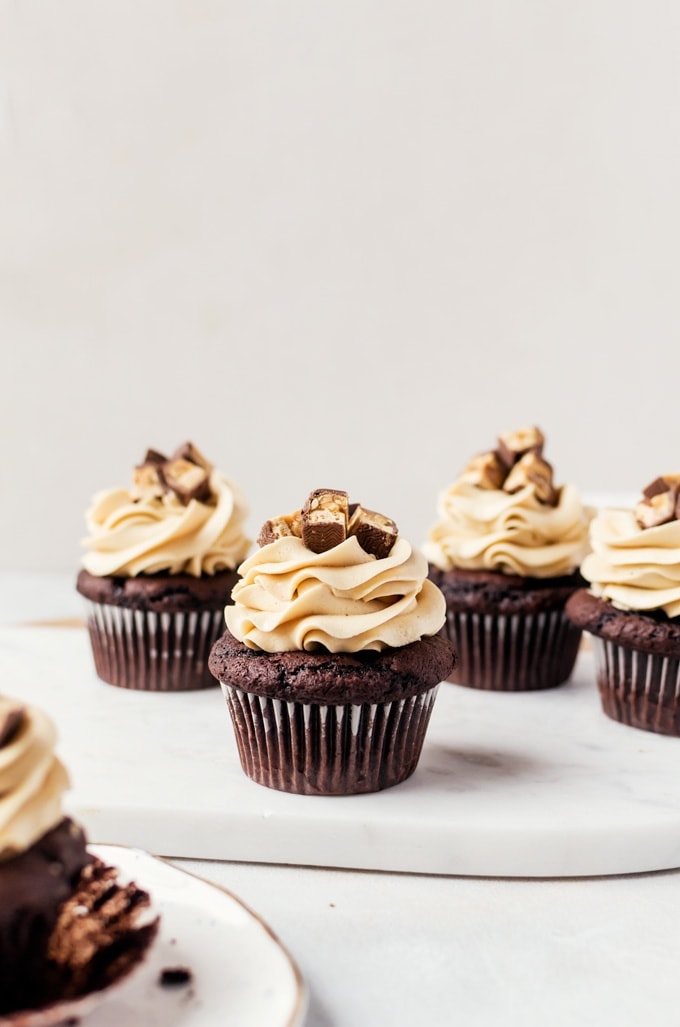 I go through these intense chocolate cravings where I need something very chocolaty and rich and I need a lot of it. These cravings don't last forever and only come every so often, but when they come, it is impossible to ignore. I remember when I was living in London and had this same chocolate craving. It was so bad where I was literally walking around repeating the word "chocolate" in my head over and over again until I found myself at a chocolatier and bought a huge box of chocolate and a very large hot chocolate with all the whipped cream. And even then, I could still go for more chocolate.
It took me a few batches of snickers cupcakes to get this recipe just right. It took all those batches for me to satisfy my chocolate craving. Or maybe it took that many batches to get it right just so I could get the craving under control. Who knowssss. The only thing I know for sure is that this is the best chocolate cupcake I've ever had and the caramel frosting is no joke.
It actually took me a few tries to get the frosting just the way I wanted for these snickers cupcakes. First I used an American buttercream, but it wasn't easy getting the caramel flavor I wanted without compromising the consistency and keep it from being overwhelmingly sweet. Next I tried a whipped caramel frosting which is caramel sauce with extra butter that is then chilled and whipped until it is like buttercream. It worked at first, but I found the caramel weeped overnight and my attempts to rewhip the caramel the next day left it too soft and grainy. Finally I tried a Swiss meringue buttercream. It's the frosting I've been using the most lately because I love how silky smooth it is and that it isn't too sweet. It can also hold plenty of additions into the frosting while keeping a nice pipable consistency. Perfect.
Recipe Card
Snickers Cupcakes
Fluffy cupcakes that taste like your favorite candy bar
Ingredients
8

tablespoons

vegetable or canola oil

2

oz

dark chocolate

½

cup

Dutch processed cocoa powder

1

tablespoon

espresso powder

¾

cups

all purpose flour

½

teaspoon

salt

½

teaspoon

baking soda

¾

teaspoon

baking powder

2

large eggs

room temperature

¾

cups

granulated sugar

1

teaspoon

vanilla extract

½

cup

sour cream

room temperature
Caramel Peanut Filling
¾

cup

peanuts

crushed (salted is fine if you cut down the salt in the caramel)

½

cup

caramel

recipe follows

caramel Swiss meringue buttercream

recipe follows

mini Snickers bars

chopped
Instructions
Preheat the oven to 350 degrees F. Line a muffin tin with cupcake liners.

Put one inch of water in a small saucepan and heat on medium high until boiling. Turn off the heat.

Place the oil, chocolate, cocoa powder, and espresso powder in a large heatproof bowl and place over the saucepan. Stir until the chocolate is melted and the ingredients are well mixed together. Set aside to cool.

In a large bowl, mix together the flour, salt, baking soda, and baking powder together. Stir to combine.

Once the chocolate mixture is cool, whisk in the eggs, sugar, and vanilla until well combined.

Pour the wet ingredients into the dry ingredients and mix until just combined, but there are no streaks of flour.

Fold in the sour cream and mix in just until there are no streaks of sour cream.

Evenly divide the batter among the cupcake tin. Bake for 18 20 minutes. Allow to cool to room temperature.

While the cupcakes are cooling, make the filing and frosting.

Crush the peanuts and mix in with the caramel. It may look like it isn't enough caramel, but it is plenty.

Cut out the centers of the cupcakes and fill with the caramel peanut filling. Top with frosting, then chopped Snickers bars.
Nutrition
Calories:
317
kcal
Carbohydrates:
32
g
Protein:
6
g
Fat:
20
g
Saturated Fat:
4
g
Polyunsaturated Fat:
5
g
Monounsaturated Fat:
10
g
Trans Fat:
1
g
Cholesterol:
33
mg
Sodium:
215
mg
Potassium:
225
mg
Fiber:
3
g
Sugar:
20
g
Vitamin A:
105
IU
Vitamin C:
1
mg
Calcium:
63
mg
Iron:
2
mg
Recipe Card
Caramel Swiss Meringue Buttercream
Ingredients
½

cup

egg whites

about 3 - 4 large eggs

1

cup

granulated sugar

1 ½

cups

3 sticks unsalted butter, cubed and room temperature

⅓ - ⅔

cup

caramel

recipe follows
Instructions
Place an inch of water in a small saucepan and heat until boiling.

While the water is heating, clean your mixing bowl and whisks. Quickly rub down with a piece of citrus to ensure there is no oil residue on anything.

Add the egg whites and sugar in your clean mixing bowl and place over the boiling water.

Whisk vigorously until the mixture is white and the sugar is completely dissolved.

Remove the bowl from the saucepan and whip the egg white mixture until it forms stiff, glossy peaks.

Beat in the butter one tablespoon at a time, ensuring the piece of butter is completely incorporated before adding more.

Continue to beat until the mixture is silky smooth.

Drizzle in the caramel. Start with ⅓ cup, then slowly increase it until you reach your desired amount. Keep in mind that the caramel flavor will become more prominent over time.

Fit a piping bag with your favorite piping tip and fill with the frosting.
Notes
Frosting adapted from the Layeredcookbook
Recipe Card
Salted Caramel
Ingredients
1

cup

granulated sugar

1

tablespoon

agave nectar

or corn syrup

¼

cup

water

1

cup

heavy cream

¾

teaspoon

salt

4

tablespoons

unsalted butter
Instructions
In a medium saucepan add the sugar, agave, and water together.

Heat the mixture until the sugar dissolves and begins to turn a dark amber. While the caramel cooks, gently heat the heavy cream.

Pour the heavy cream on the caramel once it is a dark amber. Stir well to combine.

Stir in the salt and butter and mix until the butter is completely melted.

Allow to cool completely before using