Velvety smooth cream cheese frosting so good, you will want to eat it by the spoonful!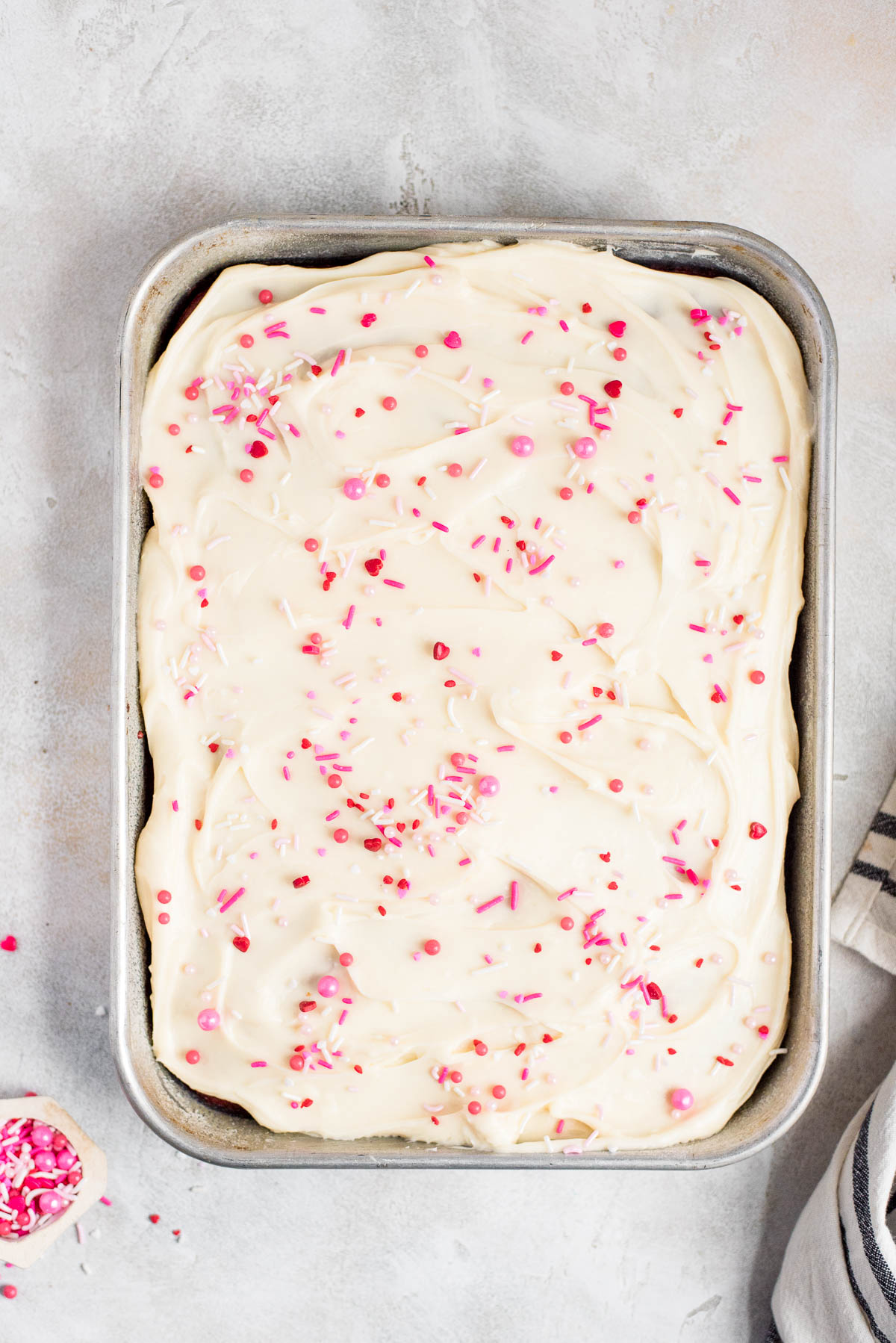 One of my favorite frostings to use is cream cheese frosting. I love the tang the cream cheese gives to the frosting, and it always reminds me of having a bit of cheesecake with my cake. Cheesecake is one of my favorite desserts so it makes sense I'd love this frosting.
Can You Pipe Cream Cheese Frosting?
Since this type of frosting is so creamy and velvety, it is not easy to pipe, and it will lose its shape easily.
You can counteract that by chilling the frosting in the refrigerator for an hour first, or by adding more powdered sugar and some cornstarch until it is very thick.
Do You Need Heavy Cream Or Milk To Make This Frosting?
No, you do not need anything besides:
cream cheese
butter
powdered sugar
salt (optional, but recommended)
vanilla (read further for other flavor variations)
This frosting is normally loose enough that you do not need to add any liquid to it. If for some reason the frosting feels too thick, you can add a tablespoon or two.
Can You Leave This Frosting Out?
Yes, you can leave your cream cheese frosting out for about a day thanks to the powdered sugar which helps to preserve the frosting. I do not recommend leaving the frosting out longer than this.
Should Cream Cheese Frosting be Refrigerated?
Yes, ideally you should refrigerate your frosting because of the cream cheese. It is safer for people who eat the frosting, and it also preserves the flavors in the frosting better.
Troubleshooting Cream Cheese Frosting
The number one culprit for frosting that does not come out right is the type of cream cheese used. Always use full-fat block cream cheese. Never the reduced-fat cream cheese or the cream cheese in the tubs.
If your frosting is runny
Unless you've added too much liquid, usually, you can thicken your frosting simply by putting it in the refrigerator. As the fats in the cream cheese and butter cool, they harden and will naturally make the frosting thicker.
If too much liquid is your problem, you can try adding a little more powdered sugar. A pinch or two of salt will help balance out the sweetness. If that does not help, you can add cornstarch. Typically, a few tablespoons will work, but you can add up to ½ cup without changing the flavor of the frosting.
If your frosting is lumpy
Usually, this means that your cream cheese, butter, or both were not fully softened to room temperature before you started making the frosting.
If you allow the frosting to sit out for the butter or cream cheese to warm and then vigorously whip, it will help. There is still a chance you will not be able to remove every single lump.
How to Flavor Your Frosting
Traditional cream cheese frosting (flavored with vanilla) is definitely my favorite, but you can flavor the frosting in so many ways and they are all just so delicious! Experiment with adding spices and extracts. Here are a few variations I've tried and recommend.
Chocolate
Lemon
Chai
Coffee
Brown butter
What Can I Use Cream Cheese Frosting On?
This frosting is perfect for anything you would put other frostings on, plus more. You can use it on cakes, cookies, cupcakes, brownies, blondies, and so much more. Some of my favorites include hummingbird cupcakes, red velvet thumbprint cookies, carrot cake, banana cinnamon rolls, and slathered on a slice of cinnamon banana bread.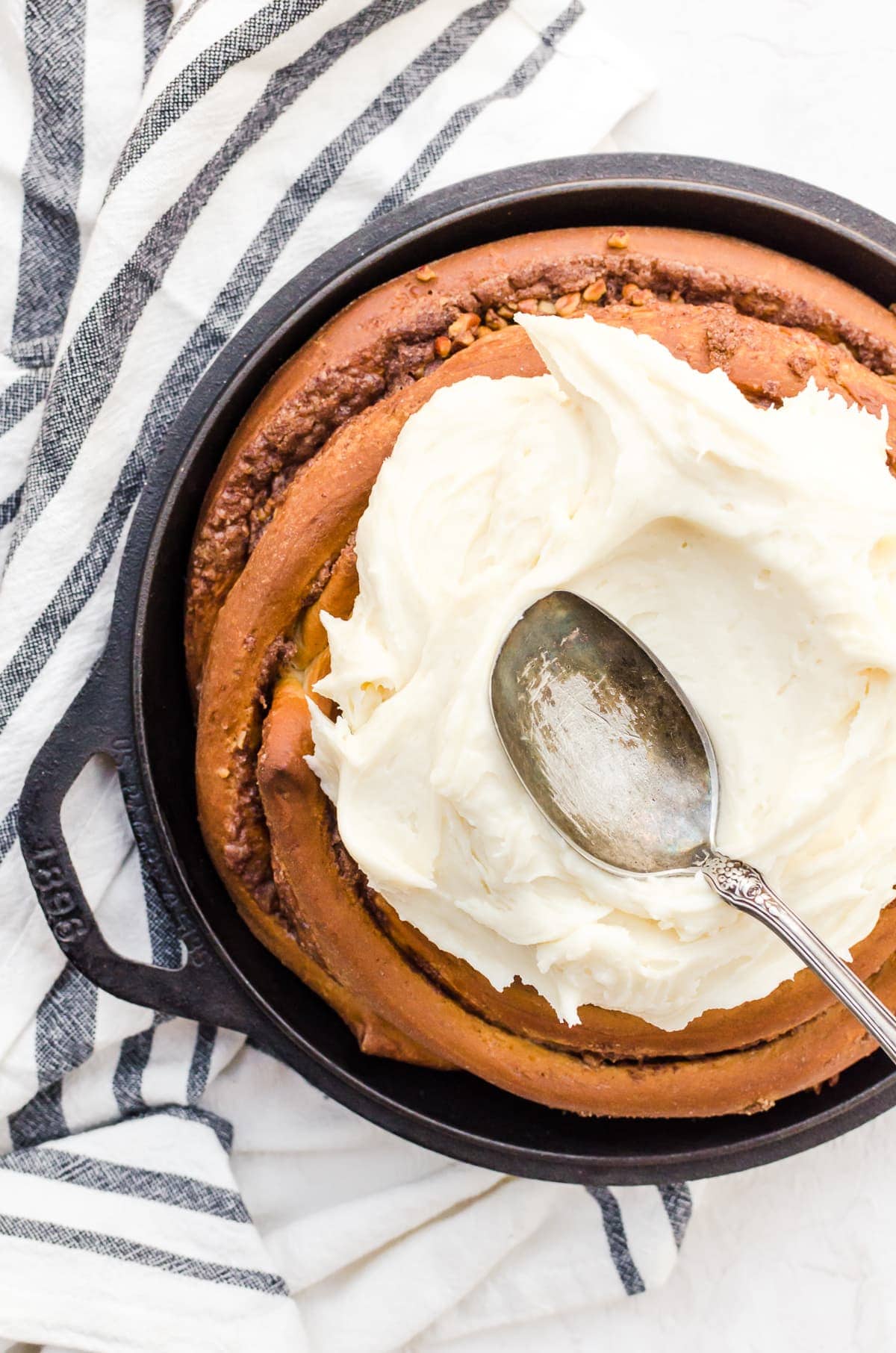 Recipe Card
Cream Cheese Frosting
A velvety and irresistible cream cheese frosting
Ingredients
½

cup

unsalted butter

room temperature

8

ounces

full-fat cream cheese

⅛

teaspoon

salt

2

teaspoons

vanilla extract

3

cups

powdered sugar
Instructions
Beat the butter and cream cheese together until smooth and creamy.

Add the salt and vanilla and beat well for about 15 seconds.

Beat in the powdered sugar one cup at a time. Beat until the mixture is smooth and creamy.
Notes
If the frosting is too runny, chill for at least an hour to thicken.
Store the frosting in the refrigerator, preferably in an airtight container.
Nutrition
Serving:
1
/4 cup
Calories:
243
kcal
Carbohydrates:
29
g
Protein:
1
g
Fat:
14
g
Saturated Fat:
9
g
Polyunsaturated Fat:
4
g
Cholesterol:
39
mg
Sodium:
82
mg
Sugar:
28
g
Tried this recipe?
Tag me on Instagram! @acookienameddesire #acookienameddesire