This small batch of Nutella chocolate cupcakes will be your new Valentine's Day tradition. A light and moist chocolate cupcake topped with creamy Nutella frosting and finished with airy raspberry whipped cream. These cupcakes are irresistible. 
Did you think I would forget about Valentine's Day? Never! I've been wanting to make these Nutella chocolate cupcakes for a while now. I was afraid I wouldn't get a chance to get them up in time, but I managed to just squeak by with a last minute Valentine's Day recipe for you. Which is okay because this small batch of cupcakes is pretty easy to whip up, but totally date-worthy.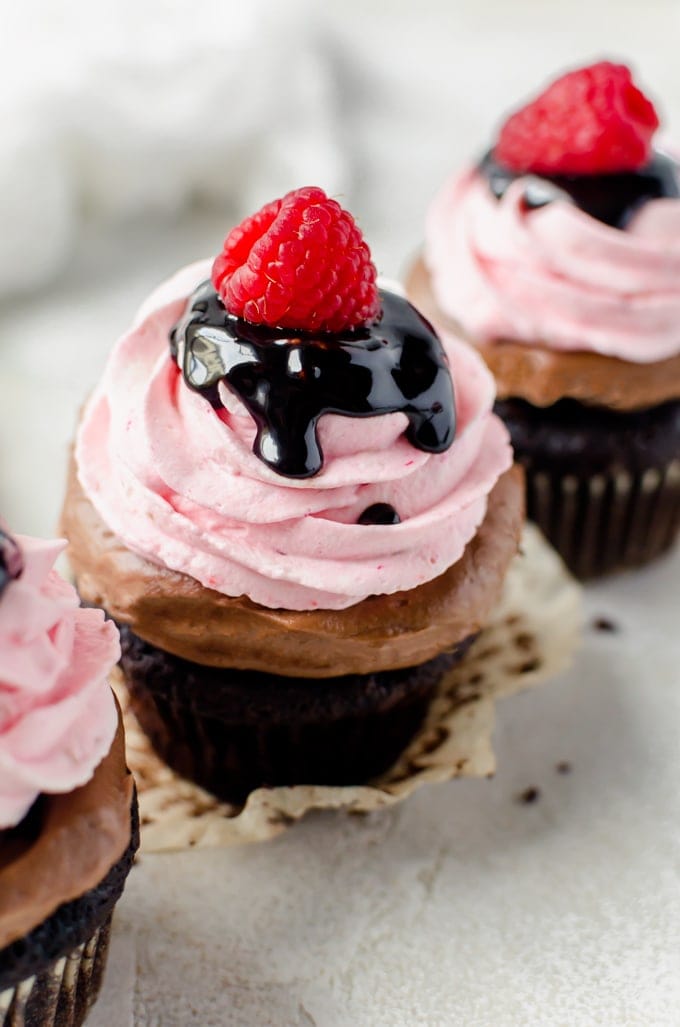 These Nutella chocolate cupcakes are everything. I started off with my favorite chocolate cupcake base which is light and moist. Chocolaty, but not too indulgent. Then I topped it with a creamy Nutella frosting that is just so good, there are no words for it. On top of that I added a generous swirl of raspberry whipped cream which is so airy and light, you could eat it by the spoonful. It's only slightly sweetened by the raspberries without any added sugar so the whole cupcake wasn't overwhelmingly sweet. To end, there is a little drizzle of chocolate and a fresh raspberry.
Yeah, it's perfect in every way. And despite all the components, it's actually very easy to make and put together. No stand mixer is even needed! In fact, I believe what makes the Nutella frosting so amazing is that you mix it by hand so there are no air bubbles trapped inside for a creamy smooth consistency.
This recipe is made for two people. It makes four cupcakes in all because, let's be honest, there is no way you can stop at just one of these cupcakes. If you find you want to make more, the recipe is easy doubled or tripled, although you would only need to increase the whipped cream amounts by half.
Recipe Card
Nutella Chocolate Cupcakes
A batch of four Nutella chocolate cupcakes that you won't be able to resist. 
Ingredients
Cupcakes

¼

cup

hot coffee

1

ounce

semi sweet chocolate

1

tablespoon

2 ½ teaspoon cocoa powder

¼

cup

granulated sugar

2

tablespoons

2 teaspoons canola oil

1

large egg

¼

teaspoon

vanilla extract

¼

cup

all-purpose flour

¼

teaspoon

baking soda

¼

teaspoon

salt

Nutella Frosting

4 ½

tablespoons

unsalted butter

9

tablespoons

powdered sugar

3 ½

tablespoons

Nutella

pinch

of salt

1 - 2

teaspoons

heavy cream

Raspberry Whipped Cream

4

raspberries

⅓

cup

heavy cream

small pinch of salt

Toppings

optional

chocolate sauce

fresh raspberries
Instructions
Preheat the oven to 350 degrees F. Line four wells in a cupcake tin with cupcake liners. 

Heat the coffee until it is hot, but not boiling.

Add the chocolate, cocoa powder, sugar, and oil. Stir until well mixed and the chocolate has melted. Allow to cool to room temperature. Beat in the egg, then the vanilla. 

Mix in the flour, baking soda, and salt until just combined. 

Fill the cupcake liners ⅔ full. Bake for about 16 - 18 minutes, or until a toothpick comes out clean. Remove and allow to cool to room temperature. 

Make the frosting. Beat the butter and the powdered sugar together until well combined. Stir in the Nutella frosting and mix until it is fully combined. Stir in the salt and mix well. Stir in the heavy cream one teaspoon at a time until it is your preferred consistency. 

Make the raspberry whipped cream. Mash the raspberries and stir into the heavy cream. Beat until it reach stiff peaks. (I tossed everything into a mason jar and shook). 

Top the cupcakes with the Nutella frosting, then with the raspberry whipped cream. 

 Optionally top the cupcakes with chocolate sauce and raspberries
Tried this recipe?
Tag me on Instagram! @acookienameddesire #acookienameddesire