These chocolate chip cupcakes with strawberry whipped cream frosting are light, easy to make, and kid friendly! A perfect refreshing treat that will leave you wanting one more (or two or three)!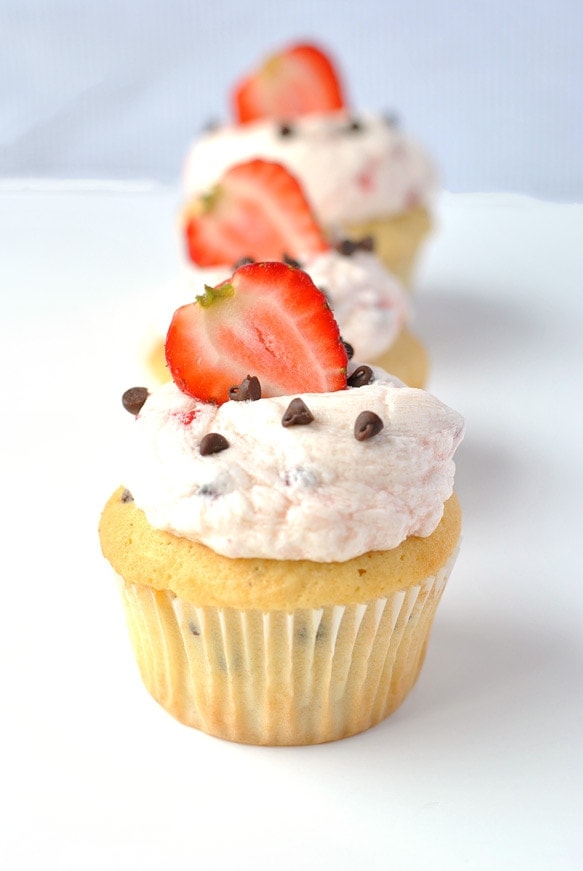 My little baby is turning 3 today. I can't believe it. In fact, I was in such denial about this, that I almost forgot to make these cupcakes. Almost. I ran around yesterday after work looking for strawberries because I "accidentally" ate all the strawberries the day before. I also stayed up until the crack of dawn 12am to edit the photos. Oh, and I also decided to skip work today so I can spend time with my not-so-little girl, and realised I will need to make MORE cupcakes Sunday night so I can give them out at her daycare.
Oh, and I got a new camera lens, but more on that another time.
Back to my Natushka being way too old to be my baby anymore, even though she is always going to be an itty bitty newborn in my eyes. Here is a list of things she can do now that she could not do last year:
Put on her undies without my help
Brush her teeth
Sleep through the night without a diaper with ZERO accidents
Ask why. All. The. Time.
Wave and say "hello" and "goodbye" to anyone who is not in the immediate family
Mix things up in her mini bowls to help cook (half these recipes on the blog she's actually helped me make)
Tell a cohesive story (with some sign/body language to fill in the words she still does not know)
Bring the kitchen chair to whatever she can't reach to climb up and get it herself (and give me a heart attack)
There is so much more, but I am sure you are getting bored of my list and I am getting a little too teary-eyed. Just one last thing. Here is a picture of her just moments after being born. She was the roundest, cutest little thing at 21 ½ inches and 8.6lbs and lungs strong enough to make sure you could hear her crying 4 blocks away. (Really - we tested this). I love my little baby girl more than words can say.
I made these cupcakes for her because she loves cupcakes, chocolate, and berries. What could be better than combining all three in a simple delicious recipe. The cupcakes are light, sweet, and innocent, just like my little girl. And the frosting. Oh, the frosting. This is the best frosting I've ever had in my entire life. It truly is. The whipped cream, the fresh strawberries, and the mini chocolate chips. Words cannot describe the deliciousness. Just combine every happy moment you've ever had in your life into one. That is what it is like to taste this frosting. I suggest tripling the frosting recipe so you can have some on stash to put on everything you eat.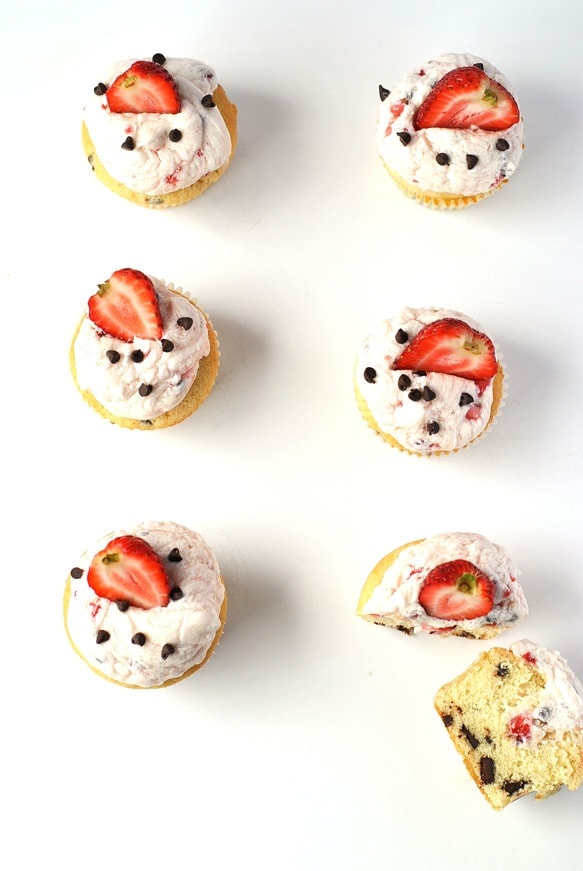 It is important to not use too many chocolate chips. Sacrilege, I know, but you really want a nice balance of cake, cream, chocolate, and strawberries. So you really need to show some restraint here. I actually prefer to use a mix of mini chocolate chips and regular chopped chocolate for a nice mix. 

Don't have time to make these fluffy, yummy cupcakes now? Pin it for later!
Recipe Card
Chocolate Chip Cupcakes with Strawberry Filling
Chocolate chip cupcakes with strawberry whipped cream frosting recipe. This light and nearly-perfect cupcake is all you will ever want. Kid-approved!
Ingredients
1 ½

cups

188 g all-purpose flour

1 ½

teaspoon

baking powder

½

teaspoon

salt

½

cup

58 g unsalted butter, room temperature

¾

cup

150 g granulated sugar

1 ½

teaspoon

vanilla extract

3

large eggs

room temperature

½

cup

125 mL buttermilk, room temperature

¼

cup

45 g mini chocolate chips

2

tablespoons

roughly chopped dark chocolate
Strawberry Chocolate Chip Whipped Cream Frosting
¾

cup

173 g unsalted butter

4

cups

480 g powdered sugar

⅓

cup

80 mL plus 2 tablespoons whipping cream

4

large strawberries

finely chopped

¼

cup

45 g mini chocolate chips
Instructions
Preheat the oven to 350 degrees F and line a cupcake pan with liners.

Sift the flour, baking powder and salt together in a medium bowl. Set aside.

Cream the butter and sugar until light and fluffy. Add the vanilla extract.

Add the eggs one at a time, mixing well in between each addition.

Add the flour and the

buttermilk

, alternating between each. Start and end with the flour. Do not over mix.

Fold in the chocolate chips.

Fill the cupcake liners ⅔ of the way through and bake for 15 - 18 minutes, or until a light golden brown.
Frosting
Whip the whipping cream until soft peaks form. Set aside.

Cream the butter until smooth and light in color. Slowly add the powdered sugar.

Fold in the whipped cream.

Fold in the strawberries and chocolate chips.

Use a melon baller to gut out the center of the cupcakes and fill with frosting (optional) before frosting the tops.
Tried this recipe?
Tag me on Instagram! @acookienameddesire #acookienameddesire