Soft, chewy chocolate chip cookies with a delicious twist! These strawberry chocolate chip cookies take the best of your favorite cookie and infuses them with a delightful chocolate-covered strawberry taste! This is a sponsored collaboration with Domino® Sugar.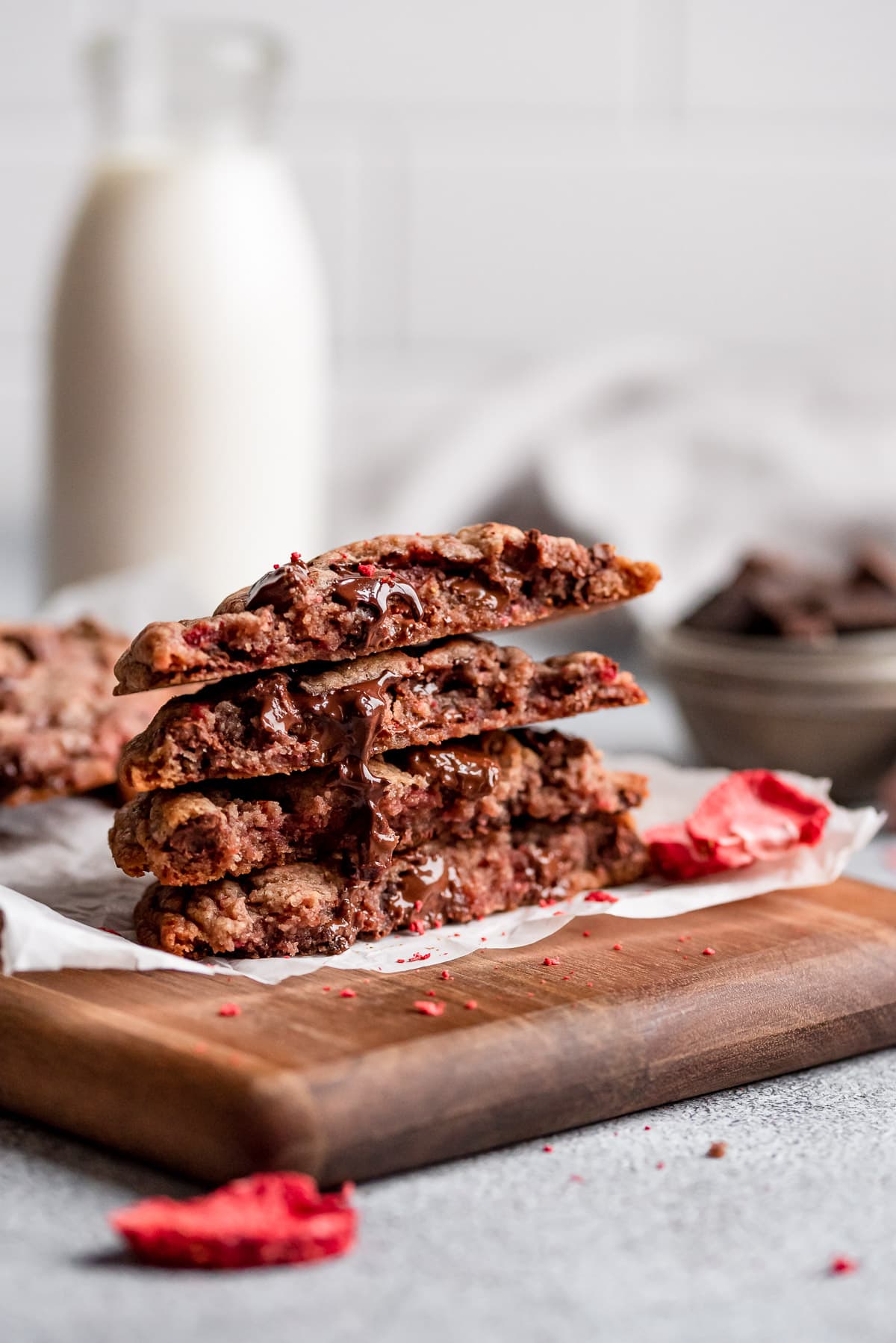 Why they work
There is nothing better than a soft chocolate chip cookie with crisp, buttery edges. And that is exactly what we have here with this cook.
We also have the bonus of having fresh strawberry flavor infused throughout the cookie. Once it's paired with the chocolate, it is exactly like a chocolate-covered strawberry cookie which is perfect for Valentine's Day.
By using freeze-dried strawberries, we don't mess with the overall composition of the cookie as much if we were to use fresh strawberries. But since the berries are freeze-dried at their most ripe and the process concentrates their flavor, we get a cookie that tastes exactly like a fresh berry.
The strawberries also give the cookies a really nice subtle pink color thanks to the flakes of freeze-dried strawberry in the dough. It isn't too over the top and it mostly shows up as streaks of pink, but it is so nice.
You can make the dough ahead of time - and I even encourage it. The longer the dough rests, the stronger the strawberry permeates throughout the cookie dough. Basically, the cookie dough gets better with age.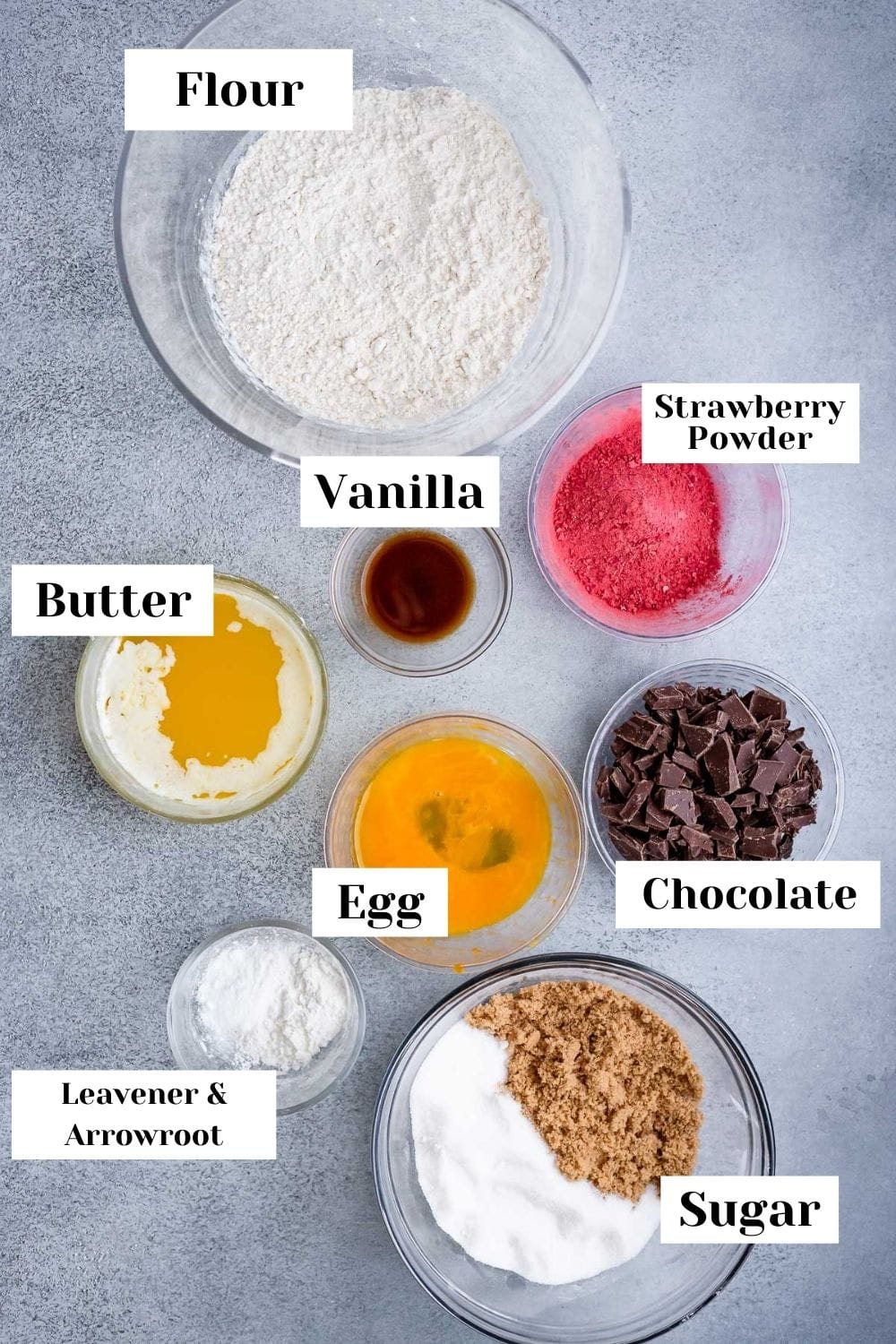 Ingredients
These ingredients are very similar to my favorite chocolate chip cookies, with just a few adjustments.
Flour - Use all-purpose flour for the best results. I wouldn't use cake flour as the addition of the arrowroot starch makes the cookies take on a similar texture that cake flour would give, but with a bit more sturdiness. Bread flour would weigh down the cookies too much and with the strawberries, make them dense and tough. 
Cornstarch - This is my secret ingredient to soft cookies that stay soft. You can find it in most of your grocery stores - usually in the gluten-free or baking aisles. 
Baking soda - This gives our strawberry chocolate chip cookies rise and a nice puffiness 
Salt - I like to use sea salt for the best results. It enhances the flavors in the cookie and really helps the strawberry flavor pop! 
Freeze-dried strawberries - Freeze-dried strawberries are completely compacted with flavor and go a long way into infusing the cookies with a deep fresh strawberry flavor and a delicate pink color. 
Butter - You should always use unsalted butter in your baking, and this is no exception. My favorite part about this recipe is that we use melted butter, so no need to worry about remembering to take the butter out to soften. 
Sugar - We use a combination of Domino® Golden Sugar and Domino® Light Brown Sugar. I love their sugar because it is so high quality and gives the cookies the perfect texture. The Golden Sugar is less processed than your typical granulated sugar and therefore has a mouthwatering subtle note of molasses. It works cup for cup like granulated sugar, so you can easily use it in all your favorite bakes. The light brown sugar helps deepen that molasses flavor, adds a note of caramel,  and makes the cookies nice and chewy. 
Eggs - Use large eggs. We only need one egg, plus one egg yolk. The extra yolk adds more richness to the cookies, plus more moisture which is needed with the addition of the strawberries. 
Vanilla - I like to add vanilla to bring a touch of strawberries and cream to the cookies. It also rounds out all the flavors and adds depth.
Chocolate - The chocolate adds so much delicious decadence to the cookies. I usually like to use dark chocolate, but I've found it is too much when paired with the strawberries. Instead, I recommend a mix of semi-sweet and milk chocolate - or just one of them. We also use less chocolate than normal. A little goes a long way here.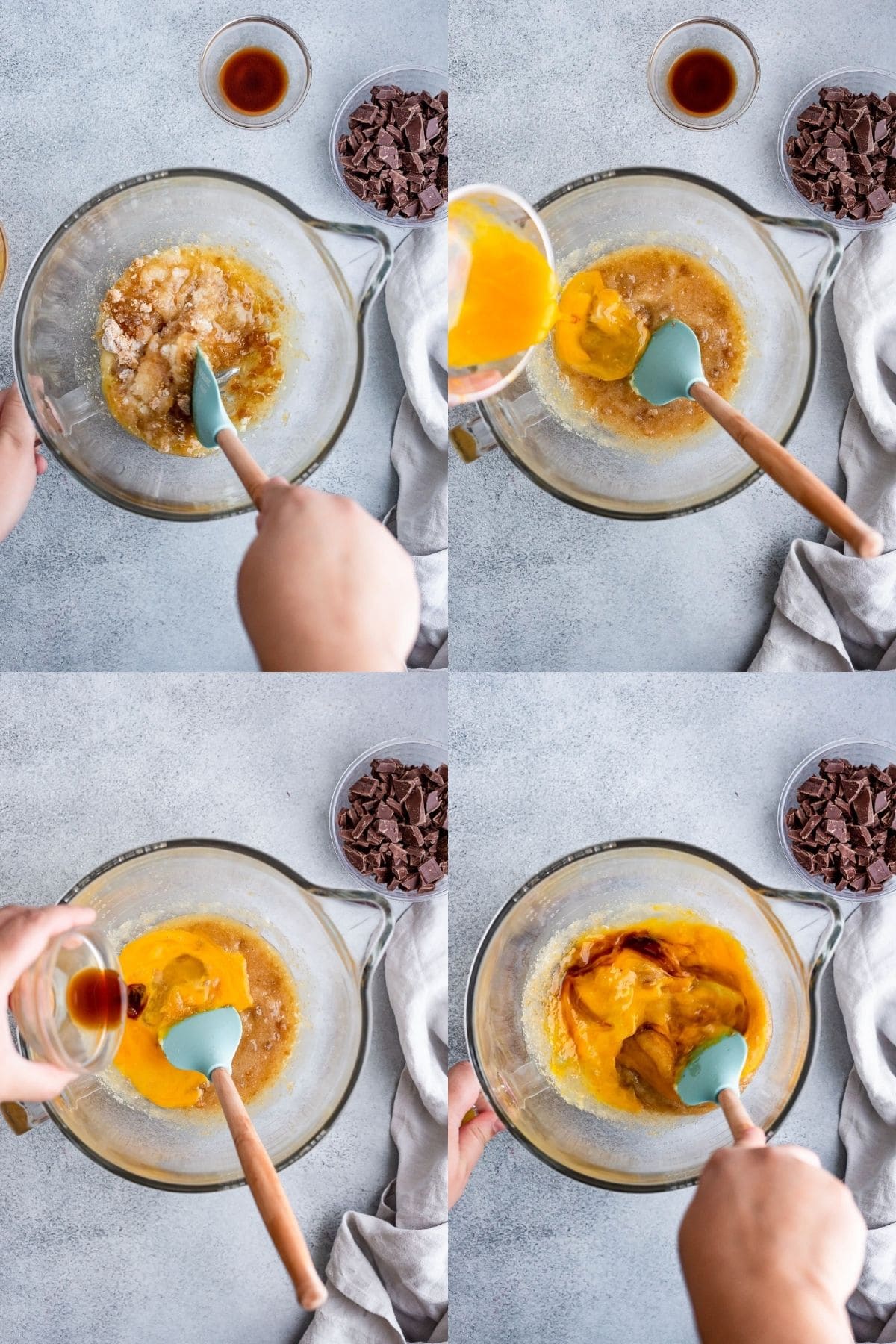 Method
What I love about these strawberry chocolate chip cookies is that you don't have to use a mixer. I tend to use my mixer because that is what I instinctively reach for when baking, but you don't have to! It mixes perfectly by hand.
The first step is to make powdered strawberry. All we need to do is crush your freeze-dried strawberries until they resemble a fine powder. You can do this in any number of ways, but my preference is the food processor. I always like to make a bit extra because it allows us to be able to add more if we want to have a ton of extra flavor. It can also be used for decorating the cookies.
Now, we need to melt the butter. I usually do this in the microwave because it's faster. My trick is to cube the butter and then microwave it to speed up the process even more.
Take the butter and add the Domino® sugars and vanilla to it. Their sugar incorporates beautifully with the melted butter which is why I absolutely love it for getting the light and fluffy texture we are looking for once we start beating them together.
Add in the egg and beat until it lightens. It may take a few minutes and it shouldn't be dramatically lighter in color, so don't worry if it doesn't lighten up a ton.
At this point, we need to take all the dry ingredients: the flour, leavening, salt, and strawberry powder and mix them together until they are fully combined. Super simple.
Add the flour mix into the butter and stir just until it is mixed in. You can do this by hand or with your mixer. I like to do it by hand when I can, but the mixer is definitely easier.
Fold in the chocolate, but save some for the tops of your cookies. Trust me on this, it is how we get them to look absolutely mouthwatering.
Cover the cookie dough and chill for at least 30 minutes, but the longer, the better. It gives the flavors a chance to really intermingle. Go ahead and preheat the oven as soon as you are ready to bake. Once you've done that, portion out the cookie dough and top them with the extra chocolate we saved.
Bake the cookies up and enjoy!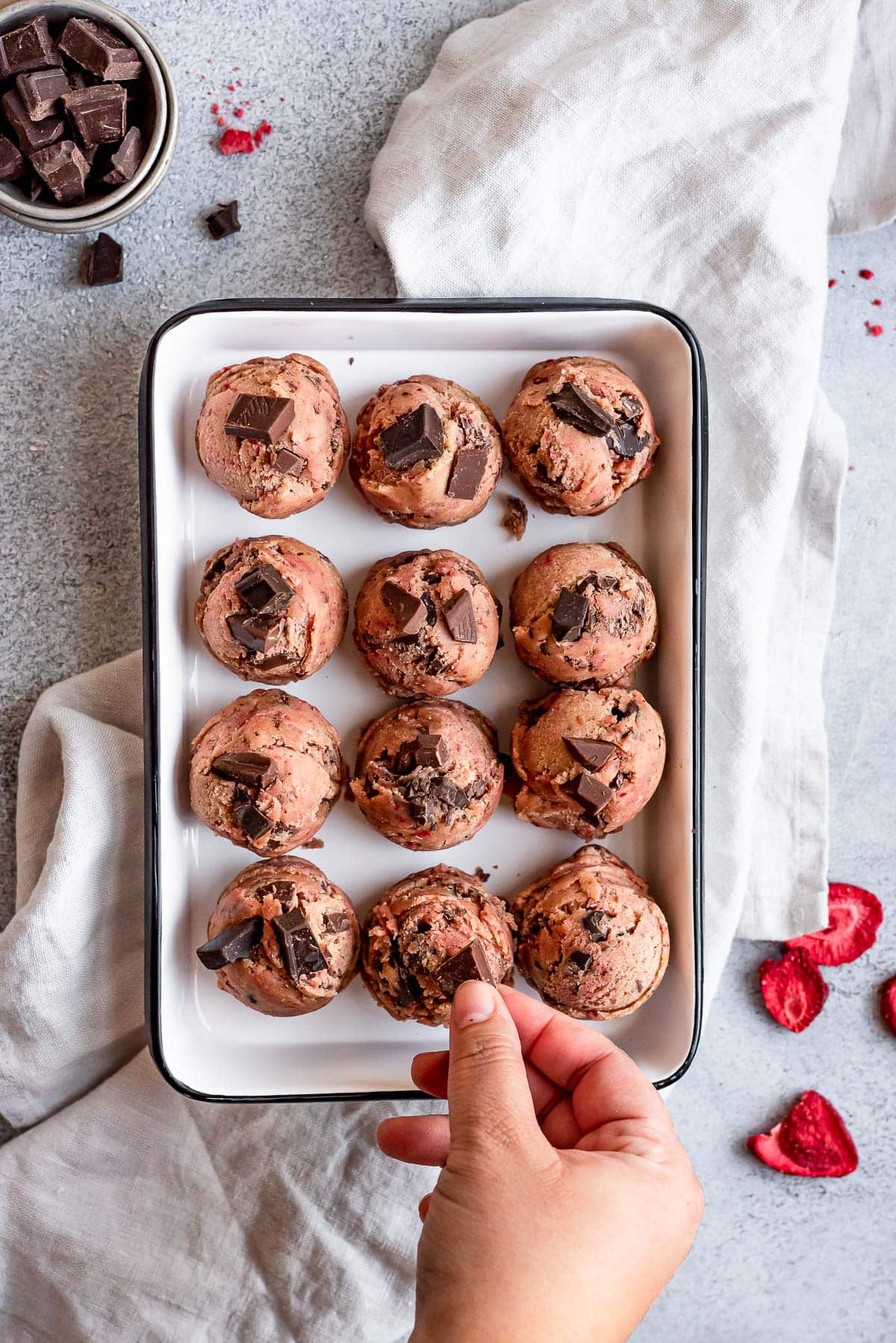 Tips
Don't skip the arrowroot starch if possible. It helps keep the cookies nice and soft and thick.
Make sure the egg and yolk are room temperature. It helps to keep the eggs (still in their shell) in a bowl of very warm water. It will bring up the temperature of the eggs to room temperature within a couple of minutes.
Don't heat the butter until it becomes brown butter. Normally, brown butter in cookies is delicious, but the flavor of the brown butter would overwhelm the strawberries here. This is why I recommend melting the butter in the microwave.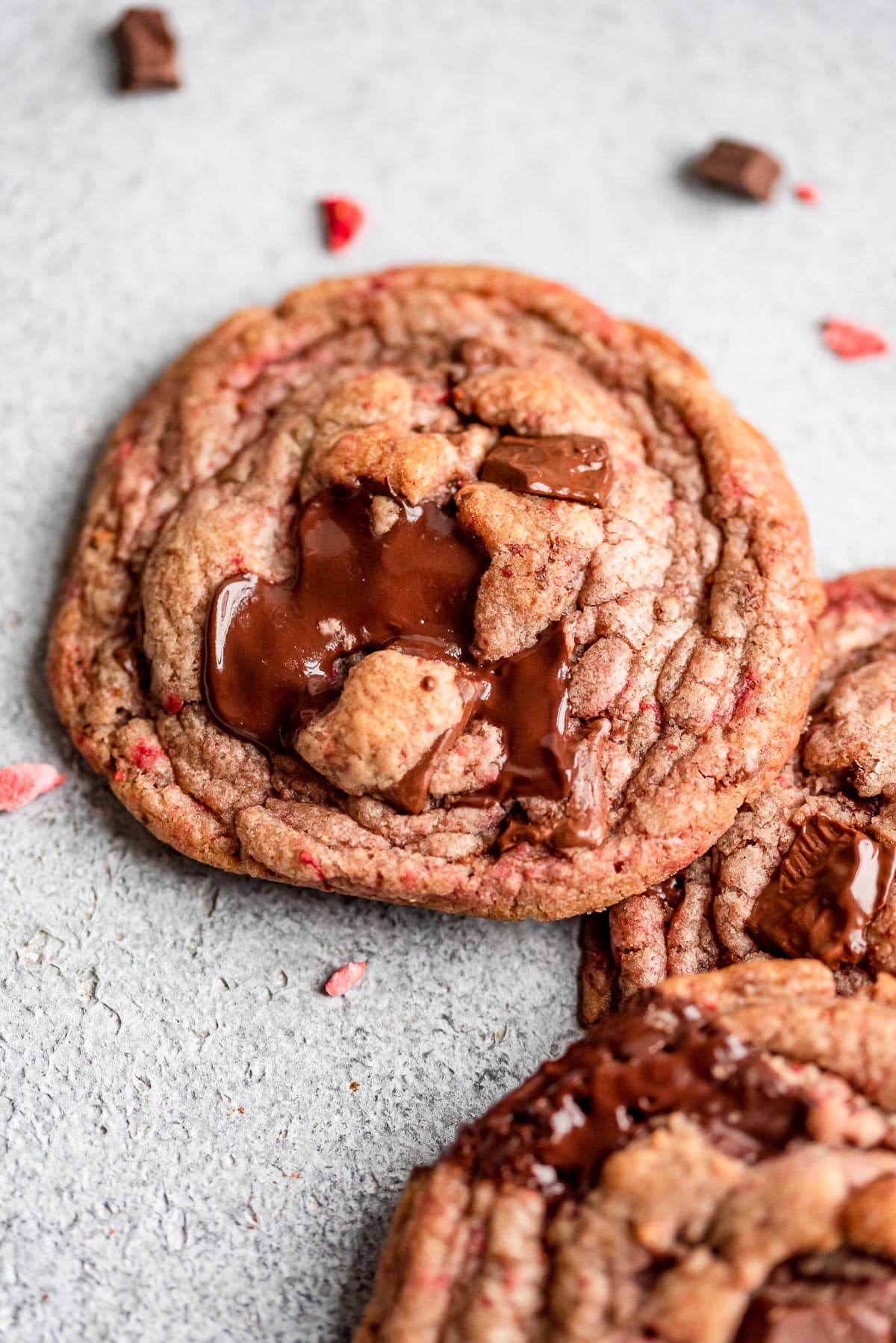 Fluff your flour before measuring it, and then use a spoon to fill your measuring cup - or use weight measurements. This helps to ensure that you aren't adding too much flour to your cookies which would make them thick, dense blobs.
Use Domino® Sugar! If you want the best cookies, you need the best ingredients, starting with the sugar.
The strawberry chocolate chip cookies will be slightly underbaked when you take them out. That is how we keep them soft. Leave them on the hot baking sheet when you remove them from the oven. It will allow the cookies to cook a little longer and let them set enough for you to transfer them to a wire rack.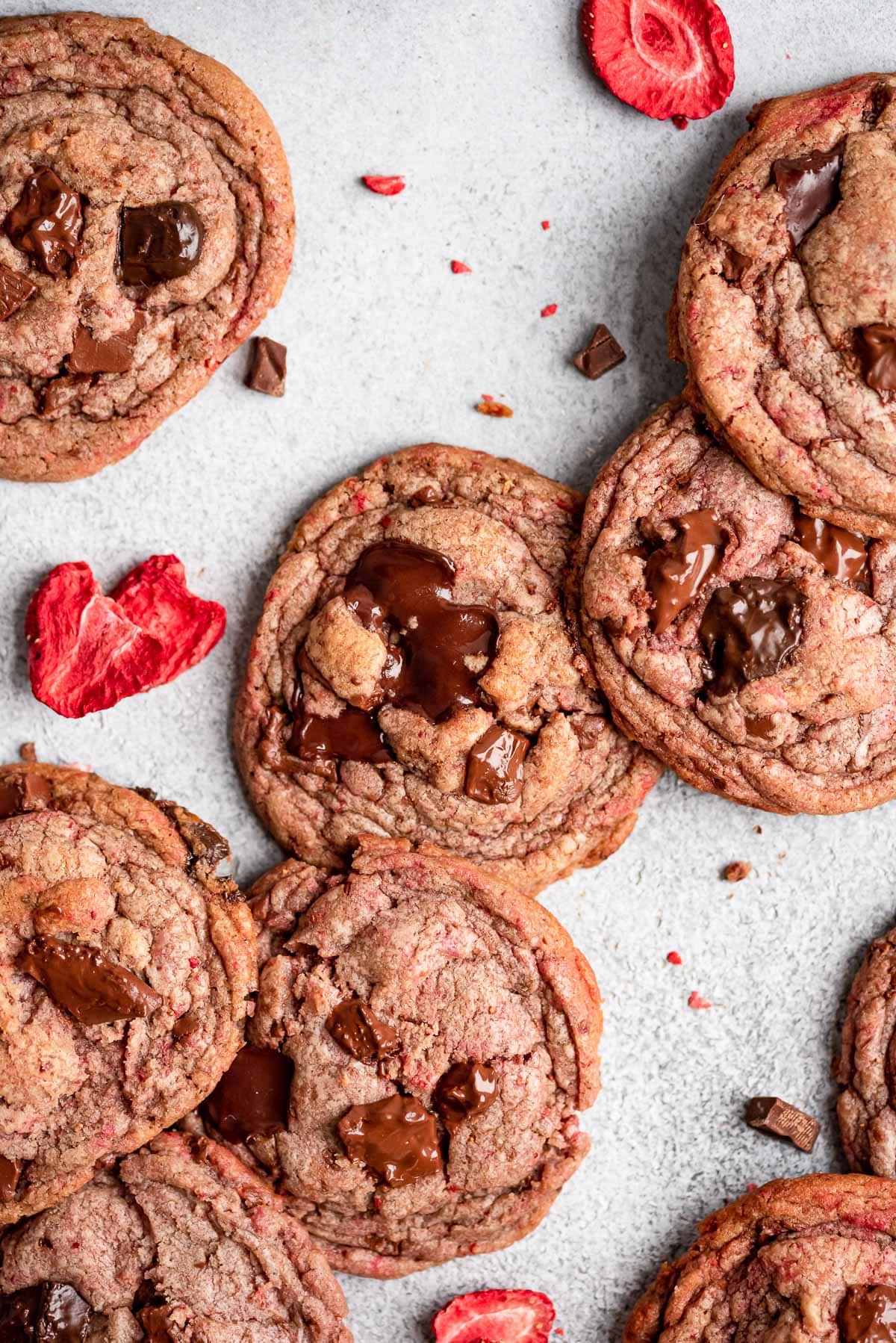 F.A.Q.s
My cookies are too puffy, what happened?
I find the culprit for puffy cookies that don't flatten as the cool is too much flour. It is important that the flour is carefully measured because of the strawberry powder. Freeze-dried strawberries want to hydrate when introduced to liquid, so they are absorbing a lot of the liquid. Any excess flour will end up binding and holding the cookies together and not allowing them to spread properly.
Can I use fresh or dried strawberries instead?
Unfortunately, the amount of fresh strawberries you'd need to flavor the cookies would add too much liquid and make the cookies cakey.

Dried strawberries are different from freeze-dried strawberries and are closer to dried cranberries. It will give a jammy strawberry flavor when you bite into it, but will not permeate the cookies with a fresh strawberry flavor.

You can find freeze-dried strawberries in most grocery stores.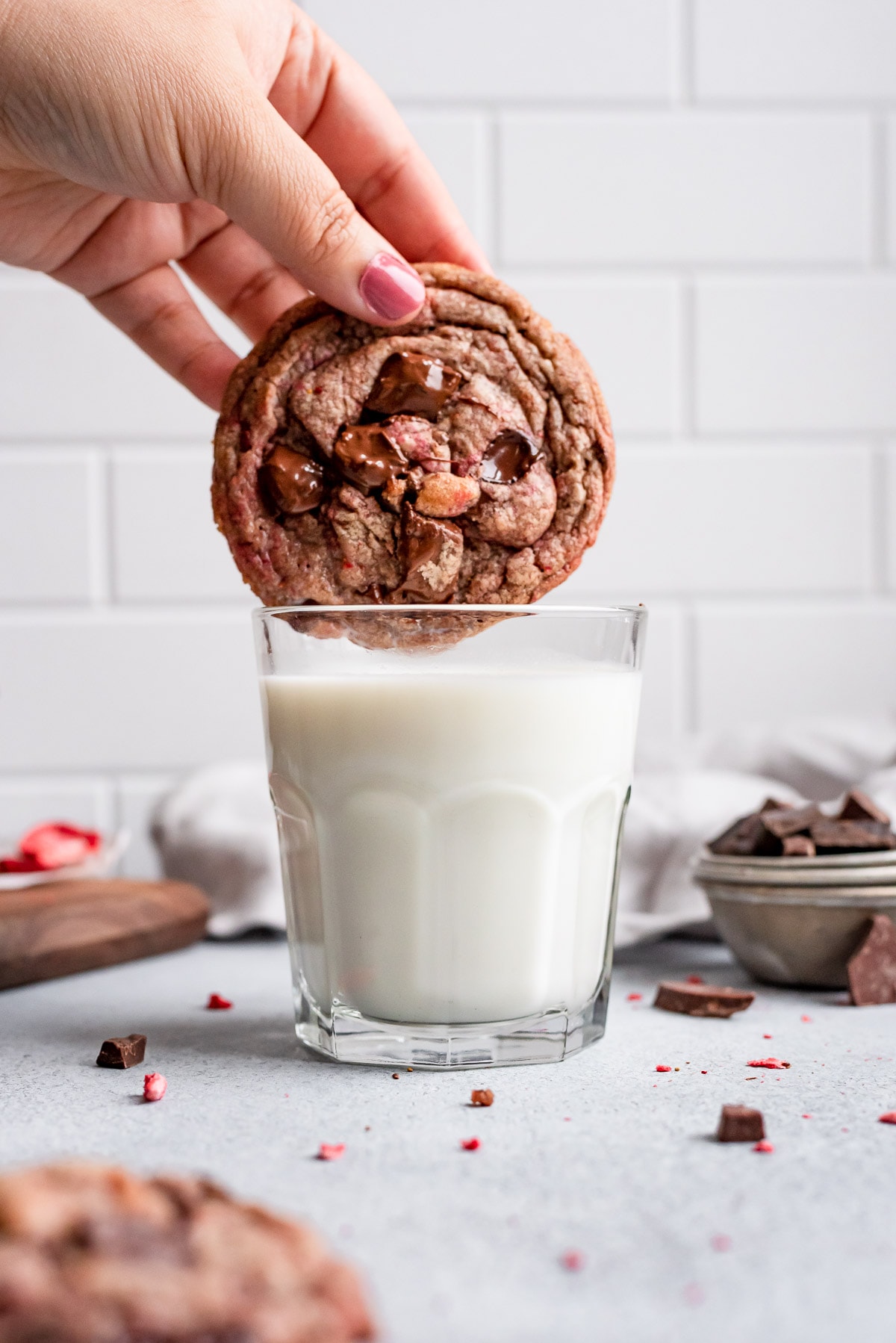 Recipe Card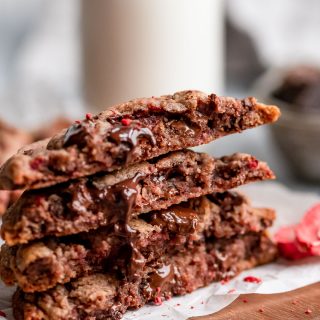 Strawberry Chocolate Chip Cookies
A soft, chewy chocolate chip cookie infused with strawberry flavor. It tastes like a chocolate-covered strawberry in cookie form! Freeze-dried strawberries give this cookie an irresistible natural strawberry flavor and a subtle pink hue.
Ingredients
½

cup

powdered freeze-dried strawberries

2 ¼

cup

all-purpose flour

½

tablespoon

cornstarch

1

teaspoon

baking soda

½

teaspoon

sea salt

14

tablespoons

unsalted butter

melted and cooled

¾

cup

Domino® Golden Sugar

½

cup

Domino® Light Brown Sugar

1

large egg

room temperature

1

large egg yolk

room temperature

1

teaspoon

vanilla extract

¾

cup

chocolate

chips or chopped bar
Instructions
Add freeze-dried strawberries into a food processer and pulse until the strawberries are reduced to a fine powder. Measure out ½ cup. 

Mix together the all-purpose flour, baking soda, cornstarch, salt, and strawberry powder. Set aside.

Melt your unsalted butter slowly. Heat until a small amount of the butter is still solid, and stirring until it fully melts to reduce cooling time. 

Beat the butter, Domino® Golden Sugar, and Domino® Light Brown Sugar until it becomes light and fluffy - about 3 - 4 minutes. 

Add in the egg, yolk, and vanilla extract. Beat until well-incorporated - about another 2 minutes. 

Stir in the flour mixture until just combined and there are no streaks of flour. 

Fold in the chocolate. If you are using whole chocolate bars, roughly chop them. 

Chill the dough for at least one hour, or up to a day. 

Preheat the oven to 350°F. 

Line two baking sheets with silicone baking mats. Portion out the dough into balls roughly 1 ½ tablespoons big. 

Bake the cookies one sheet at a time for 12 - 14 minutes. Allow the cookies to cool on the baking sheet for another 5 minutes. Transfer to a wire rack to cool completely. 
Notes
The longer the cookies chill, the better they will taste as the strawberry flavor has more time to infuse into the other ingredients. 
Use chopped chocolate over chocolate chips to create delicious pools of chocolate in the cookies when you bite into them. 
It is important to let the cookies rest on the baking sheet before transferring them otherwise they may fall apart when transferring them. 
For added strawberry chocolate flavor, drizzle the cookies with more chocolate and sprinkle with crushed freeze-dried strawberries.
You can also find the recipe here
Nutrition
Serving:
1
g
Calories:
222
kcal
Carbohydrates:
29
g
Protein:
3
g
Fat:
11
g
Saturated Fat:
6
g
Polyunsaturated Fat:
4
g
Cholesterol:
50
mg
Sodium:
133
mg
Fiber:
1
g
Sugar:
17
g
Tried this recipe?
Tag me on Instagram! @acookienameddesire #acookienameddesire