Decadently sweet raspberry chocolate coffee cake with pockets of cinnamon, chocolate, and raspberry drizzled in chocolate ganache. From the F*ck That's Delicious cookbook.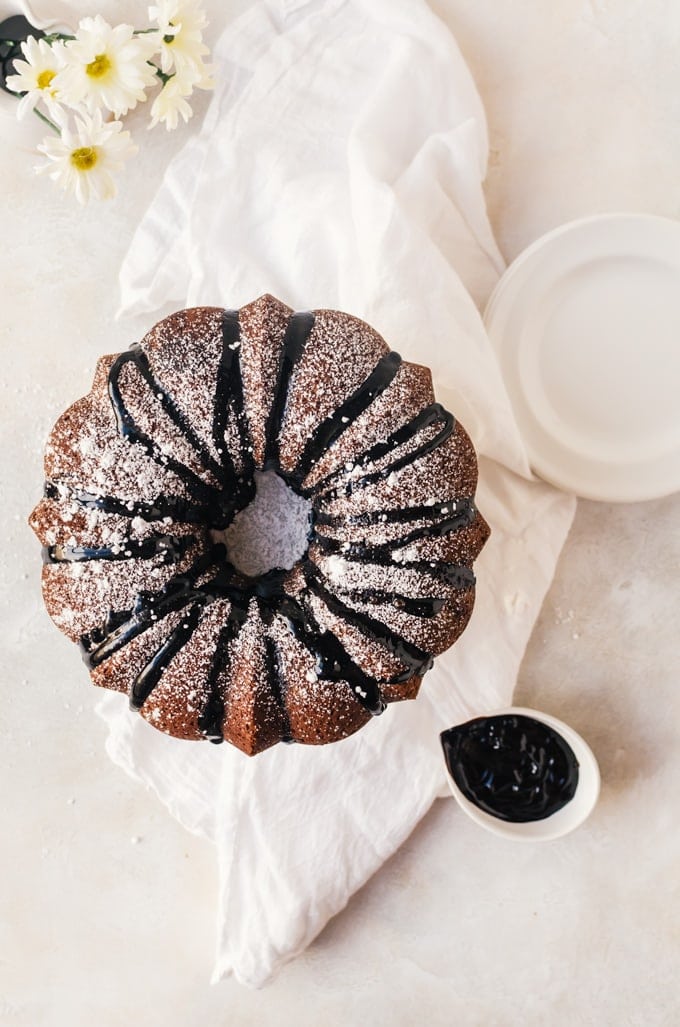 One of my dreams is to travel around and eat all the best food. I want to experience as many different cuisines with as many people as possible. So when Action Bronson created a cookbook around all the amazing food he's had in his travels and included recipes for many of them, I was so excited to take a look inside. It's more than just a book of recipes. It's a guide to how to eat all the best stuff, no matter where you are in the country, with a couple of incredible recipes to go with them for people like me who can't do all that traveling.
A lot of the recipes are also ones he grew up with. The starting recipes that made him fall in love with good food. One of the recipes was this raspberry chocolate coffee cake (also known as GoGo's Coffee Cake". It had everything I love in it. Cinnamon, chocolate, raspberry jam, tons of chocolate ganache, and a healthy dose of powdered sugar. I had to try it.
The raspberry chocolate coffee cake is sweet, but not too sweet. Buttery, with an amazing texture. I found myself saving that sweet pocket of raspberry jam last because that was my favorite part, and I'd have it with just a bit more of the chocolate ganache. I loved the way they added the raspberry jam, which isn't something I've seen many people do. You take the cake out near the beginning of the baking period and then dollop in the jam. The jam sinks in a bit while baking which suspends it in the cake, while also ensuring you don't end up with the hump in your coffee cake which often happens when you are baking in a Bundt pan.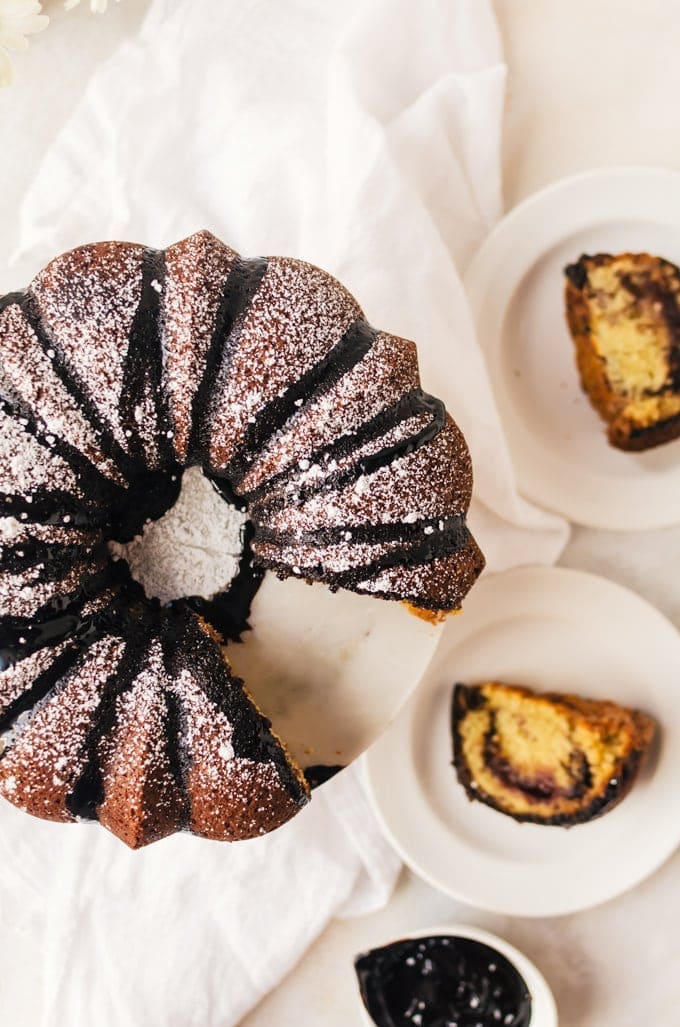 I can see myself making this raspberry chocolate coffee cake several times over for my family. It's so easy to whip up that I could easily have my daughter help me with the baking. If there ever was a cake that should be a go-to, this one is it. Just don't forget to use the right preserves.
Recipe Card
Raspberry Chocolate Coffee Cake
A raspberry chocolate coffee cake that will have you savoring every bite. 
Ingredients
1

cup

2 sticks unsalted butter, room temperature

1 ¼

cups

granulated sugar

2

teaspoons

baking powder

½

teaspoon

baking soda

3

large eggs

room temperature

1 ½

teaspoons

vanilla extract

2 ¼

cups

all-purpose flour

1

cup

sour cream

I used plain nonfat yogurt, room temperature

¼

cup

cane sugar

2

tablespoons

ground cinnamon

6

tablespoons

chocolate chips

½

cup

Bonne Maman raspberry preserves

½

cup

ganache

recipe follows

1

tablespoons

powdered sugar
Instructions
Preheat the oven to 350 degrees F. Grease and flour a 10 - 12 cup Bundt pan. Set aside.

In a stand mixer, Beat the butter and sugar together until light and fluffy. Beat in the baking powder and baking soda, then beat in the eggs one at a time along with the vanilla extract. Beat for another minute longer.

Add ⅓ of the flour to the butter mixture and mix just until there are no streaks. Add ½ of the sour cream and mix until just combined. Add another ⅓ of the flour and the remaining sour cream in the same manner as before. Add the final ⅓ of the flour and mix until just combined.

In a small bowl, mix together the cane sugar and cinnamon.

Add ⅓ of the batter into your Bundt pan, then top with two tablespoons of the cinnamon sugar mixture, plus 2 tablespoons of the chocolate chips. Continue these layers of until all the ingredients are used up.

Place the cake in the oven and bake for 20 minutes. Remove from the oven and spread the preserves around the Bundt pan between the edge and center of the pan. Bake for another 40 minutes or until a toothpick inserted in the middles comes out clean. While the cake is baking, make the ganache (recipe follows).

Cool in the pan for 20 minutes, then turn out onto a wire rack and cool completely.

Top the cooled coffee cake with the ganache and powdered sugar.
Tried this recipe?
Tag me on Instagram! @acookienameddesire #acookienameddesire
Recipe Card
Ganache
Ingredients
2

cups

heavy cream

½

cup

granulated sugar

3

cups

semi-sweet chocolate

2

tablespoons

room temperature
Instructions
In a double boiler, add the heavy cream and heat until it simmers.

Stir in the sugar and let it come to a simmer again.

Add in the chocolate and stir until the chocolate is melted and completely smooth.

Stir in the butter until creamy.

Allow to cool before using.
Tried this recipe?
Tag me on Instagram! @acookienameddesire #acookienameddesire