Fluffy homemade chai cinnamon rolls that melt in your mouth and are packed with warm and inviting chai flavors to keep you cozy on those beautiful chilly mornings. This post has been sponsored by Fleischmann's® Yeast. All thoughts and opinions are my own.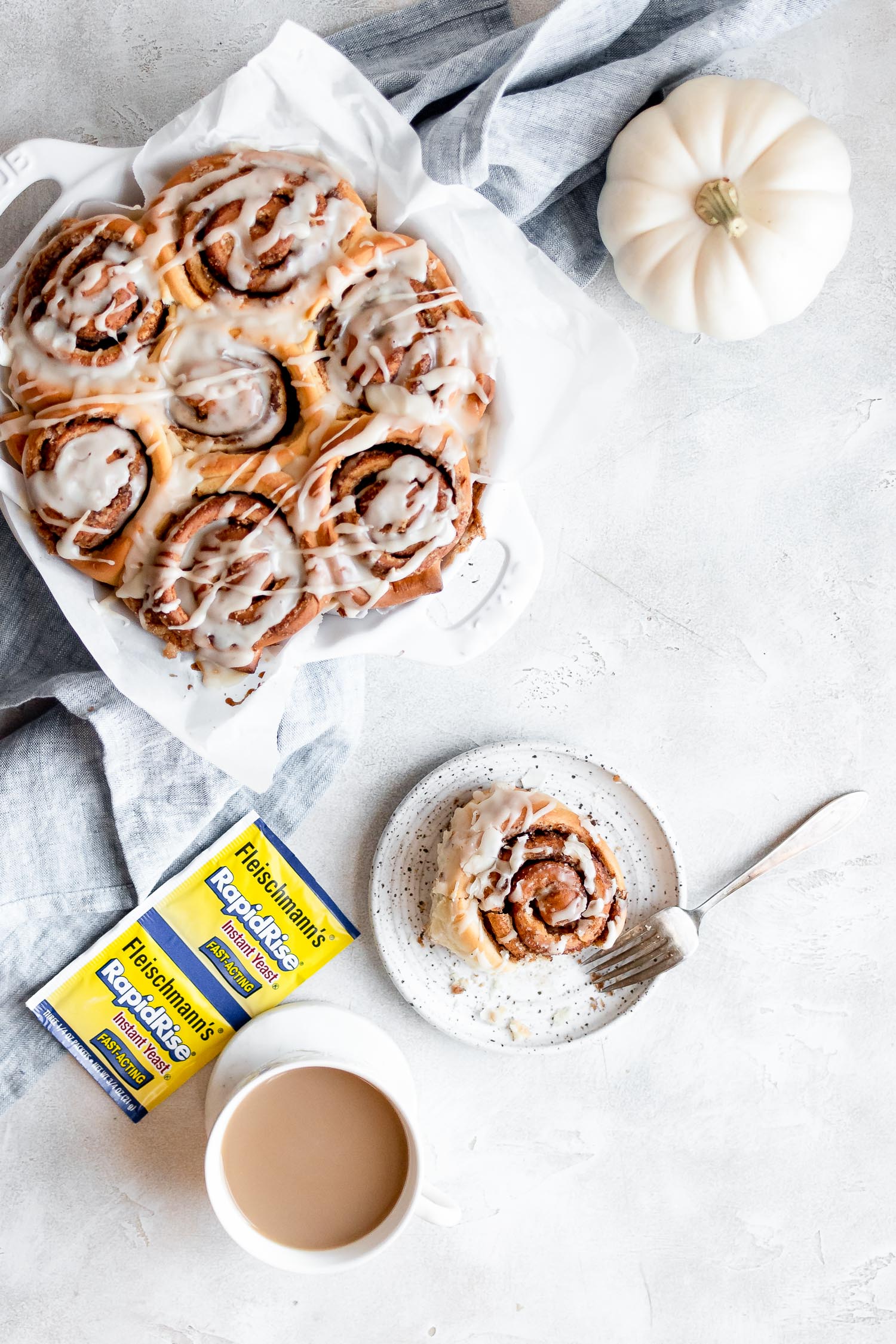 My favorite time of the year is autumn. I love the cool, crisp mornings and the changing of the leaves. It brings back some of my favorite memories as a child, and inspires me to create new memories now. I like to do this by setting little traditions I will do throughout the season like bake homemade cinnamon rolls.
Nothing is better than homemade so, taking just a little extra time on the weekend is perfect for doing just that, and with Fleischmann's® RapidRise® found at Acme, the process is that much faster.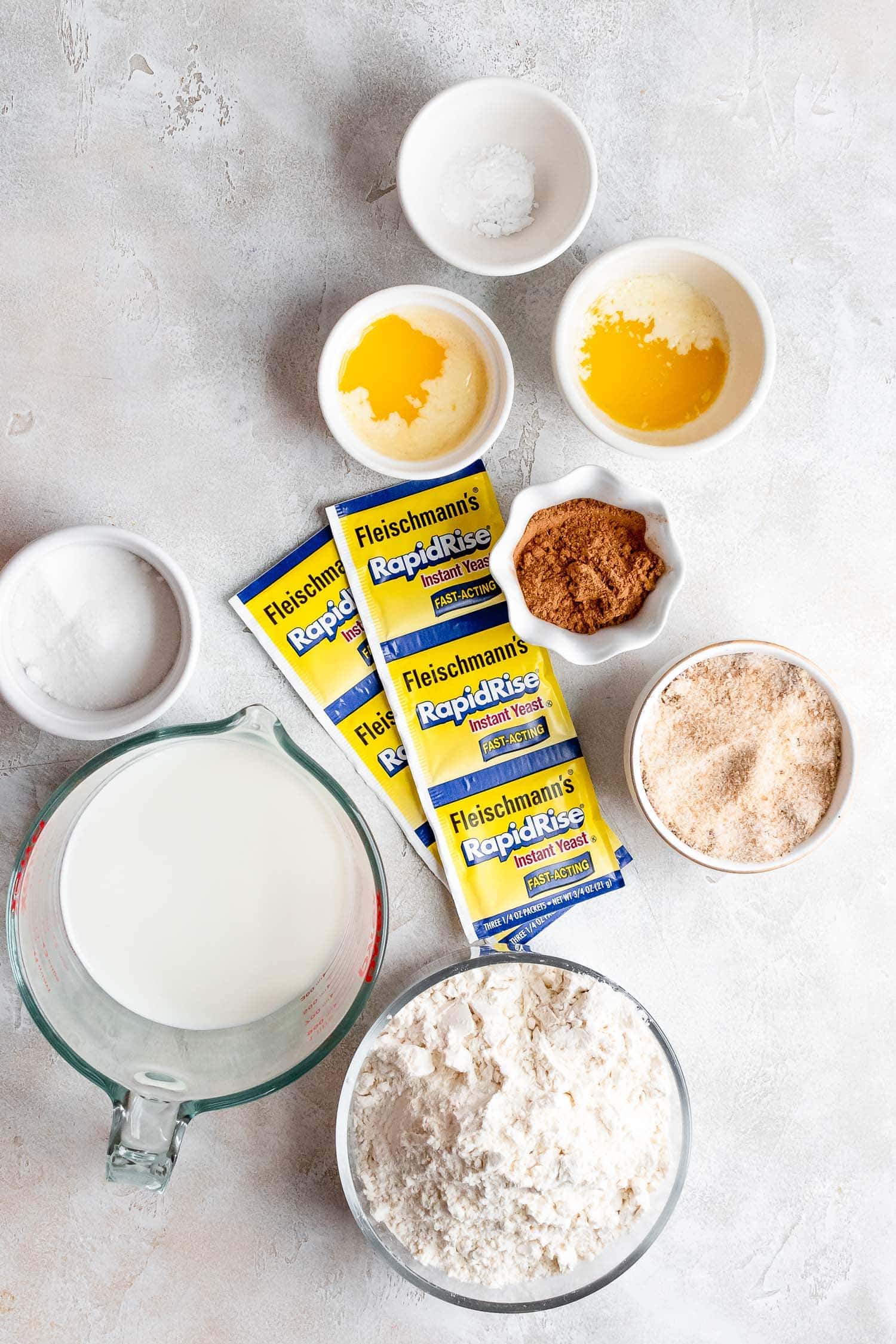 Why use RapidRise®
There are so many benefits to using Fleischmann's® Yeast in general. They have the best quality and you can always trust the results. They're the brand I reach for the most. The RapidRise® aka instant yeast, however, is particularly great.
I love to recommend it to first-time yeast users, or anyone nervous baking with yeast because it simplifies the process. No long hydration or proofing times, no need to let the dough rise twice. It cuts down the whole process of baking so you can spend more time doing other things and have fresh chai cinnamon rolls on the table sooner.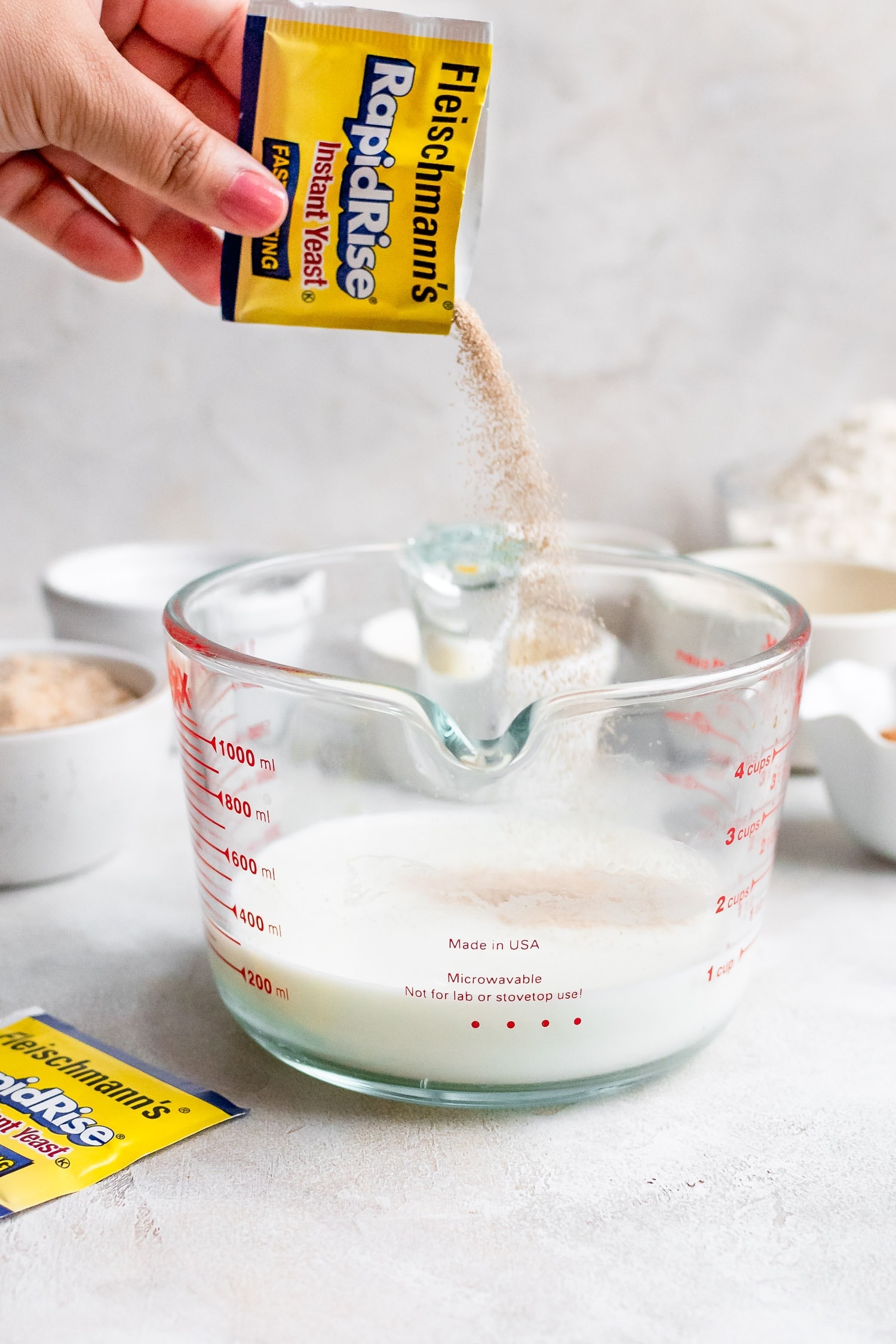 Ingredients
We only need a few key ingredients for the dough, and then a quick homemade chai spice mix and icing.
Milk - This helps to tenderize and soften the dough. I recommend using whole milk to also add richness.
Egg - The egg helps with the structure of the dough as well as add richness and more hydration.
Butter - We use butter to add richness and also help to further soften the dough.
Fleischmann's® RapidRise® - The yeast adds its own flavor to the dough and is the primary way the dough gets its rise so they are soft with a melt-in-your-mouth texture. It comes in strips of three packets and one packet is exactly enough yeast for your recipe!
Flour - Flour is the main structure of the cinnamon rolls. I recommend all-purpose flour for the right amount of protein levels and gluten formation. If you only have bread flour, however, that will also work.
Sugar - We use sugar to slightly sweeten the dough a bit.
Salt - The salt helps bring out and elevate all the great flavors in the dough while helping to control the dough rise
Once you have all the ingredients for the dough you just need a few extras for the icing and the chai spice mix.
Luckily, you can find all the ingredients at your local Acme! I love using their mobile app to find any deals on ingredients and check the weekly circular. Shopping there is great because it's always clean and the staff are so helpful. You can also find almost all the ingredients listed in their baking and dairy aisles!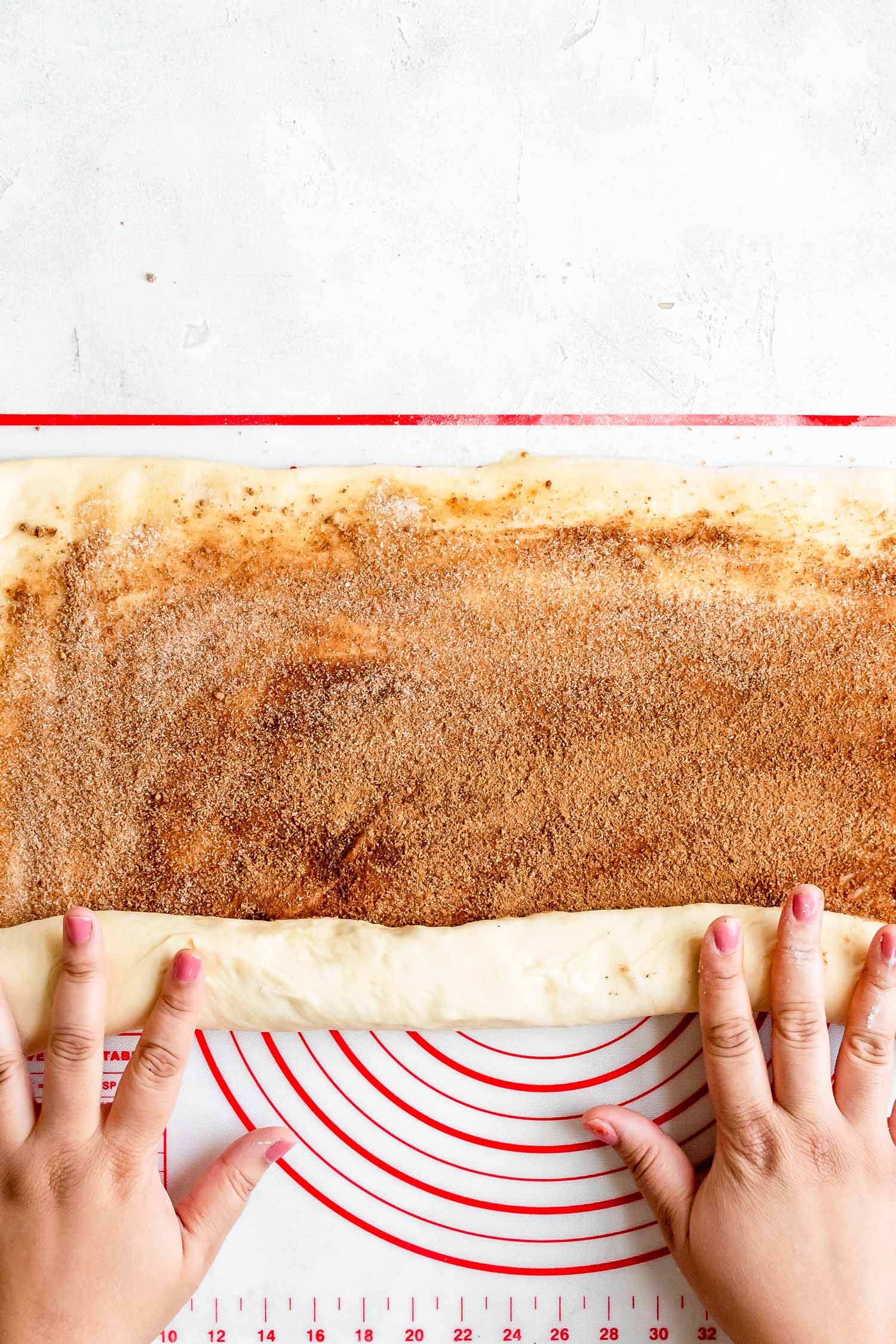 Method
Putting together these chai cinnamon rolls is so easy thanks to the RapidRise®! There is so little resting or proofing time, your rolls will be finished in no time!
Mix together your wet ingredients
Mix together the dry ingredients including the RapidRise® in a separate bowl.
Mix the wet and dry together, and then knead for about 10 minutes - I highly recommend kneading in a stand mixer with a dough hook unless you are looking for a nice arm workout!
Allow the dough to rise while covered for a little. While it is rising, heat up your oven and prep the filling!
Roll out the dough, spread the filling on it, roll, and cut! Add them to the baking pan and you are ready to bake!
No need for a second rise, just add the rolls right into the oven and bake until golden brown and your kitchen smells amazing!
Make the icing while the rolls get a chance to cool a little, then drizzle and enjoy!
That's it! Thanks to the RapidRise®, you can easily make fresh, homemade cinnamon rolls in the morning without needing to wake up so early in the morning!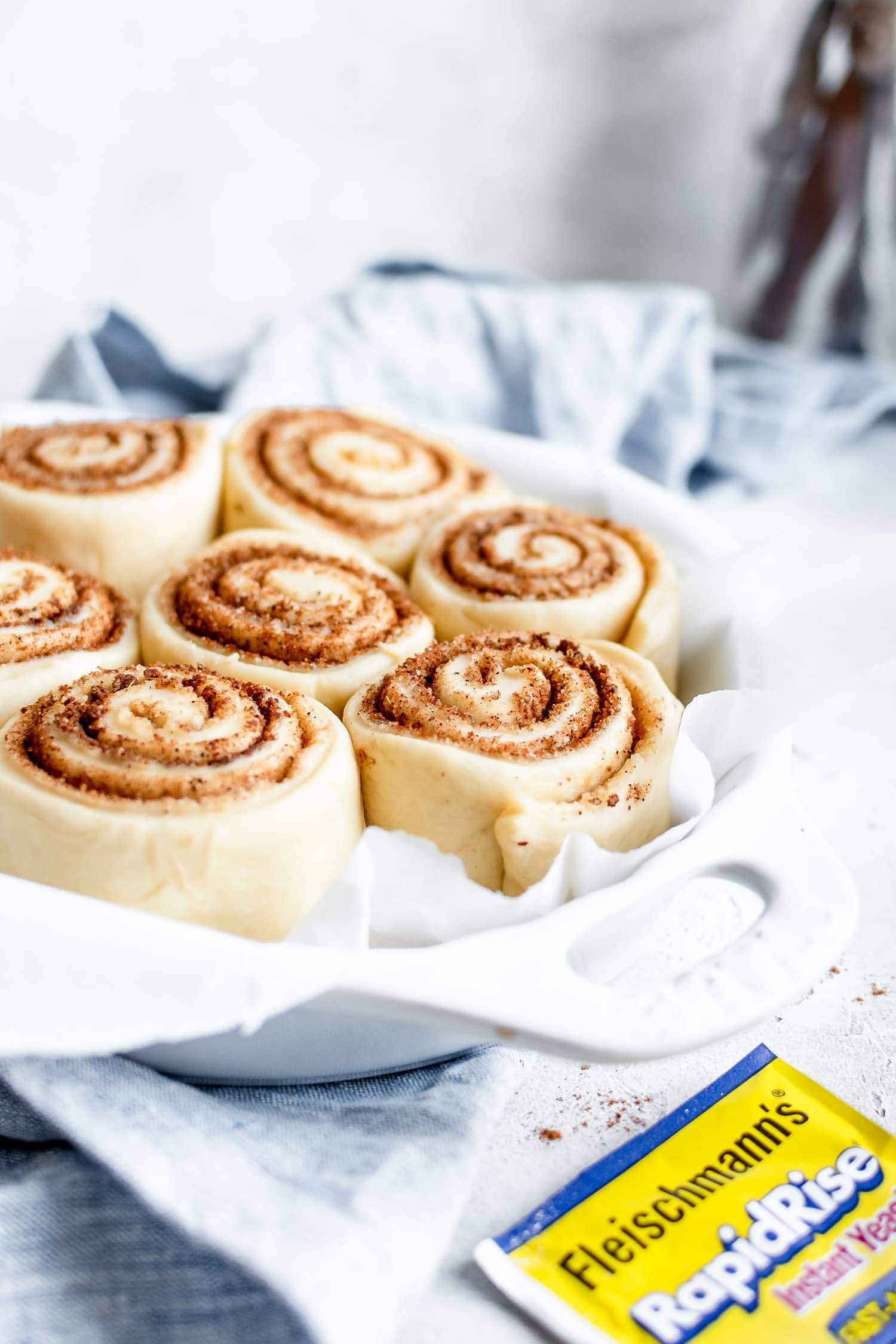 Why you'll love them
These chai cinnamon rolls are packed with flavor. Not only do we have super soft, rich dough, but the filling tastes just like a mug of chai. It has the perfect blend of ginger, cinnamon, nutmeg, cloves, and cardamom. Plus a little black pepper to bring in that spiciness of chai. (if you are adverse to spice, skip the pepper!). All the spices blend perfectly together to create the perfect cozy bite. It'll make you want to snuggle deep in your sweater with a mug of your favorite hot drink and enjoy the vibrant changing leaves outside.
The process of making the cinnamon rolls is so easy and quick, plus Fleischmann's® Yeast is so good, you know you'll have great results, so you can enjoy the ease of making these rolls and how quickly you can go from craving to eating.
They are particularly good when making cinnamon roll monkey bread.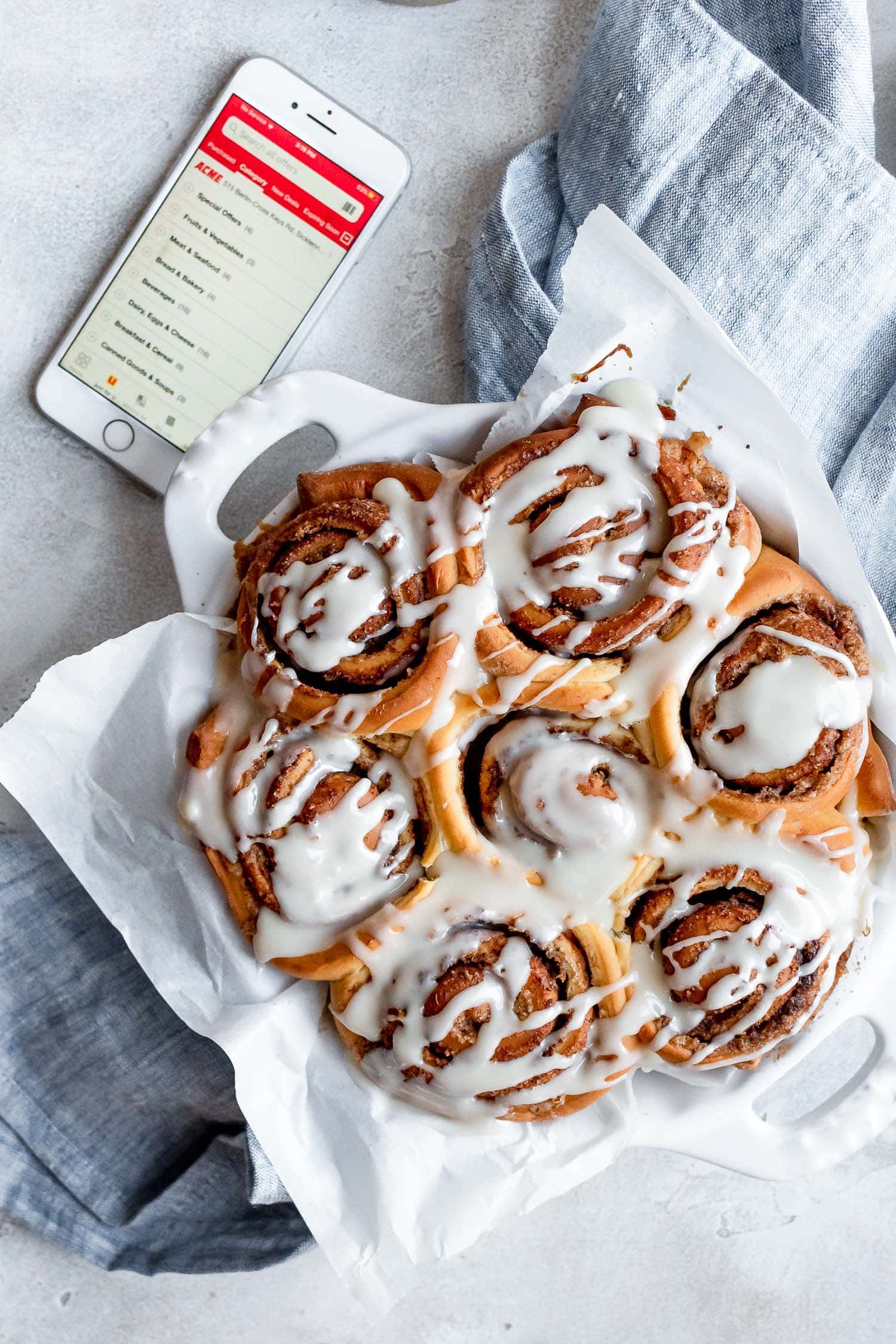 Storage and freezing
It's unlikely these chai cinnamon rolls will last long after you make them, but if you do happen to have leftovers, you can store them for later. They will keep in an airtight container for up to two days. I recommend warming them in the microwave to soften them again.
You can also freeze the finished rolls. Leave them to thaw, and warm again.
If you want to freeze unbaked cinnamon rolls, you can do that, too! Cut out your rolls, and place them on a lined baking sheet. Freeze them solid, then transfer them to an airtight container. When you are ready to bake, go from freezer to oven and add about 10 - 15 minutes to the initial baking time.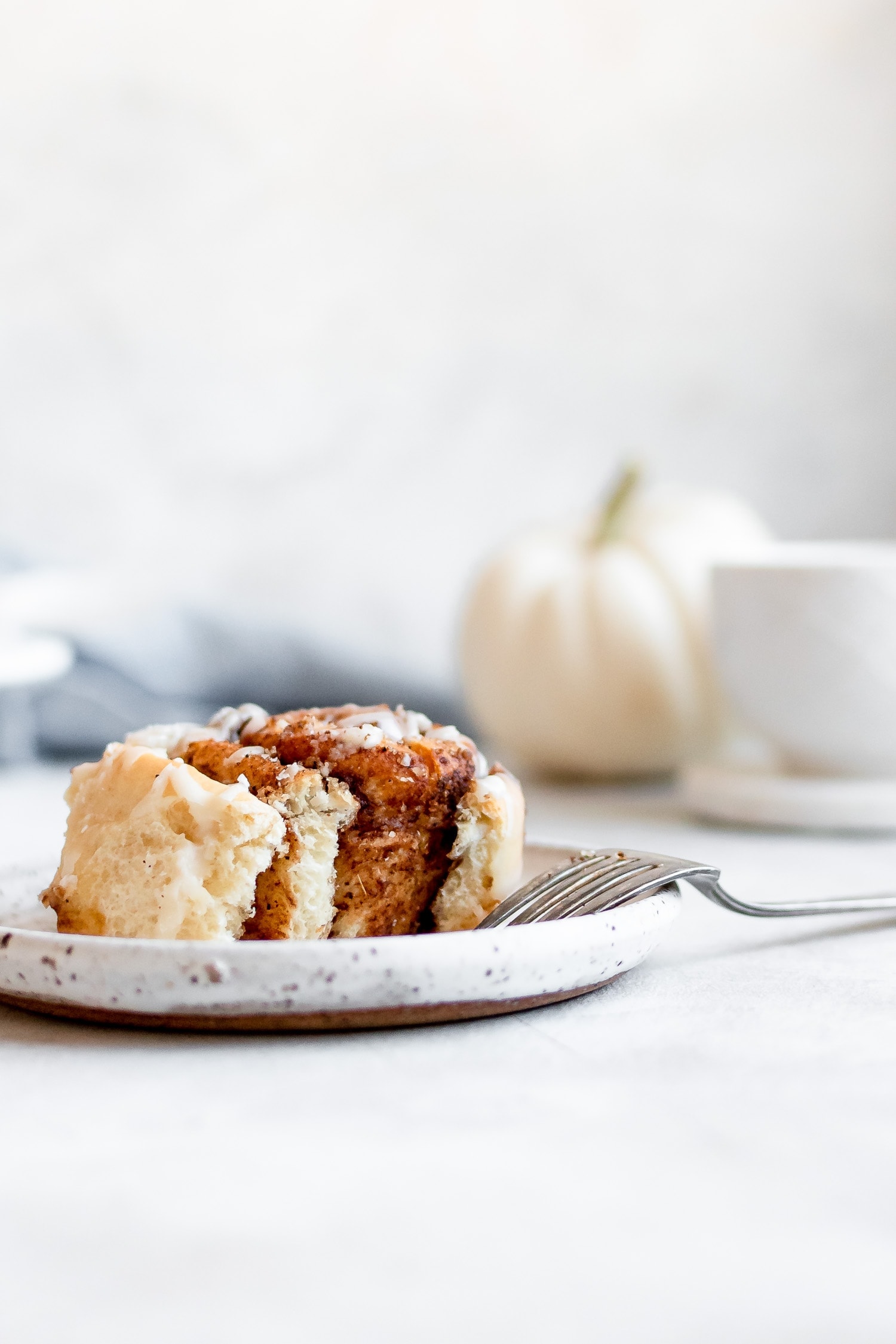 Recipe Card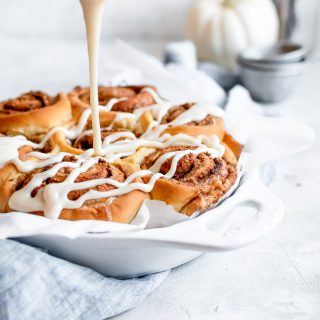 Homemade Chai Cinnamon Rolls
Soft, fluffy chai cinnamon rolls perfect for those cool autumn mornings
Ingredients
Chai spice
3

teaspoons

ground ginger

2

teaspoons

ground cinnamon

1

teaspoon

ground cloves

1

teaspoon

ground nutmeg

1

teaspoon

ground cardamom

¼

– ½ teaspoon black pepper
Dough
1

cup

whole milk

room temperature

1

large egg

room temperature

6

tablespoons

unsalted butter

melted

2 ¼

teaspoons

Fleischmann's® RapidRise®

3 ½

cups

all-purpose flour

6

tablespoons

granulated sugar

1

teaspoon

sea salt
Filling
4

tablespoons

unsalted butter

melted

⅓

cup

granulated sugar

⅓

cup

brown sugar

2

teaspoons

ground cinnamon

Chai spice
Icing
1 ½

cups

powdered sugar

2

tablespoons

pure maple syrup

1-2

tablespoons

heavy cream

1

teaspoon

pure vanilla extract

Pinch

of salt
Instructions
Mix together the chai spice and set aside.

Mix together the milk, egg, and melted butter in a separate bowl.

Mix together the Fleischmann's® RapidRise®, flour, sugar, and salt in your stand mixer.

Add in the wet ingredients and stir until fully combined.

Switch to a dough hook and knead the dough for 10 minutes. Add up to two tablespoons of extra flour if you are in a particularly humid area.

Oil a large bowl lightly and add the dough. Cover with a clean tea towel or plastic wrap and set aside in a dry, warm area for one hour.

Preheat the oven to 350F.

Deflate the dough and turn out onto a lightly floured flat surface. Roll out to about 21" x 18".

Spread the butter over the dough. Stir together the sugar, cinnamon, and chai spice and spread over the buttered dough.

Roll up the dough along the long side of the dough. Cut into equal pieces and place in a baking pan.

Bake for about 25-30 minutes, or until a nice golden brown and the bread bounces back if pressed. You can lightly cover the top with aluminum foil if the dough browns too fast.

Make the icing by whisking the ingredients together.

Allow your baked cinnamon rolls to cool slightly before drizzling with icing.

Serve warm, preferably with a mug of tea! 
Notes
You can make the chai spice ahead of time. Unbaked rolls can be left overnight in the refrigerator and baked in the morning.
Nutrition
Serving:
1
g
Calories:
379
kcal
Carbohydrates:
63
g
Protein:
5
g
Fat:
12
g
Saturated Fat:
7
g
Polyunsaturated Fat:
4
g
Cholesterol:
46
mg
Sodium:
208
mg
Fiber:
2
g
Sugar:
33
g
Tried this recipe?
Tag me on Instagram! @acookienameddesire #acookienameddesire