This irresistible pull-apart cinnamon roll monkey bread is sweet, cinnamony, and drizzled with a luscious cream cheese glaze. Quick, easy, and great to serve the entire family.
Ingredients
The best part about this recipe is that you only need a few ingredients to make it. You will probably already have everything you need, too!
Cinnamon rolls - You can make your own homemade cinnamon rolls, or you can use canned cinnamon rolls - about three cans will work!
Sugar - You will need two types of sugar: granulated and brown sugar. It doesn't matter if you use light or dark brown sugar.
Ground cinnamon - This is to really pump up that delicious cinnamon flavor. 
Unsalted butter - We use this to create the drizzle over the dough that makes a quick caramel when baked. 
Vanilla - This adds more depth to the monkey bread! I recommend pure vanilla extract or even vanilla beans.
Icing - If you are using canned cinnamon rolls, you can use the icing that comes with the rolls. Otherwise, you can make a quick icing using powdered sugar, milk, vanilla, and maybe some cream cheese. 
How to make
Most monkey bread recipes use biscuit dough, but I think cinnamon rolls are even better to use because there is so much more flavor packed into every bite. Making monkey bread using cinnamon rolls is incredibly easy.
Make the quick caramel mixture by mixing the melted butter, brown sugar, and vanilla together.
Cut your cinnamon rolls into quarters, then toss them in cinnamon sugar. 
Place the cut rolls in your pan, then top with the quick caramel mixture.
Bake until golden brown. Drizzle with the icing and serve warm! 
Customizing your bread
There's so much you can do to customize your cinnamon roll monkey bread - this is especially true if you are making your cinnamon rolls by scratch.
Add in fruits like apples, peaches, banana slices, or even dried fruits like cranberries or raisins.
You can add in different spices like pumpkin spice, chai spice, ginger, or cardamom. 
Chopped nuts also work really well in the monkey bread. 
Experiment with different icing flavors, chocolate syrup, or even salted caramel.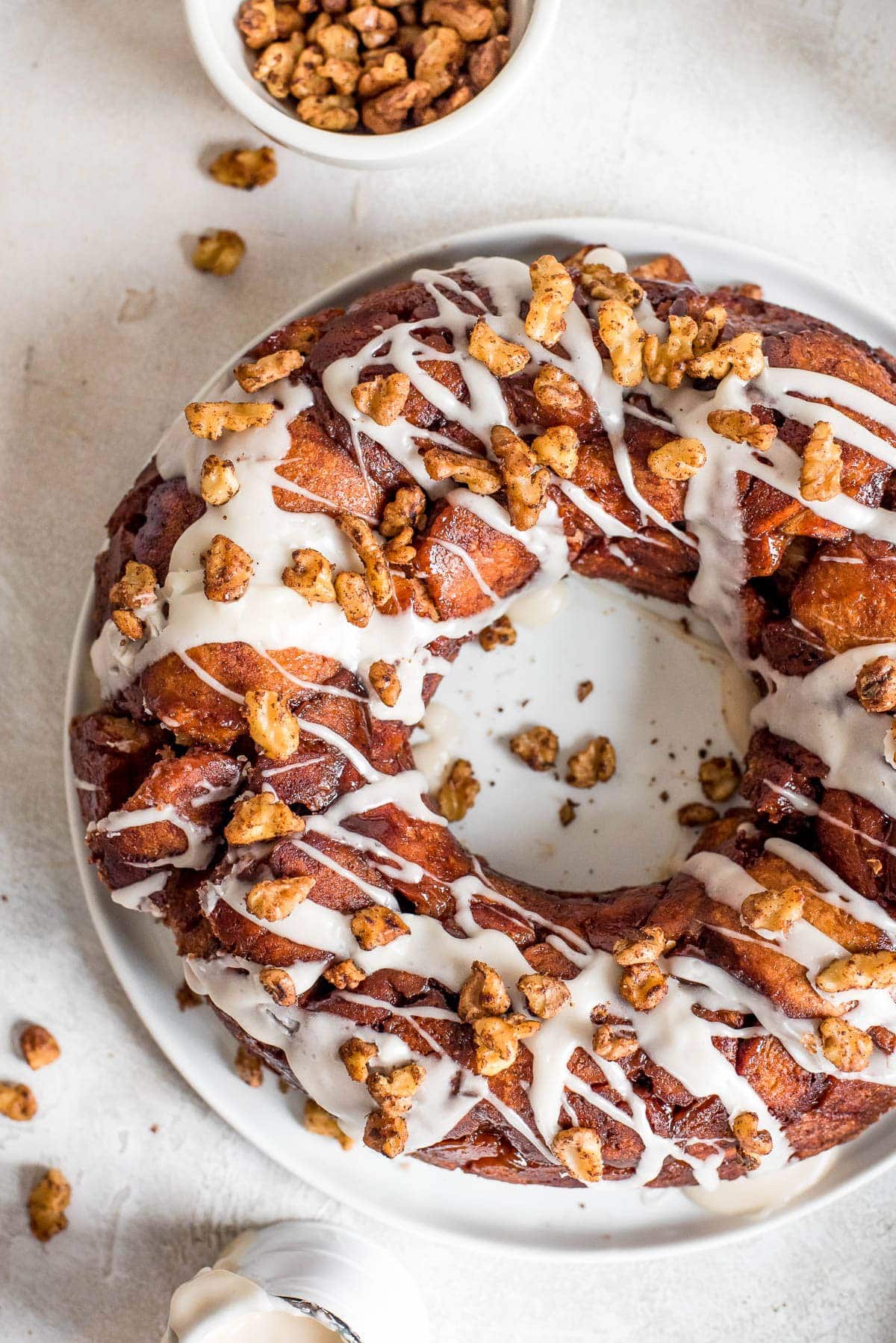 Important tips
There are a few tips you I think you will need to make sure your monkey bread comes out perfect.
Use a high-quality bundt pan. A metal round pan works best, I use this pan by Fat Daddio in particular. Do not use a springform pan as the crack can let the quick caramel leak. I also do not recommend those silicone pans. 
Grease and flour the pan well. I prefer to use a baking spray that has the flour already mixed in, but you can use melted butter evenly coating the entire interior of the pan, and then make sure an even layer of flour is in every nook and cranny. 
Wait exactly 10 minutes before you turn out your monkey bread out of the pan. The bread needs some time to cool, but if you wait too long, the quick caramel we made will make the bread stick to the pan completely.
Storage tips
Tightly wrap the cinnamon roll monkey bread and store it in an airtight container. It should be fine for up to a week at room temperature.
You can freeze the finished monkey bread in an airtight container for up to two months. Thaw the monkey bread at room temperature, then warm in the microwave or in the oven at 300°F for 10 - 15 minutes.
Recipe F.A.Q.s
Is it possible to make this monkey bread ahead of time?
Yes! You can prepare the monkey bread up to two days ahead of time. You can add the coated cinnamon rolls in the prepared pan, then tightly wrap and store in the refrigerator. When you are ready to bake, make the quick caramel, coat the rolls, then bake. 
Can I freeze unbaked cinnamon roll monkey bread?
Yes! Prepare the recipe as I described just above, and store in the freezer. When you are ready to bake, remove the pan and thaw before you bake. Just know you will likely need more time to bake. 
Can I make the monkey bread in a crockpot?
Yes, absolutely. It will take about 1 - 2 hours on high. 
Is it possible to make the bread in another type of pan?
You can! A loaf pan, square baking pan, and muffin tins all work. You just need to adjust the baking times accordingly. Look for a golden brown top, and ensure the rolls don't sink in when you push them to check for doneness.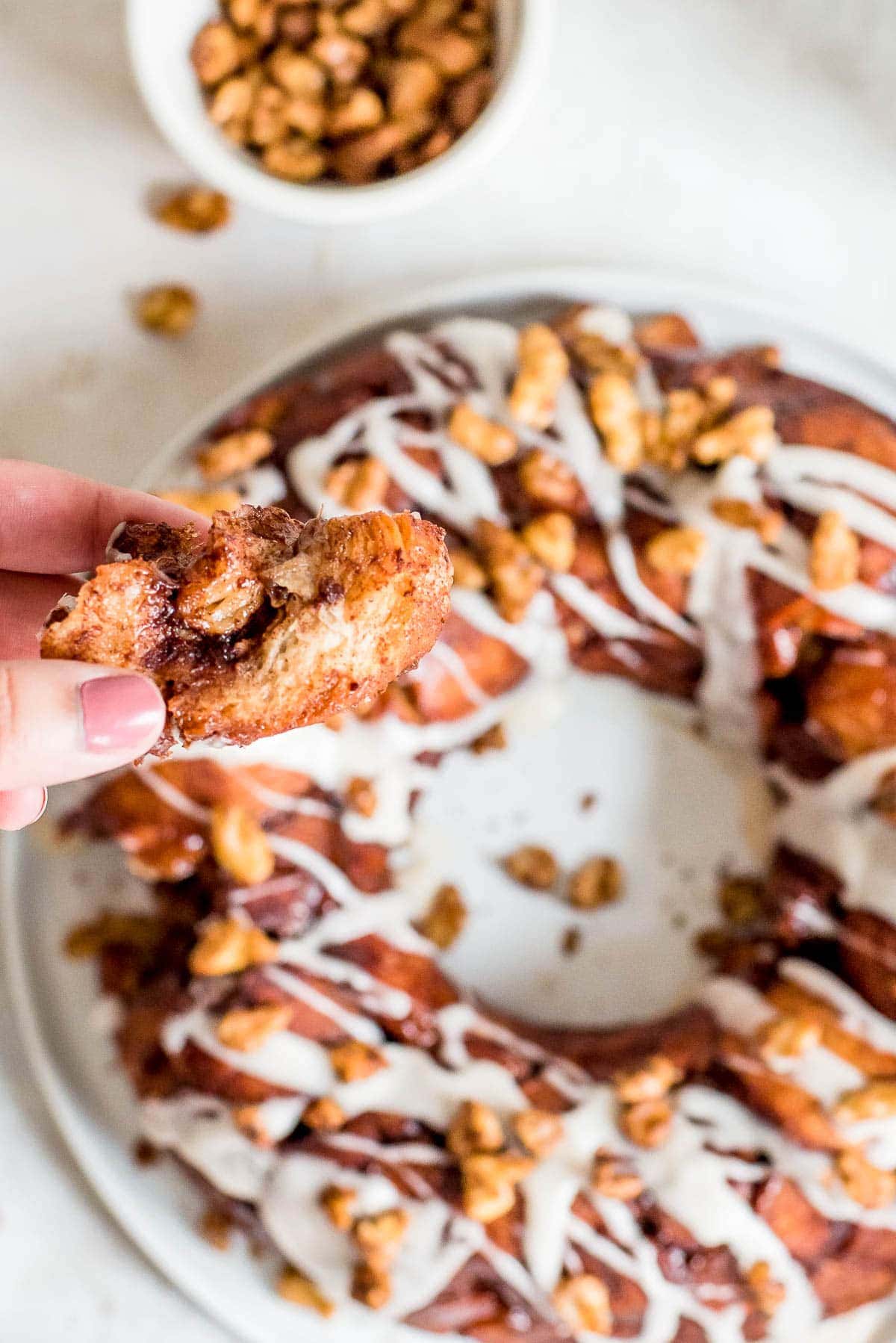 Recipes you'll love
Recipe Card
Recipe Card
Cinnamon Roll Monkey Bread
Pillowy and soft cinnamon roll monkey bread
Ingredients
2 - 3

cans large cinnamon rolls*

½

cup

granulated sugar

3

tablespoons

ground cinnamon

½

cup

melted butter

⅓

cup

brown sugar

1

tablespoon

vanilla extract

icing
Instructions
Preheat the oven to 400°F. Grease and flour a Bundt pan.

Cut the cinnamon rolls into ¼ pieces.

In a small bowl, toss together the granulated sugar and ground cinnamon.

Coat the cinnamon roll pieces in the cinnamon sugar and place them in the Bundt pan.

Mix together the melted butter, brown sugar, and vanilla together. Pour over the cinnamon rolls.

Bake for 25 - 30 minutes, or until golden brown and cooked through.

Allow it to rest for 10 minutes then turn out onto a plate.

Drizzle with icing. Use icing from the package if using canned cinnamon rolls.
Notes
*Or one recipe homemade cinnamon rolls.
Nutrition
Serving:
1
g
Calories:
213
kcal
Carbohydrates:
29
g
Protein:
1
g
Fat:
11
g
Saturated Fat:
6
g
Polyunsaturated Fat:
3
g
Trans Fat:
1
g
Cholesterol:
20
mg
Sodium:
240
mg
Fiber:
1
g
Sugar:
20
g
Tried this recipe?
Tag me on Instagram! @acookienameddesire #acookienameddesire