Super fluffy apple cinnamon rolls filled with a caramel apple filling. Fall doesn't get any better than this.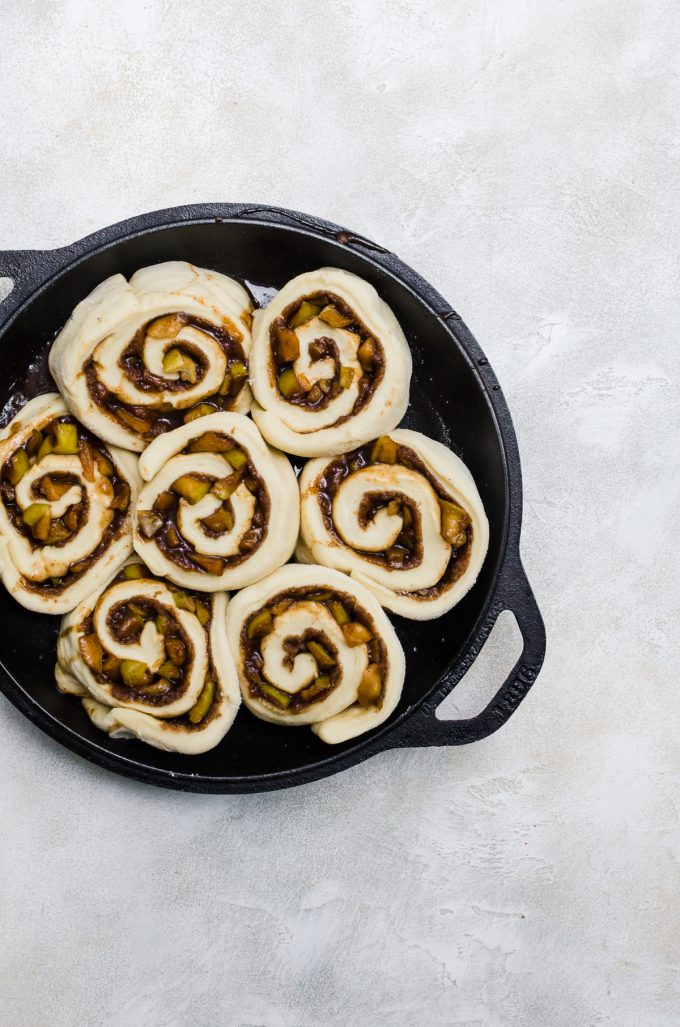 I love making yeast bread. I find it incredibly therapeutic to work with yeast dough. Putting the dough together and seeing how much it changes as you knead the dough. It goes from a shaggy mess that can't come together to a stretchy ball of dough that is so easy to shape and roll out.
I love to experiment with flavors. Infusing the dough or adding it between layers of dough to create something utterly delightful gives me so much pleasure. A batch of cinnamon rolls is probably one of the most satisfying things to make that my whole family devours at once.
We love going fruit picking and getting pounds upon pounds of fruit. We hadn't gone picking yet this year, but the moment we go apple picking, I am making a few batches of these apple cinnamon rolls to keep around the house.
I used my favorite cinnamon roll recipe and then on top of the regular cinnamon roll filling, I also added a quick caramel apple pie filling. All it takes if a couple of finely diced apples which you saute with brown sugar and butter for a delicious caramel coating. It adds even more depth to the cinnamon rolls and makes them basically irresistible.
It's like having apple pie and cinnamon rolls at the same time without having to actually make a pie. (although, later, we will definitely make a cinnamon roll apple pie) If you want to kick it up a notch, add chopped pecans. Trust me on this!
What to Make Cinnamon Rolls In
I like to use a variety of bakeware for my apple cinnamon rolls. My favorite is a cast iron skillet because it retains even heat throughout the pan, and also creates a beautiful serving piece once the pan and cinnamon rolls are cooled down. You can also use an 8 x 8 baking pan, a deep dish pie tin, a cake pan, a couple of loaf pans, or whatever bakeware you can find that they will fit in.
Keep in mind that glass heats up slower, so your cinnamon rolls will take longer to bake. Thinner tins like older cake or loaf pans, or any darker pans, will take less time to bake.
Can Cinnamon Rolls Be Frozen?
Yes, you can freeze cinnamon rolls. You can freeze them before they've been baked and after. If you are freezing before they are baked, make sure they are already sliced. You want to slice the rolls, then place them spaced on a baking sheet lined with parchment paper. Freeze the baking sheet until the cinnamon rolls are frozen, then transfer to an airtight container.
If you are freezing baked cinnamon rolls, do so before you glaze them, if possible. Like the unbaked cinnamon rolls, it is easier to freeze them when they are separated.
When you are ready to bake the frozen unbaked cinnamon rolls, take them out to thaw slightly as the oven preheats. They may need an extra few minutes in the oven, but nothing else will change in the directions. To warm baked cinnamon rolls, bake at 325 degrees F for about 10 – 15 minutes. Allow to cool slightly before glazing.
Can Cinnamon Rolls be Make the Day Before?
I like to make the dough for my apple cinnamon rolls ahead of time as often as possible so I don't have to do much in the morning. What you can do the day before: You can make the apple pie filling and leave it in an airtight container at room temperature or in the refrigerator.
The cinnamon roll filling can also be made, but you will need to remelt the butter in the mixture by placing it in the microwave for a minute or so. Stir the mixture after every 30 seconds in the microwave until you can easily stir it.
Next, you can make the dough. Instead of placing the dough in a warm, dry area, leave it in the refrigerator overnight. In the morning, roll it out, spread the cinnamon roll filling, then the apple pie filling, and keep going as normal in the recipe.
Cinnamon rolls will stay fresh for about a day or two at room temperature, and about three or four days in the refrigerator (reheat in the oven or microwave when ready to eat). For the best flavor, cinnamon rolls are best eaten fresh the same day.
Want More Cinnamon Roll in Your Life?