Start your morning with a delicious coffee-infused twist on the classic breakfast favorite. These coffee cinnamon rolls are the perfect way to begin your day.
Why you'll love it
These cinnamon rolls are soft, fluffy, and have a delicate coffee flavor in every bite.
The cinnamon roll dough is so easy to make, and you can leave the dough to rise overnight so you don't need to spend ages in the kitchen in the morning trying to make fresh rolls. Like my banana cinnamon rolls and apple cinnamon rolls, they are so soft and hard to resist. And they're just as fun and enticing as my giant cinnamon roll.
The cream cheese frosting is sweet, tangy, with the perfect amount of coffee. It's almost like slathering on coffee cheesecake on top of your cinnamon rolls.
Coffee is used in every part of the recipe and is perfect for the coffee lover.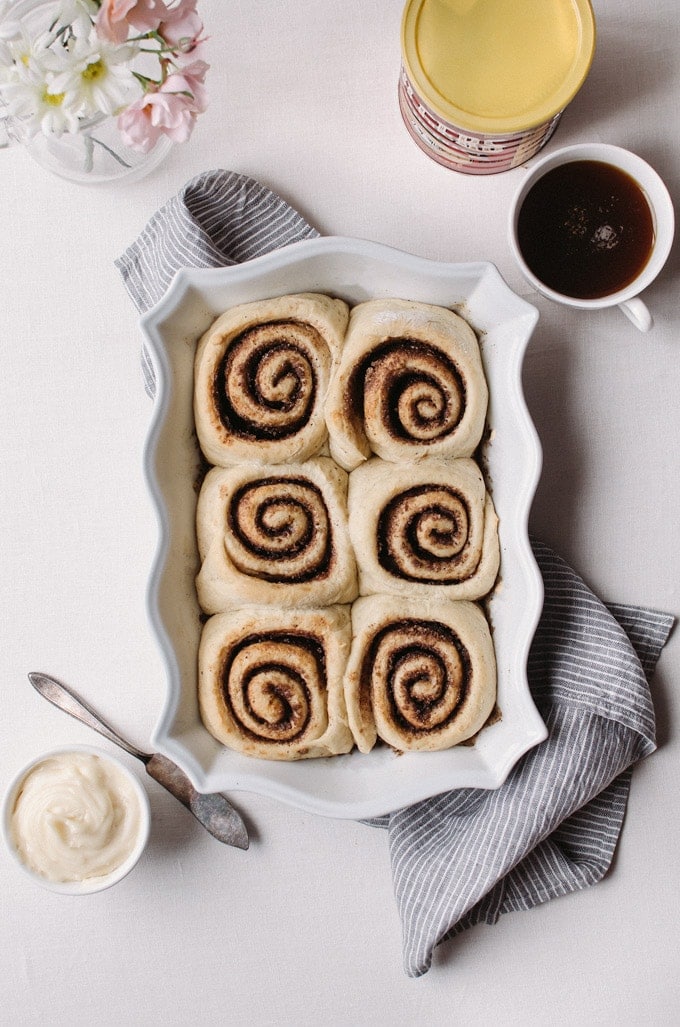 Key ingredients
Although these coffee cinnamon rolls are made from scratch, the ingredients needed are fairly simple. Here are some of the key ingredients and any potential substitutions.
Butter - Adding butter to your dough helps enrich the dough, making it more flavorful, soft, and tender. Since you are also using it in the icing, I recommend using a high quality butter if possible.
Yeast - Baking with yeast can seem intimidating, but it is actually a very easy ingredient to use and can be very forgiving. If you want to get some detailed knowledge on using it, you can check out my guide on using yeast.
Coffee - I like to use both instant coffee (instant espresso also works) and brewed coffee in this recipe. I originally created this recipe using softened ground coffee, but realize that it might not be for everyone and updated the recipe to work without that.
Milk - Milk helps to soften the dough and make it more tender. I recommend a high fat milk or even a combination of whole milk and heavy cream.
How to make
Making homemade cinnamon rolls is very easy and these coffee rolls are no exception!
Warm the milk, butter, and sugar together until the butter is just melted and let the mixture cool until it is just above room temperature. Add the yeast and leave it to proof for 10 minutes.
Add in the instant coffee once there is a thick layer of foam on top of the milk mixture, then mix in the dry ingredients. Mix well to combine.
Knead the dough until it is soft and silky, at least 10 minutes with a stand mixer.
Grease a bowl, and place the dough in it. Cover well and leave in a warm, dry area for an hour, or until doubled in size. You can also leave it in the refrigerator overnight.
Deflate the dough and roll out into a large rectangle.
Melt the butter for the filling with the instant coffee and stir. Spread on the rolled out dough, leaving a border on one of the long sides.
Mix the sugars and cinnamon for the filling together and spread over the butter.
Roll the dough along the length, starting with the side with no border.
Divide the dough into eight equal pieces and place in your 9x13 baking pan.
Cover and leave the dough to rise for half an hour, then preheat the oven.
Bake until golden brown, about 25 minutes.
Remove and leave to cool. Mix together the ingredients for the icing and spread on the cooled coffee cinnamon rolls.
Expert baking tips
Make sure you are measuring out your ingredients correctly. The reason most recipes don't turn out well is because the flour is accidentally over measured. For the most accurate measurements, you should use a kitchen scale. Otherwise, fluff your flour and then gently spoon it into your measuring cup and sweep off the excess. Use liquid measuring cups instead of dry measuring cups when measuring out liquids like milk.
If your milk doesn't form froth after waiting 5 - 10 minutes, it means the yeast is no longer usable and you need to start over with fresh yeast.
Use a stand mixer with a dough hook to knead the dough. It takes less time and ensures consistent results.
Proof times are an estimate only. The exact amount of time you need to wait will depend on how warm the environment is. The warmer it is, the less time it takes for the dough to proof and rise.
If you are proofing the dough overnight in the refrigerator, allow the dough to come to room temperature before attempting to roll it out, otherwise the dough will be more likely to try to shrink back down when you are rolling.
If you want to add more fun to your rolls, you can add my chai spice I used in my chai cinnamon rolls to make a dirty chai cinnamon roll.
Storage and freezing
You can keep baked cinnamon rolls in an airtight container for up to three days, but they are best fresh.
Cinnamon rolls can be frozen. You can store unfrosted, baked cinnamon rolls in an airtight container for up to a month. You can reheat them in the microwave for a minute, or in the oven at 300F for 10 - 15 minutes.
It is also possible to freeze unbaked cinnamon rolls. Once you've rolled and cut your cinnamon rolls, place them in a pan to freeze for an hour before transferring to an airtight container for up to three weeks. Place them in a baking pan and let them come to room temperature before baking.
Recipe FAQs
Can I make these without a stand mixer?
Yes! The kneading process may take longer though and it usually requires a lot of upper arm strength. It is a good work out!
Can I use ground coffee to make this?
The original recipe used ground coffee. It works as long as you cook the grounds to soften them. I added the grounds to the butter when heating it to soften the coffee.
Is there caffeine in this recipe?
If you are using caffeinated coffee, then yes. It will be a small amount though. You can usually buy decaffeinated instant coffee the same places you buy the regular versions.
Recipe Card
Coffee Cinnamon Rolls
Soft, fluffy coffee cinnamon rolls perfect for breakfast
Ingredients
1

cup

whole milk

7

tablespoons

unsalted butter

2

tablespoons

granulated sugar

2 ¼

teaspoons

active dry yeast

3

tablespoons

instant coffee

3

cups

all-purpose flour

½

teaspoon

baking powder

½

teaspoon

salt
Filling
4

tablespoons

unsalted butter

2

tablespoons

instant coffee

⅓

cup

granulated sugar

⅓

cup

lightly packed brown sugar

1

tablespoons

ground cinnamon
Cream Cheese Frosting
3

tablespoons

unsalted butter

2

oz

cream cheese

1

teaspoon

vanilla extract

1 ¼

cups

powdered sugar

2

teaspoons

brewed coffee

room temperature

2

tablespoons

heavy cream

as needed
Instructions
Add the milk, butter, and sugar to a microwave safe bowl.

Heat in 30 second increments until the butter is completely melted and the mixture is hot. Stir well to combine, then leave to cool to just above room temperature.

Add the active dry yeast to the milk mixture and allow to sit for 10 minutes, or until a foam forms on top.

While the yeast is proofing in the milk, add the flour, baking powder, and salt to a mixing bowl of a stand mixer.

Add the instant coffee to the milk mixture, then mix in the flour mixture until well combined. Use a dough hook to knead the dough on medium speed for about 10 minutes.

Lightly grease a large bowl and add the dough. Cover tightly with a plastic wrap and leave in a warm, dry place for one hour, or until doubled in size.

While the dough is rising, mix together the butter and instant coffee for the filling and heat until the butter is melted. In a separate bowl, mix together both sugars and the cinnamon for the filling together.

Lightly flour a flat surface and place the dough on your surface. Roll out until it is roughly 16 x 11 inches – this does not need to be completely accurate.

Stir the butter mixture vigorously, then spread on the dough, leaving a small border around the edges. You won't need all the butter, reserve the remaining butter. Spread the cinnamon sugar mixture over the butter and gently press down to adhere.

Roll the dough along the long side so you have a long log in front of you. Cut the log into 8 equal pieces. Take the leftover coffee butter mixture and grease a 9 x 13 baking pan with the butter and place the cinnamon rolls cut side down in the pan. Cover with plastic wrap and allow to rise for 30 minutes.

While the dough is rising, preheat the oven to 350 F.

Bake the rolls for about 25 – 30 minutes, or until fluffy and a light golden brown.

While the rolls are baking, mix together the ingredients for the frosting. Add the heavy cream if you want a thinner frosting.

Serve with a cup of coffee!
Nutrition
Calories:
496
kcal
Carbohydrates:
70
g
Protein:
8
g
Fat:
21
g
Saturated Fat:
13
g
Polyunsaturated Fat:
1
g
Monounsaturated Fat:
5
g
Trans Fat:
1
g
Cholesterol:
57
mg
Sodium:
215
mg
Potassium:
146
mg
Fiber:
3
g
Sugar:
32
g
Vitamin A:
684
IU
Vitamin C:
1
mg
Calcium:
82
mg
Iron:
2
mg
Tried this recipe?
Tag me on Instagram! @acookienameddesire #acookienameddesire