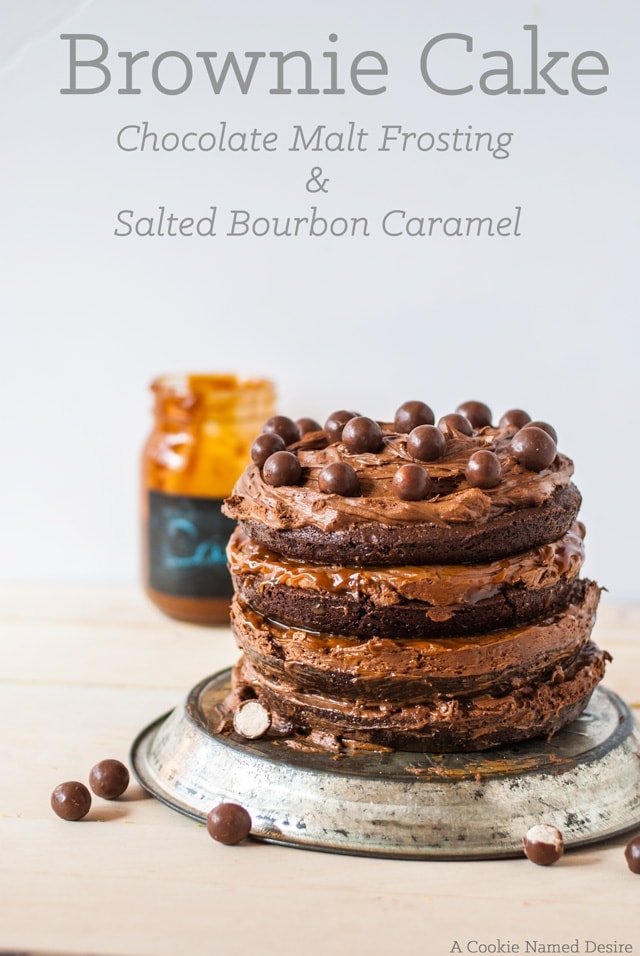 Guys, I can't even right now.
Since coming back from the hospital, I've been really uninspired to get back in the kitchen and make anything for the blog. I have a huge list of recipes I want to make, but I couldn't even bring myself to make them. I even took to asking those of you who follow me on Facebook for some inspiration and ideas.
But then.....
Something hit me. Hard.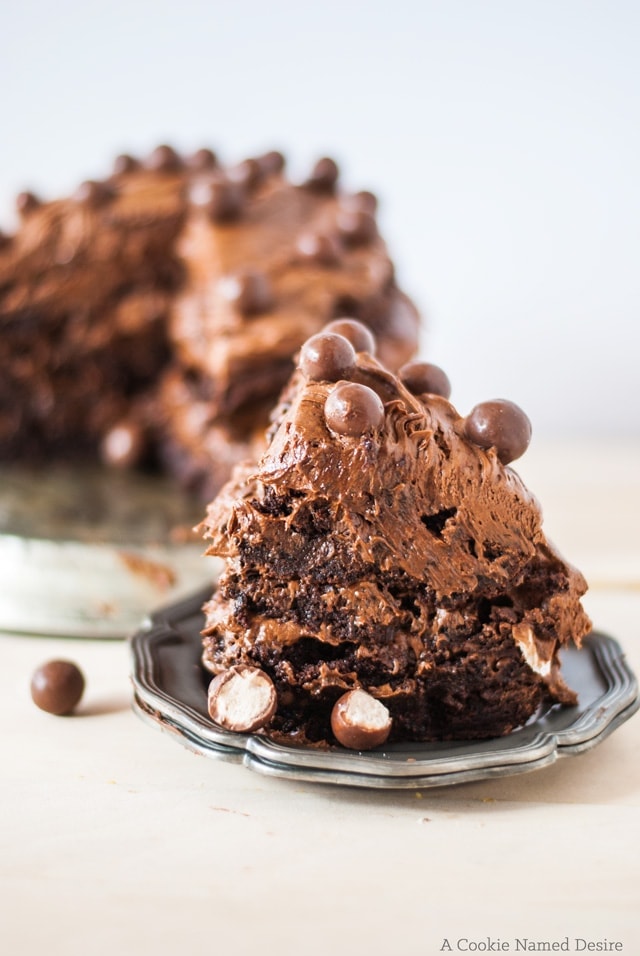 It just popped into my head and just made so much sense. It incorporated a few partial ideas I had and put them into one EPIC dessert that is possibly one of the best things I've ever had. Ever.
A flourless brownie cake with chocolate malt frosting and caramel drizzle. Yes!!! I've been wanting to make a flourless brownie for a while now. And I knew I wanted to make malt something because I bought some malt powder a while back and it's been begging to be used.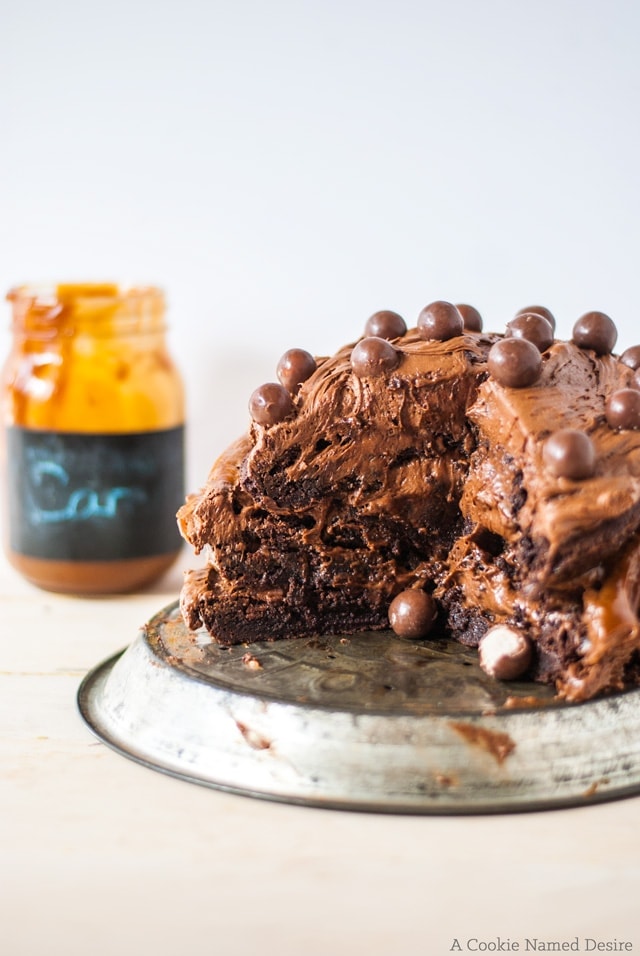 Man, this brownie cake is so good. Don't get it confused with a chocolate cake because this isn't just a chocolate cake in disguise. No, no, no. This has all the fudgy, decadent chocolatiness (that's a word, right?) of a brownie we all love and adore. This is highlighted with my new secret weapon: chocolate extract. It just brings out that chocolate flavor and takes it to a whole new level. What I love about chocolate extract is that it rounds out that chocolate flavor to make it taste more complete. Trust me, adding chocolate extract makes it feel as though you've never truly tasted chocolate before.
Normally, I am a purist with my brownies in that I don't like frosting on it, but then I made these peanut butter cup brownies with peanut butter frosting and was totally converted.
Besides, this chocolate malt frosting is everything that is good in this world. It reminds me of Ovaltine in frosting form. So good. And creamy. And malty. It's also really easy to make. Well, it takes a while to make it, but it's easy. I recommend making the frosting the night before just to be on the safe side. As for the caramel, I used the salted bourbon caramel I made when I made my mini apple pies. It's so delish. Make lots of it and give it to people you love as a gift. They will love you forever for it, trust me.
Recipe Card
Flourless Brownie Cake with Chocolate Malt Frosting and Caramel
Ingredients
For the Chocolate Malt Frosting
1 ¼

cup

malted milk powder*

1

cup

heavy cream

12

oz

chocolate

chocolate chips are fine

½

cup

1 stick unsalted butter, room temperature and cut in cubes
For the Brownies
12

tablespoons

1 ½ sticks unsalted butter

14

oz

chocolate

I did a dark chocolate and semi-sweet chocolate blend

1 ½

cups

sugar

2

teaspoons

vanilla extract

1 ½

teaspoons

[chocolate extract]

4

large eggs

room temperature

¼

teaspoon

salt

¼

cup

plus 2 tablespoons corn starch

Chocolate malt balls for decoration

optional
Instructions
For the Chocolate Malt Frosting
In a medium saucepan, mix together the malt powder and heavy cream. Whisk to remove any lumps and heat on medium. Stir constantly until the mixture begins to bubble. Be careful as the mixture burns easily.

Pour the mixture over the chocolate and mix well until the chocolate melts and the mixture becomes silky. Cover with plastic wrap and refrigerator for 2 hours, or even overnight.

Transfer the chocolate to a mixing bowl and slowly add the butter one tablespoon at a time, mixing well before adding more butter. Cover and chill again for at least 30 minutes to firm up a bit.
For the Brownies
Preheat the oven to 350 degrees F. Grease four 6-inch cake pans with butter.

In a large saucepan, melt the butter over medium heat. Add in the chocolate and melt while stirring it into the butter. Add in the sugar and the extracts mix very well.

In a small bowl, add the salt, cocoa powder, and cornstarch together. Add to the melted chocolate mixture and mix very well until the mixture looks silky and not grainy.

Evenly divide the batter among the cake pans.

Bake for 20 - 23 minutes, or until the center looks just set. The toothpick method of checking doneness will not work here and will burn your brownies if you try (trust me!) Allow to cool completely while in the pans before attempting to remove.
Assembly
Frost each of the brownie cakes. and drizzle some caramel sauce on three of the cakes. Layer the cake on top of one another and top with the chocolate malt balls if desired.

Tip: Before cutting, allow the brownie cake to chill in the refrigerator for at least 45 minutes before cutting or else your slices will come out messy like you see in the photos!
Notes
*Malted milk powder is usually with the hot chocolate mixes, coffees, and/or teas. Ovaltine cannot be a substitute for the malted milk powder-The brownie recipe is adapted from David Lebovitz-Prep time does not include chill/rest times
Tried this recipe?
Tag me on Instagram! @acookienameddesire #acookienameddesire