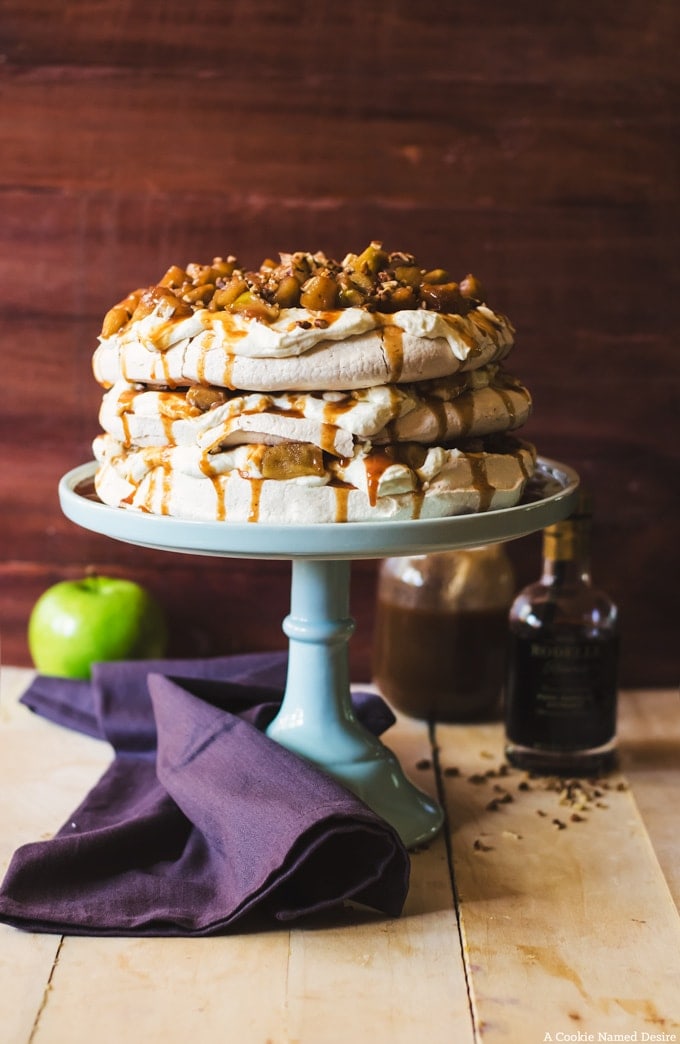 Now that fall is officially here, I feel like I am so unprepared for it despite talking about it for the past month and a half. As it turns out, I ate a few too many cupcakes my jeans have mysteriously shrunk and I am in need of at least one good pair of jeans before I try and work on that waistline.
My daughter is also a little upset because her favorite flats from last year are too small. I've been looking everywhere for a similar pair to no avail. As much as I love shopping for clothes, this year I am dreading it as I must be a lot more strategic in my purchases what with the move.
For some reason, I am the only person in my family who loves pavlova. The mix of light meringue, smooth cream, and fresh fruit is too good for me to pass up. My family, however, feels as though the mixture is just too light for their tastes.
They would prefer more crunch; and perhaps the pavlova to sit on top of a cake which is why I made my pavlova cupcakes. This left me conflicted about my apple pie pavlova. I had grand visions of this being a tiered pavlova cake, but worried that I would be left to eat it on my own.
As it turns out, that is not an issue at all. This apple pie pavlova is incredible and I already ate half of it. The pavlova is flavored with freshly ground cinnamon and Rodelle Reserve Vanilla extract. The Rodelle Reserve Vanilla was made in only a small batch of just 84 gallons. It was aged for six months in French Oak Barrels which helped to enrich the vanilla flavor, but also create a smoother taste.
The bottles themselves were screen printed and have a gourmet Madagascar vanilla bean inside. When I first tried the vanilla extract I was blown away. The flavors are so complex and the floral, fruity notes have never been more distinct. It really shines in this pavlova, making you want to come back for more and more. If you cannot get your hands on the Reserve, a vanilla bean will also work.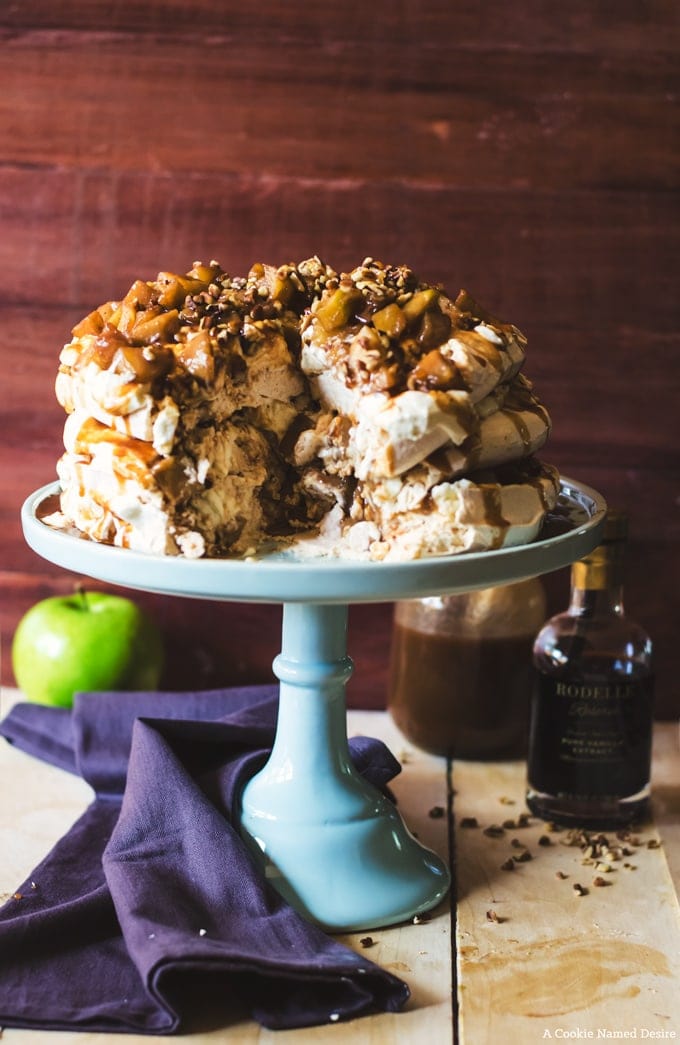 I also cooked the apples in white wine and made a fresh batch of my favorite dark salted caramel sauce (minus the bourbon this time). For the cream, I originally wanted to use mascarpone whipped with heavy cream, but only had honey goats cheese available and used this instead with cream and the results were spectacular.
Each component put together creates an unforgettable dessert your family and friends will never forget. Or, you know, you can be like me and eat half of it on your own while your jeans shrink.
Recipe Card
Apple Pie Pavlova
A simple yet show stopping apple pie pavlova
Ingredients
For the Meringue
6

egg whites

1

cup

granulated sugar

1

teaspoon

cornstarch

1

teaspoon

cream of tartar

1

teaspoon

white wine vinegar

1 ½

teaspoons

vanilla extract

1

teaspoon

ground cinnamon
For the Caramel
1

cup

sugar

3

tablespoons

water

1

tablespoon

agave

or honey or corn syrup

½

cup

8 tablespoons unsalted butter

1

cup

heavy cream

2

teaspoons

fleur de sel

1

teaspoon

vanilla extract
For the Apples
4

Granny Smith Apples

1 ¼

cups

water

may also use a sweet white wine

⅓

cup

plus ¼ cup packed brown sugar

¼

teaspoon

anise seeds

¼

teaspoon

cloves

½

teaspoon

ground ginger

1

teaspoon

cinnamon

1

teaspoon

vanilla
For the Cream Topping
1

cup

mascaropone

or goats cheese

1 ¼

cup

heavy cream

⅔

cup

chopped pecans
Instructions
For the Meringue
Preheat the oven to 325 degrees F.

Beat the eggs until soft peaks form. Slowly add the sugar and beat until glossy. Add the remaining in and beat until mixed.

Line three baking sheets with parchment paper and divide the meringue among the three pans. Shape the meringue until they are about 8 inches in diameter and are flat at the top.

Place in the oven and then turn down the heat to 275 degrees F. Bake for about 1 hour and 45 minutes. Turn off the heat and allow the meringue to bake in the residual heat until the oven is cool.
For the Salted Caramel
In a saucepan, add together the sugar, water, and agave. Heat on medium high without disturbing until the mixture is bubbly and a dark amber. Immediately add the butter and heavy cream and stir until fully combined. Allow to cool completely. Stir in the salt and the vanilla
For the Apples
Core, peel, and cut the apples into bite-sized cubes.

Place in a medium skillet with the wine or water, plus the sugar and spices. Cook until softened, but still maintains its shape. Remove the apples, leaving in the juices. Cook the juices until they are reduced to a thick syrup. Toss the apples in the syrup until coated.
For the Cream
Beat the cheese (mascarpone or goats cheese) until smooth. Add in the heavy cream and beat until soft peaks form.
Assembly
Place one third of the cream mixture over one of the pavlova discs. Top with one third of the apples. To this, add one third of the pecans and about ¼ cup of the salted caramel. Repeat these layers two more times. (you should have salted caramel left over)
Notes
You can make each component ahead of time (you can store the merinuges in an air tight container in the freezer) and assemble when you are ready to serve. Store uneated pavlova in an airtight container in the refrigerator
Nutrition
Serving:
1
g
Calories:
382
kcal
Carbohydrates:
46
g
Protein:
4
g
Fat:
21
g
Saturated Fat:
11
g
Polyunsaturated Fat:
9
g
Trans Fat:
1
g
Cholesterol:
52
mg
Sodium:
47
mg
Fiber:
2
g
Sugar:
43
g
Tried this recipe?
Tag me on Instagram! @acookienameddesire #acookienameddesire