Prepare to fall in love with the most amazing apple crumble you will ever try. A cozy, apple pie-like filling topped with buttery crumble topping. There is nothing more incredible than a bowl of this easy apple dessert topped with a scoop of ice cream.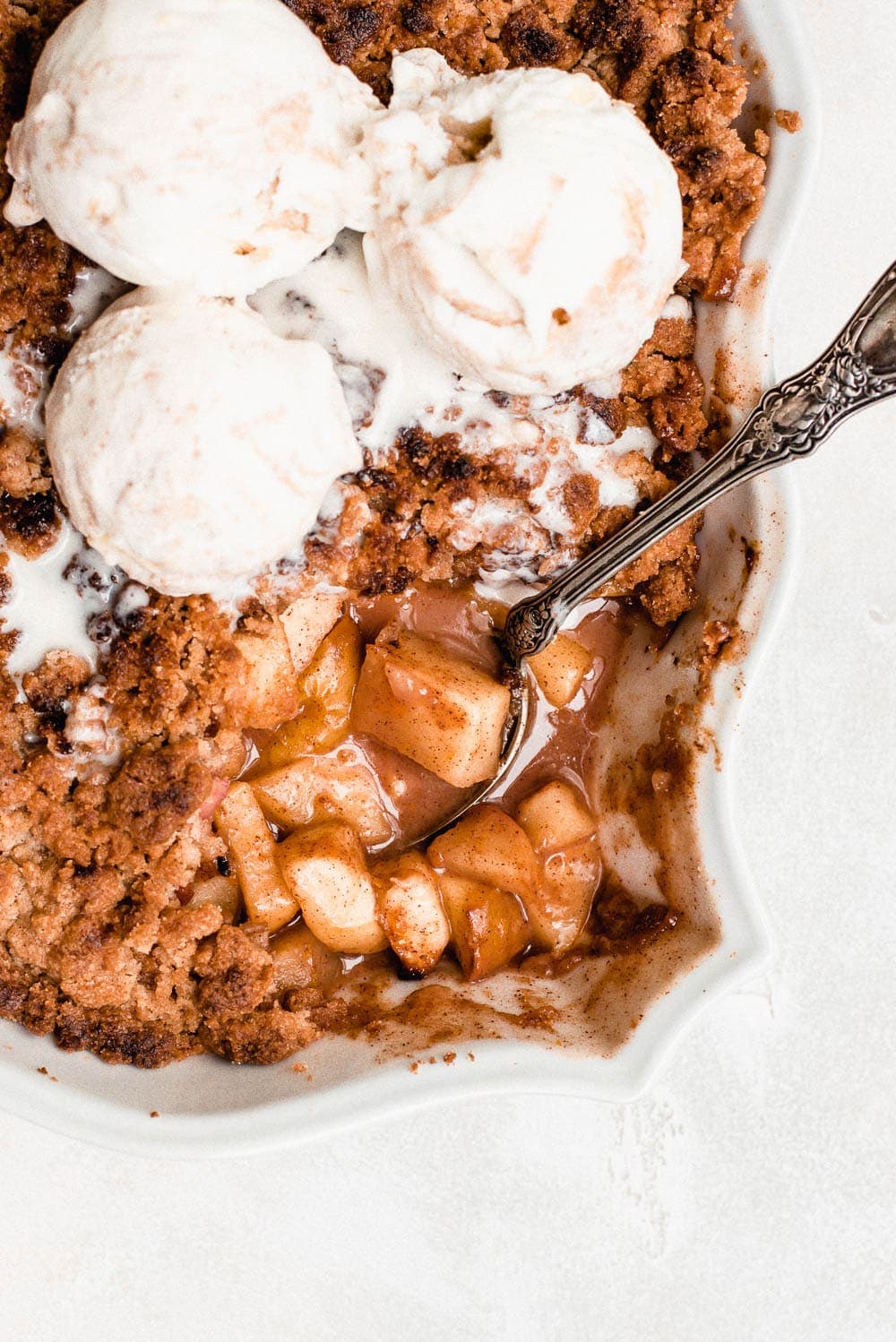 Recommended apple types
Like an apple pie, I prefer to choose a variety of apples that are sweet, tart, and most importantly, can hold their shape. My favorite apples include: Granny Smith, Northern Spy, Ginger Gold, Jazz, Golden Delicious, and Pink Lady. While you can also go for sweeter apples, I find they are too sweet in a dessert like an apple crumble.
How to make
Making a crumble is so easy and only takes a few easy steps to put together.
If desired, peel the apples (I switch back and forth between peeling and unpeeling my apples). Core your apples, and dice them.
Toss the apples with sugar, salt, cinnamon, and flour. Set aside.
Add the flour, sugar, cinnamon, and butter together for the crumble topping until the mixture resembles large crumbs.
Pour the apple mixture into a large baking dish, then top with the crumbles.
Bake until the filling is bubbling and the crumbles are golden brown. Allow to cool completely before serving.
Crisps vs Crumbles
Crisps and crumbles are very similar. Both are usually filled with a delicious pie-like filling and both have a buttery, crisp/crumbly streusel made primarily with flour and sugar cut with butter. The main difference is that crumbles usually do not have other add-ins such as oats and nuts. Both can include spice. Crisps usually have a finer mixture, whereas crumbles usually have larger clumps. You can use either type to make this apple crumble, but this recipe sticks to the more traditional topping. 
Freezing tip
If you were wondering, yes, you can freeze apple crumble. They are great for freezing baked or unbaked, and can last for 3 - 4 months in the freezer if stored correctly.
For a baked crumble, place the dish in an airtight container and freeze in the coldest area of your freezer. If you use a deep freezer and your container is truly airtight, your apple crumble can last up to a year.
For an unbaked crumble, you have two options.
You can freeze the entire apple crumble in a freezer-safe baking dish, wrapped tightly and well, so that it is airtight.
You can freeze the apple crumble filling and topping separately in airtight freezer-safe containers.
Thawing tips
Regardless of whether or not the crumble is baked or unbaked, thaw it in the refrigerator overnight. Once thawed, you can bake/reheat the apple crumble using the about same baking information as if you were making a new crumble. You may need less time with the baked crumble, so check it at 30 minutes.
Making it gluten-free
It is pretty easy to convert this to a gluten-free apple dessert. You can simply replace the flour with a gluten-free baking mix. In the filling, you can also replace the flour with cornstarch. For the crumble, I also like swapping out a small portion of the gluten-free baking mix with almond flour.
Serving inspirations
There is no better way than to serve apple crumble with a big scoop of vanilla ice cream. It is a classic pairing that cannot be resisted. You can also serve it with whipped cream. I also love having a bowl with a hot mug of tiramisu hot chocolate or even warmed homemade apple cider.
Recipe Card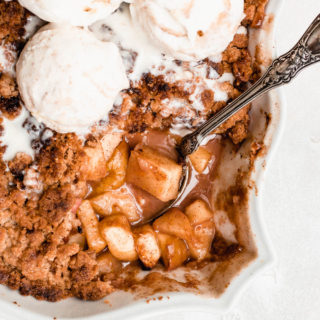 Apple Crumble
A warm and irresistible apple crumble
Ingredients
Apple Crumble Filling
3

lbs

apples

cored and peeled (if desired)

1

orange zest

1

lemon zest

2

tablespoons

orange juice

1

tablespoon

lemon juice

½

cup

granulated sugar

¼

cup

flour

1

tablespoon

ground cinnamon

½

teaspoon

ground nutmeg
For the Crumble
2

cups

all-purpose flour

½

cup

granulated sugar

½

cup

brown sugar

¾

teaspoon

salt

2

teaspoons

ground cinnamon

1

cup

unsalted butter

cubed and chilled
Instructions
Preheat the oven to 350 degrees F. Take out a 9 x 13 baking pan.

Peel (if desired), core, and dice your apples.

Toss the apples with the orange and lemon zest and juice, sugar, flour, cinnamon, and nutmeg. Set aside.

Mix together the flour, sugars, salt, and cinnamon for the crumble in a bowl.

Add in the butter and use a pastry cutter or your hands to squeeze or cut in the butter into the flour mixture until it resembles large crumbs.

Pour the apples into the baking pan. Sprinkle the crumbles over the apples.

Bake for 30 - 45 minutes, or until the filling is bubbling and the top is golden brown. If your crumble is browning too fast, place aluminum foil over the crumble and continue baking until the filling is bubbly.

Allow the apple crumble to rest and cool so the filling can thicken.

Serve warm or room temperature, preferably with a scoop of ice cream.
Nutrition
Serving:
1
bowl
Calories:
454
kcal
Carbohydrates:
71
g
Protein:
4
g
Fat:
19
g
Saturated Fat:
12
g
Polyunsaturated Fat:
6
g
Cholesterol:
49
mg
Sodium:
166
mg
Fiber:
5
g
Sugar:
43
g
Tried this recipe?
Tag me on Instagram! @acookienameddesire #acookienameddesire