Nothing says fall like making homemade apple cider at home. Fill your home with the smell of apples, cinnamon, and spice in the most delicious way to use up your autumn apple picking bounty.
We've done a lot of apple picking already this year, so I've been searching for ways to use up as many apples as possible. So far, making homemade apple cider is one of my favorite ways to do just that. There is something so satisfying sitting down with a mug of hot apple cider with some whipped cream and caramel sauce knowing you made that apple cider from scratch.
What Apples to Use
You can use any apples you want when making homemade apple cider. Just be aware of the sweetness and tartness levels of the apple varieties you are using. The more tart apples you use, the more sugar you need for your apple cider, whereas the sweeter the apple, the less sugar you need to add. Some of my favorite apples to use include Granny Smith, Gaia, Jazz, Cortland, Fuji, and Ginger Gold.
I prefer, and recommend, using a mix of varieties.
Do You Have to Peel Your Apples?
Technically, you do not have to peel or core your apples, but the pulp left behind from making your homemade apple cider can be used to make applesauce or apple butter. Take that into consideration if you do want to make use of the apples when you are finished. I recommend coring your apples at the very least.
What Sweetener to Use
Any type of sweetener you prefer will work when you make homemade apple cider. Here are popular types of sweetener people use when making apple cider at home:
granulated sugar
honey
maple syrup
stevia
It all depends on what your personal preferences are. If you are using honey or maple syrup, keep in mind that the flavor will impact how the cider tastes, so add a little at the start, and taste the cider when it is almost finished to see if you want to add more. If you are using stevia or a similar sugar alternative, remember you typically only need to use half of what you might think you need.
Personally, I love using brown sugar or maple!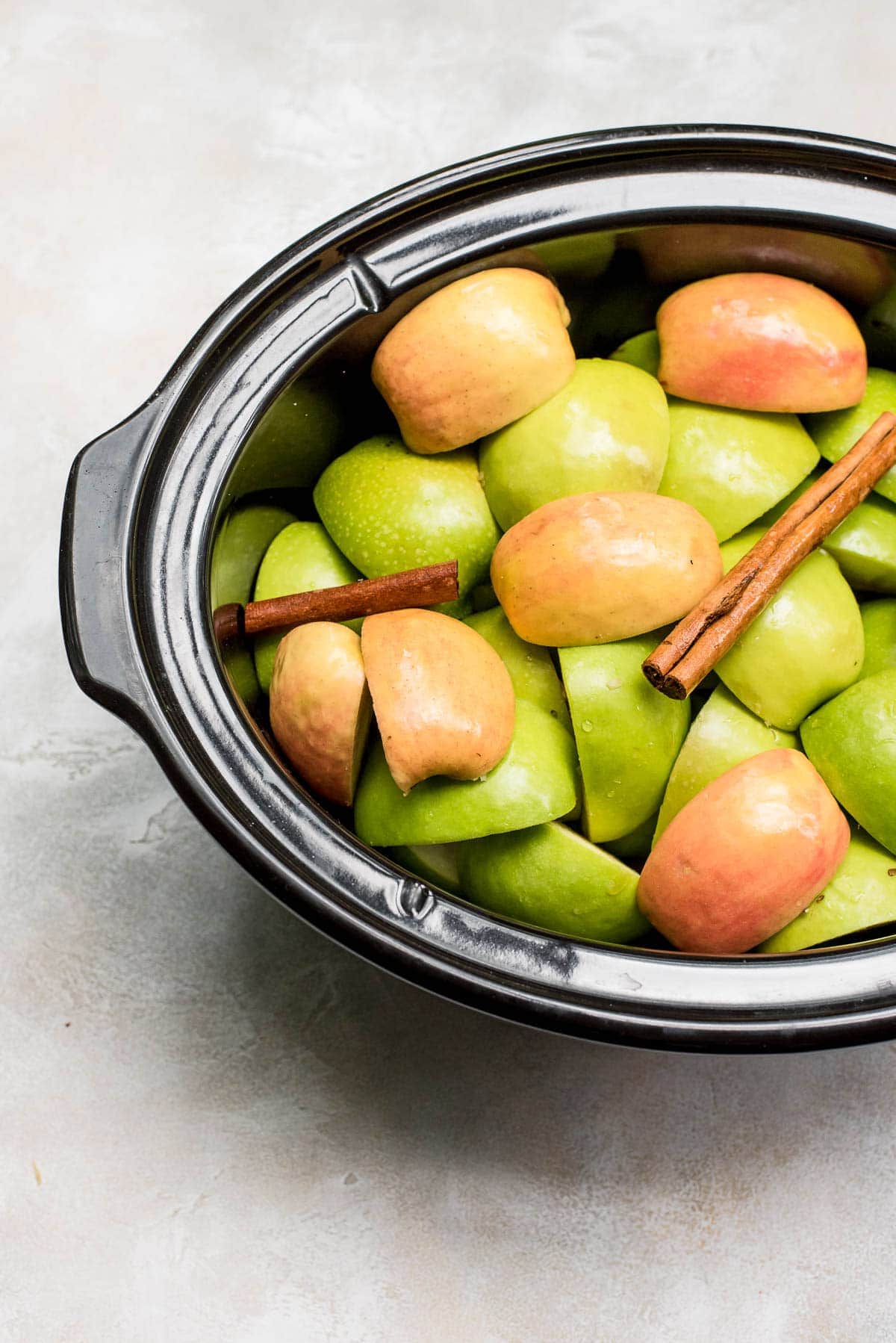 How to make
There are a few methods to making apple cider, it all depends on the time you want to dedicate to it, and what equipment you have. I typically make my cider in a slow cooker because it allows me to set it and forget it for a while and let my home smell amazing. Here are the more popular methods below.
How to Make Homemade Cider Using a Crockpot or Slow Cooker
Add the ingredients to the bowl of a slow cooker. Then cover with water, leaving about an inch or two of space at the top of the slow cooker.
Cover and cook the apples on low for 6-8 hours (perfect if you want to make it overnight), or on high for 3-4 hours, until the apples are soft.
Use a potato masher to mash all of the apples to release more of their flavors. Then cover and let the cider simmer for an hour.
Strain with a cheese cloth, adjust the sweetness as needed, then add in the vanilla. Serve warm or cold.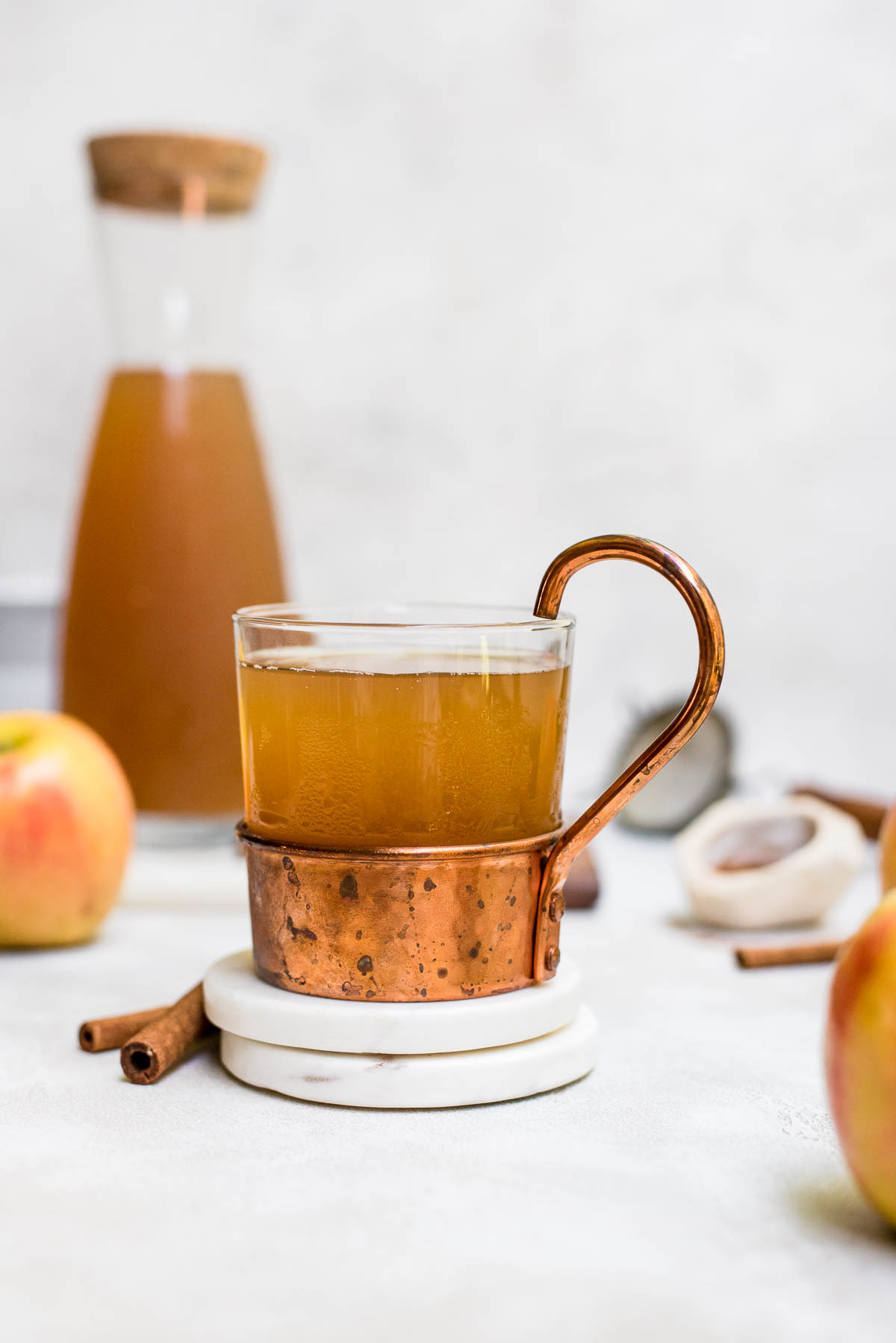 How to Make Cider on the Stove
Put your ingredients in a stock pot - add half the sweetener you think you'll need for now. Then fill with water until there are a few inches of space on top of the pot.
Heat the cider over high heat until it reaches a boil, then turn down to simmer and simmer for about 2 hours covered, or until the apples are completely soft. You may need to add a cup or two of water if the water levels fall below the apples.
Use a potato masher or a wooden spoon to mash all of the apples to release more of their flavors. Then cover and let the cider simmer for an additional half hour.
Strain with a cheesecloth, taste, and add more sweetener if needed, plus the vanilla. Serve hot or cold.
How to Use an Instant Pot
Add your ingredients to your Instant Pot (add about only half the sweetener for now). Then cover with water until the level reaches the max fill line.
Place the lid on the Instant Pot, set the valve to "Sealing," then cook on "Manual" for 25 minutes. Once finished, do a quick release. Do not turn off the Instant Pot.
Once all of the steam has been released, remove the lid. Use a potato masher to mash all of the apples to release more of their flavors. Cover and let the cider simmer a bit longer.
Strain the mixture through a cheesecloth. Taste, and add more sweetener as needed, as well as vanilla. Serve warm or cold.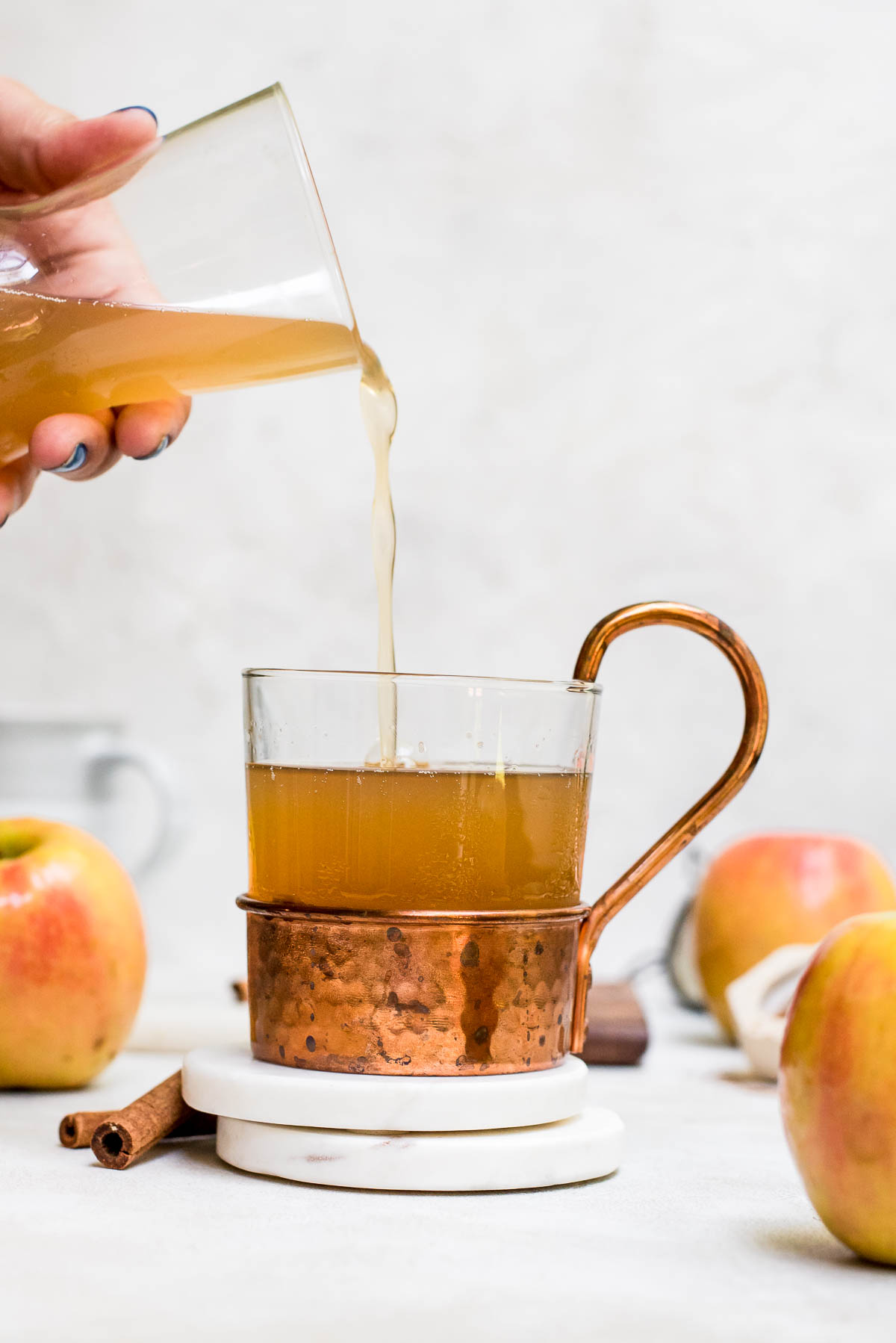 Recipe FAQs
Do You Have to Refrigerate Homemade Apple Cider?
Yes, you do need to refrigerate homemade apple cider. You can also freeze homemade apple cider. Just thaw at room temperature when you are ready to use it. I prefer to freeze the apple cider in ice cube trays before placing into an airtight container. 
Variations
There are so many ways to customize the flavor of your apple cider by adding other fruits and spices in with your apples. You can mix and match to your mood, and what you have available. Common additions include ginger and/or oranges (without the rind). You can also add in pears in addition to the apples, or to replace some of the apples. Here are a few other add-ins you can use to flavor your cider:
nutmeg
chai spices
mulling spices
allspice
cranberries
tumeric
cardamom
pink peppercorn
Honey and maple syrup are also great ways to flavor apple cider as well as sweeten it.
Related recipes
You can make so many things using your homemade apple cider! Here are a few of my recipes using apple cider: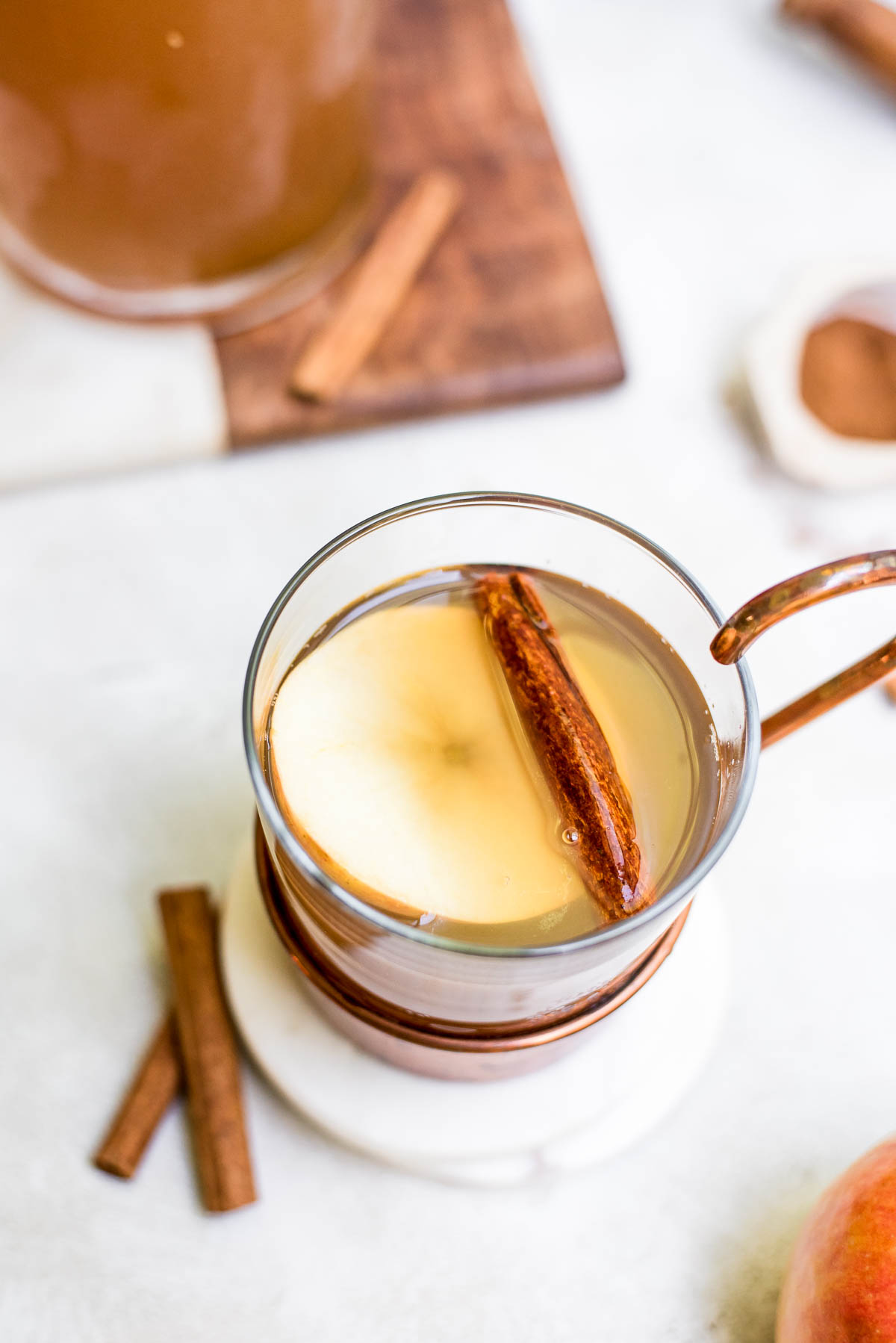 Recipe Card
Homemade Apple Cider
A deliciously spiced homemade apple cider. Perfect for keeping warm on crisp autumn night.
Ingredients
14

apples

sliced*

¾

cup

brown sugar. divided**

2

sticks cinnamon

½

tablespoon

whole cloves

water

1

tablespoon

vanilla extract
Instructions
Add your sliced apples, half the sugar, cinnamon, and cloves to your slow cooker. Fill with water.

Set to high and cook for 3 - 4 hours, covered.

Mash the apples and cover. Cook on high for another hour.

Place a fine mesh strainer over a large container, and cover the strainer with cheese cloth. Add the apple mixture to the cloth and strain out in batches.

Set aside the pulp for another use or discard. Discard the cinnamon and cloves.

Taste the cider and add more sugar, if desired. Stir in the vanilla. Serve hot or cold.
Notes
*peel and core your apples if you plan on using the pulp
**you can substitute the sweetener and add as much or as little as you like.
Nutrition
Serving:
1
cup
Calories:
98
kcal
Carbohydrates:
15
g
Sodium:
6
mg
Fiber:
4
g
Sugar:
18
g
Tried this recipe?
Tag me on Instagram! @acookienameddesire #acookienameddesire