Enjoy those incredible juicy summer blueberries in this easy to make blueberry crisp that is just bursting with flavor.
Every summer we load up on fresh berries, and it is the best thing ever. One of my favorite ways to use up those berries is to make a blueberry crisp with the most irresistible buttery streusel topping.
Ingredients
All we need besides our blueberries are a few pantry staples, then we are on our way to the best blueberry crisp ever.
For the filling:
Blueberries - A lot of people ask if you should use fresh or frozen blueberries. I am happy to say you can use frozen blueberries if that is all you have available! I do prefer to save this recipe for the summer when there are plenty of fresh, juicy blueberries available though!
Sugar - We use just a bit of sugar to brighten it up and help the juices in the blueberries thicken and get almost jammy.
Cornstarch - I like adding a bit of cornstarch to my crisp to help thicken the juices more so when you get a scoop, you don't have a soupy mess in the pan.
Lemons - We use the juice and zest to keep the blueberry flavor bright and fresh.
Vanilla - Personally, I love adding a nice bit of vanilla in just about everything. It adds a lot of dimension to the crisp.
Salt - I always say salt is essential in baking. It helps amplify all the flavors in your dish. All you need is a nice, healthy pinch.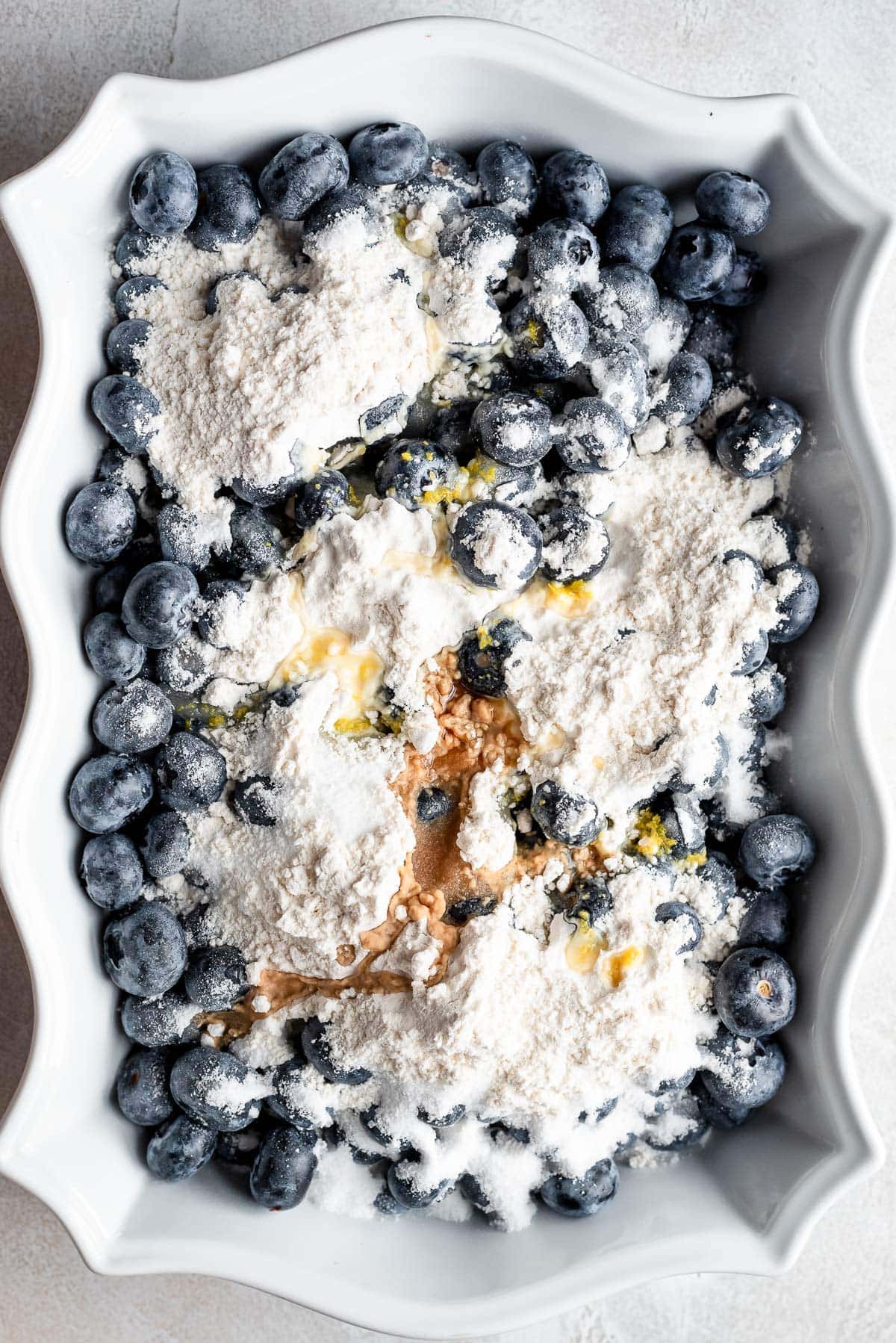 For the crisp topping:
Flour - I like using regular all-purpose flour, but if you are low, you can use bread or cake flour.
Oats - For a crisp, you need oats, otherwise, you just have a crumble. I don't like having a lot of oats in my crisp but you can add up to ½ cup more if you want it extra oaty.
Sugar - Typically, I will use a blend of brown and granulated sugar, but you can use the same amounts of all brown sugar or all granulated sugar.
Cinnamon - No matter the type of crisp I make, a bit of cinnamon just brings everything alive. You can always skip it though!
Salt - Bring out all the flavors in the crisp with a nice pinch of salt.
Butter - Use unsalted butter so you can control the salt in the dish. Most recipe call for cold butter, but I prefer to use room temperature butter. It makes it easier to incorporate the butter fully. Once it is done, I just chill the mixture so the butter hardens again.
How to make
Blueberry crisp is so easy to prep and make. It makes a great recipe to bake on a lazy weekend afternoon or with the kids.
Preheat the oven and take out a 9 x 13 baking pan.
Start with the crisp topping. Stir together the dry ingredients. Rub the butter into the dry ingredients. Press the mixture together, then leave it in the refrigerator or freezer as you work.
Fill with blueberries, then top with the sugar, cornstarch, lemon juice, lemon zest, vanilla, and salt. Toss together.
Crumble the topping over the blueberries.
Bake until the blueberries are nice and bubbly. The juice may start to bubbly over the crisp at the edges.
Remove and allow it to cool and for the juices to thicken before you serve.
Recipe tips
If you use frozen blueberries, you should not thaw them. I also recommend adding double the cornstarch.
For more dimension or texture, feel free to add chopped almonds, walnuts, and/or pecans to the crisp topping.
Use old-fashioned oats or quick cooking oats. Just do not use steel cut oats.
If you like lots of crumble, feel free to double the recipe. Or you can save the rest of the topping to make another crisp later.
In case your baking dish is more shallow than the ones I like to use, I recommend placing a baking sheet under your pan to catch any potential berry juice bubbling up.
Secret to the best crisp topping
For the absolute best crisp topping, you need larger clumps of the crisp. What I like to do is press my crisp mixture together in the bowl before I chill it. Once the butter is firm, I can break off large bits of the streusel. They'll bake into the most delicious and buttery bits ever. They also take longer to soften, meaning your crisp will be amazing for longer.
Storage
You can store your blueberry crisp at room temperature as long as you cover it tightly.
It is also possible to store the crisp in the refrigerator when covered.
Freezing is also an option before or after you bake. If you freeze before you bake, you can bake the crisp at 375F for about 45 - 50 minutes, covering the top with aluminum foil 30 minutes in. If you store after you've baked, reheat at 350F for about 30 minutes.
Please note that no matter how you store your crisp, the topping will start to soften. It will happen faster in the refrigerator. While baking the crisp again to warm it will help a bit, it will never go back to that freshly baked texture.
F.A.Q.s
Can I bake the blueberry crisp in a different pan size?
Absolutely! You can bake it in two 8 x 8 baking pans. You can also make the individual and bake them in ramekins. If you want to use a pan larger than 9 x 13, please make extra crisp topping so you have enough to cover the top.
Can I use different berries?
Definitely! You can use this recipe with any berries - or cherries - that you like. You can even use a mix. And yes, fresh or frozen berries is fine. Peaches, plums, and anything similar also works.
How do I thicken the blueberry filling?
The cornstarch, sugar, and the natural pectin in the blueberries all work to give the blueberries a deliciously jammy consistency. If your filling looks liquidy, you probably need more baking time, and to wait for the crisp to cool completely before digging in.
What else can I use to top my crisp?
You can have a great time experimenting with the toppings for your crisp. Before baking, you can add any of your favorite chopped nuts. They will also help amplify that delicious crunch. Once baked, you can top your servings of the crisp with things like whipped cream, caramel sauce, lemon glaze, and/or vanilla ice cream.
Related recipes
If you loved this blueberry crisp, you will need to check out some of these other recipes. My rhubarb pear crisp is a family favorite. This apple crumble is a popular classic on the blog. This peach crumble ice cream is a personal favorite and great for summer and even toping on other crisps and crumbles.
Recipe Card
Blueberry Crisp
An incredible blueberry crisp. Crisp, buttery streusel tops a wonderful jammy blueberry filling bursting with flavor.
Ingredients
For the Streusel
1 ½

cups

all-purpose flour

1

cup

old-fashioned oats

½

cup

granulated sugar

½

cup

brown sugar

¾

teaspoon

salt

2

teaspoons

ground cinnamon

1

cup

unsalted butter

cubed
For the Filling
4

pints

blueberries

1

cup

granulated sugar

⅓

cup

cornstarch

1

lemon

juiced and zested

1

teaspoon

salt

2

teaspoons

vanilla extract
Instructions
Preheat the oven to 350F. Take out a deep 9 x 13 baking pan.

Start with the crisp. Mix together the dry ingredients together in a medium bowl.

Add the cubed butter and rub the butter into the mixture until the mixture looks like lumps of wet sand or large crumbs. Store the topping in the freezer until needed.

Wash and dry your blueberries. Add them to your pan and toss the remaining ingredients for the filling together.

Take out the topping and crumble it evenly over the blueberry mixture. Try to get as many large crumbs as you can.

Bake for bout 40 - 50 minutes, or until the mixture is nice and bubbly.

Allow to cool completely before serving.
Notes
Add chopped nuts to the topping for added crunch.
Place aluminum foil over the crisp is you find the topping is browning too fast.
If you don't have blueberries, you can replace them with frozen, or any of your favorite fresh or frozen berries.
Nutrition
Serving:
1
g
Calories:
278
kcal
Carbohydrates:
45
g
Protein:
2
g
Fat:
11
g
Saturated Fat:
6
g
Polyunsaturated Fat:
4
g
Cholesterol:
27
mg
Sodium:
210
mg
Fiber:
3
g
Sugar:
28
g
Tried this recipe?
Tag me on Instagram! @acookienameddesire #acookienameddesire