These pavlova cupcakes are a light and refreshing way to eat two of your favorite desserts. Airy meringue nests are filled with clouds of whipped cream and topped with the freshest in-season berries. 
I've been planning out my schedule for my big move at the end of the year. I'm one of those people who needs to plan things out exactly. When I am going to start selling my stuff, organizing everything according to how I will sell them (online, garage sale, auction), what can be donated, and how I am going to transport the bigger items (I decided to just rent a moving truck from somewhere like U-Haul). With most things in life, I like to just let things happen organically, but when it comes to big changes, I tend to hyper plan every single detail.
The prospect of moving and knowing it is finally happening really excites me.  Before I had N, I moved around a lot and really loved it. I was able to experience so many different lifestyles and staying in one place too long actually makes me nervous. One thing I really miss is that cleansing feeling of condensing my life to just two suitcases. It forces you to really think about what is important in your life and let go of this obsession with material possessions. It's so freeing. Of course, I won't be able to do that this time. Not that I can't let go, but for economic reasons. I'm not that young kid with only a couple of bills and the ability to spend whatever I needed to replace two or three seasons worth of clothes as I go along. Plus, I will admit, I'm so attached to some of my food props.
In my effort to cut back on what I will need to organize before the move, I've stopped buying physical cookbooks and borrowing them from cookbooks. It's been a lot of fun because they have books I would never buy, but now that I can look through it for free, I find myself coming home with maybe 5 - 6 books at a time and discovering some really great inspiration. One recipe that really stuck with me was this meringue "cupcake" which was a meringue piped into a cupcake tin and swirled at the top like frosting, so when you took it out, it looked just like a cupcake. The recipe called for you to split open the meringue cupcake and fill with a berry compote. It was so freaking neat that I saved a photo of it on my phone.
From that photo, I decided to make these pavlova cupcakes. I wanted to have an actual cupcake, but I also wanted that meringue topping. But why not make it something light and fun by turning that meringue top into a pavlova - which also helps keep the cupcake from seeming too dry.
I am seriously in love with these pavlova cupcakes. The meringue has a nice light crunchy outside and chewy, marshmallowy inside. And the honey-sweetened whipped cream and berries just make everything to light and bright. I made a few different desserts when I made these cupcakes, and I keep coming back to have another of these cupcakes.
I used my favorite cupcake recipe, but substituted half the all-purpose flour with cake flour for a more delicate crumb, but feel free to use just one type of flour. Coconut whipped cream also works really well in place of regular whipped cream here, especially with the honey. Feel free to use any berries or fruit you have on-hand.
Pavlova Cupcakes Recipe
Recipe Card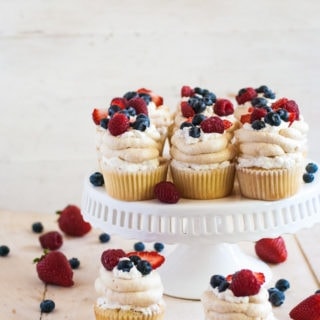 Pavlova Cupcakes
Ingredients
For the Meringue
⅔

cup

granulated sugar

2

egg whites

½

teaspoon

vanilla extract
For the Cupcakes
¾

cups

all-purpose flour

¾

cups

cake flour

1½

teaspoon

baking powder

½

teaspoon

salt

1

stick unsalted butter

room temperature

¾

cup

sugar

1½

teaspoon

vanilla extract

3

large eggs

room temperature

½

cup

buttermilk

room temperature
For the Whipped Cream
½

cup

chilled heavy cream

1

tablespoon

honey
Instructions
For the Meringue
Preheat the oven to 200 degrees F. Line a baking sheet with parchment paper.

Beat the egg whites until soft peaks form. While they are beating, lightly heat the sugar in a saucepan on medium for about 3 – 4 minutes, just before the sugar begins to melt. Slowly add the heated sugar and beat until the eggs become glossy and stiff, about 5 minutes. Add the vanilla extract and beat to combine.

Fill a piping bag fitted with a round tip with the meringue. Place small dots of meringue on the bottom corners of the parchment paper so it will stick to the baking sheet. Pipe a nest by piping two 2 ½ inch circles on top of one another. Repeat until you have 12 nests.

Bake for about 2 ½ hours to dry out the meringue. Set aside.
For the Cupcakes
Preheat the oven to 350 degrees F, line a cupcake liner with liners.

Whisk both flours, baking powder, salt together in a medium bowl. Set aside.

Beat the butter and sugar together until light and fluffy. Add the egg and vanilla extract and mix well. Alternate between adding the flour mixture and

buttermilk

to the wet ingredients, beginning and ending with the flour. Mix until just combined.

Evenly distribute the batter among the liners. Bake for about 15 – 18 minutes, or until a light golden brown and the tops spring back when lightly pressed.
For the Honey Whipped Cream
Pour the heavy cream into a chilled mixing bowl of a stand mixer fitted with a chilled whisk. Beat until the cream thickens and stiffens. Add the honey and beat to incorporate.
Assemble
Smear whipped cream over the tops of the cupcakes. Place the meringue nests onto each cupcake and fill with more whipped cream. Top with berries.
Notes
Cupcakes are best eaten the same day they are assembled. If you wish to make this ahead of time, you can make the meringue and cupcakes up to two days ahead of time, store both in air tight containers. You may make the whipped cream up to 8 hours ahead, store in an air tight container in the refrigerator, and rebeat just prior to assembly.
Tried this recipe?
Tag me on Instagram! @acookienameddesire #acookienameddesire