Completely delicious and ridiculously easy white chocolate covered Oreos that are just as fun to make as they are to share and eat!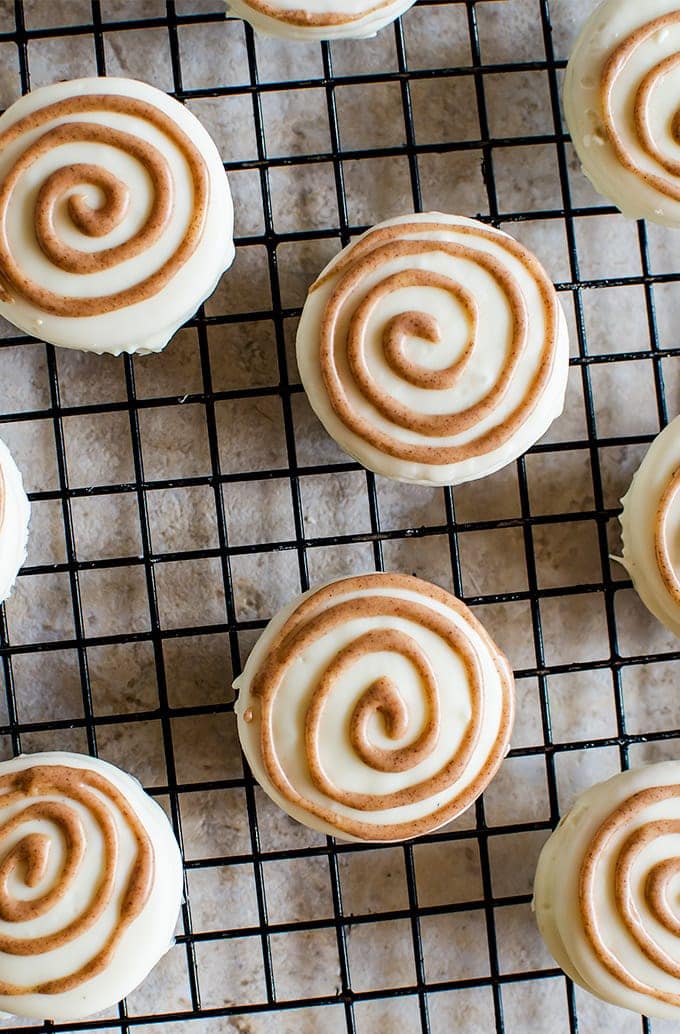 Why you'll love it
These are a delicious treat that tends to be a crowd favorite. They are fast and simple to make, so they are perfect for a last minute shareable dessert for holidays, birthdays, or whenever you'd like!
The flavor combination of Oreos and white chocolate adds a delicious balance of flavors that really make both the cookie and white chocolate shine in their own ways.
These are also great to use in other things. They make an amazing topping to cakes, milkshakes, and especially ice cream. You can even incorporate them into baked goods.
Ingredients
There are literally only two essential ingredients to making these.
Oreos - These are best made with golden Oreos, but the traditional chocolate ones are also amazing. you can even experiment with the different flavor varieties they now offer. This is a great time to get creative!
White chocolate - I recommend using bar white chocolate instead of chocolate chips. It is easier to melt chocolate in bar form and subsequently coat the Oreos.
How to make
There are a few different ways you can make these, but this is my favorite because it uses up less chocolate.
Line a baking sheet with parchment paper, then top with a wire rack.
Add the white chocolate to a double boiler and gently stir until it is about 95% melted. Remove from the heat and stir to completely melt the chocolate.
Dip an Oreo into the chocolate and use a fork to remove it. Let the Oreo rest on the wire rack and allow the excess chocolate drip off.
Repeat with the remaining cookies.
Once the chocolate starts running low, transfer the chocolate that dripped onto the parchment paper back into the double boiler and melt again.
Continue with the above steps until the Oreos are all covered.
Variations
There are a ton of ways you can add variety to your white chocolate covered Oreos.
I like to add a cinnamon swirl to make them taste like a cinnamon roll.
You can also top them with chopped nuts or dried fruit.
Top them with sprinkles to add a festive touch.
Drizzle them with dark chocolate or even caramel!
Open the Oreos and add peanut butter and fluff to make a fun twist on fluffernutter candies.
Recipe FAQs
How do I store them?
Once the chocolate is set, you can store them in an airtight container in a cool, dry place. If it is hot outside, I recommend leaving them in the refrigerator.
Can I use melting wafers or almond bark?
Alternatives like chocolate melting wafers or almond bark are acceptable substitutions for bars of white chocolate. In a pinch, you can also use white chocolate chips, and add a teaspoon of vegetable oil to help keep the chocolate smooth.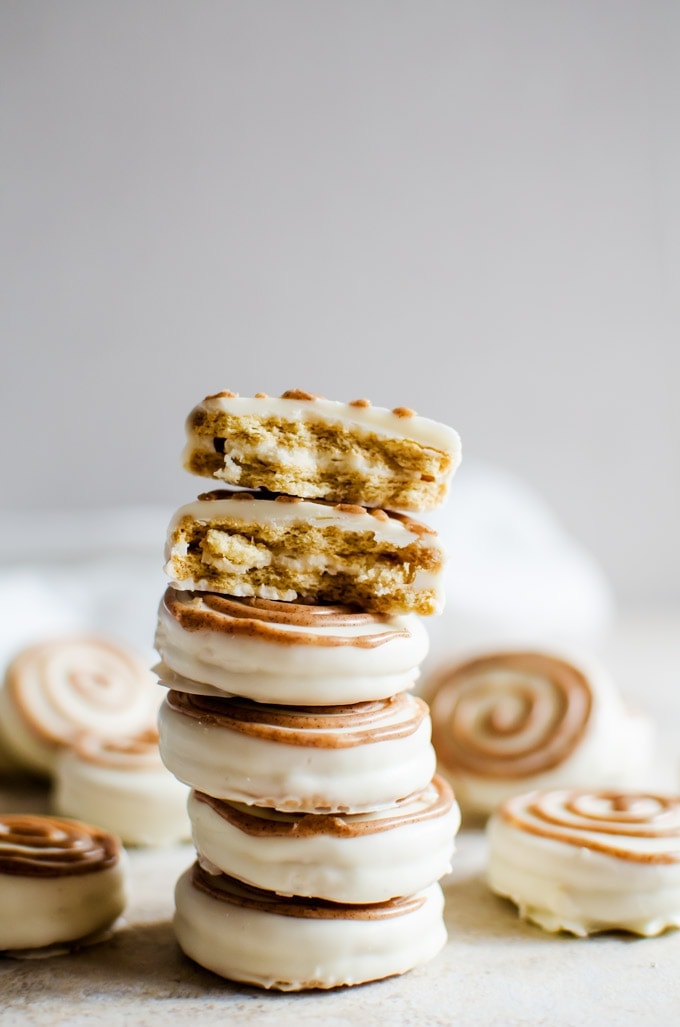 Recipe Card
White Chocolate Covered Oreos
These easy white chocolate covered Oreos are a tasty and easy treat anyone would love!
Ingredients
12

oz

white chocolate

18

Golden Oreos or Cinnamon Roll flavored Oreos

1

cup

powdered sugar

2

teaspoons

ground cinnamon

2 - 2 ½

teaspoons

water

or more as needed
Instructions
Place a wire rack over a parchment-lined baking sheet.

Place the white chocolate in a heatproof bowl, and place the bowl over a small saucepan filled with simmering water. Stir constantly until the chocolate is completely melted.

Dunk an Oreo into the white chocolate and use a fork to scoop out the Oreo. Place on the wire rack and gently shake the rack to remove excess chocolate as needed. Allow to dry.

Repeat with the remaining Oreos. Occasionally, you will gently need to move the Oreos on the wire rack so they don't get stuck to the wire rack,

As you get to the last of the white chocolate, take the chocolate that dripped down onto the parchment paper and place back in the bowl with the melted white chocolate to remelt and use.

Once the Oreos are dried, make the topping.

Mix together the powdered sugar and cinnamon. Slowly add the water, stirring very well until the mixture becomes a thick paste.

Place the paste into a sandwich bag and clip a small bit of one of the corners. Pipe swirls on the tops of the Oreos. Allow to dry.
Tried this recipe?
Tag me on Instagram! @acookienameddesire #acookienameddesire