Completely delicious and ridiculously easy white chocolate covered Oreos that taste just like your favorite breakfast treat! These cinnamon roll chocolate covered Oreos are totally irresistible.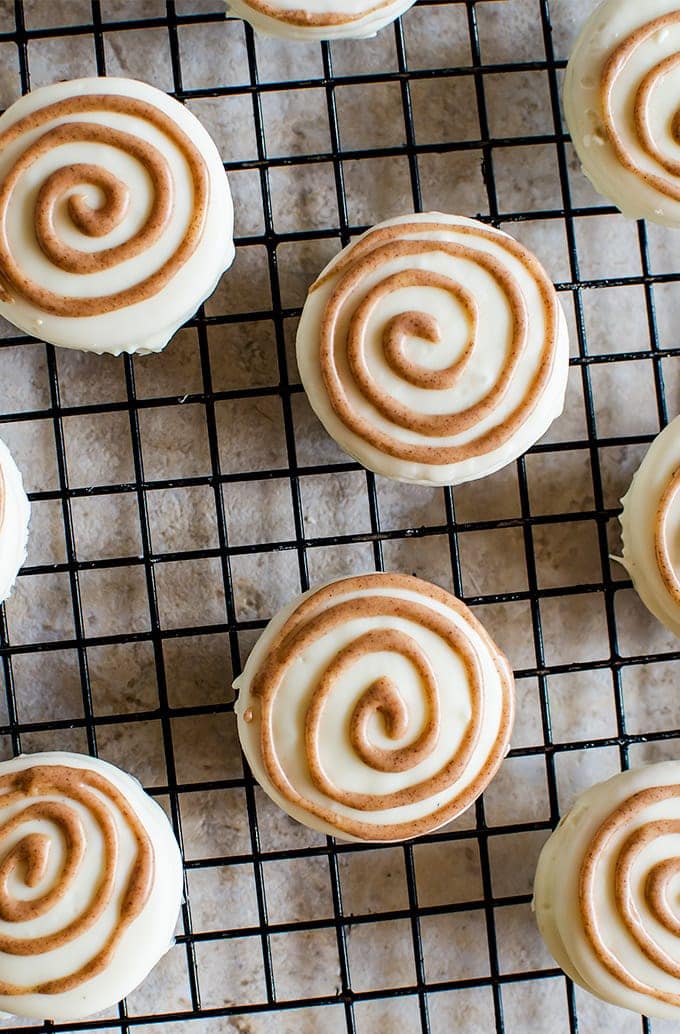 So one of my favorite things to make are chocolate covered Oreos. They are so simple and easy, that I never really thought of them as needing a recipe. It's just.... Oreos dipped in chocolate. But that simple act take the cookies from amazing to oh-my-god-how-am-I-not-eating-this-all-day-every-day? You know what I mean? And then... you can turn it into something else even more spectacular what with all the Oreo flavors and toppings you can add to the chocolate.
Take these white chocolate covered Oreos that are cinnamon roll flavored! They are like your favorite breakfast dessert one concentrated into a delicious little cookie. I usually use regular Golden Oreos, but you can take it to a whole new level and use cinnamon roll flavored Oreos for that one-two punch of cinnamon roll flavor. Oh my gosh, can you imagine?
You can't see me right now, but I am literally doing heart eyes right now. Okay, maybe not literally, but if I could, I would.
Anyway, can you believe how many flavors Oreo has now? What's with the Watermelon Oreos and the Swedish Fish Oreos (what?!)  Have you tried them? What do you think?? Inquiring minds, who don't want to try them without a few reviews first, need to know!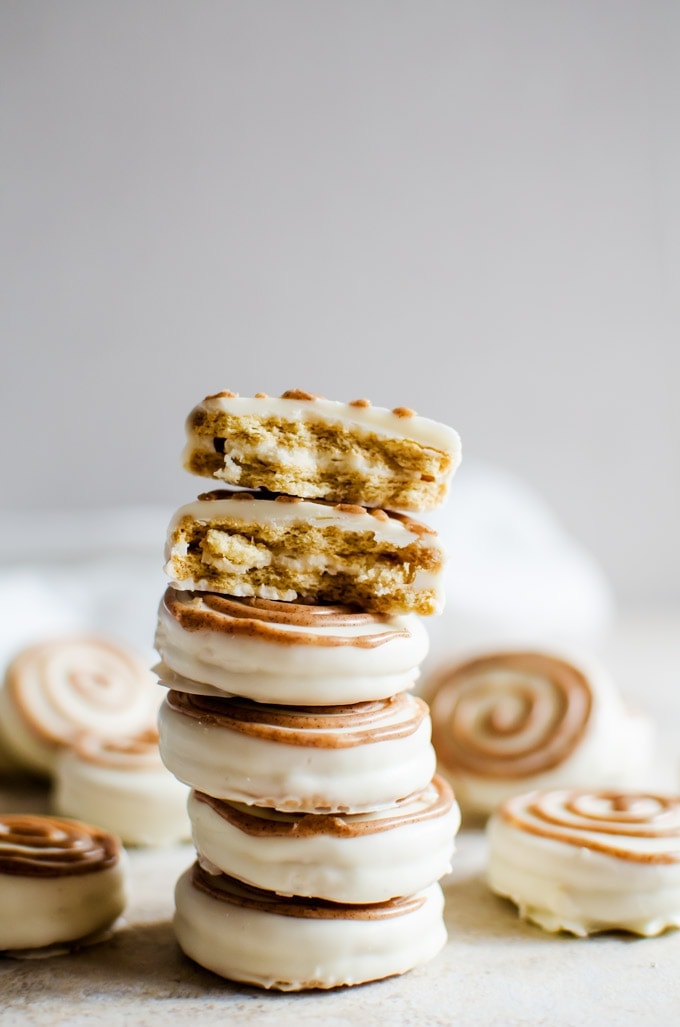 For now, I am going to stick with what I know and make myself more of these cinnamon roll white chocolate covered Oreos!
White Chocolate Covered Oreos
These easy white chocolate covered Oreos are a tasty and easy treat anyone would love!
Ingredients
12

oz

white chocolate

18

Golden Oreos or Cinnamon Roll flavored Oreos

1

cup

powdered sugar

2

teaspoons

ground cinnamon

2 - 2 ½

teaspoons

water

or more as needed
Instructions
Place a wire rack over a parchment-lined baking sheet.

Place the white chocolate in a heatproof bowl, and place the bowl over a small saucepan filled with simmering water. Stir constantly until the chocolate is completely melted.

Dunk an Oreo into the white chocolate and use a fork to scoop out the Oreo. Place on the wire rack and gently shake the rack to remove excess chocolate as needed. Allow to dry.

Repeat with the remaining Oreos. Occasionally, you will gently need to move the Oreos on the wire rack so they don't get stuck to the wire rack,

As you get to the last of the white chocolate, take the chocolate that dripped down onto the parchment paper and place back in the bowl with the melted white chocolate to remelt and use.

Once the Oreos are dried, make the topping.

Mix together the powdered sugar and cinnamon. Slowly add the water, stirring very well until the mixture becomes a thick paste.

Place the paste into a sandwich bag and clip a small bit of one of the corners. Pipe swirls on the tops of the Oreos. Allow to dry.
Tried this recipe?
Tag me on Instagram! @acookienameddesire #acookienameddesire