Ritz and marshmallow fluff peanut butter cups are a delicious candy treat you are going to want to devour in seconds! The marshmallow fluff and peanut butter make these peanut butter cups like bites of fluffernutter sandwiches, while the Ritz crackers add a nice crunch and some saltiness to balance the creamy white chocolate.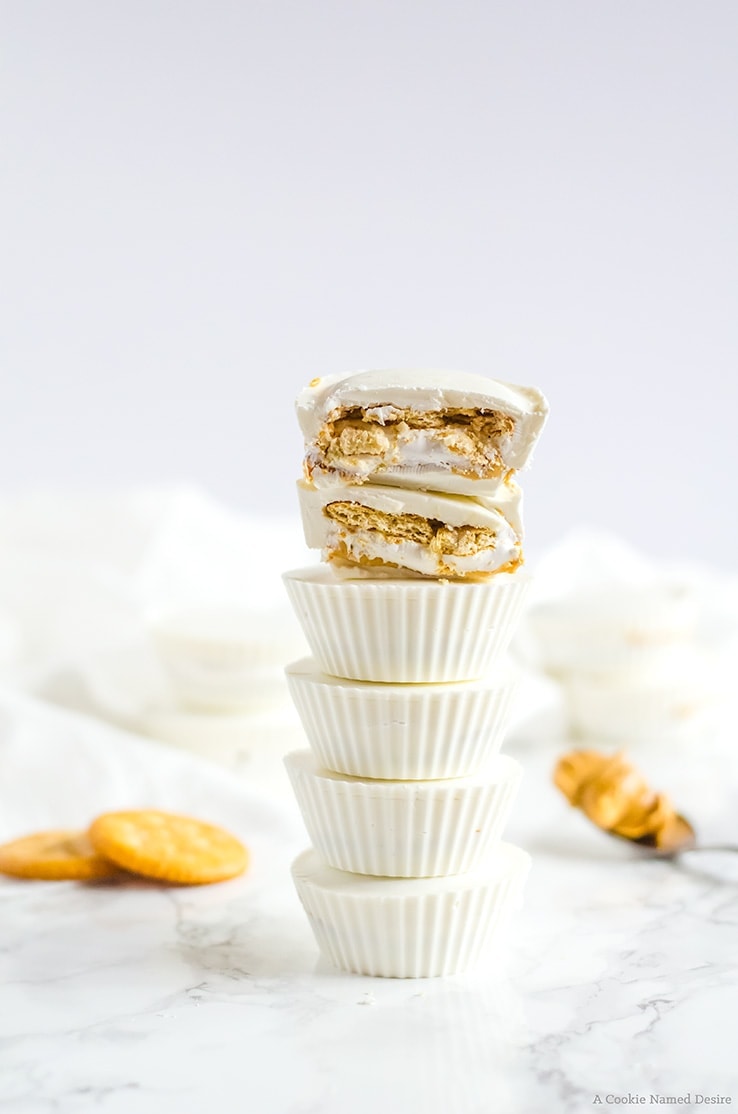 So my bloggy bestie, Miranda at Cookie Dough and Oven Mitt runs this monthly event called Peanut Butter Bash. I haven't been able to participate because of other obligations on the dates they were held, but as luck would have it, I was free to join this month.... and I already had the most amazing recipe in mind, too.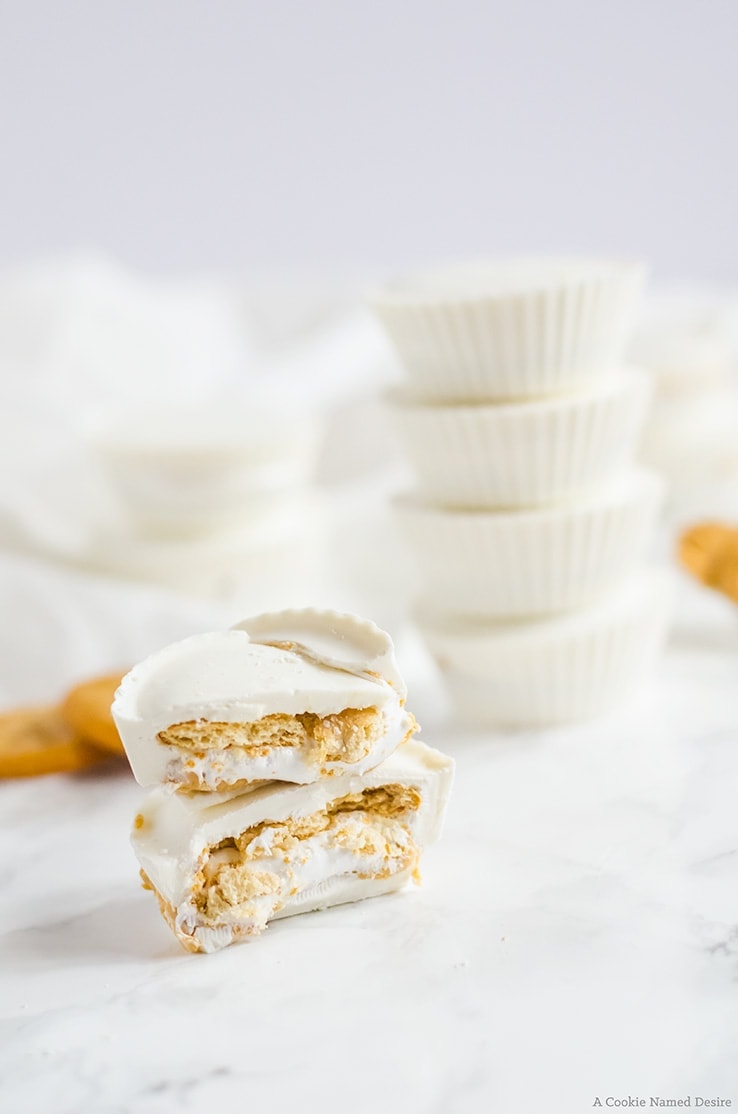 I've been dreaming of these Ritz and marshmallow fluff peanut butter cups since January, but held off on sharing them until today and it's been really hard to wait that long. I wanted to call these fluffernutter cups, but did you know that "Fluffernutter" is trademarked when it comes to recipe development? So this lovely, more descriptive title had to do. I fist discovered the joys of fluffernutter in middle school when I was best friends with my neighbor who has the same name as me. She introduced me to fluff because I had no idea it even existed before and made me try a fluffernutter sandwich. It. Was. Awesome.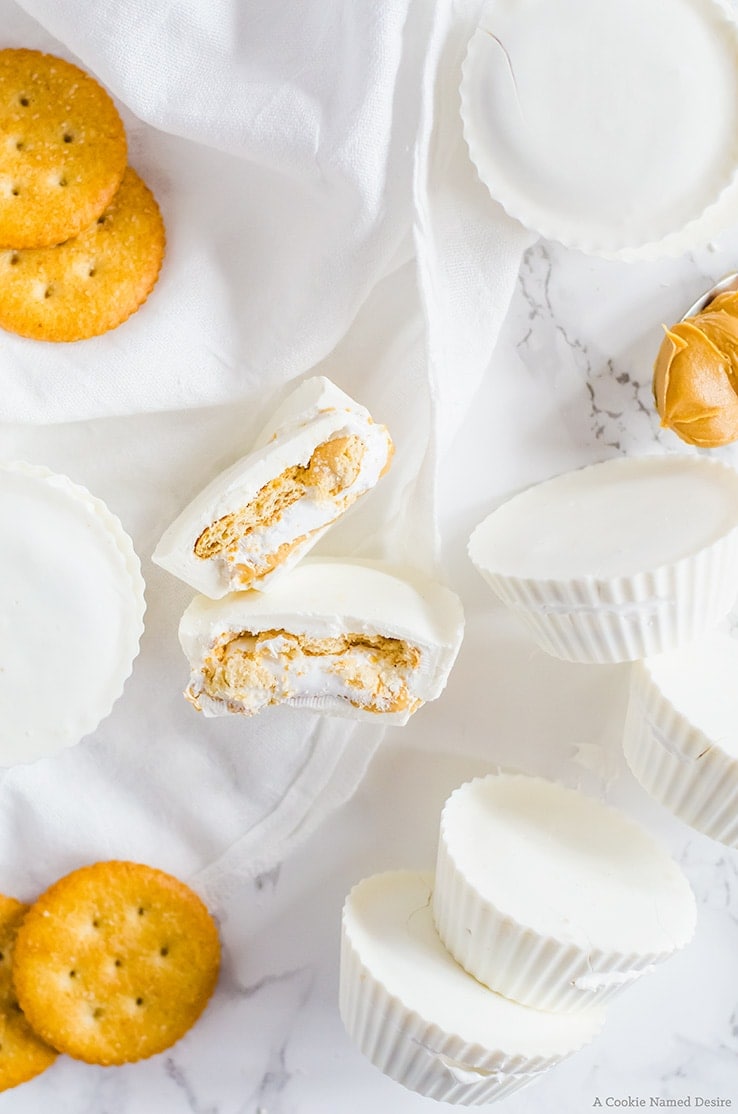 I originally thought that it would make a great candy, but I wanted something else to add a bit of extra saltiness. Sweet and salty is the best combination. And it really works here because I tend to find white chocolate a bit too sweet for my taste. The saltiness of the Ritz really helps balance the sweetness of the white chocolate. It tones it down so you can really enjoy all the flavors in the bite. And then it adds this really nice crunch to it. Basically, it's perfect.
These Ritz and marshmallow fluff peanut butter cups take only about 25 minutes to make, not including the time for the chocolate to harden - and that's with taking your time with it. I was able to get it done in maybe 15 minutes. So there is no reason not to make these amazing peanut butter cups!

Recipe Card
Ritz and Marshmallow Fluff Peanut Butter Cups
Delicious and simple to make fluffernutter -inspired peanut butter cups with a salty twist
Ingredients
1

cup

peanut butter

½

cup

powdered sugar

¼

teaspoon

salt

18

oz

white chocolate

12

teaspoons

marshmallow fluff

12

plain or honey wheat Ritz crackers
Instructions
In a bowl, mix the peanut butter, powdered sugar, and salt together until well combined. Set aside. Line a muffin tin with cupcake liners.

In a separate bowl, add the white chocolate and heat in the microwave at 50% power for 30 second intervals, mixing well between each interval.

Place about a heaping teaspoon on the bottom of each cupcake liner and swirl to coat the bottom and about a centimeter or two up the sides of the liner. Allow to dry.

Take a piece of the peanut butter and roll into a ball in your hands (this is easier done with freshly washed and dried hands) and place each ball in the cupcake liners and gently press down so that it almost reaches the edges of the liners, but doesn't actually touch.

Drop a teaspoon of fluff over the peanut butter, don't let it touch the sides.

Top the fluff with a Ritz cracker (plain works well, I used honey wheat and it's delicious!).

Pour chocolate over the ritz crackers and vigoursly move the muffin tin on your work surface to move the chocolate down the sides of the filling to surround it and even out the tops until it is smooth. Allow to harden at least 4 hours at room temperature, or 1 hour in the refrigerator.

Peel off the liners and enjoy!
Nutrition
Calories:
392
kcal
Carbohydrates:
39
g
Protein:
7
g
Fat:
25
g
Saturated Fat:
10
g
Polyunsaturated Fat:
3
g
Monounsaturated Fat:
9
g
Cholesterol:
9
mg
Sodium:
179
mg
Potassium:
243
mg
Fiber:
1
g
Sugar:
35
g
Vitamin A:
13
IU
Vitamin C:
1
mg
Calcium:
95
mg
Iron:
1
mg
Tried this recipe?
Tag me on Instagram! @acookienameddesire #acookienameddesire

Chocolate Peanut Butter Crunch Trifles from Miranda of Cookie Dough and Oven Mitt
Peanut Butter Jelly Bites from Gina of Kleinworth & Co.
No Bake Peanut Butter Ritz Cracker Breakfast Bars from Emma of Bake Then Eat
Peanut Butter Chocolate Ritz Crack from Stephanie of The TipToe Fairy