Fluffy chocolate madeleines. These deeply delicious morsels are like a cross between a cake, cookie, and brownie and we are all here for it. Dip them with chocolate for the ultimate chocolate treat.
Madeleines are one of my favorite little treats to have. It's been ages since I've actually had one, but when I did, I was immediately reminded of why I needed to start making them again.
It was a regular vanilla madeleine dipped in chocolate and the moment it touched my lips, I was transported back to some of my favorite madeleines I've had in the past. Yes, I definitely needed to make them again.
I've made a few madeleines for the blog before. My favorites being my vanilla bean rose madeleines and my brown butter pecan madeleines. I could live off those two for the rest of my life and be almost happy.
I say almost because we all know how I get these insatiable chocolate cravings. So that's why I decided to make these chocolate madeleines to help with that.
Here we use two types of chocolate in the batter and then dip it in more chocolate. Originally, I was going to go fancy and top them with chopped nuts or freeze-dried strawberries, but I wanted to go in a more fun route for my daughter and nieces, so sprinkles it was!
Probably my best decision ever.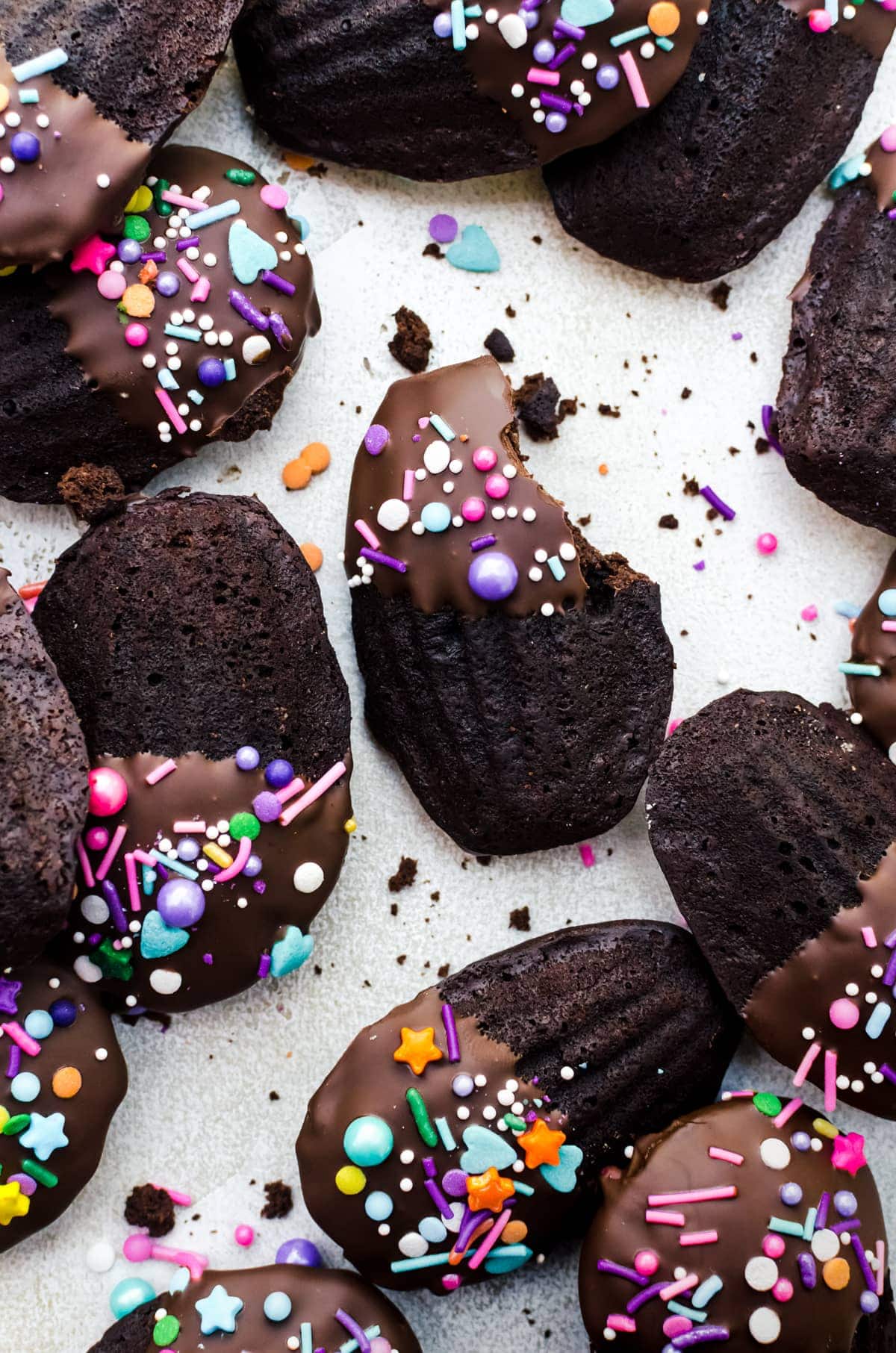 Why are Madeleines Shell-Shaped?
There is some debate on the origins of the recipe, name, and shape of madeleines. It is believed that it all originated from bakers in Commercy, a small town in Lorraine, France.
A popular belief is that the name comes from a maid by the same name who made the treats for the Duke of Lorraine. There is no definitive reason why the shell shape was chosen, but it is my guess was that it added a touch of elegance to the finished product.
Can I Freeze Madeleines?
Yes, you can freeze them! They thaw easily by leaving them at room temperature for a few minutes when you are ready to eat or serve them.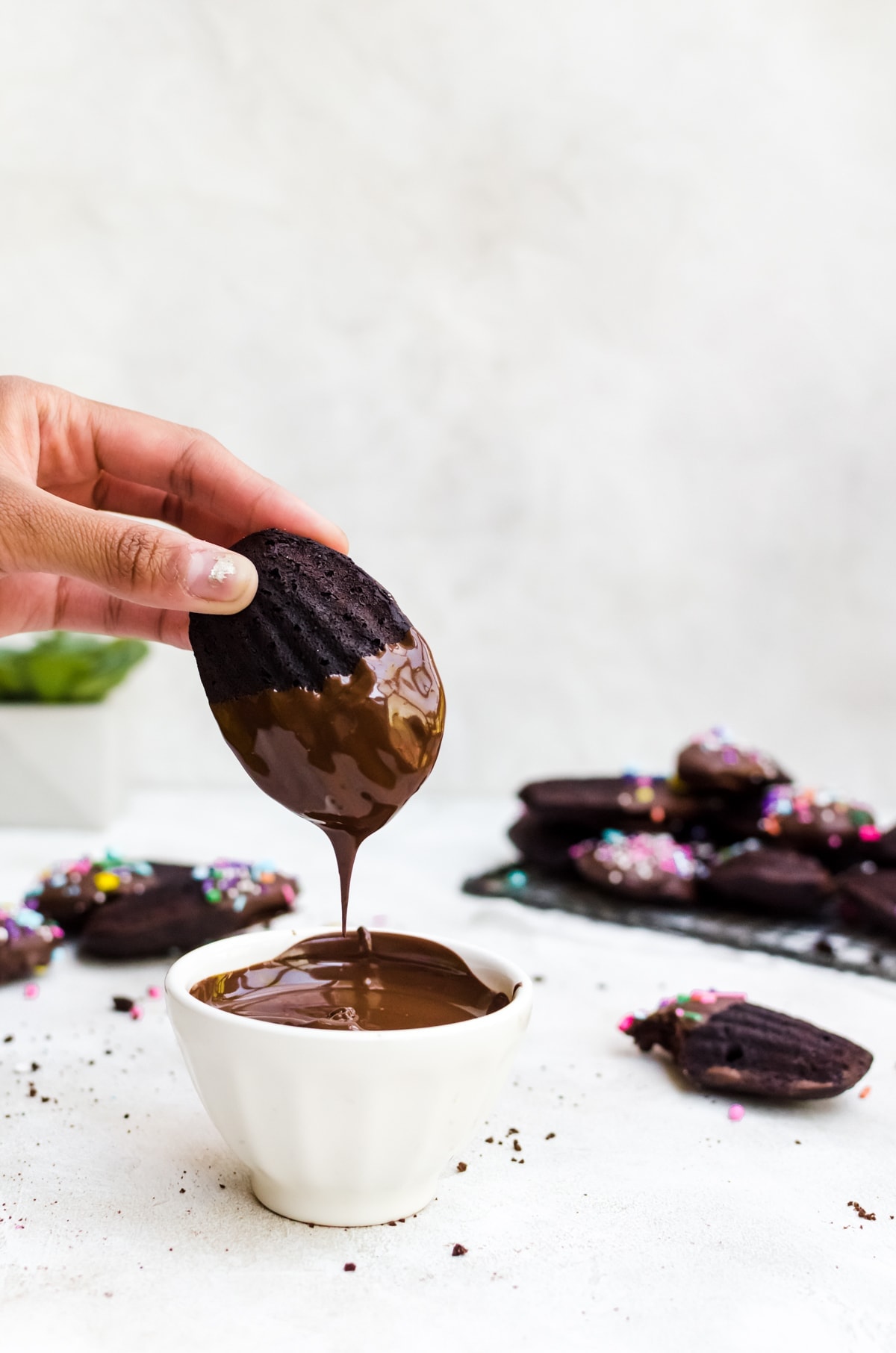 How Do I Make Madeleines Without A Mold?
Madeleines are defined by their signature shell shape. I purchased my molds on Amazon. I have a regular-sized madeleine pan and a pan for mini madeleines. If you do not want to invest in a pan, you can try baking them in greased and floured cupcake tins or doughnut pans. I would simply not fill your pan and keep an eye on the baking time.
What Do Madeleines Taste Like?
Madeleines should have crisp edges and a soft, but sturdy interior. They are deliciously buttery and traditionally are flavored with vanilla or orange zest. These chocolate madeleines taste like, well, chocolate. The recipe is actually similar to the brownie recipe I often use and it does have very strong brownie vibes.
We use a mix of semi-sweet and Dutch-processed cocoa powder and dip them in your favorite chocolate (I used a mix of milk and semi-sweet chocolate). You can substitute the Dutch-processed cocoa powder with any cocoa powder you have available.
Want More Recipes?
Besides all the madeleine recipes I shared earlier, you might also like to try my coconut chocolate chip cookies, s'mores stuffed cookies, or my cookies and cream cookies. I have a feeling you may enjoy my edible brownie batter, too. Don't forget to check out all my cookie recipes here.