Brown butter pecan madeleines are the epitome of rich and indulgent nutty flavor. The brown butter gives the madeleines and intoxicating aroma and the pecans add a welcome crunch. These dainty cookies are best served fresh from the oven while they are still warm, making them an incredible wintertime treat.
I am kind of obsessed with TV. I know you're probably thinking it's not a good obsession to have, but whatever. I don't watch just any television shows, but I become too immersed and invested in the characters of the shows I do watch. Right now I am knee-deep in the second half of The Walking Dead, Blacklist, and I just started watching a show on SciFi called The Magician. I am also catching up on a few shows on Netflix. We've never really done any show-watching parties for weekly shows before. But we've kind of fallen into that routine with The Walking Dead this season now we have friends that live closer by.
By about 7:30pm everyone shows up and I am "required" to have some sort of treat ready for everyone as we discuss the last episode and what we think will happen in the next. Usually, I serve something sweet, like these brown butter pecan madeleines, and something savory (which I will share with you later in the week!). My original plan was to make something different each week, but I've been asked to make the brown butter pecan madeleines three times already because they are just that addictive!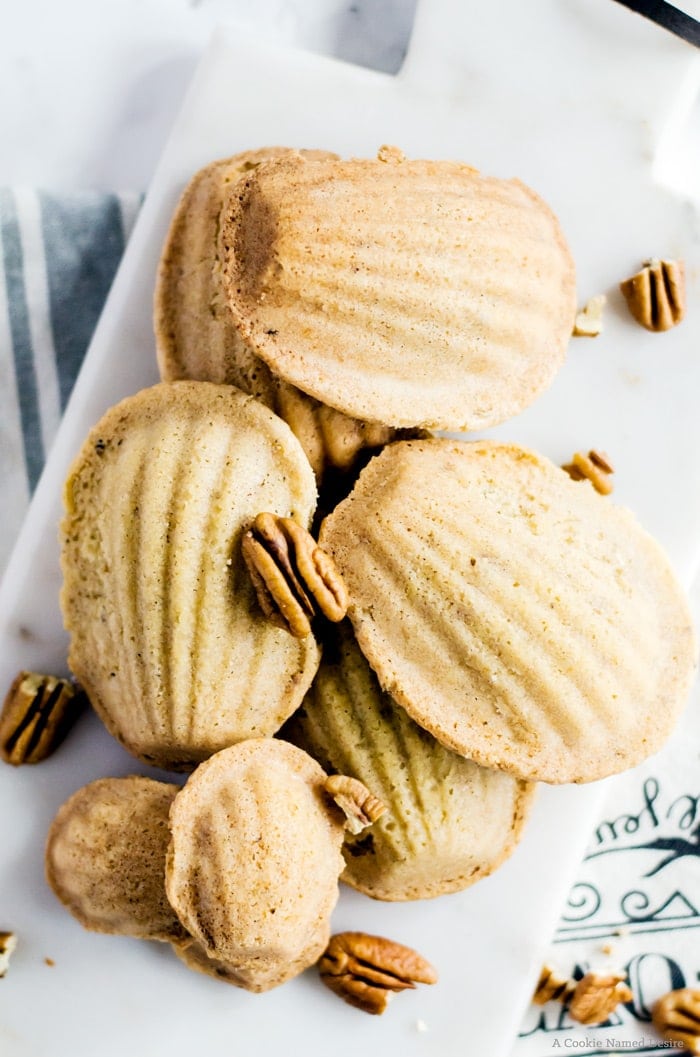 The brown butter and brown sugar gives it this intoxicating aroma and beautifully golden brown hue and the pecans add this amazing crunch. Brown butter pecan is kind of a classic combination and it might be one of my favorites. What I love about this particular recipe is that it is enough for plenty of madeleines to go around. Of course, I usually end up making a double batch of these brown butter pecan madeleines because I…. accidentally eat half a pan on my own. Because I'm a stickler for quality control like that.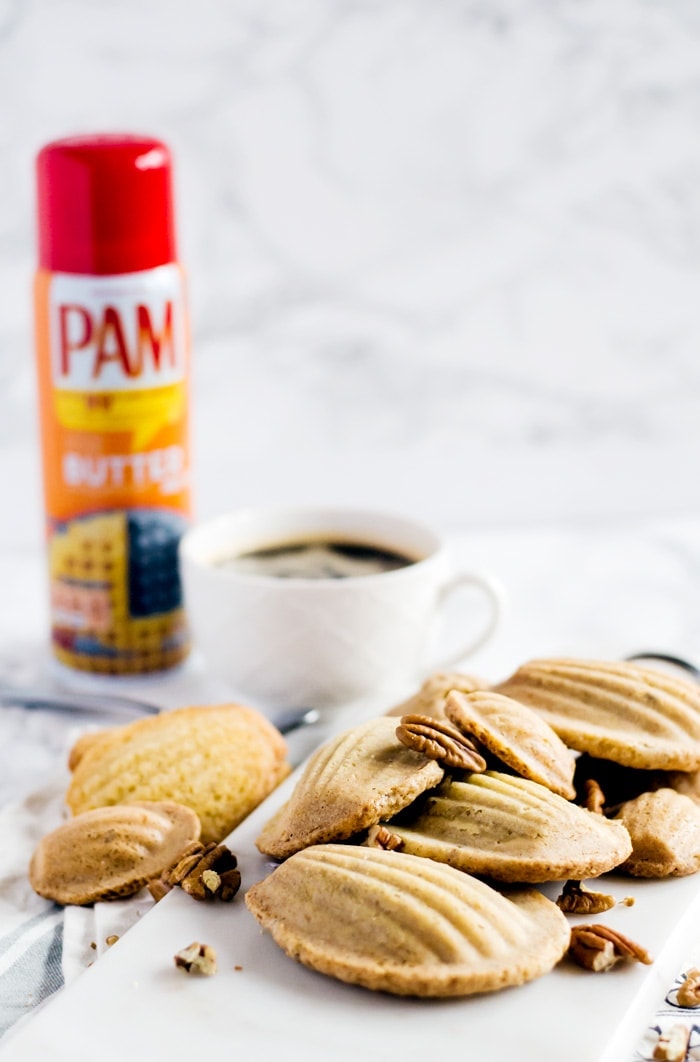 To keep the brown butter pecan madeleines from sticking to the pans, I recommend PAM Cooking Spray. I usually keep PAM on-hand because it is my favorite to use on my baking pans and sheets to prevent sticking. This is super important when you are making batches and batches of madeleines for a hungry group of people waiting to binge on some TV with you!
Recipe Card
Brown Butter Pecan Madeleines
There isn't anything better than these irresistible brown butter pecan madeleines. 
Ingredients
10

tablespoons

unsalted butter

cut in cubes

2

large eggs

room temperature

⅓

cup

granulated sugar

3

tablespoons

brown sugar

1

cup

unbleached all-purpose flour

1 ¼

teaspoon

baking powder

¼

teaspoon

salt

½

cup

chopped pecan halves
Instructions
Preheat the oven to 350 degrees F. Spray two madeleine pans with PAM Cooking Spray, then lightly coat with flour. Place in the freezer as you make the batter.

In a large skillet, add the butter and heat on medium until melted. Once melted, stir constantly until it browns and gives off a nutty aroma. Set aside to cool.

In a mixer, beat the eggs until light, add both types of sugar then beat until light and voluminous.

In a small bowl, add the flour, baking powder, and salt. Slowly add the flour into the egg mixture and beat until just combined. Stir in the butter. Fold in the pecans.

Evenly divide your batter among the madeleine pans.

Bake for about 12 – 13 minutes, or until a light golden brown and puffed in the center. Remove from the pans and serve warm.
Tried this recipe?
Tag me on Instagram! @acookienameddesire #acookienameddesire
ConAgra Foods products can be found in 99 percent of American households, and include many iconic brands such as Hunt's Hebrew National, Swiss Miss, Manwich, PAM Cooking Spray and many more. Whether on their own or as a part of a delicious recipe, ConAgra Foods brands are perfect for nearly any eating or entertaining occasion.