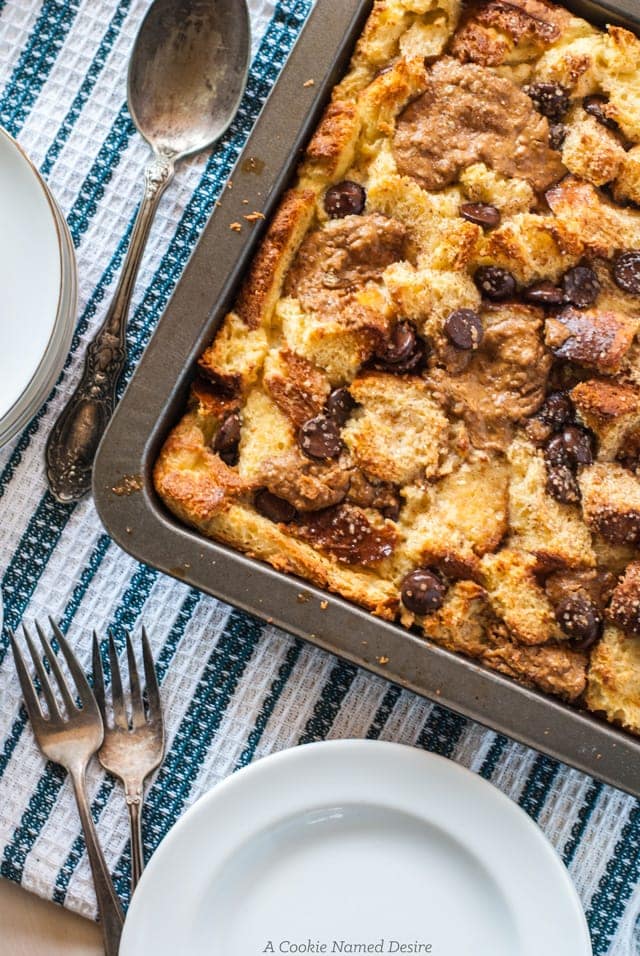 Holy all that is deliciously decadent, guys. This overnight brioche cookie butter & chocolate chip French toast is the bees knees. Really, this is more like a bread pudding than a French toast, but I'm sticking with French toast casserole because that means I get to eat this at breakfast. And I definitely want this for breakfast. It's got lots of cookie butter spread throughout, plus chocolate chips sprinkled throughout. Banana helps balance things out and makes the casserole feel more breakfast-y. We use my French brioche loaf for this.
I am all about this French toast which is what I really need really get about now cause I've got some mama blues going on right about now. The past few weeks, my daughter has been extra clingy and not dealing with separation very well. I suspect it has to do with the trip out to New York because I can't leave a room without her needing to know exactly where I'm going and why. If I try to leave the room without informing her, it's immediate panic and waterworks. The worst part? She will start saying things like "Mama left because she doesn't love me anymore" Talk about heart shattering words right there.
I keep trying to remind her that if there's anything in this world she can count on is that I love her endlessly. She says she knows, but....sigh. A double serving of this overnight French toast casserole, please.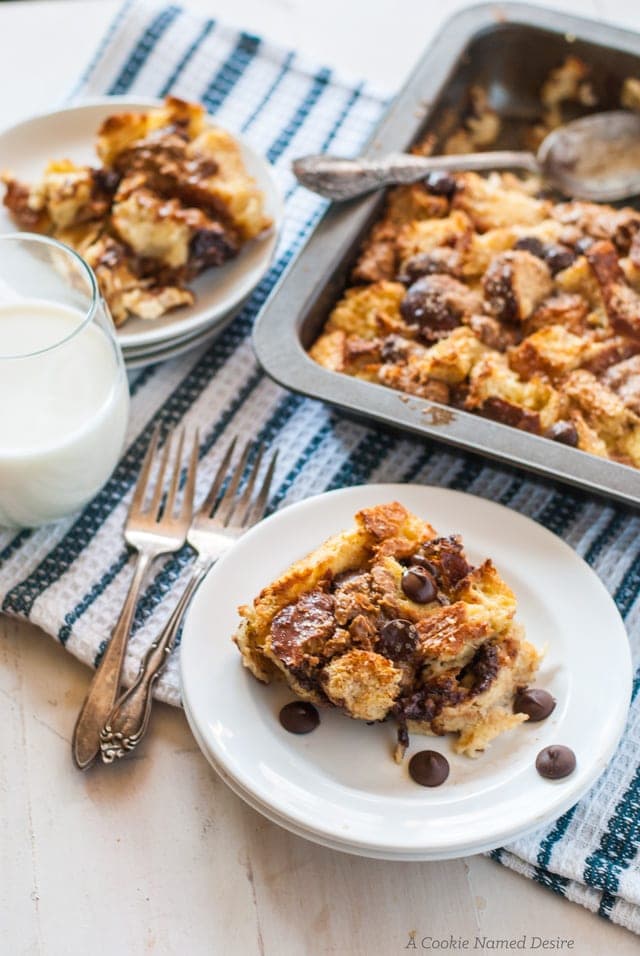 How do you even handle a situation like this? Right now I feel like I'll never spend a night away from her ever again. Where do you draw the line between support and knowing when to teach your kids more independence? How do I know if I am enabling an unhealthy situation? I keep telling myself she's only three, but I see other kids her age and they seem so much more confident and independent. Where is that damned parenting handbook that's supposed to come standard with each child? Whaaa....!
One thing I do know is that this brioche French toast is everything. And you need to make this asap.
Recipe Card
Overnight Brioche Cookie Butter & Chocolate Chip French Toast
Ingredients
⅔

of a loaf of brioche bread

preferably stale or lightly toasted

½

cup

cookie butter

½

cup

chocolate chips

3

large eggs

2 ¼

cups

milk

½

teaspoon

salt

2

tablespoons

light brown sugar

1

banana

mashed

3

tablespoons

turbinado sugar

optional
Instructions
Cut the bread into bite-sized cubes. Layer one third of the bread in an 8 x 8 inch baking pan. Drop one third of the cookie butter and chocolate chips over the bread. Repeat this to create three layers of bread, cookie butter, and chocolate chips. Set aside.

Mix together the eggs, milk, salt, and banana together in a small bowl. Pour over the bread, ensuring the bread is completely soaked in the mixture.

Cover with plastic wrap and leave in the refrigerator overnight.

Preheat the oven to 350 degrees F. Sprinkle the turbinado sugar over the French toast and bake for 30 - 35 minutes.
Tried this recipe?
Tag me on Instagram! @acookienameddesire #acookienameddesire