Guys... I've been a bread making machine these past few weeks since getting my new Kitchen Aid because of that dough hook. Before, I would have to knead my dough by hand and it was the worst thing ever because I have no upper body strength and I would tire out halfway through kneading. But now... now I can let my mixer do the kneading and use my free arms to do important things like eat cake wash dishes.
My favorite bread to eat and make is a super buttery French brioche loaf. This loaf is laden with butter and takes bread eating to a whole new level.
My favorite way to eat a buttery French brioche loaf is to slice it up, toast it, and spread a nice helping of homemade jam. (If you made the berry wine jam and have some left over, this is the best time to whip it out!) But I've been known to make frequent trips to the kitchen and rip off a chunk of bread and eat it plain. This bread is just so addictive, especially fresh out the oven.
Now, I usually go for the store-brand butter because, hello!, have you seen butter prices these days?! Ever since starting this food blog, I've noticed the price up butter go up over $2 in my local store in one year. Almost $5 for a pound of butter is ridiculous. (Side note: when the store closed down last week, I stocked up and got about 10 pounds of butter for only $14, let's see how long it lasts me!) If you are going to make anything that has butter as one of the shining stars i the recipe, you've gotta splurge on the good stuff. Your wallet might not like you, but trust me, it is worth it.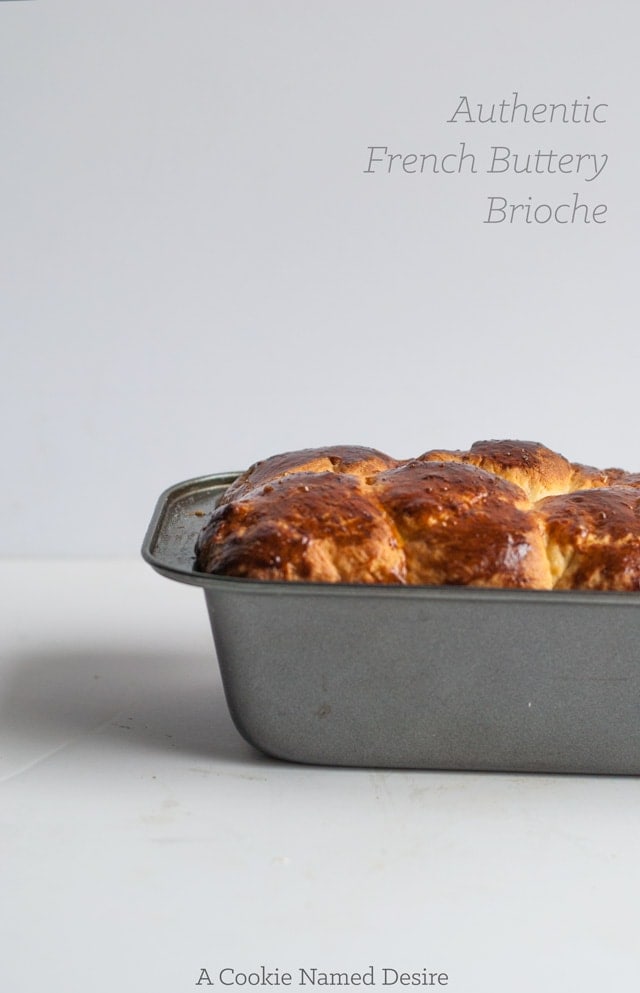 Be sure to work on yo brioche skillz this weekend cause we are gonna make the most ridiculously rich and delicious desserty breakfast with it soon.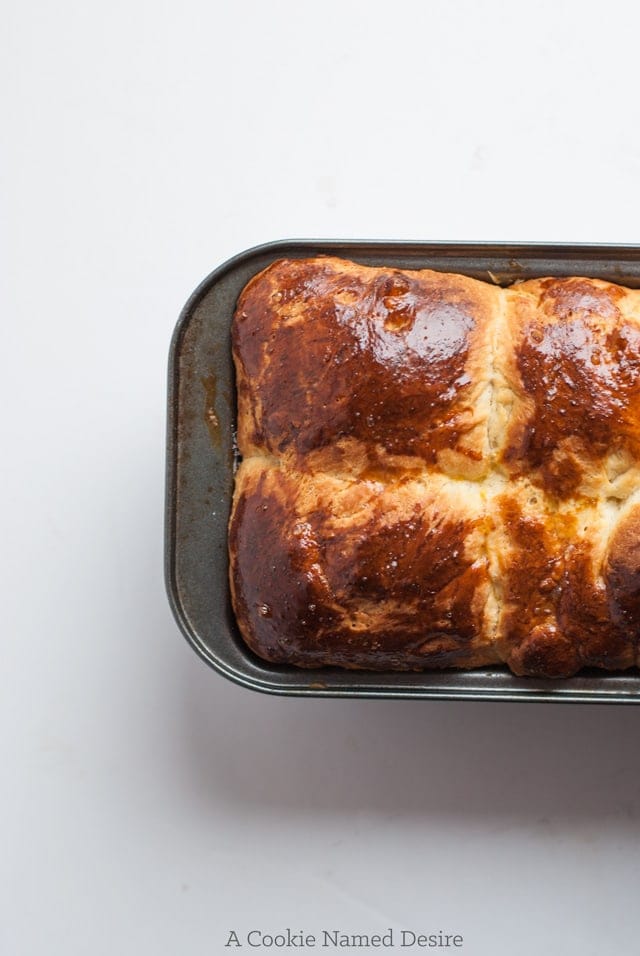 Authentic Buttery French Brioche Loaf
Yield: 2 loaves

Prep Time: 3 hours 30 minutes

Cook Time: 25 minutes

Total Time: 3 hours 55 minutes
Ingredients
4 cups all purpose flour (spoon and sweep when measuring the flour here)
⅓ cup sugar
4 teaspoons active dry yeast
2 teaspoons salt
4 large eggs, room temperature
½ cup milk, room temperature
14 tablespoons unsalted butter, cut in cubes, softened, but not fully room temperature
1 egg + 1 tablespoon water for egg wash
Instructions
In a stand mixer, gently mix together the flour, sugar, yeast, and salt together until just combined using the paddle attachment. .
Add in the eggs and milk and keep mixing. As soon as a dough forms, switch the paddle attachment with the dough hook. Mix on medium for about 4 minutes, then turn to low.
Slowly add the butter, one tablespoon at a time, waiting until the butter is incorporated before adding more. Mix for about 8 minutes, stopping and scraping the bowl halfway through. The dough should sound moist and slap against the side of the bowl. Resist ay urges to add more flour,
Turn the dough onto a floured surface and form it into a ball by folding the dough into itself and tucking in the edges. Return to the mixing bowl and over with plastic wrap. Allow it to rise for about an hour in a warm area.
Lightly deflate the dough and reform into a ball and allow it to rise again. You can let it rise at room temperature for an hour, or allow it to rise overnight in the refrigerator for the best flavor. (I usually want the bread the same day so I let it rise at room temperature and the flavor is still amazing).
Divide the dough equally into 16 balls. Butter two 8x4 loaf pans and line the balls in two rows of four in each pan. Allow it to rise again for about an hour.
Preheat the oven while the dough is rising to 375 degrees F.
Lightly brush the loaves with the egg wash and bake for about 25 minutes.