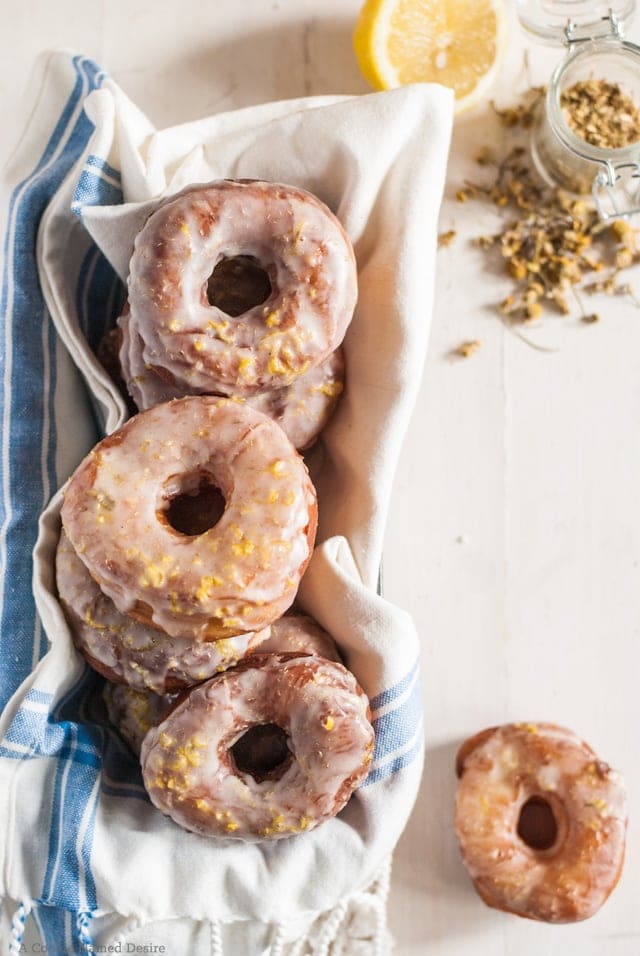 I am off the ice cream for a moment to celebrate the amazingness that is National Doughnut Day! Last year, I was a day late, but made these amazing, super fancy fig cheesecake filled doughnuts with a hibiscus glaze.  I am drooling just thinking about those doughnuts. This year, I am bringing you a new favorite: brioche doughnuts with chamomile and lemon glaze using my favorite brioche loaf recipe.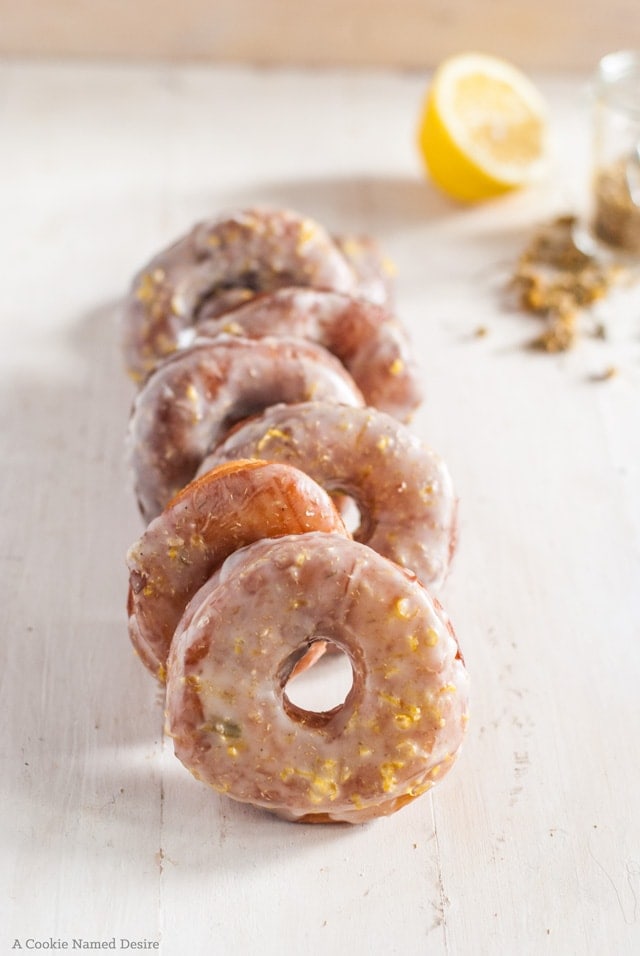 Since I first posted my recipe for Brioche, I've been making brioche every chance I get. Besides insane amounts of ice cream in my freezer, I also have a nice collection of unsalted butter just so that I can make my brioche at any time. A lot of my favorite doughnut shops make their own brioche doughnuts and I really couldn't see why I couldn't make some at home for whenever I have a craving. Oh my gosh, fried brioche is the bomb dot com. So buttery and incredibly light in texture. You get that slight crunch from the crisp outside and then it just melts in your mouth. Gaaaaaaaaaah! This is the doughnut that makes people moan involuntarily (and a little inappropriately).
The chamomile and lemon glaze helps to balance out the brioche doughnut by adding more depth from the chamomile and zing from the lemon. I found chamomile powder at my local Hispanic market, but you can easily make your own with food-grade dried chamomile. Just be sure to crush the flowers until they are a fine powder.
Recipe Card
Brioche Doughnuts with Chamomile Lemon Glaze
Ingredients
2

cups

flour

3 ½

tablespoons

sugar

1

teaspoon

salt

2

teaspoons

active dry yeast

2

eggs

room temperature

¼

cup

milk

lukewarm

8

tablespoons

unsalted butter

cut in cubes and slightly softened

1

cup

powdered sugar

1

heaping teaspoon powdered chamomile

½

teaspoon

lemon zest

2

tablespoons

fresh lemon juice
Instructions
In a stand mixer, add the flour, sugar, sat, and yeast together. Mix a couple of times with the paddle attachment. Mix the eggs and milk together, then mix into the flour mixture. Mix until a dough starts to come together, then switch to a dough hook, (Note: you can use the dough hook throughout this step, but it will take longer for the dough to form).

Mix the dough on medium for about 4 minutes, then go down to low. Slowly add the butter, one tablespoon at a time. Wait until each cube is fully incorporated before adding another tablespoon.

Bring the mixer back to medium and mix for about 8 minutes. The dough should sound moist and look sticky. Resist all urges to add more flour! The dough should be sticky, but still easy enough to work with.

Gently turn the dough onto a lightly floured surface and form the dough into a ball. Lightly grease a bowl and place the dough inside and cover with plastic wrap. Allow to rise for an hour, or doubled in size. Deflate the dough and re-roll into a ball and allow it to rise another hour, or overnight in the refrigerator.

Turn the dough onto a lightly floured surface and roll out until it is just under ½ inch thick. (you may want to rub some flour on top of the dough or on your rolling pin. If you decided to leave your dough in the fridge, allow it to rest at room temperature for about 30 minutes before rolling).

Use a doughnut cutter to cut out doughnuts (you can also use two round objects, as long as one is significantly smaller than the other, such as a 3 inch and 1 inch biscuit cutter). Re-roll as needed. I did not re-roll the doughnut holes and instead fried them separately and coated in powder sugar.

Prepare your oil. Use either a deep fryer or a cast iron skillet with deep sides. If you are using a skillet, the oil needs to be about 2 ½ - 3 inches deep. Bring the oil to 375 degrees F.

Fry the doughnuts, about 1 - 1 ½ minutes per side, or until a golden brown. Allow to cool completely on a wire rack that has two layers of paper towel underneath to catch the oil.

Mix together the powdered sugar, chamomile, and lemon est together. Stir in the lemon juice and mix. Dip each doughnut in the glaze and allow to dry. I double glazed the tops of my doughnuts by increasing the amount of glaze by 50% (so 1 ½ cups powdered sugar, 1 ½ teaspoons chamomile and ¾ teaspoon zest) and dipping the doughnuts back in the glaze after the first amount of glaze already dried.
Tried this recipe?
Tag me on Instagram! @acookienameddesire #acookienameddesire